Side hustles are the new normal
In one way or another, the Covid-19 pandemic has changed the world as we know it. While the general situation seems to be in control in Singapore, our economy did not escape unscathed. More importantly, the pandemic has affected the income and jobs of many Singaporeans.
This was highlighted in DBS Bank's research paper - published in August 2020 - on how the Covid-19 situation has impacted Singapore. Unemployment is expected to rise through the year. In fact, the resident unemployment rate could rise to 4.2% by end-2020. With a resident labour force of about 2.33 million, this implies that about 97,800 residents could be unemployed this year.
While some might be able to keep their jobs, thanks to the government support schemes accessible to businesses, pay checks have been impacted. What is interesting is that our research showed that while the lower income group suffered more job losses, it was those aged between 35 and 44 years old who were most affected by income declines. To make matters worse, those who have experienced a fall in income have less savings.
All these could sound dire. After all, income and job losses are not always within one's control. However, we can increase our safety net by having "Plan B", which includes side hustles and a robust financial plan with a focus on building income streams.
More people are searching for part-time jobs
A look at Google search trends reveals that more and more locals might be looking for a part-time job. Terms related to part-time jobs saw a breakout increase compared to a year ago.
Related search queries to "Part time jobs"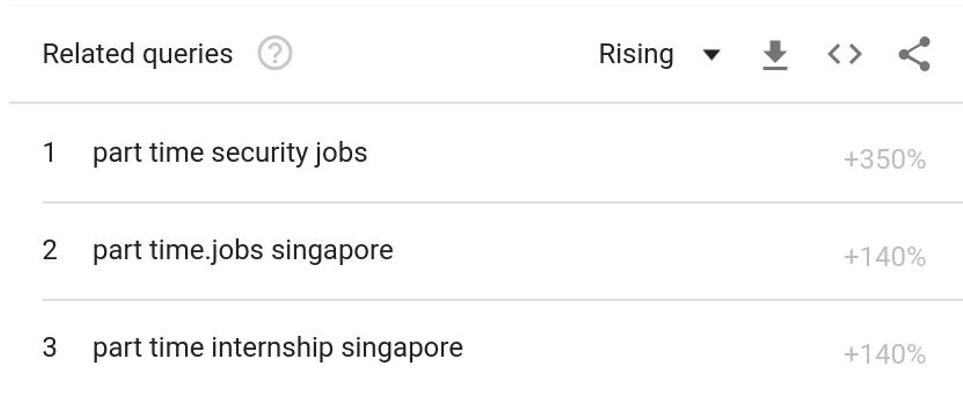 Source: Google Trends, Search keyword "Part time jobs", 20 July 2020
It is clear that having a side hustle can be useful in helping to keep up with the bills. There are other pros that come with it. On the personal front, it can aid in building new skills, make better use of your free time, and open doors to alternative sources of income for the future. Who knows, your side hustle could one day become a full-time job!
However, for those who already have a full-time job, having another side job could be tough. For instance, it might end up taking precious time away from your family and friends, because you would be more tired. It could even distract you from your main job.
Passive income is one type of "side hustle"
One way to mitigate the negative effects of having a part-time job is to find a way where you can build income with little effort. You might have come across the term "passive income", but what is it really?
Passive income simply means an income that is earned with little effort . Sounds too good to be true, but earning passive income is an open secret. Just look at the jump in the number of people in Singapore who were searching for "Investments" in March! At that time, markets weren't doing too well partly due to the economic repercussions of the viral pandemic, and oil prices fell below US$0.
Interest in "Investments" keyword over time

Source: Google Trends, Search keyword "Investment", 20 July 2020
In fact, DBS research data also showed that those who were using NAV Planner had bought about S$35.3 million of stocks in March 2020, which is nearly 3 times more than in February.
What were they investing in? Google search data also shows that people in Singapore were trying to figure out if it is a good time to invest, and reading up on investment products, such as Real Estate Investment Trusts (REITs) or how to use their Central Provident Fund to invest.
(Read more: Passive income in Singapore: Here's how to earn more money)
Related search queries to "Investments"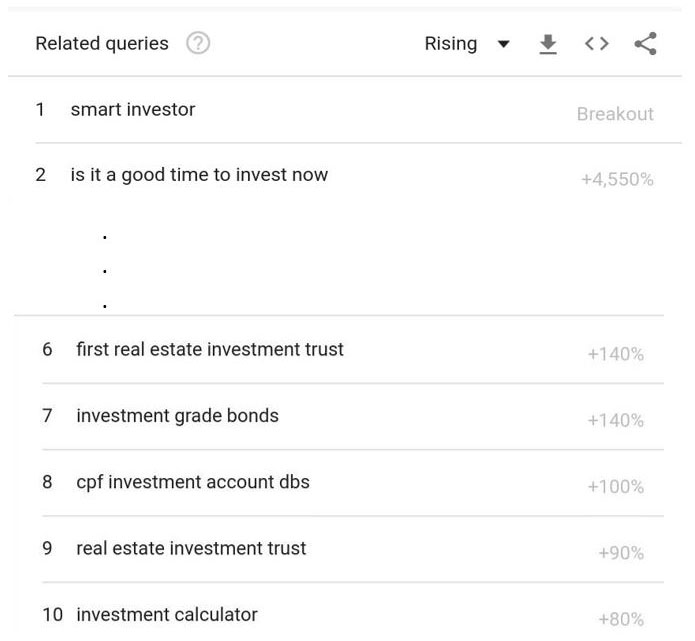 Source: Google Trends, Search keyword "Investment", 20 July 2020
Investments are a type of passive income
Investments could be a form of side income. It should form part of your overall financial journey, once you have been able toput aside at least 3 months of emergency cash and have adequate insurance protection.
If you are new to investing, you might want to find out about your investment risk profile, as well as the types of investment products that are suitable for you.
For new investors: Consider the Dollar-Cost Averaging approach
Many new investors are not sure when to enter the market as well. To minimise the risk of getting into the market when it is at a 'high', you can adopt the Dollar-Cost Averaging approach by investing in a product like the Invest-saver. This allows you to set aside a fixed amount each month to buy Exchange-Traded Funds (ETFs) and unit trusts, so that the average price you pay actually evens out in the long term.
Another benefit of this approach is that it's less intimidating for new investors. Setting aside a small amount each month, such as $300, can feel so much less daunting if you're a new investor, compared to putting a few thousand dollars into a single stock on your first investment attempt.
Another one for new investors: Outsource the investing portion
Many first-time investors tell us that they don't have the know-how or the time to invest. That's where you might want to consider outsourcing the nitty-gritties to the experts through a platform such as digiPortfolio, which promises fuss-free investing.
With digiPortfolio for digiBank, the experts select ETFs across different asset classes and geographies, assembling a well-diversified portfolio for investors. Every quarter, the DBS Investment Team will review your portfolio and make adjustments according to the DBS investment views. This process is known as 'rebalancing' and is done through buying and selling the underlying securities.
All you need to do is make two choices: (i) Global or Asia; and (ii) your portfolio risk level. Then you can 'Invest. Sleep. Repeat.' And be free to focus on your other side hustles.
For equity investors: Look for stocks that pay dividends
Dividends are distributions that publicly-listed companies make from their profits to incentivise their shareholders for investing in the company. For instance, many Singaporeans like to buy real estate investment trusts , also known as REITs, because they must pay out 90% of profits as dividends to investors. Not only can you potentially gain on the share price when it appreciates, you get to earn a regular dividend as well.
On top of that, if you own a DBS Multiplier Account , you get to count the dividends as Income, which gives you a higher interest rate if you fulfil the transaction requirements.
For all: Keep track of your money with NAV planner
While we can't escape from the economic repercussions of the COVID-19 situation, we can take control and build our financial safety net by spending less, saving more and increasing our side income, whether through a part-time job or through investments.
To have a clearer overview of your finances, log into the NAV Planner digital advisory tool today via the "Plan" tab in your mobile banking and work towards gaining your financial freedom today!
Ready to start?
Speak to the Wealth Planning Manager today for a financial health check and how you can better plan your finances.
Alternatively, check out NAV Planner to analyse your real-time financial health. The best part is, it's fuss-free – we automatically work out your money flows and provide money tips.
Disclaimers and Important Notice
This article is meant for information only and should not be relied upon as financial advice. Before making any decision to buy, sell or hold any investment or insurance product, you should seek advice from a financial adviser regarding its suitability.