5 Everyday tips on how to save money in Singapore
Thinking about money can be stressful, no matter your age or life-stage. While Singapore is no longer the most expensive city in the world, it never hurts to get tips on saving money in Singapore. Here, we suggest five practical ways to help you save on everyday essentials to make room for little indulgences, so you can create space for the things and people that matter.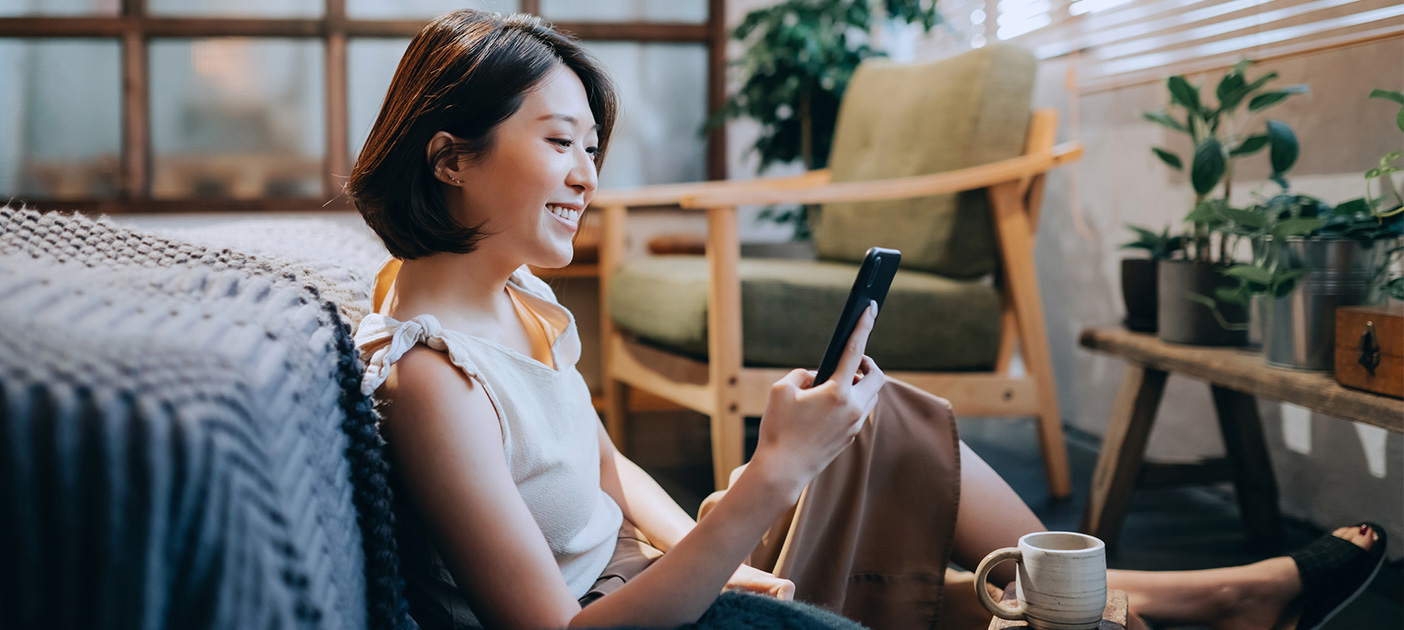 1. Find out where your money goes with an expense tracker & budgeting app
The number one tip for saving money is to understand where you spend the most money. Of course, there are commitments that we cannot step away from completely, such as loan repayments, parents' allowances, pocket money for the kids', and bills. But once we start taking notes, you might be surprised at where your money goes without you realising.
Whether it's your coffee or bubble tea habit, your 3pm afternoon snack, taxi / rideshare bookings, or an outsized grocery bill, a good budgeting app will be able to highlight these expenditures for you.
With the 'Your Net Worth' and Cashflow trackers in DBS/POSB NAV Planner, it's as easy as 1-2-3 to check how much you're spending in various categories (plus more!).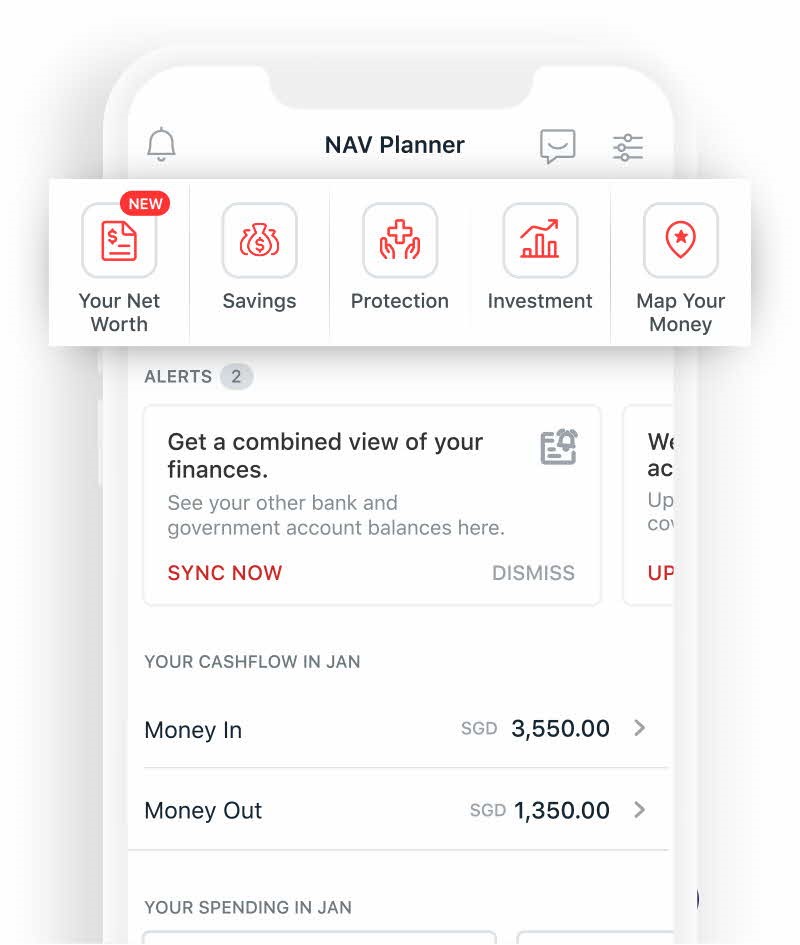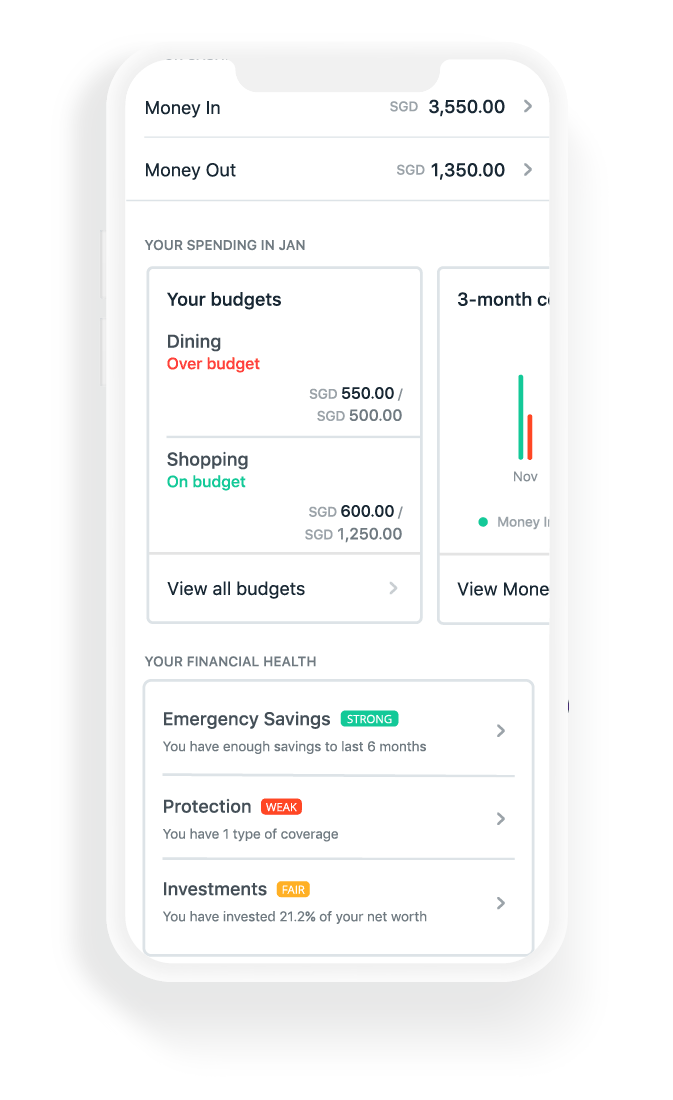 Find out where your money goes with DBS NAV Planner
Then, see how you can reduce expenditure on certain items.
Give yourself achievable goals so it's easier to make changes to your lifestyle without feeling like you are missing out on life. For instance, instead of cutting out coffee entirely, what about replacing it with a kopi from the coffee shop or foodcourt? Or limiting the number of taxis and rideshares you take to 4-5 times a month – and only for very important occasions?
2. Use apps that offer discounts on groceries, dine-in and food delivery
It's not always possible to get cheap groceries in Singapore, especially if you have a preference for certain brands. For items that can be stored for a longer time such as shampoo, cleaning spray and such, it may be worth doing a little math to find out how much you use a year, and wait for sales to bulk purchase your everyday items.
Of course, in land-scarce Singapore, this may be tough to do for every single item on your regular grocery list. Make sure you find space for your items before purchasing them, or it may be an arduous task to store them properly!
Save even more money on groceries by using a card that gives you the best cash rebates and rewards where you shop.
Learn more about cash rebates on grocery purchases
If you find yourself eating out a lot, look out for credit card and meal deals on sites such as Burpple, Chope and Fave. Planning ahead means you can grab a friend to take advantage of one-for-one deals, or purchase discount vouchers in advance.
Prefer spontaneity? No problem - just tap on the DBS PayLah! mobile app to check for deals near you. You'll find dining deals to save money on food delivery, which works fabulously for those days where you'd rather enjoy your favourite dishes without leaving home. (P.S. You can even offset your bills with your DBS Points instantly. Afterall, it's the ultimate everyday app that allows you to book rides, order meals, buy tickets and more!)
Check out Daily deals on DBS PayLah!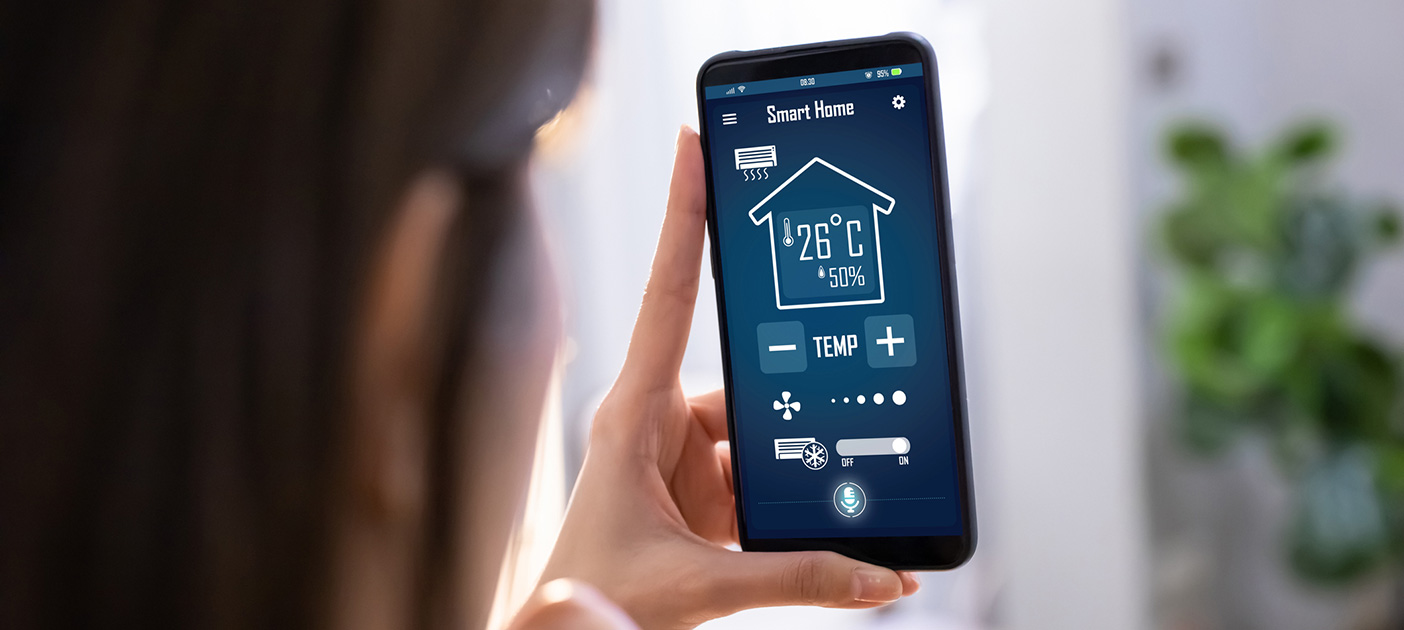 3. Go green for electricity savings
When we are spending so much more time at home, it pays to take stock of how efficiently we're using our electricity. Are we switching off plugs when they're not in use? Choosing energy-efficient appliances with higher energy ratings? Using cooler and energy-saving LED lights? Keeping the air-conditioning to 25°C – or better still, using the fan? These are simple actions, but they're good for the environment and help reduce your utility bills.
Another pro-tip: Check if there's an electricity plan that saves you money, using a comparator tool such as DBS Utilities Marketplace. Not only can you get bill rebates if you switch using DBS Utilities Marketplace, paying with the POSB Everyday Card entitles you to even more cash rebates. More savings, kaching!
Stretch your household budget with DBS Utilities Marketplace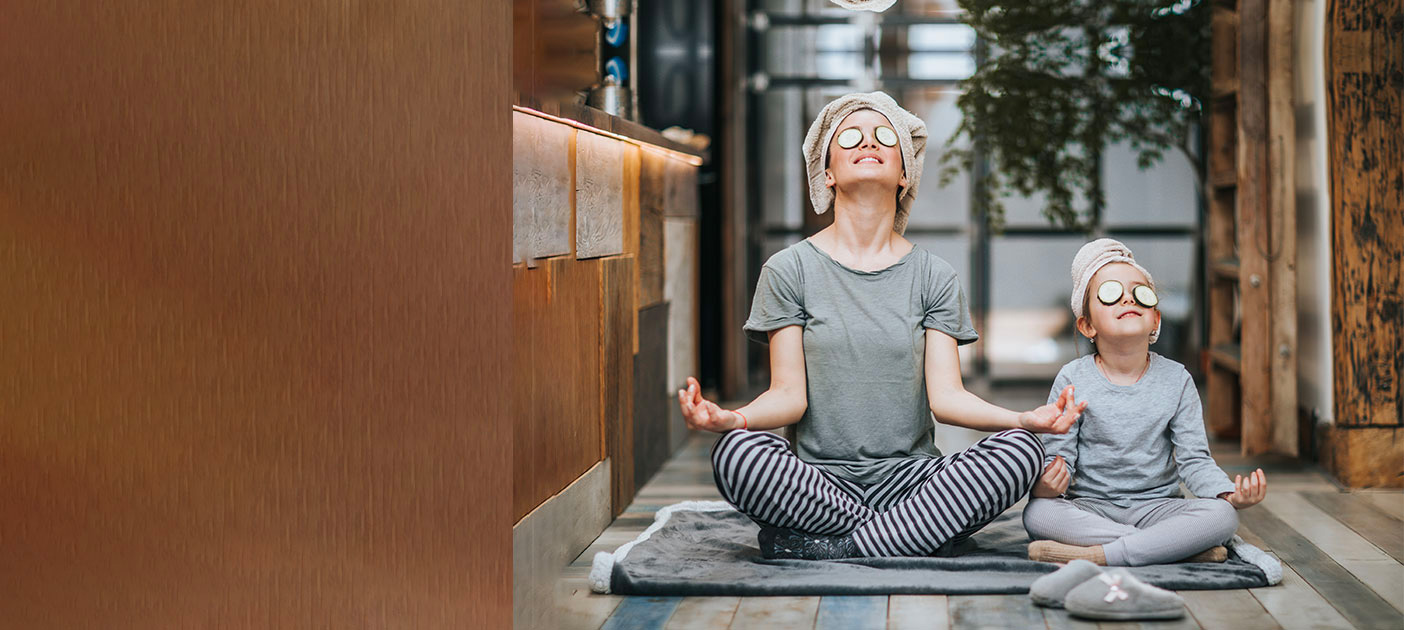 4. Grow your money with high interest savings accounts
Saving money is not just about tightening your pocket. It's also about making your money work for you, even when you're not actively doing anything.
The first step is to have a high-interest savings account, such as DBS Multiplier. Get an interest rate of up to 3% p.a. on your savings (up to S$100,000), with no minimum amount required on transactions across your DBS/POSB products. Best of all, anyone can get started - even if you are a student, NSF or self-employed. After all, the best time to start growing your savings is now.
Learn how Multiplying is easier for everyone now
5. Top up your CPF and SRS accounts for more tax reliefs
When you make cash top-ups to your own or your loved ones' CPF Special Account (SA) or Retirement Account (RA), you can claim tax reliefs. The best time to do this is January, because the CPF interest is calculated monthly but credited and compounded annually in December. This means that the earlier in the year you contribute, the more interest you will receive.
For your spouse and siblings, you can claim tax reliefs only if they earned less than S$4,000 last year. There is an exception for handicapped spouse and siblings. Cash top-ups for your parents, in-laws, and grandparents (including grandparents-in-law) are also not subjected to these income thresholds.
Note: The maximum tax relief you can get from such top-ups is S$7,000 each year.
Example of tax reliefs from cash top-ups to CPF accounts
| | | |
| --- | --- | --- |
| | Without CPF Top-up | With CPF Top-up |
| My annual income | $70,000 | $70,000 |
| Cash top-up to my own CPF SA | - | $7,000 |
| Cash top-up to Loved One's CPF SA | - | $7,000 |
| Tax payable on Chargeable Income | $1,600 | $620 |
Get more CPF 'hacks' to grow your nest egg
Another hidden gem is the Supplementary Retirement Scheme (SRS), which was designed to help build up your retirement nest egg with tax-free gains. Each S$1 you put in the SRS is eligible for S$1 of tax relief. The exact amount you can contribute depends on your residency status. Singaporeans and Singapore Permanent Residents can contribute up to S$15,300 while foreigners can contribute up to S$35,700.
Note that the maximum tax reliefs that you can claim in total is S$80,000.
At the retirement age (currently 62), you're free to spread your withdrawals over 10 years. Only half your total is subject to tax, and you never have to file a claim as it will be automatically filed by DBS to IRAS on your behalf.
Once you've made the top-up, remember to invest your SRS funds to earn higher interest. Left alone, it only gets you 0.05% each year. You can choose from a buffet of: Singapore Savings Bonds (SSBs), Singapore Government Securities (SGS), bonds, shares, fixed deposits, foreign currency fixed deposits, unit trusts, or single-premium insurance.
Learn more about Supplementary Retirement Scheme
Saving money is possible with some planning. Make the time, take a breath, and tap on our suite of tools and services to help you get started. It's never too early, or too late, to start. Your future self will thank you for your courage and effort.
Ready to start?
Speak to the Wealth Planning Manager today for a financial health check and how you can better plan your finances.
Alternatively, check out NAV Planner to analyse your real-time financial health. The best part is, it's fuss-free – we automatically work out your money flows and provide money tips.
Tell us if this article helps you plan and achieve your financial goals

Disclaimers and Important Notice
This article is meant for information only and should not be relied upon as financial advice. Before making any decision to buy, sell or hold any investment or insurance product, you should seek advice from a financial adviser regarding its suitability.

All investments come with risks and you can lose money on your investment. Invest only if you understand and can monitor your investment. Diversify your investments and avoid investing a large portion of your money in a single product issuer.

Deposit Insurance Scheme
Singapore dollar deposits of non-bank depositors and monies and deposits denominated in Singapore dollars under the Supplementary Retirement Scheme are insured by the Singapore Deposit Insurance Corporation, for up to S$75,000 in aggregate per depositor per Scheme member by law. Monies and deposits denominated in Singapore dollars under the CPF Investment Scheme and CPF Retirement Sum Scheme are aggregated and separately insured up to S$75,000 for each depositor per Scheme member. Foreign currency deposits, dual currency investments, structured deposits and other investment products are not insured.
Check out how you can live more bank less