Enhanced Medishield Life 2021 – what you should know

If you don't have time to read through the whole article, you can check out our short version below.
The wider benefits proposed for MediShield Life will cover more and larger hospital bills
There will be an increase in MediShield Life premiums in 2021 due to higher coverage
Private integrated Shield plans will likely raise their premiums as well

Hospital bills have always been one of the major concerns when it comes to health.
Fortunately for many of us, we are likely covered by our company's medical insurance and/or have taken a private insurance cover. However, for those who are not covered by any insurance, falling sick or having to be hospitalised can be quite costly.
But do you know that all Singaporeans and Permanent Residents (PRs) are covered under a basic hospital & surgical insurance plan called Medishield Life?
Here are some things you need to know about the proposed enhancements to Medishield Life in 2021:
What is MediShield Life?
Launched in 2005, MediShield Life is a basic health insurance plan by the Central Provident Fund (CPF) Board. It is sized for subsidised treatment in public hospitals and pegged at B2/C-type wards.

It helps to pay for large hospital bills and selected costly outpatient treatments, such as dialysis and chemotherapy for cancer.

This helps Singaporeans and PRs use less of their MediSave savings or cash outlay for large hospital bills.
What are the changes made to MediShield Life?
In order to decrease the financial load on Singaporeans and PRs for their medical bills, the MediShield Life Council has proposed major changes to MediShield Life that will be effective from 2021.

Wider benefits proposed to cover more and larger hospital bills
1. Higher annual claim limit

The recommended yearly claim limit would be increased from $100,000 to $150,000.
2. Inpatient Treatments
Higher daily ward claim limits



Patients tend to incur higher charges during the first few days of their stay due to costly tests and investigations to diagnose their conditions.

This leads to patients discharging early as they are concerned with the hefty hospitalisation bills if they were to continue staying in the hospital.

By recommending to increase the limit for normal ward and ICU ward and additional claim limits for the first two hospitalisation stays, it allows the patients to be at ease during their hospital stay.

Higher claim limit for sub-acute care at community hospital

Both rehabilitation and sub-acute care at community hospitals are currently given the same maximum limit of $350 a day.

However, sub-acute care is about 20% more expensive than rehabilitative care.

By recommending separate claims for sub-acute care and rehabilitative care, this will ensure that both group of patients will be able to enjoy similar levels of coverage under MediShield Life.
3.Outpatient treatments

4. Radiotherapy for cancer

5. Change to deductibles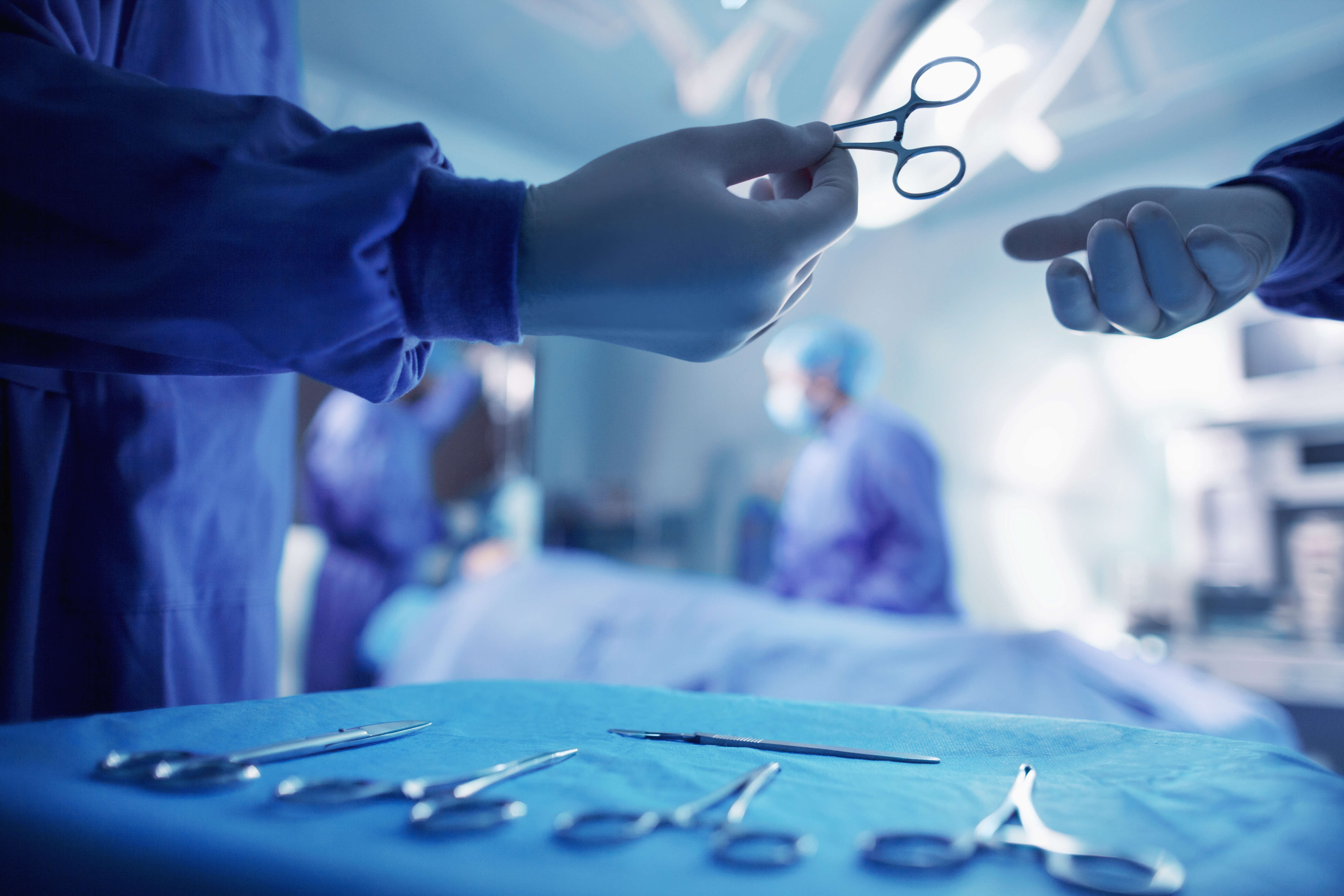 To encourage older patients to undergo day surgery, it was recommended to lower the deductible for day surgery patients above 80 years old.

This is to ensure that patients don't have to be hospitalised just to qualify for insurance cover due to the difference in costs since the deductible would be the same be it for hospitalisation or opting for day surgery.
6. Removal of some exclusions
It is recommended that MediShield Life will cover treatments for attempted suicide, intentional self-injury, drug addiction and alcoholism. This is because MediShield Life can support individuals in overcoming their addictions and their recovery process.
7. Changes in private hospital subsidy
Based on recent bills, 35% of private hospital care amounts to a far higher sum than bills incurred by subsidised patients.

By recommending to lower the subsidy for private hospital from 35% to 25%, it helps to ensure that private hospital patients and public hospitals will get to enjoy similar pay-outs.

An example of how the proposed enhancements can improve coverage for patients
Mr Wong is a 60-year-old Singaporean who was hospitalised in a public community hospital due to bone infection.

He stayed in a subsidised ward and spent 25 days in sub-acute care.

He was subsequently transferred to the community hospital as the intensity of care provided was no longer required.

Therefore, he had met three annual Medishield life deductibles from the acute hospital bill which only have to be met once per policy year.

Here is the breakdown of total costs incurred: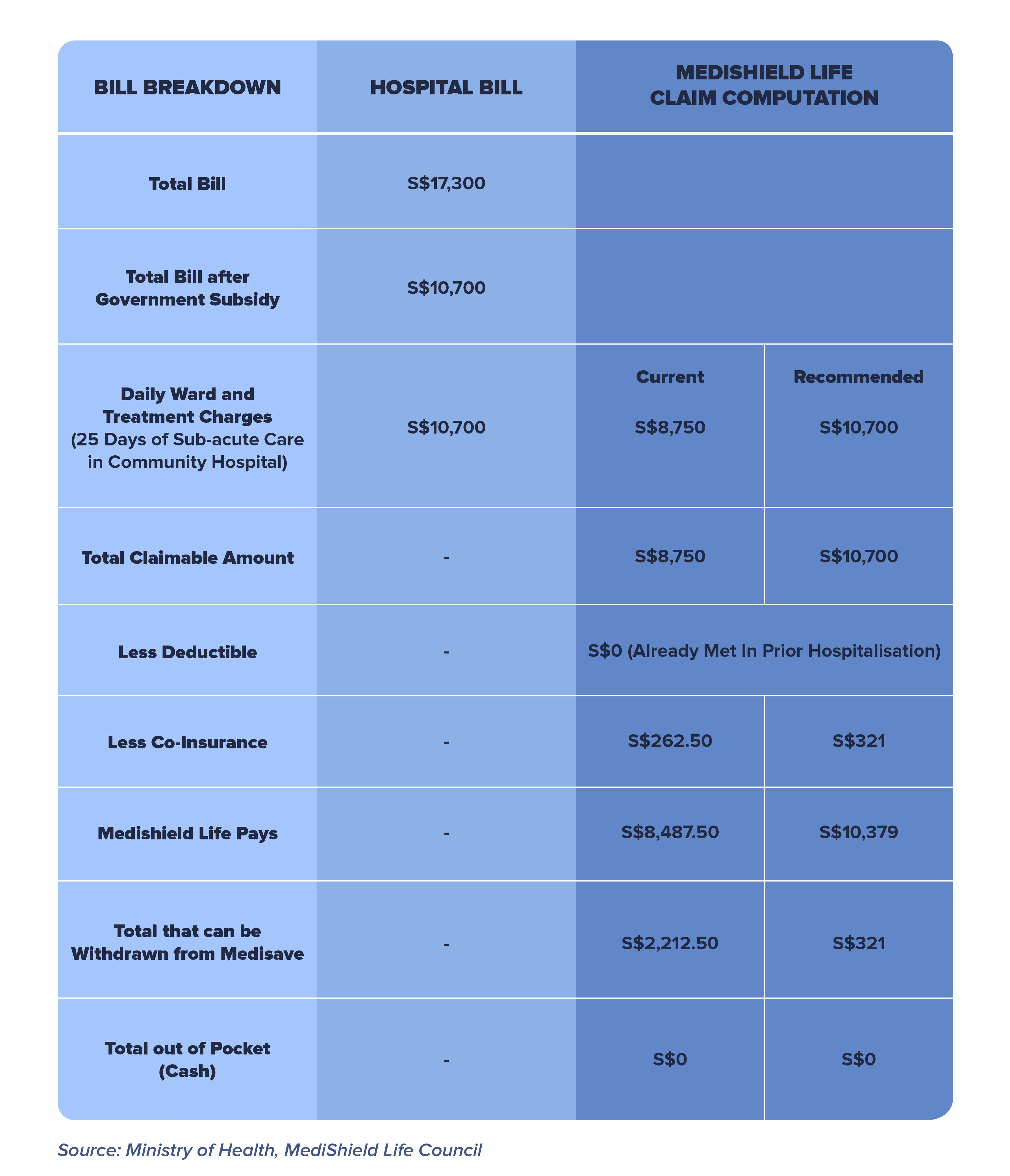 Notes:
As the patient is a Singaporean citizen who stayed in a subsidised community hospital ward, the MediShield Life claim is computed based on 100% of the bill.
Subsidised community hospital ward patients can receive means-tested government subsidies of up to 75% of total bill
Lower of the claim limit for daily ward and treatment charges in a community hospital ($350 x 25 days) = $8,750 or 100% incurred of $10,700. Therefore, the claimable amount is $8,750.
Under the preliminarily recommended claim limit for sub-acute care in a community hospital, the claimable amount is the lower of the claim limit ($430 x 25 days) = $10,750 or 100% of charges incurred of $10,700. Therefore, the claimable amount is $10,700.
The patient had met the deductible in a prior hospitalisation bill.
Co-insurance = 10% of claimable amount for the first $5,000, inclusive of deductible, followed by 5% for the next $5,000 and 3% for claimable amount above $10,000. The patient is already at the 3% tier for co-insurance due to claims incurred in a prior hospitalisation bill.
Increase in MediShield Life premiums
In order to be able to pay for all these benefits and raising healthcare costs, there will be an increase in premiums in 2021.

For the first two years, the government will be offering a special Covid-19 subsidy to reduce the burden of the premium hikes.

All these subsidies are on top of the special Covid-19 subsidy.

The new claim limit should bring MediShield Life back on track with its original intention to cover 90% of subsidised bills beyond the initial deductible.

The MediShield Life scheme will be reviewed and updated every three years in order to be able to keep up with the pace of the medical practices, healthcare cost inflation and actual claims experiences.

This is to provide assurance to Singaporean and PRs while being sustainable.
Costs of MediShield Life premiums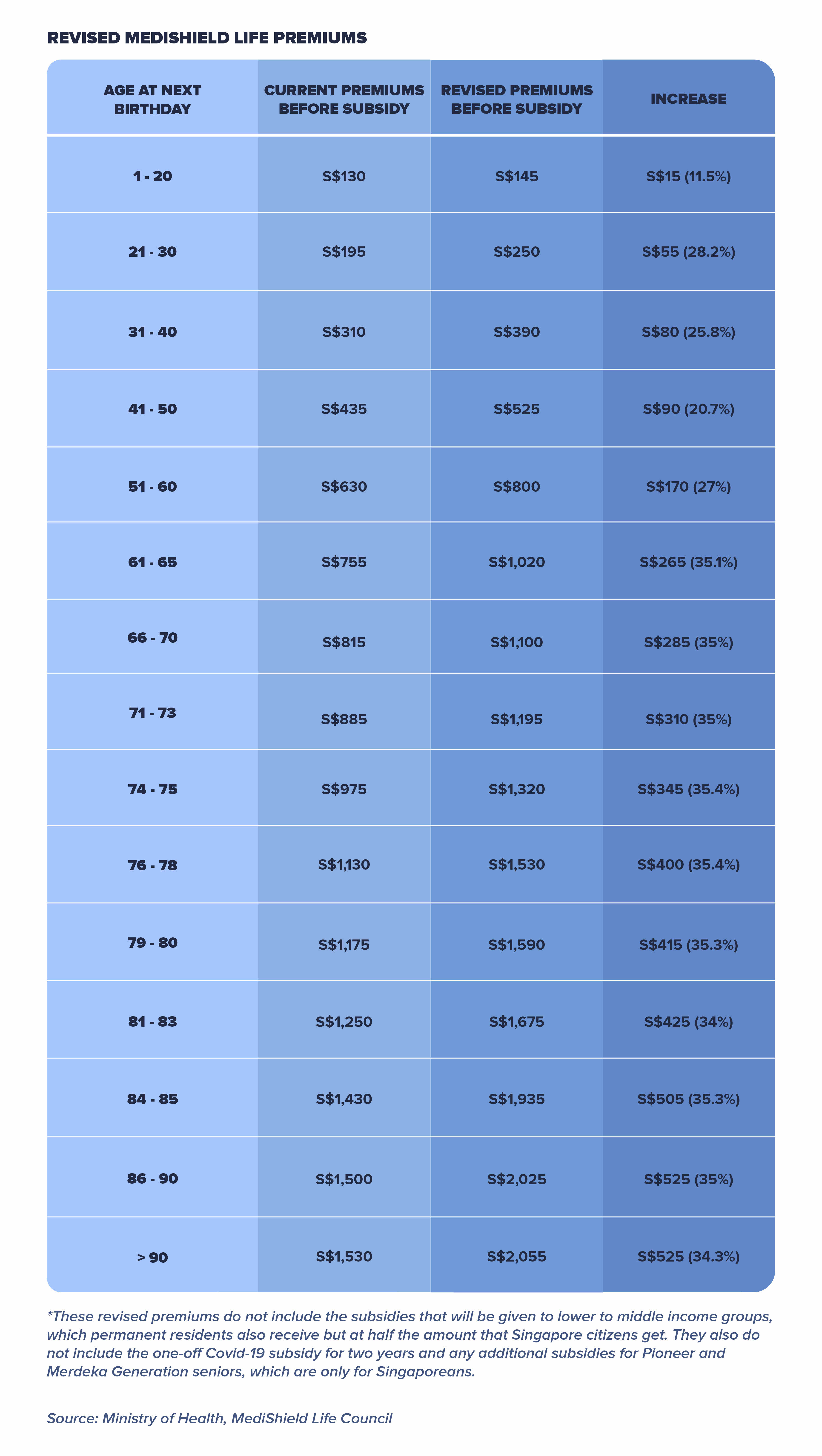 Up to 50% of MediShield Life premiums will be subsidised for about half the population in addition to the subsidies for the Pioneer and Merdeka generations.
What if I cannot afford the MediShield Life premiums?
For those who have insufficient MediSave savings, they can use their family members' or spouse's MediSave to pay for the MediShield Life premiums.

If they still cannot afford the MediShield Life premiums, they can apply to an additional premium support scheme for assistance.

The enhanced MediShield Life will help to reduce medical costs. But for some, the coverage offered by MediShield Life may not be inadequate.

If you prefer the flexibility of choosing your own doctor, or plan to use an A/B1-type ward in a public hospital or go to a private hospital for your future hospitalisations, you can consider purchasing a MediSave-approved private Integrated Shield Plan (IP). IPs complement the MediShield Life scheme and an example of an IP is the Aviva MyShield plan . Do note that IPs will likely raise their premiums in 2021 too.
Ready to start?
Speak to the Wealth Planning Manager today for a financial health check and how you can better plan your finances.
Alternatively, check out Plan & Invest tab in digibank to analyse your real-time financial health. The best part is, it's fuss-free – we automatically work out your money flows and provide money tips.
You might be interested in