The importance of a CPF nomination

If you don't have time to read through the whole article, you can check out our short version below.

When planning the distribution of your Central Provident Fund (CPF) savings, you will need a CPF Nomination on top of a will. Here is what you need to know:
There are 3 types of CPF nominations - Cash, Enhanced Nomination Scheme (ENS) & Special Needs Savings Scheme (SNSS).
Without a nomination, your savings will be split between any surviving spouse, children and parents according to Singapore Intestacy Laws or Inheritance Certificate (for Muslims).
Make your nomination to avoid the hassle of locating legally entitled beneficiaries and a payable fee to the Public Trustee's Office.
It is crucial to update your CPF nomination in the event of death, marriage, childbearing or divorce.

Estate planning does not stop at drawing up a Will. Savings held in Central Provident Fund (CPF) accounts (Ordinary, Special and MediSave) of a deceased person cannot be distributed according to his or her wishes as stated in a Will. If you have specific people (does not have to be a family member) or organisations that you wish to distribute your CPF savings to, you will need to make a CPF Nomination, apart from a Will.
Types of nominations you can make for Your CPF Savings
Once you have decided who your beneficiaries will be, you also have the option to make nomination for payment to your chosen beneficiary via cash, payment into the beneficiary's CPF account, or regular monthly payments to children with special needs.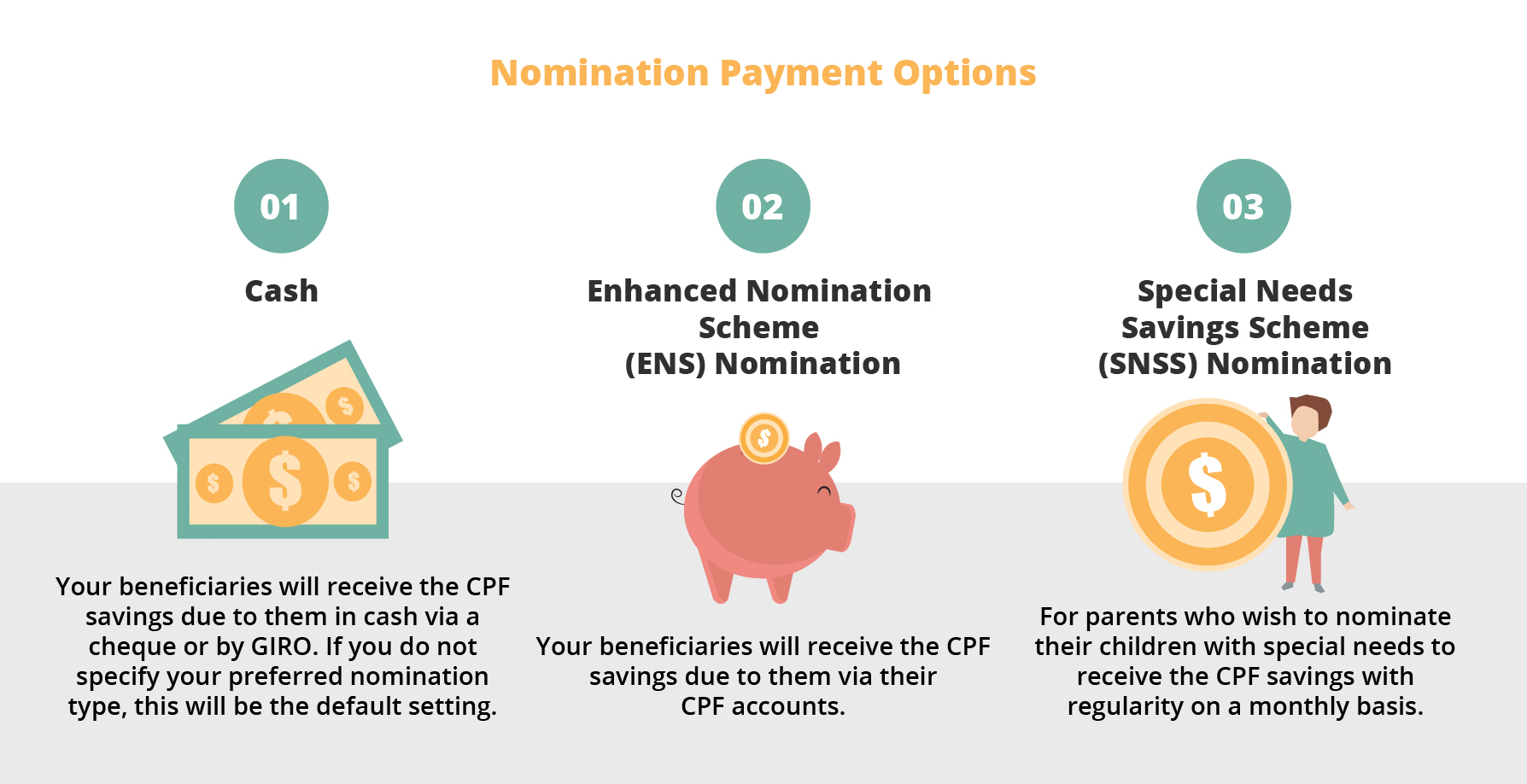 What happens if you don't have a CPF nomination?
If you don't make a CPF nomination, the savings will be distributed according to Singapore Intestacy Laws.

Here are 5 scenarios that could happen to your CPF savings without a CPF Nomination: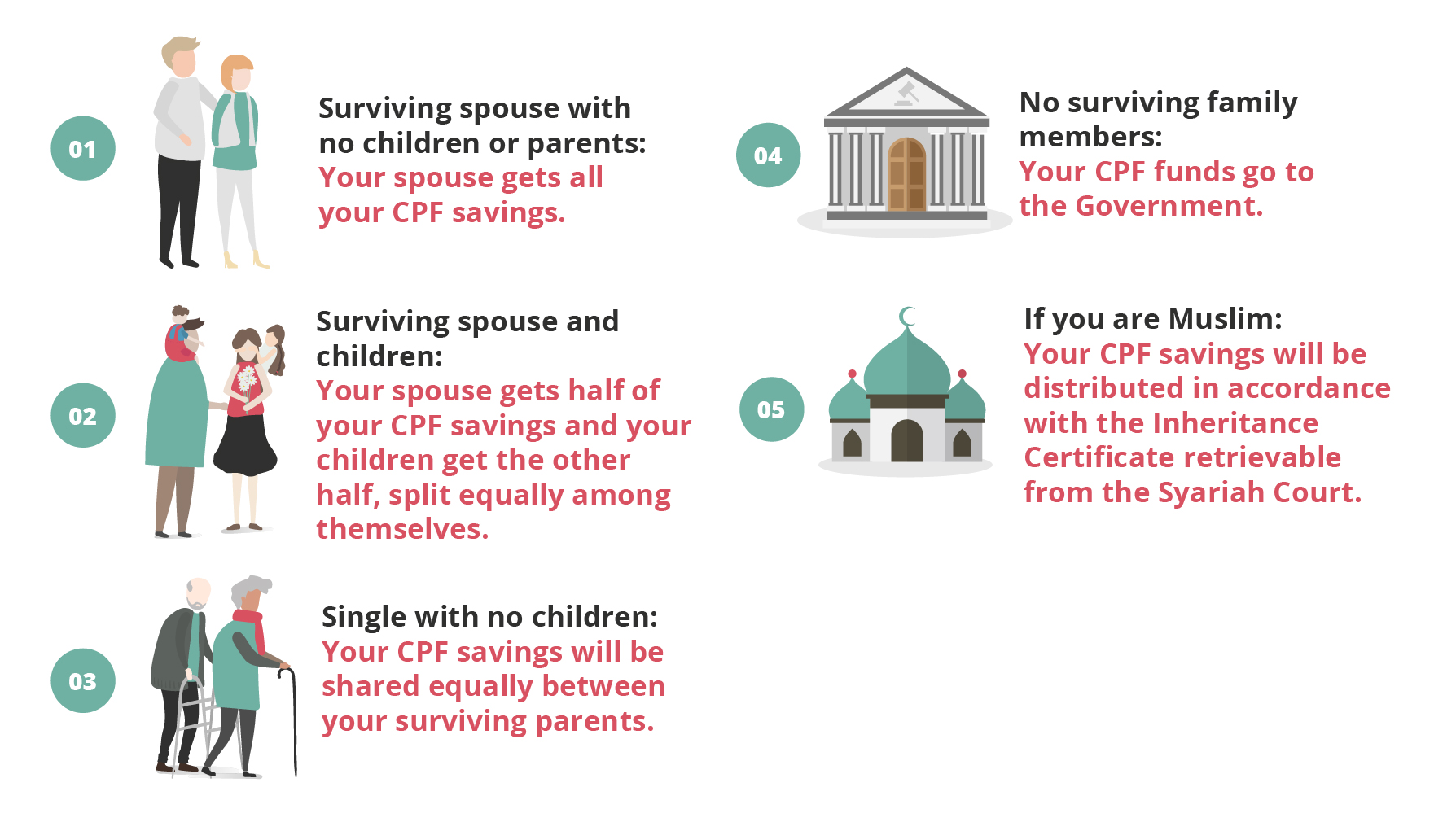 This is why it is important for you to make the necessary nominations of who will inherit your CPF savings. Even if you agree to the distribution specified by intestacy laws, other drawbacks of not having a CPF nomination include:
It is time-consuming to locate the legally entitled beneficiaries
A fee will be payable to the Public Trustee's Office to make the distribution
Keep your CPF nomination current
You should make a new CPF nomination if:
One of your nominees passes away
You get married, divorced or remarried
You have children after your nomination was made
You wish to add a new nominee
This is because marriage will render any earlier CPF nomination invalid, meaning that your CPF savings will be distributed to your family according to Intestacy Laws if you do not make a new nomination.

On the other hand, divorce does not revoke your CPF nomination as you may still want to provide for your former spouse and children.

As life situations change, you should review your nominations regularly to ensure that it is aligned with your wishes.

Ready to make a CPF nomination? You can easily do so online.
If you need assistance, you can also make your nomination in person at any CPF Service Centre. To visit a CPF Service Centre, do make an appointment prior to your visit.
Ready to start?
Speak to the Wealth Planning Manager today for a financial health check and how you can better plan your finances.
Start planning for retirement by viewing your cashflow projection on Plan & Invest tab in digibank. See your finances 10, 20 and even 40 years ahead to see what gaps and opportunities you need to work on.
Disclaimers and Important Notice
This article is meant for information only and should not be relied upon as financial advice. Before making any decision to buy, sell or hold any investment or insurance product, you should seek advice from a financial adviser regarding its suitability.
You might be interested in