Reasons to use your DBS Visa Card for transport
DBS Visa cardholders, your time has come. You can now use your debit or credit cards for your bus and train rides with SimplyGo.
"But I am so used to using my EZ-Link card - why should I make the switch?" you ask. Here are four ways it could benefit your life, just by making a small adjustment to your daily routine.
1. Because time is money: No more queuing to top up your card
You've been there - you are running late for work. You run towards the gantry thinking you can make the next train coming in a minute. And then you hear the dreaded "beep" indicating you do not have enough funds in your EZ-Link card.
A glance at the ticketing machine confirms it - yup, you are going to be late.
Most of us have been in this scenario at least once. And since switching to SimplyGo, we've never run into this issue. We've also not had to deal with other passengers' judgmental looks for holding up the queue at the gantry, either. Win-win.
Save time? Check. Save face? Check.
2. You work hard; your card should work hard too: Get miles and other perks just by going about your day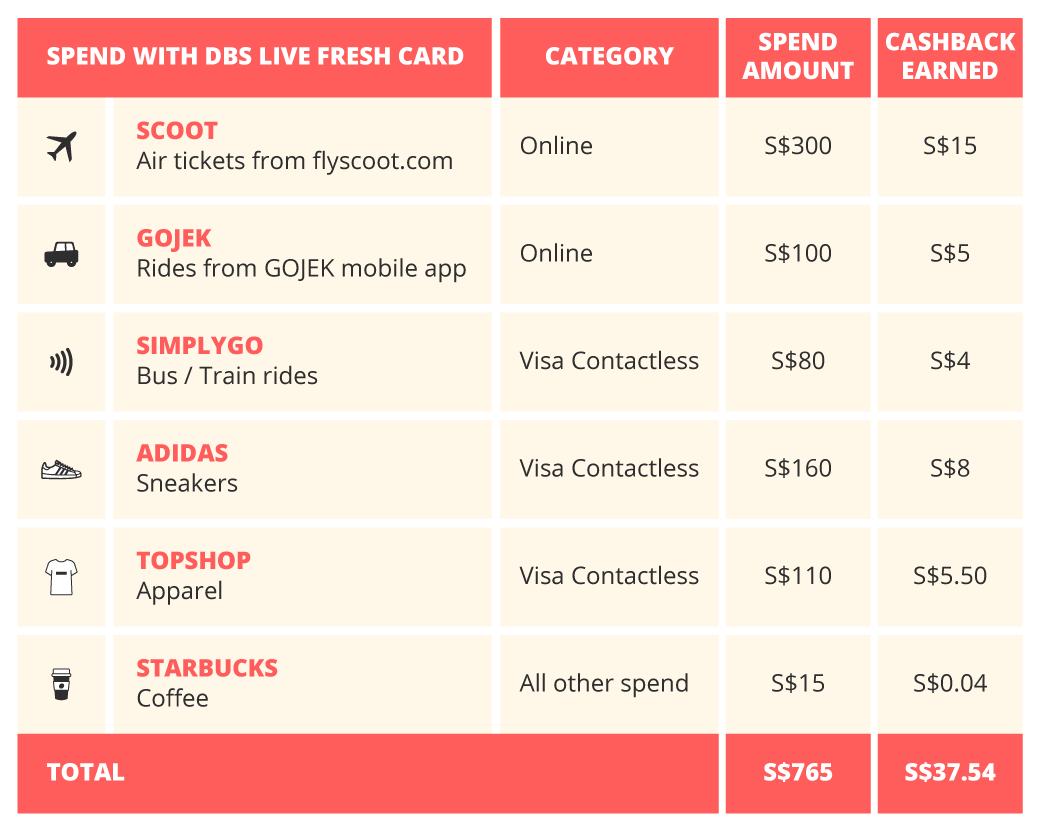 If you've been holding onto a DBS Visa card, you can make it work for you. Get cashback, earn miles for a well-deserved holiday with your loved ones, or earn DBS Points - which can be used for shopping and dining vouchers, gadgets, and even airline miles too. If you have a DBS Multiplier Account, these credit card spends also count towards your eligible transactions each month.
Public transport spend may seem insignificant at times, but sometimes when you start with little, you can end up with much more than you expected.
If you are into cashback, consider the DBS Live Fresh Card for 5% cashback on contactless transactions with a minimum spend of S$600 per month. And yes, that includes your train and bus rides.
If you are a miles junkie, commute with your DBS Altitude Visa Signature Card and earn 1.2 miles per S$1 spent on your train and bus rides.
If you prefer using a debit card for your daily spend, use your DBS Visa Debit Card and get 3% cashback on your contactless transactions - with a minimum spend of S$400 on Visa and keep your cash withdrawals to S$400 and below in the same month.
And if you are into collecting DBS Points for all your transactions, you'll get 3X DBS Points for every S$5 spent on contactless transactions with your DBS Black Visa Card.
Get up to 10% cashback on your bus and train rides. Don't have a DBS Live Fresh Card? Apply now and get up to S$180 cashback. T&Cs apply.
3. Know where you're going: Find out exactly how much you're spending on transport
Public transport expenses are a fixed part of most people's budgets - in addition to food and bills. But do you know exactly how much you're spending each month?
With SimplyGo, fares are deducted from your Savings or Current Account or your credit limit. Better yet, you can download the TL SimplyGo app (from the iTunes store or Google Play) to get your travel history and to find out how much each trip costs.
That way, you will have a clear view of how much you are spending on transport, and as a result be able to take a clear look at other areas of spending, too.
4. One card does it all
As its name suggests, SimplyGo allows you to, well, simply go about your day. You may start using your Visa card for public transport transactions because you left your EZ-Link card at home, or because you got curious about a new system. Either way, it gives you one less thing to worry about - that same card you carry around for cash withdrawals, to get your lunch, to buy a nice gift for a loved one can also be the card you use to tap in and out. It's less space taken up both in your head (no more worrying about top-ups and other sticky situations on the bus and at the train station) and your wallet.
Read on if you have any further questions about SimplyGo.
Check out how you can live more bank less: