Singapore outing ideas with friends who pass the vibe check
From doing online workouts and Zoom-ba with friends; to making frothy coffee and 15s dances with the rest of the world; plus improvising and having virtual birthday parties, this year has been quite the ride for our loved ones and us!
If you're looking forward to hanging out with the chums who have been with you (virtually) through thick and thin, here are some of our top picks on what you can do to up the ante for your long awaited catch-up.
Just remember to mask up and keep your gatherings to less than five people!
Step Up Your Sleepovers With A Staycation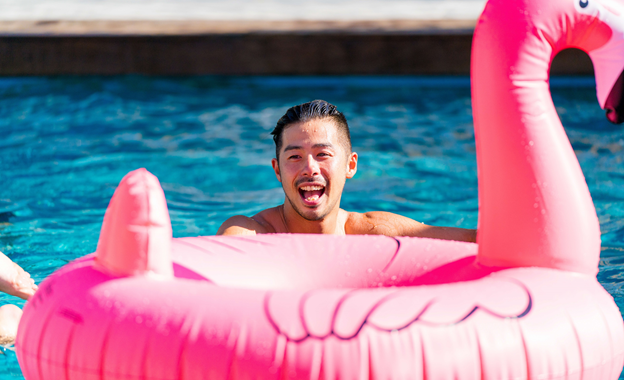 What better way to catch up with your close friends than to bunk in together and have fun from morning till night?
From goofing around in the pool all day and taking we-fies, to building pillow forts and binge-watching your favourite sitcoms while calling for room service, there's much more you can do to level up your sleepover! Treat you and your loved ones to an epic staycation at Singapore's awesome hotels, such as the ones below.
YOTEL Singapore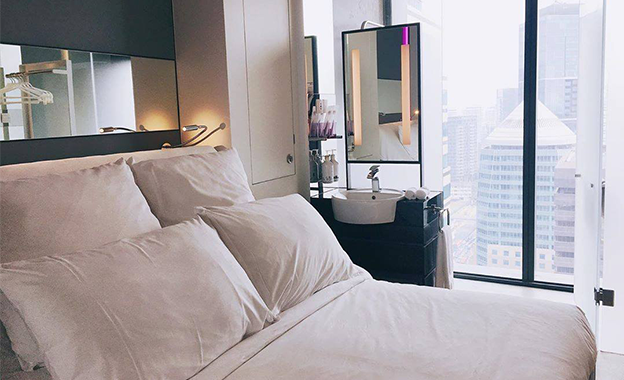 Image credit: YOTEL Singapore
YOTEL Singapore at Orchard Road would make for the perfect hideout for two friends who just want to watch the world go by in their slinky cabin, or shop till they drop at all the shopping malls nearby. Their contactless self-check-in process is seamless—and it also feels like you're about to board a flight to somewhere.
Learn more
The Warehouse Hotel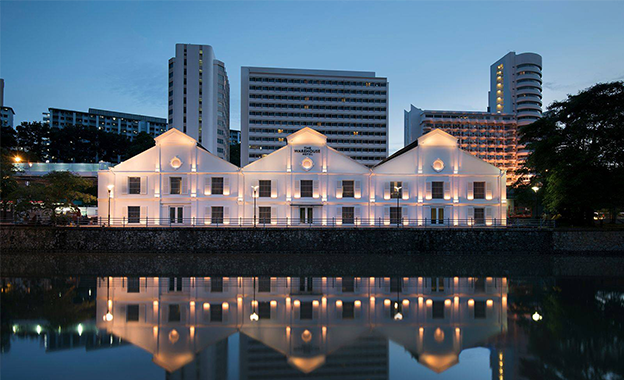 Image credit: The Warehouse Hotel
Maybe the bustle of Singapore's famous shopping area is just a tad too busy for you. The Warehouse Hotel offers a luxurious and plush abode to just laze around. Located just along the idyllic Robertson Quay, this will make for a much more chill and upmarket getaway for two to five people.
Learn more
lyf Funan Singapore

Image credit: lyf Funan Singapore
Ever wondered what it would be like to be roommates with your besties? Try it out at the very Instagram-able lyf Funan Singapore, which was specially designed for you to experience that dynamic live-work-play environment! Guests can also download lyf by Ascott mobile app for a seamless check-in, use it as a mobile key and gain access to lyf Perks for exclusive offers in F&B, entertainment and retail stores around lyf Funan Singapore.
Located within the recently-renovated Funan mall and a stone's throw from heritage sites, there's no shortage of activities for you and your friends to max out your staycay!
Learn more
M Social

Image credit: Millennium Hotels
M Social's lofty space is perfect for the young urbanites. As you enter the hotel, you may see Aura the robot, welcoming guests into the sleek, avant-garde lobby. The room is cosy, but the hotel's extra-plush and ultra-comfortable bed makes up for it because you'll never want to leave the room. For DBS/POSB Cardmembers, you get to enjoy 20% off the à la carte menu at Beast & Butterflies when you book your staycay on the DBS Travel Marketplace.
Learn more
Enjoy up to 75% off hotels booked on DBS Travel Marketplace with best price guarantee! Your DBS Points/Daily$ are also worth 2x more when you use them to offset your DBS Travel Marketplace bookings. Plus, you can split your purchase amount into 0% interest monthly installments!
All DBS Cardmembers also get to enjoy promotions across Agoda, Expedia, and Booking.com. Click on the respective links for more details!
Why Cook Out When You Can Eat Out?
While cooking may be a fun get-together activity for some, why not save the time spent on cooking and preparing the meal, for more quality time with your pals?
Singaporeans are definitely spoilt for choice when it comes to food and cuisines. So much so that it always inspires the question, "Today eat what ah?"
To save you the trouble, we compiled this nifty list of places you can dine at with your friends.
Breakfast/ Brunch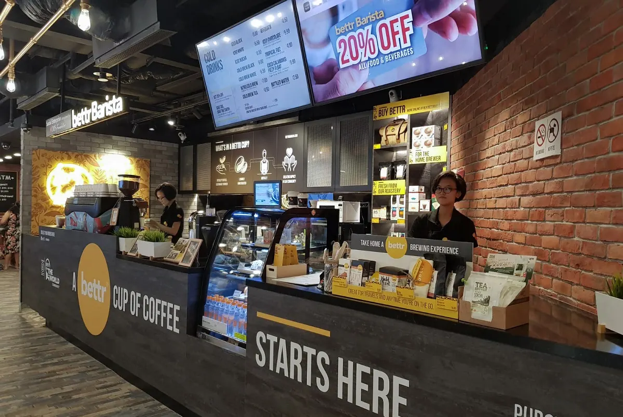 Image credit: Bettr Coffee Co.
Need some fuel to kickstart your morning? Get your coffee fix at Bettr Coffee Co.'s DBS' Millennial Branch in Plaza Singapura. DBS/POSB Cardmembers get to enjoy a 20% discount off all drinks in-store, so you can sip on that delicious coffee made by Bettr Baristas for less!
Learn more
Check out the main outlet of The Coffee Academics located at Raffles City Shopping Centre if you feel like having some savoury bites along with your freshly brewed cuppa. Plus, DBS/POSB Cardmembers get up to $17 bonus cashback when paying in-store.
Learn more
For a much more filling breakfast, Dim Sum Haus at Jalan Besar serves up some great dim sum, light bites, and desserts. Enjoy 1-for-1 dim sum, deep fried items, and dessert when you pay with your DBS/POSB card.
Learn more
Lunch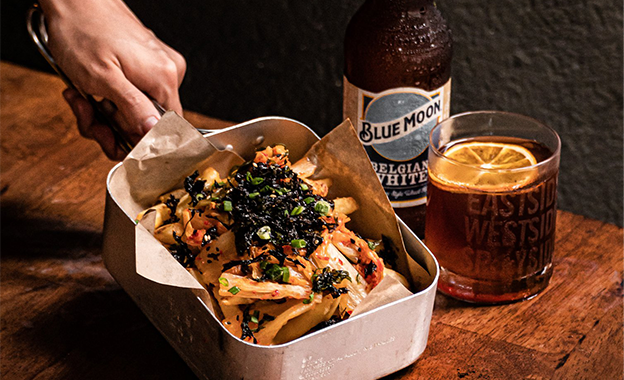 Image credit: Sarnies
With its delicious food with even more delicious coffee (if you've slept in and not had your morning fix), Sarnies shows off its range and generous portions. This is the place to go for a low-key, casual and cosy lunch (P.S. their pancakes are to die for). Plus, get 1-for-1 side dishes to share with your friends if you're a DBS/POSB Cardmember.
Learn more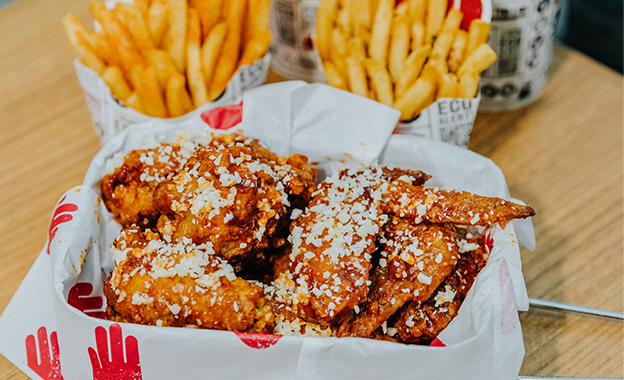 Image credit: 4Fingers
If fried chicken is more of your thing, get your cravings satiated at 4Fingers. This Korean fried chicken joint serves up some sweet yet savoury wings and drums that will leave you smacking your lips and licking your fingers clean. DBS/POSB Cardmembers get to enjoy 10% off with a minimum spend of $25.
Learn more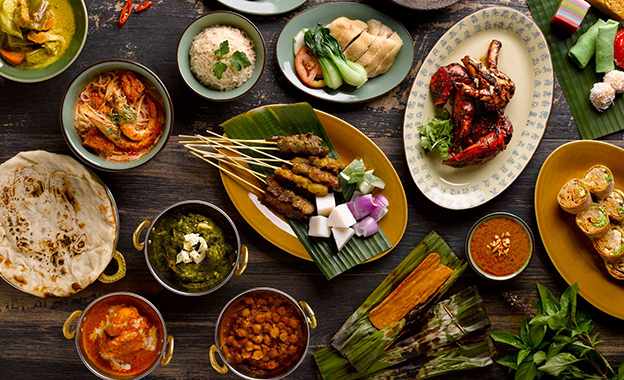 Image credit: Grand Hyatt Singapore
If you're looking to go all out, Halal-certified StraitsKitchen at Grand Hyatt Singapore offers a wide array of international dishes cooked with utmost dedication. DBS/POSB Cardmembers get 25% off lunch buffet.
Learn more
For soul food that will just hit the spot, check out Delibowl Dumpling. But if you fancy some hearty and soupy beef noodles, head over to their sister brand, Nuodle. DBS/POSB Cardmembers get 1-for-1 Soya Beancurd at Delibowl Dumpling and 1-for-1 side dish at Nuodle.
Learn more
Dinner
We've covered places to stay and places to eat, but the day isn't complete without a fun activity to do with your friends!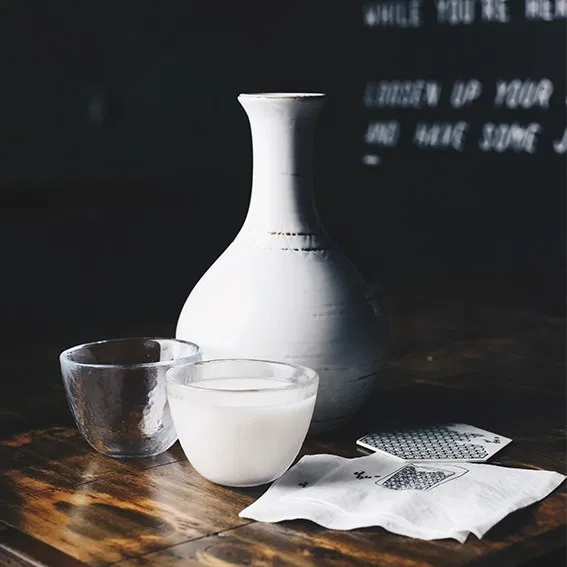 Image credit: Joo Bar
Described as a modern Korean restaurant, Joo Bar is the first bar to brew its own makgeolli, a traditional Korean rice wine. They also offer a wide variety of unique alcoholic concoctions and an array of contemporary Korean fare.
Learn more
If everyone has a craving of their own, look no further than HAWKERMAN @ Funan, a multi-concept dining spot that brings together neo-hawker favourites like Ah Boy Popiah, Tenderfresh, and Warong Kim.
Learn more
Gordon Grill is Goodwood Park Hotel's premier fine dining restaurant. It takes pride in serving some of the finest steaks and Continental cuisine in Singapore. Guests will be spoilt for choice; from seafood, grilled meats, to desserts. DBS/POSB Cardmembers enjoy 15% off à la carte food and beverage bill.
Learn more
Level Up Your Playdates
We've covered places to stay and places to eat, but the day isn't complete without a fun activity to do with your friends!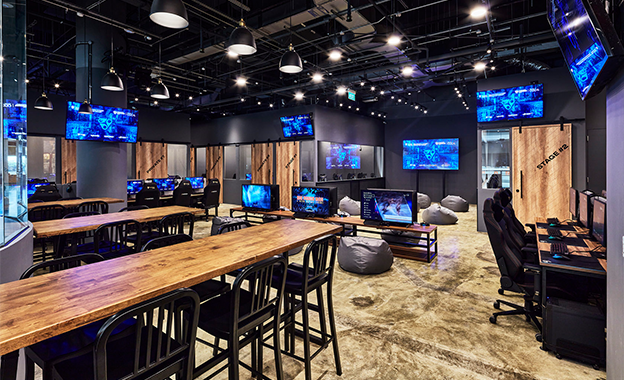 Image credit: Reality Rift Arena
Instead of yelling over Discord to communicate with your friends, get direct updates from them in-person on where your enemies are when you play your favourite games at Reality Rift Arena. DBS/POSB Cardmembers get 10% off when booking the Gaming Room PC for a minimum of two hours while DBS Live Fresh Cardmembers enjoy an exclusive 15% discount!
Learn more
If you don't feel like getting physical, check out the different museums in Singapore such as the Red Dot Design Museum where you can find award-winning designs made by local artists and designers.
Learn more
Drop by The Cathay which has an interesting gallery that features vintage cameras and memorabilia from back in our grandparents' days. The Cathay Gallery located on the second floor of the iconic theatre-slash-shopping mall showcases the history of the Cathay Building and the evolution of cinema in Singapore.
Learn more
For something a little more hands-on, you can sign up for a pottery-making class at The Potters' Guilt and take home your very own handmade souvenir (a few weeks later)!
Learn more
Or, take a cooking class at ABC Cooking Studio and whip up some delicious food that you can eat on the spot. This is a great group activity for everyone. Enjoy up to 60% off membership fee at ABC Cooking Studio for new members when you pay with your DBS/POSB card.
Learn more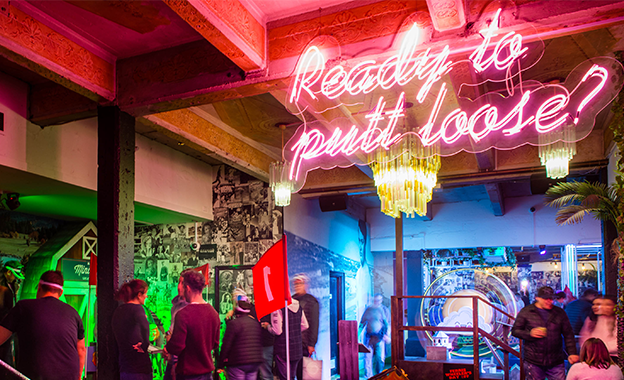 Image credit: Holey Moley Singapore
Stop puttering about and get putting at Holey Moley, a unique mini-golf bar that's got great vibes and great drinks. If you are a DBS/POSB Cardmember, you get to enjoy special discounts when making your reservations online and on-site, and 10% off à la carte food and beverage purchases.
Learn more
Don't forget to use your DBS Live Fresh Card and earn up to 5% cashback on Online and Visa Contactless Spend!
Power Up Your Epic Get-Together
Before you know it, the staycation will be over just like that. But that's the great thing about "travelling" in Singapore—you can do this with your friends anytime!
Just be sure to practise safe social distancing when you are rediscovering what our city-state has to offer.
From local stays to dining places to even shopping and playing, take advantage of any deals and discounts available to get the most out of your spending!
For more information on how to get cashback on contactless spend and public transport, exclusive rates for hotels, and more benefits with the DBS Live Fresh Card, visit the DBS website here!
Power 8% more savings with DBS/POSB Cards
Besides the exclusive deals in this article, you can also stack up additional savings when you use your DBS/POSB Card. From now till 31 Jan '21, be one of the first 30,000 Cardmembers to register for 'The Power The Things You Love' Promotion. Then shop 'n' dine your way to an 8% cashback when you hit your personalised goal. Learn more about this 8% cash reward promotion here.
Power your goal victory while you save with DBS/POSB Deals
Check out more DBS/POSB Card deals from Lazada, ZALORA, Shopee, Taobao, Sephora, Amazon.sg, foodpanda, Chope, ShopBack Go to WhyQ here.
Not a DBS/POSB Cardmember?
Apply now and get up to S$200 cashback or up to 48,000 miles!
Recommended for you