Why portfolio investing should be mainstream
There is a misconception that portfolio investing is only for seasoned investors. After all, as the story goes, if you have only 1 egg, it's pretty impossible to split the egg across several baskets without breaking it.
But at its core, portfolio investing = diversification that is well done. And all investors can benefit from it, including the average Joes and Joans who may be more used to picking individual stocks and bonds.
While the thrill that comes from making a "right" pick is exciting, you might not be working your money in the best way. That's because you could be exposing yourself to too much risk, in exchange for the returns that you could get.
And that's why portfolio investing is an interesting approach for you to consider. Simply put, it is a mixture of stocks and bonds across different geographies and industries. (And many other things, but let's keep this simple for explanation's sake.)
Why does portfolio investing work?
One word: diversification.
Diversification means investing in different things (also known as "assets") so you face a lower risk of having your investments severely damaged by a single market event, or if any single asset performs poorly.
That's because different stocks and bonds respond differently to what's going on in the world. Stocks generally respond well to growth news, whereas bonds become a "hot item" when the future is riddled with uncertainty. They also tend to behave differently at particular stages of the business cycle.
Real-life example: Stock markets and the British Pound fell in shock after the UK voted to leave the European Union in 2016 . In contrast, UK government bond prices rose in response to the uncertainty ahead.1
If you invest in individual stocks and bonds, your risk is likely to be concentrated in a few assets. That's because you're trying to juggle the bills with the minimum purchase amounts for each investment.
With portfolio investing, you invest in multiple assets, geographic location and industries. Even if a single asset class or geographic location gets hit by negative news, your portfolio is in a better position to manage the risks and achieve decent performance.
Real-life example: President Trump's tweets about the US-China trade war sent Asia stocks falling on 2 August. However, stocks of companies that mine rare earth minerals remained steady. Rare earth is a key component of smartphones production.2

This is how easy investing should be
You don't need to have a million dollars to diversify your investment portfolio properly. This is why: technology. Specifically, hybrid robo-advisors.
The typical robo-advisor will recommend you a pre-designed diversified portfolio that suits your risk profile. It also automatically buys the stocks and bonds for you, and rebalance it by buying and selling assets to maintain the desired asset allocation ratio.
While many robo-advisors are based on algorithms that mimic a human financial advisor, they're also built to function with minimal human intervention. As such, their ability to anticipate and respond to unexpected events is limited.
That's where an investment solution such as digiPortfolio fits in.
Like the typical robo-advisor, digiPortfolio leverages on the speed, scale, and cost efficiency of technology to execute trades for you. Unlike the typical robo, digiPortfolio has human expertise that was previously available only if you had at least S$500,000 to invest:
Selecting the best ETFs
Constructing portfolios that optimize the trade-off between risk and return
Evaluating the markets and world events
Developing a high-level investment strategy (i.e. asset allocation)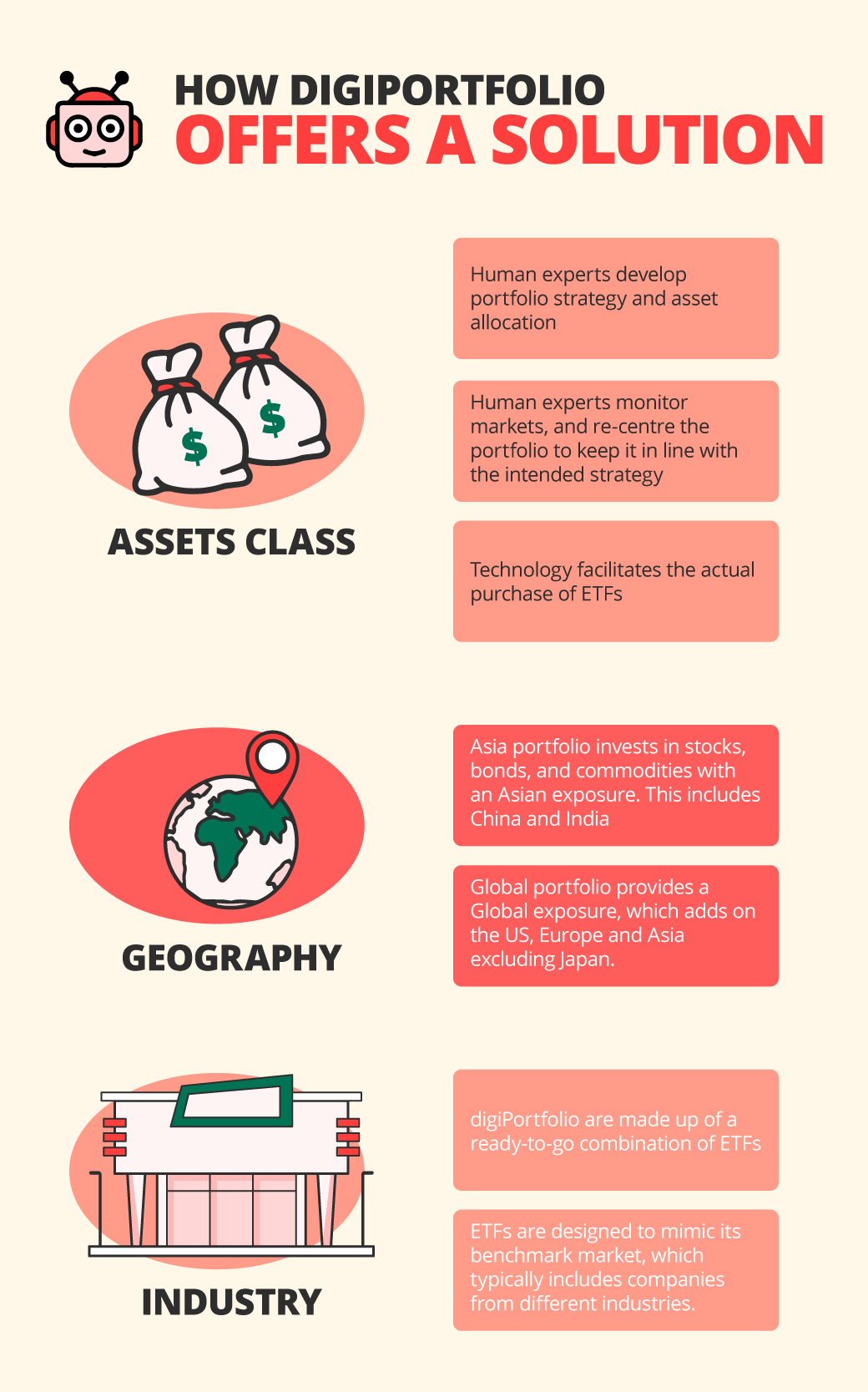 In fact, digiPortfolio has something for everyone. And here's why:
Never invested before? You get a head-start with a well-diversified portfolio
Already investing? You can use it to complement your overall investment portfolio
Not sure how to build a portfolio? You can invest in a ready-made one instantly
Because this is how investing should be.
1 Graeme Wearden & Nick Fletcher, The Guardian, 24 June 2016. Business live: Brexit panic wipes $2 trillion off world markets - as it happened.
2 Laura He, CNN Business, 2 August 2019. 'Asia tech stocks, Chinese yuan fall after Trump renews US-China trade war'. Retrieved 23 Aug 2019