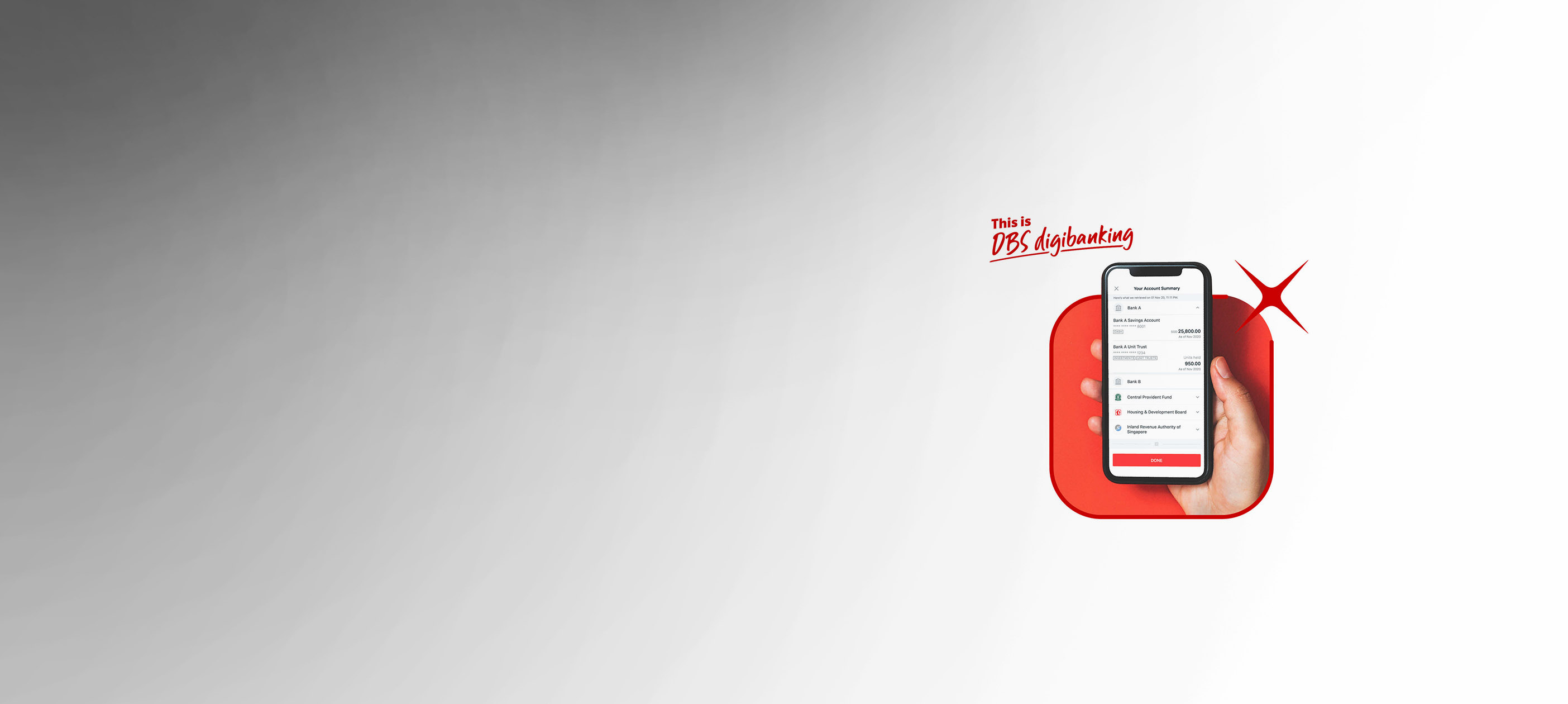 Connect all your
finances with ease
 
Link SGX (CDP) account with DBS NAV Planner
Retrieve your SGX Central Depository (CDP) Account data with your Singpass login and enjoy effortless tracking of investments with daily price updates.
Your money may be in different places, or all over the place, but your financial planning doesn't have to be.
DBS NAV Planner, now supercharged by SGFinDex, effortlessly gives you the biggest big picture of your money by connecting all your financial information from banks, Central Depository (CDP) Account under Singapore Exchange (SGX), and government accounts (CPF, HDB and IRAS).
 
At a Glance

Joyful experience, convenient and easy to do
A single, convenient view without the hassle of logging in to various accounts to manually download and consolidate your information.



Safety and control
SGFinDex is secured by Singpass and sharing of relevant financial information is controlled solely by you.



Get better at money now
Get a complete view of all your finances, with DBS NAV Planner helping you to track, protect and grow your money in a way that works for you.

Multiply your money, your way
Enjoy up to 3.5% p.a. on your DBS Multiplier Account. Connect and share financial information from your other banks and government accounts (CDP, CPF, HDB and IRAS) with SGFinDex and request for information retrieval of the linked accounts through DBS NAV Planner monthly.
 
How does SGFinDex work
With a few clicks, you can connect and share your financial information with DBS NAV Planner, which consolidates them to give you a view of your assets and liabilities, helping you plan more effortlessly.
Security, privacy and control is key – only the banks you choose to connect with can share relevant financial information (and not your login details) solely for the purpose of financial planning.
Here are the financial information that will be retrieved by us for financial planning purposes, when you connect and share:
Banks (Citi, DBS/POSB Bank, HSBC, Maybank, OCBC, Standard Chartered Bank, UOB)

Current and savings accounts balances
Fixed deposits balances
Unit trust holdings
SRS accounts and holdings
CPFIS accounts and holdings
Unsecured loan outstanding balances (credit cards, personal loans etc)
Secured loan outstanding balances (home loan, car loan etc)

Central Depository (CDP) Account under Singapore Exchange (SGX)

Singapore Savings Bonds
Singapore-listed and foreign equities

CPF, HDB and IRAS

CPF Account Balance
Outstanding HDB Loan Balance and Monthly Loan Instalment
Notice of Assessment
NRIC/FIN
All banks' financial information shared is as of the previous month-end or previous monthly statement balance, where applicable. Your information is updated only when you tap on the 'Refresh' button within DBS NAV Planner – we recommend you do it monthly to keep your information and your financial plan up to date!

View full T&Cs.
 
Holistic financial planning with DBS NAV Planner
Financial planning is like completing a puzzle: it works best when you have all the pieces together. DBS NAV Planner can now gather all your financial information in one place to help piece a personalised financial plan that's right for you.
Fill in financial information gaps, securely & automatically
DBS NAV Planner gives you a complete view of your finances by consolidating and auto-filling your information from Banks, SGX (CDP), CPF, HDB and IRAS shared via SGFinDex – no more dealing with manual inputs
Chart your course to financial freedom
Planning your finances for a rainy day or even for your retirement is more effortless. DBS NAV Planner gains a more holistic view of your finances with SGFinDex, to help you project your future cashflow, analyse various scenarios and keep your finances on track
Track all your investments in one place
Save time by skipping multiple logins and jumping between tabs. Track your investments and daily price movements easily, all in one view
Find out more about what DBS NAV Planner can do for you.
 
Connect all your accounts now
Securely connect your other banks', Central Depository (CDP) Account under Singapore Exchange (SGX) and government accounts (HDB, CPF, IRAS) to enjoy the convenience of retrieving your information anytime within one year.
With all your finances in one place, DBS NAV Planner can give you more insightful recommendations, helping you achieve your financial goals.
You do not need to connect your DBS/POSB accounts with SGFinDex if you use DBS NAV Planner.


 
Frequently asked questions
---
---
---
---
Thank you. Your feedback will help us serve you better.
Was this information useful?
That's great to hear. Anything you'd like to add?
We're sorry to hear that. How can we do better?
Enter only letters, numbers or @!$-(),.