Not sure how to do this retirement thing?

NAV TL;DR

If you don't have time to read through the whole article, you can check out our short version below:

Here's what a good retirement gameplan looks like:



It saves enough for your dream retirement lifestyle

It considers inflation

It makes good use of time


You may have seen ads about retirement or #adulting, but all you know about it is… it seems so far away. Here's the lowdown on it so you can get prepared, and maybe even help your parents.



The world's population is aging, and so is Singapore's. For retirement to look the way we want, it is probably wiser to have our own retirement stash.

At the current rate that our population is aging, the number of working-age citizens available to support senior citizens will fall from 4.4 to 2.4 by 2030. It's too great a burden to rely on the next generation as a retirement plan.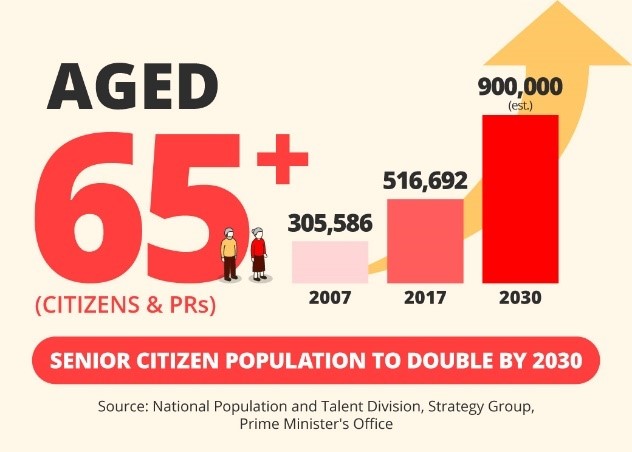 A good rule of thumb is the replacement rate (or replacement ratio) , which is calculated in this way:
Replacement rate = income after you retire / income before you retire
The recommended replacement rate varies from around 60 to 80%.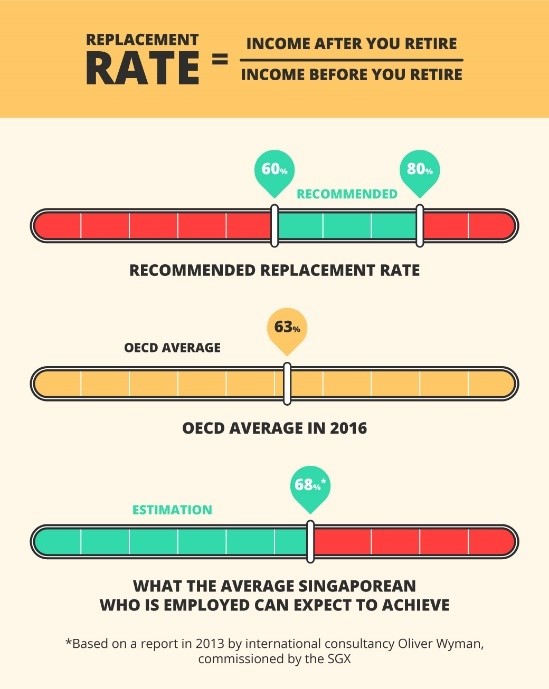 Whether this is enough will depend on:
Your lifestyle expectations; and
Expenses that "drop out" on retirement – e.g. commitments for regular investments, mortgages (assuming you pay off your home loan by then), and children's education.
Also, remember that what appears adequate now may change over time as a result of inflation.



If you plan to retire at a certain age and with a certain sum, it's important to start as early as possible. Calculations published by US financial planning website NerdWallet shows why.


And that task gets harder with each passing year.

Many vehicles can take you to the destination of "enough money" for your retirement. But they boil down to savings, investment and insurance.

Savings is the safest but slowest route. Make it go faster with cashback bonus schemes, or interest rate bonuses that are earned by taking your transactions into account.

Investing is generally a much faster route over time, if your risk and return are properly managed. Some common vehicles are stocks, bonds, unit trusts, exchange traded funds (ETFs) and regular savings plans (RSPs).

Insurance is the third way you can use to plan for your retirement planning besides savings or investment. In addition to providing higher returns than savings accounts do, insurance is relatively safe.

Most insurance also provides some simple protection (through riders) so that minor incidents will not derail your retirement planning. That said, you should probably not rely totally on these growth-oriented policies for your protection needs.
Browse through protection plans, and health insurance plans if you want coverage to:
Protect yourself
Protect your assets
Protect your income
Protect against total and permanent disability
Include critical illness cover
But if your main objective is income for your retirement, endowment policies and investment-linked policies (ILPs) can help you with that. Both types of policies provide a payout upon maturity. You also get a choice between policies that offer a lumpsum payout, or regular income stream.

The difference lies in who decides what to invest in. With endowment policies, your insurer decides according to their mandate. With ILPs, you choose which sub-fund to invest in, and can switch between sub-funds for free with some providers.

Hello, we're NAV.
Inspired by the word "navigate", NAV is an initiative by DBS & POSB created to help you navigate your finances, your way. Whatever your financial goals are in life, no matter what situation you are in, we're here to help you on your financial journey.


Ready to start?
Speak to the Wealth Planning Manager today for a financial health check and how you can better plan your finances.
Alternatively, check out NAV Planner to analyse your real-time financial health. The best part is, it's fuss-free – we automatically work out your money flows and provide money tips.

Keep reading