Bank Indonesia maintained the policy rate at a record low of 3.5%, drawing comfort from a resilient domestic economy.
Bank Indonesia remains on hold

Policymakers will watch inflationary risks, subject to fuel and utility price adjustments

We discuss the direct and indirect impact of the Russia-Ukraine conflict

BI is likely to lag the Fed in terms of quantum and timing of rate hikes

Implications for forecasts: We delay our rate hike call to 3Q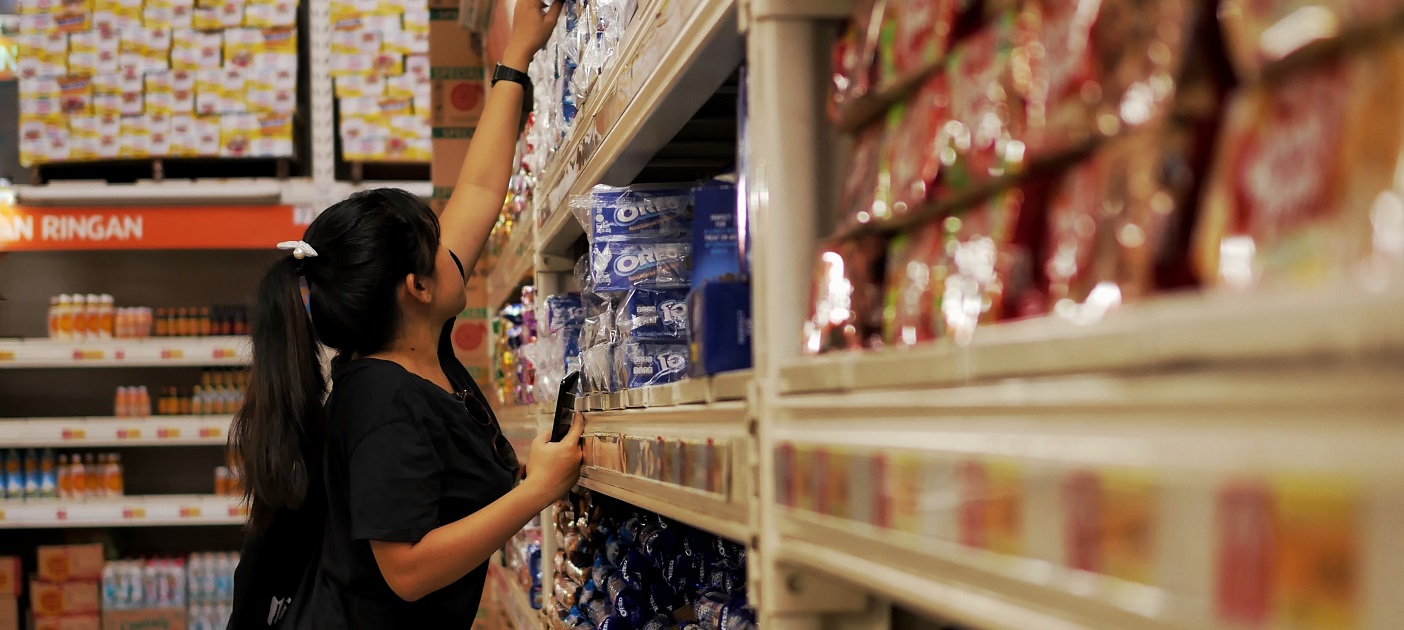 Photo credit: Unsplash
Bank Indonesia opts for patience

Economic assessment

Bank Indonesia maintained the policy rate at a record low of 3.5%, drawing comfort from a resilient domestic economy, despite lingering global uncertainties. Global growth projection was trimmed to 3.8-4.2% (vs 4.4% prev), but Indonesia's forecast was held unchanged at 4.7-5.5%, backstopped by expectations of better domestic demand and stronger exports. Geopolitical risks are seen as a mixed blessing, as higher oil has been accompanied by increase in other commodity groups including palm oil, coal, and metals, boosting Indonesia's terms of trade gains (more below).

On inflation, the BI recognized that price controls and subsidies had limited the spillover of global energy movements on domestic inflation. 2022 inflation is seen within the target range of 2-4%. Policymakers will, nonetheless, monitor any adjustments in fuel prices or electricity tariffs in the coming months, considering past experiences (for instance 2008 and 2013) when climbing energy subsidies and weakening trade balance had attracted aggressive central bank action.

In the near-term, the BI will seek government's intervention to manage food supplies and cap costs as we head into the seasonally strong Ramadan period in April-May. With much of the pressure stemming from supply-side shortages, the BI is instead likely to focus on core inflation, which is also on the lower end of the inflation target range.

On liquidity, the BI expects the incremental increase in the reserve requirement rate to drain IDR156trn worth banking system liquidity, lower than the previously indicated IDR200trn. Loan growth is seen at 6-8%.

Policy outlook

The central bank's policy guidance tempered its urgency to normalize policy vs earlier in the year, presumably due to limited volatility witnessed in the domestic markets notwithstanding global uncertainties.

With the spillover of geopolitical risks less evident on inflation as yet and rupiah on an even keel (best regional performer in Mar at +0.45%/$) despite the US Fed dialling up its hawkish rhetoric, is likely to see policymakers bide time. Moreover, even as yields rise, the revealed official preference is to allow bonds to adjust to make levels more attractive for investors, including offshore interests.

On the policy front, the BI is likely to withhold fire until second half of the year, when material risks to inflation might surface due to administered price adjustments and financial conditions tighten due to back-to-back US rate increases as well as moves to shrink the Fed's balance sheet. We delay our forecast for a start in rate hike to 2H - one increase in 3Q and two in 4Q, which will leave the benchmark rate at 4.75% by end-year. Our FX Strategist expects a bid US dollar, over the next two quarters, to restrain the extent of rupiah gains, with USDIDR seen heading past 14600, before stabilizing next year.

Russia-Ukraine implications

Three weeks into Russia's invasion of Ukraine, risk sentiments have stabilized after a tumultuous phase. The shakeout was most palatable in the commodity markets, as oil prices rallied to more than a decade high but has since corrected >20% but is still at elevated levels vs 2021. We discuss implications for Indonesia, below:

a) Trade linkages with Russia as well as Ukraine are small, amounting to less than ~US$3bn, with imports at >1% of total purchases. Product concentration is high in wheat for example, as Ukraine accounts for a quarter of grain imports (total 3mn in 2021) and fertilizers from Russia. Other product groups traded include semi-finished iron, coal, refined petroleum, amongst others.

b) Secondly, indirect impact of this conflict has been on commodity prices. Indonesia is a net oil importer, even as the net oil deficit is smaller than most in ASEAN-6 bloc, except Malaysia. Rising energy prices raise pressure to adjust administered fuel prices and electricity tariffs, with the final decision resting with the authorities' willingness to pass on the increase in costs to limit losses of the state-owned energy company as well as ease pressure on the fiscal math (subsidies). The primary energy supply mix in 2019 consisted of oil 35%, coal 37% and gas 18.5%, with the rest constituting of hydropower, biofuel, geothermal and others.

The most used fuel variants of premium and Pertalite have been held unchanged in the past two years, whilst non-subsidised Pertadex has been raised by 13% by Feb22 vs Jan-20 levels. Concurrently, LPG prices (12kg) has been raised by 17% during the period, whilst price controls see other LPG variants held unchanged. A mix of moves are likely, by partly raising fuel prices to reflect a higher pass-through, whilst also pursuing a medium-term initiative to gradually phase out low grade fuels for high grade and cleaner fuels.

Concurrently, a sharp rise in global wheat is likely to raise import costs at the margin and reflect in downstream food industries like cereal/bread, grain-based food products, besides soyabean, cooking oil, fertilizer prices. Lastly, the increase in the value-added tax rate from Apr22 (and excise duty) and pass through of producers' input prices are risks that will need to be monitored. Spectre of higher energy prices and food pushing up inflation is a risk this year, subject to decisions on administered prices. We maintain our 3%yoy forecast for 2022 with 50-70bp upside risks on price adjustments.




c) Next, the negative balance on the oil & gas front, will be offset by strong gains in the non-oil & gas sectors, particularly coal, palm oil, metals etc, via positive terms of trade gains. For instance, in February 2022, the non-oil & gas surplus nearly doubled to US$5.7bn vs US$2.3bn, on bunched coal sales and benefiting from price effects from other commodity tradables.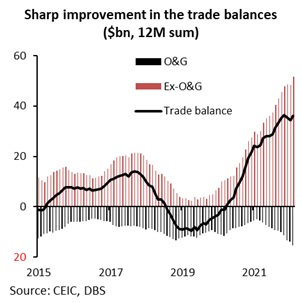 Export gains will nonetheless be punctuated by domestic policy changes for instance, temporary steps to ensure adequate domestic stocks of key commodities including coal and palm oil, in the face of surging international prices. In a recent announcement, companies are required to sell 30% of their planned exports of palm oil locally (vs 20% before), under the Domestic Market Obligation (DMO) scheme. In a sign that the DMO obligation might be revoked shortly, crude palm oil export levies have been revised up sharply to $675/ton from $375/ton. Overall, terms of trade will boost the trade balance, and current account by extension, implying that the 2022 current account deficit could be narrower at -0.5% of GDP vs our earlier forecast at -0.9%.

d) Lastly, fiscal math faces a two-way tug from higher commodity prices – higher revenues from natural resources but offset by need for price support and energy subsidies. Revenues from natural resources rose 55%yoy in 2021, accounting for a third of non-tax receipts, providing tailwind for fiscal consolidation. Energy subsidies, on the other hand, rose by 44%yoy i.e., 0.83% of GDP, 0.2% increase from year before. With prevailing Indonesian crude ~30% higher than the 2022 Budget assumption of US$63bl, the underlying revenue/ expenditure math will need to be reassessed. Our calculations show that if oil prices average $100pb, energy subsidies could rise to ~IDR200trn this year (0.4% of GDP increase).

Commodity price gain following the geopolitical disruption is a tailwind for Indonesia's external trade balances, strengthening the economy's resilience amidst a shift in global policy direction. We expect resultant inflationary impact to be offset by domestic intervention, with the BI expected to also normalize policy albeit at a slower pace that envisaged for the US Federal Reserve.


[1] ADB report. December 2020


To read the full report, click here to Download the PDF.
Subscribe
here
to receive our economics & macro strategy materials.
To unsubscribe, please click
here
.
GENERAL DISCLOSURE/ DISCLAIMER (For Macroeconomics, Currencies, Interest Rates)
The information herein is published by DBS Bank Ltd and/or DBS Bank (Hong Kong) Limited (each and/or collectively, the "Company"). This report is intended for "Accredited Investors" and "Institutional Investors" (defined under the Financial Advisers Act and Securities and Futures Act of Singapore, and their subsidiary legislation), as well as "Professional Investors" (defined under the Securities and Futures Ordinance of Hong Kong) only. It is based on information obtained from sources believed to be reliable, but the Company does not make any representation or warranty, express or implied, as to its accuracy, completeness, timeliness or correctness for any particular purpose. Opinions expressed are subject to change without notice. This research is prepared for general circulation. Any recommendation contained herein does not have regard to the specific investment objectives, financial situation and the particular needs of any specific addressee. The information herein is published for the information of addressees only and is not to be taken in substitution for the exercise of judgement by addressees, who should obtain separate legal or financial advice. The Company, or any of its related companies or any individuals connected with the group accepts no liability for any direct, special, indirect, consequential, incidental damages or any other loss or damages of any kind arising from any use of the information herein (including any error, omission or misstatement herein, negligent or otherwise) or further communication thereof, even if the Company or any other person has been advised of the possibility thereof. The information herein is not to be construed as an offer or a solicitation of an offer to buy or sell any securities, futures, options or other financial instruments or to provide any investment advice or services. The Company and its associates, their directors, officers and/or employees may have positions or other interests in, and may effect transactions in securities mentioned herein and may also perform or seek to perform broking, investment banking and other banking or financial services for these companies. The information herein is not directed to, or intended for distribution to or use by, any person or entity that is a citizen or resident of or located in any locality, state, country, or other jurisdiction (including but not limited to citizens or residents of the United States of America) where such distribution, publication, availability or use would be contrary to law or regulation. The information is not an offer to sell or the solicitation of an offer to buy any security in any jurisdiction (including but not limited to the United States of America) where such an offer or solicitation would be contrary to law or regulation.

This report is distributed in Singapore by DBS Bank Ltd (Company Regn. No. 196800306E) which is Exempt Financial Advisers as defined in the Financial Advisers Act and regulated by the Monetary Authority of Singapore. DBS Bank Ltd may distribute reports produced by its respective foreign entities, affiliates or other foreign research houses pursuant to an arrangement under Regulation 32C of the Financial Advisers Regulations. Singapore recipients should contact DBS Bank Ltd at 65-6878-8888 for matters arising from, or in connection with the report.

DBS Bank Ltd., 12 Marina Boulevard, Marina Bay Financial Centre Tower 3, Singapore 018982. Tel: 65-6878-8888. Company Registration No. 196800306E.

DBS Bank Ltd., Hong Kong Branch, a company incorporated in Singapore with limited liability. 18th Floor, The Center, 99 Queen's Road Central, Central, Hong Kong SAR.

DBS Bank (Hong Kong) Limited, a company incorporated in Hong Kong with limited liability. 13th Floor One Island East, 18 Westlands Road, Quarry Bay, Hong Kong SAR

Virtual currencies are highly speculative digital "virtual commodities", and are not currencies. It is not a financial product approved by the Taiwan Financial Supervisory Commission, and the safeguards of the existing investor protection regime does not apply. The prices of virtual currencies may fluctuate greatly, and the investment risk is high. Before engaging in such transactions, the investor should carefully assess the risks, and seek its own independent advice.