Vietnam's currency agreement with the US would see Vietnam increase FX flexibility while the tariff threat withdrawal reduces business uncertainty.
Vietnam's currency agreement with the US is a positive outcome following months of engagement

Increased FX flexibility would allow for external adjustment during shocks

Withdrawal of tariff threat lowers business uncertainty

Promising foreign investment and US export outlook amid increasing manufacturing exposure

Implication for our forecasts: We revise our end-2021 FX forecast stronger to VND22,870 per USD

Photo credit: AFP Photo
Vietnam has reached an agreement with the US regarding its currency practices, mitigating the risk of action.
A joint statement, released on July 19, after the meeting between the Governor of the State Bank of Vietnam (SBV) and US Treasury Secretary, stated that SBV will refrain from any competitive devaluation to gain an unfair competitive advantage; it will also make efforts to improve exchange rate flexibility over time to modernise its monetary policy and exchange rate framework.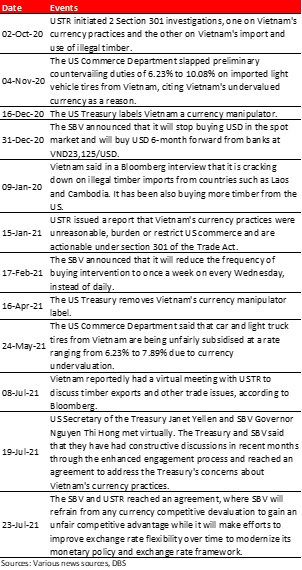 The US Trade Representative (USTR) initiated the Section 301 investigation on Vietnam's currency practices in October 2020. The US was concerned that the Vietnamese dong's undervaluation would restrict US commerce. As per the USTR's analysis, the undervaluation has been reflected in Vietnam's large current account surplus and bilateral goods trade surplus with the US, coupled with intervention that limited the dong's volatility. Vietnam was subsequently named a currency manipulator by the US Treasury in December 2020 (the designation was removed in April 2021, under the Biden administration).
Following engagement with Vietnam, the USTR's office on July 23 said that no trade action is warranted at this time, removing the lingering tariff threat since the initiation of Section 301 investigation in October 2020.
Greater FX flexibility would reduce the SBV's 'trilemma' while the removal of the tariff threat augurs well for foreign investment and exports to the US.
Increased FX Flexibility Bodes Well for Monetary Policy Framework Enhancement
The exchange rate serves as one of the monetary policy anchors for Vietnam, other than its 4% inflation target. In our view, SBV's commitment to increased exchange rate flexibility would gradually help with modernising its monetary policy framework and reduce the effects of 'trilemma', especially during periods of external shocks. The trilemma is a trade-off that economies face among the objectives of exchange rate stability, free capital mobility, and independent monetary policy. A more flexible currency would allow for external adjustment and better management of domestic liquidity conditions to achieve its inflation target.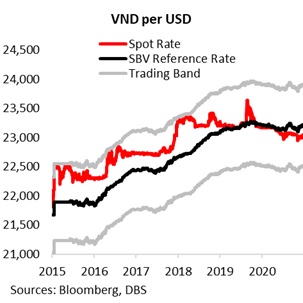 In any case, the SBV has been moving in this direction. Since August 2015, the central bank has widened the dong's trading band to float +/-3% against the USD relative to the central reference rate of the trading band, which is reset daily. Recently, the currency has traded near the stronger side of the trading band. We are revising our end-2021 FX forecast stronger to VND22,870 per USD (from VND23,070 per USD previously).
The USTR, together with the US Treasury, will monitor Vietnam's implementation of the agreement.
Our estimates show that Vietnam continues to meet at least two of the three criteria, in which the US Treasury judges to be currency manipulator, and therefore Vietnam is likely to remain under close watch by the US.
Vietnam's current account surplus remained above the threshold of 2% of GDP, standing at 2.9% in 2021Q1, while its bilateral trade surplus with the US rose to a high of USD77bn over the past 12 months as of June 2021. FX intervention is difficult to ascertain given that Vietnam does not publish such data.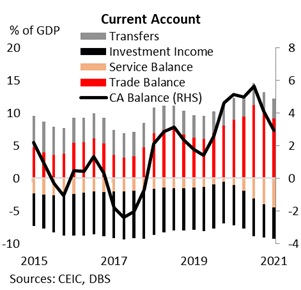 FX reserves have risen to almost USD100bn as of March 2021, a 3.6% QoQ increase compared with 6.8% QoQ in the preceding quarter, likely reflecting the move away from spot intervention.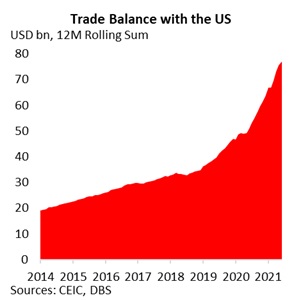 FDI and US Export Outlook
The US-Vietnam agreement, following months of engagement, prevents a deterioration in tense bilateral relations and reduces uncertainty for businesses.
Vietnam has so far benefitted from US-China trade friction and remains in a favourable position. (see
Understanding Vietnam: The rising star
for more details). FDI remains a key engine of growth. Newly registered FDI came in at USD10bn in the first seven months of the year, 7% higher than the same period last year. Should such pace keep up for the rest of the year, new FDI is likely to exceed last year's high of around USD15bn.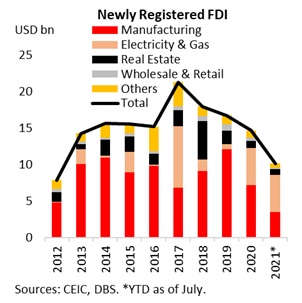 The removal of the tariff threat by the US, coupled with Vietnam's manufacturing capability built up over the years, should also support the latter's export-led model over the medium-term. The government, in its five-year plan, aims to increase the manufacturing sector's share of GDP to 25% by 2025 from around 20% in 2020.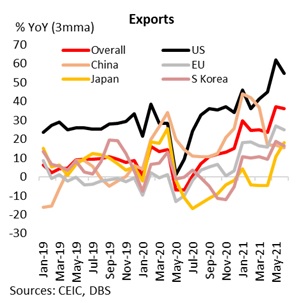 The US is Vietnam's largest export partner, accounting for 27% of total exports in 2020, with shipments to the US more than doubling over the past five years. Above-trend US economic expansion over the coming years should serve as a tailwind. So far in 2021, the US is leading developed economies out of the deep contraction in 2020. Vietnam's overseas shipments to the US have therefore significantly outperformed other major markets.
To read the full report, click here to
Download the PDF
.
Subscribe
here
to receive our economics & macro strategy materials.
To unsubscribe, please click
here
.
GENERAL DISCLOSURE/ DISCLAIMER (For Macroeconomics, Currencies, Interest Rates)
The information herein is published by DBS Bank Ltd and/or DBS Bank (Hong Kong) Limited (each and/or collectively, the "Company"). This report is intended for "Accredited Investors" and "Institutional Investors" (defined under the Financial Advisers Act and Securities and Futures Act of Singapore, and their subsidiary legislation), as well as "Professional Investors" (defined under the Securities and Futures Ordinance of Hong Kong) only. It is based on information obtained from sources believed to be reliable, but the Company does not make any representation or warranty, express or implied, as to its accuracy, completeness, timeliness or correctness for any particular purpose. Opinions expressed are subject to change without notice. This research is prepared for general circulation. Any recommendation contained herein does not have regard to the specific investment objectives, financial situation and the particular needs of any specific addressee. The information herein is published for the information of addressees only and is not to be taken in substitution for the exercise of judgement by addressees, who should obtain separate legal or financial advice. The Company, or any of its related companies or any individuals connected with the group accepts no liability for any direct, special, indirect, consequential, incidental damages or any other loss or damages of any kind arising from any use of the information herein (including any error, omission or misstatement herein, negligent or otherwise) or further communication thereof, even if the Company or any other person has been advised of the possibility thereof. The information herein is not to be construed as an offer or a solicitation of an offer to buy or sell any securities, futures, options or other financial instruments or to provide any investment advice or services. The Company and its associates, their directors, officers and/or employees may have positions or other interests in, and may effect transactions in securities mentioned herein and may also perform or seek to perform broking, investment banking and other banking or financial services for these companies. The information herein is not directed to, or intended for distribution to or use by, any person or entity that is a citizen or resident of or located in any locality, state, country, or other jurisdiction (including but not limited to citizens or residents of the United States of America) where such distribution, publication, availability or use would be contrary to law or regulation. The information is not an offer to sell or the solicitation of an offer to buy any security in any jurisdiction (including but not limited to the United States of America) where such an offer or solicitation would be contrary to law or regulation.

This report is distributed in Singapore by DBS Bank Ltd (Company Regn. No. 196800306E) which is Exempt Financial Advisers as defined in the Financial Advisers Act and regulated by the Monetary Authority of Singapore. DBS Bank Ltd may distribute reports produced by its respective foreign entities, affiliates or other foreign research houses pursuant to an arrangement under Regulation 32C of the Financial Advisers Regulations. Singapore recipients should contact DBS Bank Ltd at 65-6878-8888 for matters arising from, or in connection with the report.

DBS Bank Ltd., 12 Marina Boulevard, Marina Bay Financial Centre Tower 3, Singapore 018982. Tel: 65-6878-8888. Company Registration No. 196800306E.

DBS Bank Ltd., Hong Kong Branch, a company incorporated in Singapore with limited liability. 18th Floor, The Center, 99 Queen's Road Central, Central, Hong Kong SAR.

DBS Bank (Hong Kong) Limited, a company incorporated in Hong Kong with limited liability. 13th Floor One Island East, 18 Westlands Road, Quarry Bay, Hong Kong SAR

Virtual currencies are highly speculative digital "virtual commodities", and are not currencies. It is not a financial product approved by the Taiwan Financial Supervisory Commission, and the safeguards of the existing investor protection regime does not apply. The prices of virtual currencies may fluctuate greatly, and the investment risk is high. Before engaging in such transactions, the investor should carefully assess the risks, and seek its own independent advice.