The US economy has hit summer doldrums to some extent amid Delta variant worries. For markets, we think that USD rates already reflect the dent to growth.
The US economy has hit summer doldrums

Delta variant is the key spoiler

Our 6.8% growth forecast face downside risks

USD rates already reflect growth challenges

We stay in the pay on dips camp
Photo credit: AFP Photo
US economy's ebbing momentum and market implications
The US economy has hit summer doldrums to some extent. While the economy is still doing well by global standards, there has been a clear deceleration in momentum lately, concerning markets. Delta variant is the key spoiler, but chip shortages and China-related worries are weighing in on production and investor sentiment as well.
The sharp dip in services PMI, from 70 in May to 59.9 in July, is concerning for an economy that has otherwise been roaring. In order for our 2021 forecast of 6.8% to pan out, we would need the Delta spread to peak this month and services to come back strongly from September onward. But vaccination rates have flattened, parts shortages continue to hamper production, high shipping costs are eating into profits, and an unusually warm summer has caused widespread disruption to activities in parts of the country (see charts on page 2 for to gauge the state of the economy). Adding these up, we see 50bps downside risk to our forecast.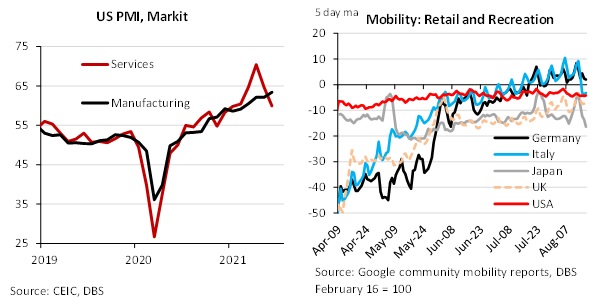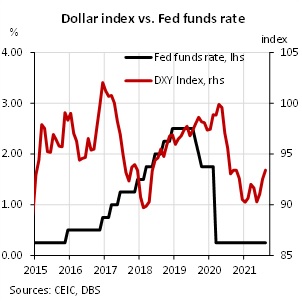 US Rates: Transition pains
The global economy is shifting from a COVID-19 Pandemic to an endemic situation. However, there are challenges.
In particular, global growth is uneven as the vaccination pace across countries diverge. In the developed markets, the US, UK, Europe and Canada have already achieved very high levels of vaccinations (>50% of population fully vaccinated). Comparatively, the emerging markets (including Asia) will need several more quarters to reach the same stage. This transition process is also complicated by the Delta variant (more transmissible) which has spread to many parts of the world, triggering restrictions in economies that do not have sufficiently high vaccine coverage. Uneven growth is clearly represented by the outperformance of DM PMI composite indices compared to their EM counterparts. Even in the DM where vaccinations rates are high, elevated COVID-19 cases should prompt some caution. On balance, while we think that
the Delta variant has delayed the global recovery, we do not think that the recovery has been derailed.
That said, with growth risks weighing, US Treasuries are likely to stay supported for a while.
We have pushed back yield curve normalization and now see 10Y US yields at 1.6% by end-2021 before a modest drift higher towards 2%.
The global push towards monetary policy normalization is underway and should lift longer-term US yields (drawing the centre of gravity higher) when concerns on COVID-19 ease.
For the US, headline inflation figures have been uncomfortably high for several months. Meanwhile, job creation stood at close to 2mn in the two months ending July, driving the unemployment rate to 5.4%. While Delta
variant risks bear watching, we still see the Fed as on track to taper by end-2021/early 2022. Beyond that, we still see rate hikes as more likely for 2023.
For the ECB,
there would
be plans to ensure that quantitative easing does not fall too quickly
when the Pandemic Emergency Purchase Programme (PEPP, EUR 1.85) expires in March 2022. The current pace of bond buying is about EUR100bn per month
(of which EUR 80bn PEPP and EUR 20bn Asset Purchase Programme) and is set to slow to just EUR 20bn when PEPP ends. This would entail a far sharper taper timeline than what market currently expects from the Fed.
An asset purchase pace of about EUR30-40bn in April (post PEPP) would probably be more palatable. The upshot is that major central banks will be withdrawing support for government bonds. We expect the curve to bear flatten over the coming few quarters. As highlighted previous
(see
here
), the USD curve has likely passed peak steepness. Tactically, we do think that the back of the curve may be too flat as market participants overshoot to the downside on COVID-19 pessimism following Delta variant outbreaks across multiple economies. This mirrors the overshoot of optimism in 2Q when the virus appears to be receding in many parts of the world. We view neutral for 10Y US yields to be around 1.6%. Accordingly, this pegs 30Y US yields at around 2-2.2%.
We think 10Y USD rates are a pay closer to 1.20% (sufficiently pricing in growth risk),
below which we think makes little sense as the world transits into an Endemic situation. Given better virus management now, we don't think a premium of more than 40bps in UST makes sense. In any case, we suspect that the current COVID-wave could crest In the coming weeks, dissipating some growth concerns.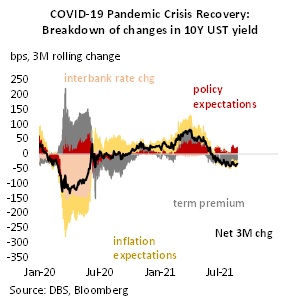 Our USD rates breakdown suggest that market pricing for Fed hikes has been fairly stable (3Y and 5Y SOFR have been stuck in range).
We think 5Y SOFR is a pay closer to 0.60%, underscoring our view that the belly of the curve could face more persistent upward pressures over the medium term.
Meanwhile, inflation breakevens, while off highs, have stayed elevated by recent standards. We are neutral on this, noting that breakevens could come under pressure if nominal USD rates normalize higher as we expect. On the other hand, it is not possible to settle the debate on transitory versus persistent inflation just yet.
Term premium is extraordinarily low, likely reflecting growth worries
(as mentioned above). It could also reflect
the lack of monetary policy options
if a crisis does hit in the near term.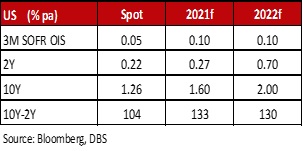 To read the full report, click here to
Download the PDF
.
Subscribe
here
to receive our economics & macro strategy materials.
To unsubscribe, please click
here
.
GENERAL DISCLOSURE/ DISCLAIMER (For Macroeconomics, Currencies, Interest Rates)
The information herein is published by DBS Bank Ltd and/or DBS Bank (Hong Kong) Limited (each and/or collectively, the "Company"). This report is intended for "Accredited Investors" and "Institutional Investors" (defined under the Financial Advisers Act and Securities and Futures Act of Singapore, and their subsidiary legislation), as well as "Professional Investors" (defined under the Securities and Futures Ordinance of Hong Kong) only. It is based on information obtained from sources believed to be reliable, but the Company does not make any representation or warranty, express or implied, as to its accuracy, completeness, timeliness or correctness for any particular purpose. Opinions expressed are subject to change without notice. This research is prepared for general circulation. Any recommendation contained herein does not have regard to the specific investment objectives, financial situation and the particular needs of any specific addressee. The information herein is published for the information of addressees only and is not to be taken in substitution for the exercise of judgement by addressees, who should obtain separate legal or financial advice. The Company, or any of its related companies or any individuals connected with the group accepts no liability for any direct, special, indirect, consequential, incidental damages or any other loss or damages of any kind arising from any use of the information herein (including any error, omission or misstatement herein, negligent or otherwise) or further communication thereof, even if the Company or any other person has been advised of the possibility thereof. The information herein is not to be construed as an offer or a solicitation of an offer to buy or sell any securities, futures, options or other financial instruments or to provide any investment advice or services. The Company and its associates, their directors, officers and/or employees may have positions or other interests in, and may effect transactions in securities mentioned herein and may also perform or seek to perform broking, investment banking and other banking or financial services for these companies. The information herein is not directed to, or intended for distribution to or use by, any person or entity that is a citizen or resident of or located in any locality, state, country, or other jurisdiction (including but not limited to citizens or residents of the United States of America) where such distribution, publication, availability or use would be contrary to law or regulation. The information is not an offer to sell or the solicitation of an offer to buy any security in any jurisdiction (including but not limited to the United States of America) where such an offer or solicitation would be contrary to law or regulation.

This report is distributed in Singapore by DBS Bank Ltd (Company Regn. No. 196800306E) which is Exempt Financial Advisers as defined in the Financial Advisers Act and regulated by the Monetary Authority of Singapore. DBS Bank Ltd may distribute reports produced by its respective foreign entities, affiliates or other foreign research houses pursuant to an arrangement under Regulation 32C of the Financial Advisers Regulations. Singapore recipients should contact DBS Bank Ltd at 65-6878-8888 for matters arising from, or in connection with the report.

DBS Bank Ltd., 12 Marina Boulevard, Marina Bay Financial Centre Tower 3, Singapore 018982. Tel: 65-6878-8888. Company Registration No. 196800306E.

DBS Bank Ltd., Hong Kong Branch, a company incorporated in Singapore with limited liability. 18th Floor, The Center, 99 Queen's Road Central, Central, Hong Kong SAR.

DBS Bank (Hong Kong) Limited, a company incorporated in Hong Kong with limited liability. 13th Floor One Island East, 18 Westlands Road, Quarry Bay, Hong Kong SAR

Virtual currencies are highly speculative digital "virtual commodities", and are not currencies. It is not a financial product approved by the Taiwan Financial Supervisory Commission, and the safeguards of the existing investor protection regime does not apply. The prices of virtual currencies may fluctuate greatly, and the investment risk is high. Before engaging in such transactions, the investor should carefully assess the risks, and seek its own independent advice.