Risk dynamics between growth and inflation will change in 2022, which warrants a reassessment in policy stance.
The island state is finally emerging from the COVID-19 crisis

GDP growth to ease to 3.5% in 2022 while inflation (2.4%) could emerge as the new risk

Monetary policy has to rebalance the changing risk dynamics between growth and inflation

FX: USD/SGD to rise to 1.39 ahead of the two Fed hikes by 4Q22 before returning to 1.34 in 2023

Rates: The interplay between the MAS and the Fed will dictate how SGD rates move in 2022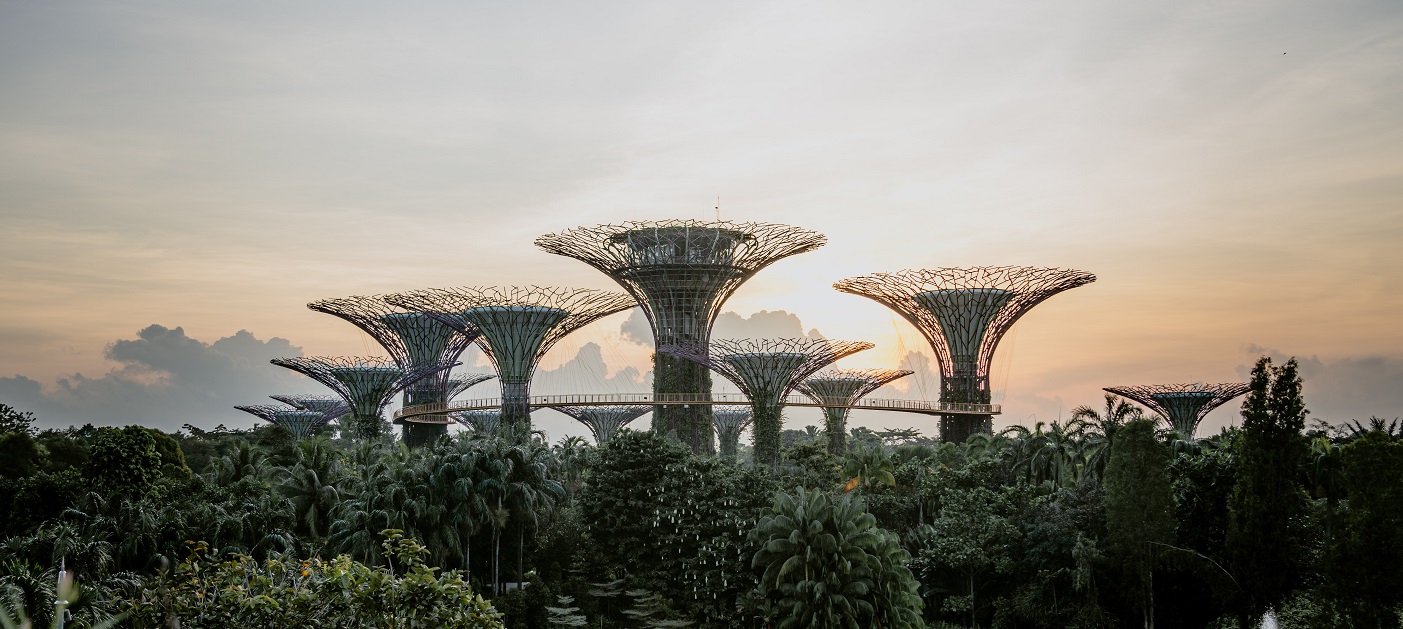 Photo credit: Unsplash
The path from pandemic to COVID endemic has been bumpy.
Unlike many countries that struggled with large numbers of infections and deaths in 2020, Singapore had done remarkably well containing the virus. But this also implied that the level of domestic herd immunity had been low and Singapore's population was largely COVID naïve, i.e. with no exposure to the virus, they had no existing protection from these infections, beyond their own immune system's ability. Achieving high vaccination rate made the population more resilient to COVID in 2021, but a fairly large number of unvaccinated elderlies became a source of complication from the perspective of public health management.
Nevertheless, with persistent strict measures and continued inoculation efforts, Singapore's COVID situation has stabilized significantly at the point of writing. The COVID infection rate has eased, which has prompted further reopening of the economy, and easing of restrictive measures. As the nation gradually comes to terms with the challenges of living with COVID, there is now an emerging optimism for sectors that have been the hardest hit by the pandemic (i.e, aviation and tourism related services). More importantly, while the recovery will persist into 2022 and growth pace is expected to normalize towards the potential growth rate, new opportunities and risks will also emerge in the horizon (see later sections).
Strong growth performance in 2021
Singapore's economic recovery from the COVID-19 crisis has turned out to be slightly stronger than expected. The economy posted a strong showing of 7.1% YoY and 1.3% QoQ sa in the third quarter even with the impact of the second round of Heightened Alert measures in Jul-Aug period. Barring any significant slide in GDP growth for 4Q, particularly from a weaker growth outlook in China,
full year GDP growth for 2021 is expected to average about 7%, up from our previous forecast of 6.7%.
Slower manufacturing growth ahead
Key manufacturing sector remains the main engine of growth, but momentum is waning.
The electronics cluster which has been an important driver in the recovery process is losing impetus. Although semiconductor equipment billings and global shipments of semiconductors remain robust amid strong investment in digital solutions and new technologies, recent data is suggesting that global demand in this aspect has peaked and this all-important driver of Singapore's growth could see weaker performance in the coming quarters.
All eyes on China
All eyes will be China in the coming 6-12 months, as the biggest risk to Singapore's growth.
China's power supply shortage will imply further disruption to regional supply chain and make for a weaker manufacturing growth in Singapore in 4Q. China's recent policy shift against tech companies and the focus on Common Prosperity will also perpetuate the slowdown in China's growth. This would have significant implications on Singapore and for the region. The biggest risk is that with so many different factors, both policy driven and unintended outcome from shifts in economic fundamentals, there is a real danger of growth undershooting in China, and consequently on the region, which would then imply both a direct and a second order impact on Singapore's growth prospects in the coming twelve months. Indeed, although China has been the key driver, it could easily flip to become the biggest drag as well. Policy uncertainty remains the biggest risk in this regard.
Services recovery to gain speed
While recovery in the services sector has thus far been uneven, a more broad-based improvement is on the cards.
High inoculation rate will prompt further easing of safe measures and for more VTLs to be established. The number of tourist arrivals and the F&B index are showing early signs of improvement. Although the performance in the travel related sector is unlikely to turnaround significantly in the immediate term, there is certainly light at the end of the tunnel for these worst affected industries. Barring the risks of COVID resurgence or further mutation of the virus, we expected global travel to gain momentum from mid-2022 onwards. This would prompt a speedier recovery in the hospitality, F&B, aviation and tourism related services as more quarantine free travel arrangements are being set up with countries around the world.
Overall, we believe the recovery in the services sector will become more broad-based as we head into 2022.
Growth normalisation
A high level of vaccination rate has made for the safe reopening of the economy and allowed economic activities (including travel) to resume to normalcy. Besides getting eligible residents to get their booster jab, plans have also been made to inoculate residents below 12 years of age. Barring the risks on the efficacy of existing vaccines being weakened as a result of virus mutations (e.g., the new Omicron variant) or waning antibody levels, the reopening of the economy will provide renewed impetus to growth over the next 12 months. That said, economic normalisation remains at work and recovery momentum is expected to slow. China is the key risk to watch on the growth front, which will have deep implications on the prospects for the manufacturing sector, which thus far has been the main engine of the recovery.
We expect full year GDP growth to ease to 3.5% in 2022, down from a projected 7.0% this year.
Inflation will prompt tighter monetary policy
Inflation is gradually rearing its head again.
As economic recovery continues, and global monetary policies remain highly accommodative, inflation risk is rising rapidly. CPI inflation spiked up to 3.2% YoY in Oct21, from a mere 0.2% in Jan21. The MAS CPI core inflation also rose higher to 1.5%, from -0.2% in the same period. Though this is partly due to the low base in the same period last year, inflation pass-through from external sources and the narrowing of the domestic output gap arising from economic recovery would imply higher price pressure going forward.
There could be further upside risk to inflation should the GST hike be announced and implemented in 2022 (see later section). Taking all into account,
we expect overall headline inflation to register 2.4%,
which is at the upper end of the MAS forecast range of 1.5-2.5%, and up from about 2.0% this year. Likewise, core inflation will also be significantly higher. Expectation is for the core inflation to average 1.5% in 2022, from 0.8% this year.
With inflation likely to emerge as a key risk, the authority may have to tighten monetary policy further in 2022.
As it is, the most recent readings on the data front are suggesting that another policy action could be on the cards. No doubt, inflation will be a key risk in 2022 and the central bank will be staying vigilant on the price barometer. Should inflation reading continues to track higher, the central bank could be prompted to act again, and probably as early as April.
GST hike to be announced in Budget 2022
The impending GST hike will be announced in Budget 2022.
Economic conditions are now robust enough, presenting a window for such policy move. However, the specific timeline of the hike is less certain and will depend on the pace of economic normalisation. In our opinion, real GDP has reverted to pre-COVID levels in 3Q21, and overall unemployment rate is trending towards the natural rate of unemployment of about 2%. Barring any unforeseen risk to growth, both conditions would be in place in 2022 for an eventual GST hike (see DBS article "Singapore: Election effect on policies" dated 13 Jul20 for more details).
Given that the last GST hike was announced in Budget 2007 for implementation that same year in July, we expect similar timeline in the upcoming policy move. However, the government might delay the hike to early 2023 if growth outlook unexpectedly deteriorates sharply or if inflation becomes a runaway train, but this would be too close to the upcoming Presidential Election due in 2023.
A GST hike in July of 2022 could be on the cards, in our opinion.
Beyond the GST hike, Budget 2021 could surprise on the upside. The government's total operating revenue for FY21 as of September has been stronger than expected, largely from a robust inflow from corporate income taxes and stronger showings from other broad revenue categories such as GST, personal income taxes and stamp duties compared to the previous year. Indeed, the recovery has been uneven. While many domestically oriented small and medium (SMEs) enterprises have struggled throughout the course of the pandemic due to restrictive measures, bigger corporates that are externally driven have continued to do well, reporting earning performances that are much better than last year. While the government has budgeted for a fiscal deficit of SGD11bn (2.2% of GDP), expectation is that the final outcome could be a smaller deficit (SGD 4-5bn). Importantly,
as economic conditions are expected to improve, policymakers may be inclined to build up the fiscal coffer again. On that, we expect the fiscal stance to turn modestly contractionary in Budget 2022.
To read the full report, click here to
Download the PDF
.
Subscribe
here
to receive our economics & macro strategy materials.
To unsubscribe, please click
here
.
GENERAL DISCLOSURE/ DISCLAIMER (For Macroeconomics, Currencies, Interest Rates)
The information herein is published by DBS Bank Ltd and/or DBS Bank (Hong Kong) Limited (each and/or collectively, the "Company"). This report is intended for "Accredited Investors" and "Institutional Investors" (defined under the Financial Advisers Act and Securities and Futures Act of Singapore, and their subsidiary legislation), as well as "Professional Investors" (defined under the Securities and Futures Ordinance of Hong Kong) only. It is based on information obtained from sources believed to be reliable, but the Company does not make any representation or warranty, express or implied, as to its accuracy, completeness, timeliness or correctness for any particular purpose. Opinions expressed are subject to change without notice. This research is prepared for general circulation. Any recommendation contained herein does not have regard to the specific investment objectives, financial situation and the particular needs of any specific addressee. The information herein is published for the information of addressees only and is not to be taken in substitution for the exercise of judgement by addressees, who should obtain separate legal or financial advice. The Company, or any of its related companies or any individuals connected with the group accepts no liability for any direct, special, indirect, consequential, incidental damages or any other loss or damages of any kind arising from any use of the information herein (including any error, omission or misstatement herein, negligent or otherwise) or further communication thereof, even if the Company or any other person has been advised of the possibility thereof. The information herein is not to be construed as an offer or a solicitation of an offer to buy or sell any securities, futures, options or other financial instruments or to provide any investment advice or services. The Company and its associates, their directors, officers and/or employees may have positions or other interests in, and may effect transactions in securities mentioned herein and may also perform or seek to perform broking, investment banking and other banking or financial services for these companies. The information herein is not directed to, or intended for distribution to or use by, any person or entity that is a citizen or resident of or located in any locality, state, country, or other jurisdiction (including but not limited to citizens or residents of the United States of America) where such distribution, publication, availability or use would be contrary to law or regulation. The information is not an offer to sell or the solicitation of an offer to buy any security in any jurisdiction (including but not limited to the United States of America) where such an offer or solicitation would be contrary to law or regulation.

This report is distributed in Singapore by DBS Bank Ltd (Company Regn. No. 196800306E) which is Exempt Financial Advisers as defined in the Financial Advisers Act and regulated by the Monetary Authority of Singapore. DBS Bank Ltd may distribute reports produced by its respective foreign entities, affiliates or other foreign research houses pursuant to an arrangement under Regulation 32C of the Financial Advisers Regulations. Singapore recipients should contact DBS Bank Ltd at 65-6878-8888 for matters arising from, or in connection with the report.

DBS Bank Ltd., 12 Marina Boulevard, Marina Bay Financial Centre Tower 3, Singapore 018982. Tel: 65-6878-8888. Company Registration No. 196800306E.

DBS Bank Ltd., Hong Kong Branch, a company incorporated in Singapore with limited liability. 18th Floor, The Center, 99 Queen's Road Central, Central, Hong Kong SAR.

DBS Bank (Hong Kong) Limited, a company incorporated in Hong Kong with limited liability. 13th Floor One Island East, 18 Westlands Road, Quarry Bay, Hong Kong SAR

Virtual currencies are highly speculative digital "virtual commodities", and are not currencies. It is not a financial product approved by the Taiwan Financial Supervisory Commission, and the safeguards of the existing investor protection regime does not apply. The prices of virtual currencies may fluctuate greatly, and the investment risk is high. Before engaging in such transactions, the investor should carefully assess the risks, and seek its own independent advice.