2H20 Market Outlook – Resilient in the Storm
Here's a summary of the investment outlook strategy for 2H20 by DBS Chief Investment Office.
DBS Chief Investment Officer Hou Wey Fook shares how to navigate a post-pandemic world.
We were in the eye of the pandemic storm at the start of 2Q20. Amid the volatility, we advocated that you stay invested in build-to-last portfolios as we expected governments and central banks across the world to push through unprecedented policies to quell the impact of the pandemic.
Barbell investment strategy
Such build-to-last portfolios would implement the Barbell Strategy – comprising secular growth equities on one end and income-generating assets on the other. Over the course of the second quarter, this strategy paid off handsomely.
We continue to embrace this winning strategy. Barring a severe second wave of infections, the gradual reopening of economies would ensure a continual tailwind for risk assets.
Global equities recovered an impressive c.30% from the lows. Our favoured Health Care and Technology-related sectors clawed back all the losses and regained their all-time highs! On bonds, the Federal Reserve's shock and awe policies brought normalisation to the market, leading to robust returns on Investment Grade and High Yield bonds.
2H20 Macro and Market Outlook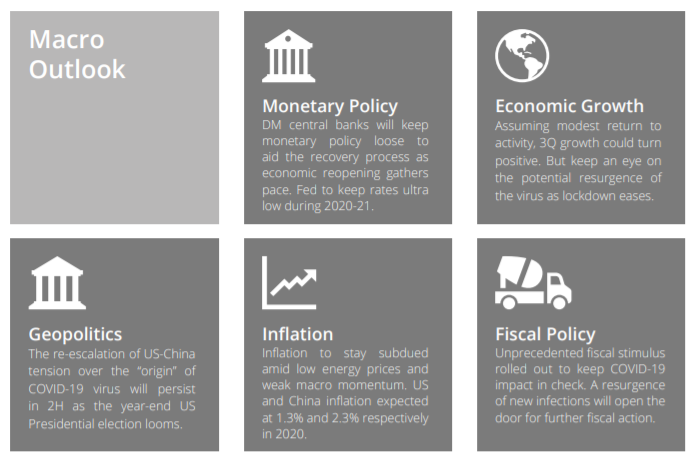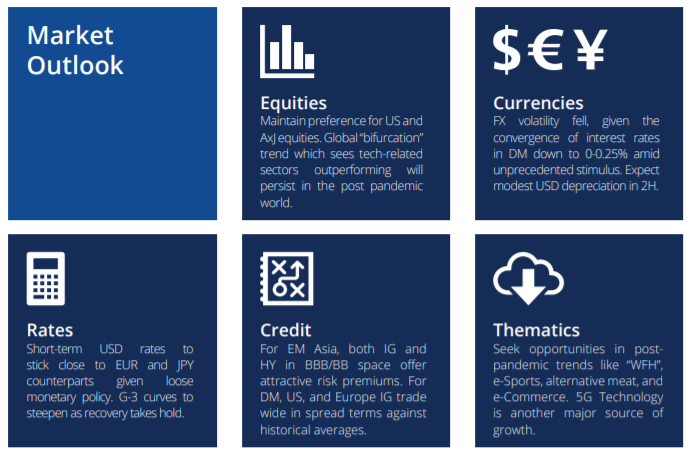 We are also witnessing massive changes to the way we live, work, and play.
We highlight the opportunities in a post-pandemic era. In particular, the winners of work-from-home and supply chain diversification, the rise of e-Sports, as well as the growing influence of ESG investing.
Disclaimers and Important Notices
This article is meant for information only and should not be relied upon as financial advice. Before making any decision to buy, sell or hold any investment or insurance product, you should seek advice from a financial adviser regarding its suitability.