Plan on digibank - Supercharged by SGFinDex

If you've only got a minute:
The Singapore Financial Data Exchange (SGFinDex) is an initiative by the Singapore government and the Monetary Authority of Singapore (MAS) that aims to provide you with a consolidated view of your financial information in one place.
You can securely access your financial data from participating financial institutions such as banks, insurers, CPF board, to better understand your overall financial health.
Take control of your finances and easily track your assets, liabilities, and investments with the "Plan" tab on DBS digibank.

Let's be real – financial planning isn't exactly the easiest thing to do. There is a lot to consider since your money is usually in a few different places and it's hard to know exactly how you fare financially.
Thankfully, you can always count on smart tools like the "Plan" tab on digibank to do most of the heavy lifting and simplify financial matters for you. Now supercharged by SGFinDex, planning your finances is about to get even easier.
All your money in one place
What is SGFinDex? In a nutshell, it's a way for you to connect all your financial information from banks, CPF, HDB, and IRAS to get a consolidated view of your financial data conveniently.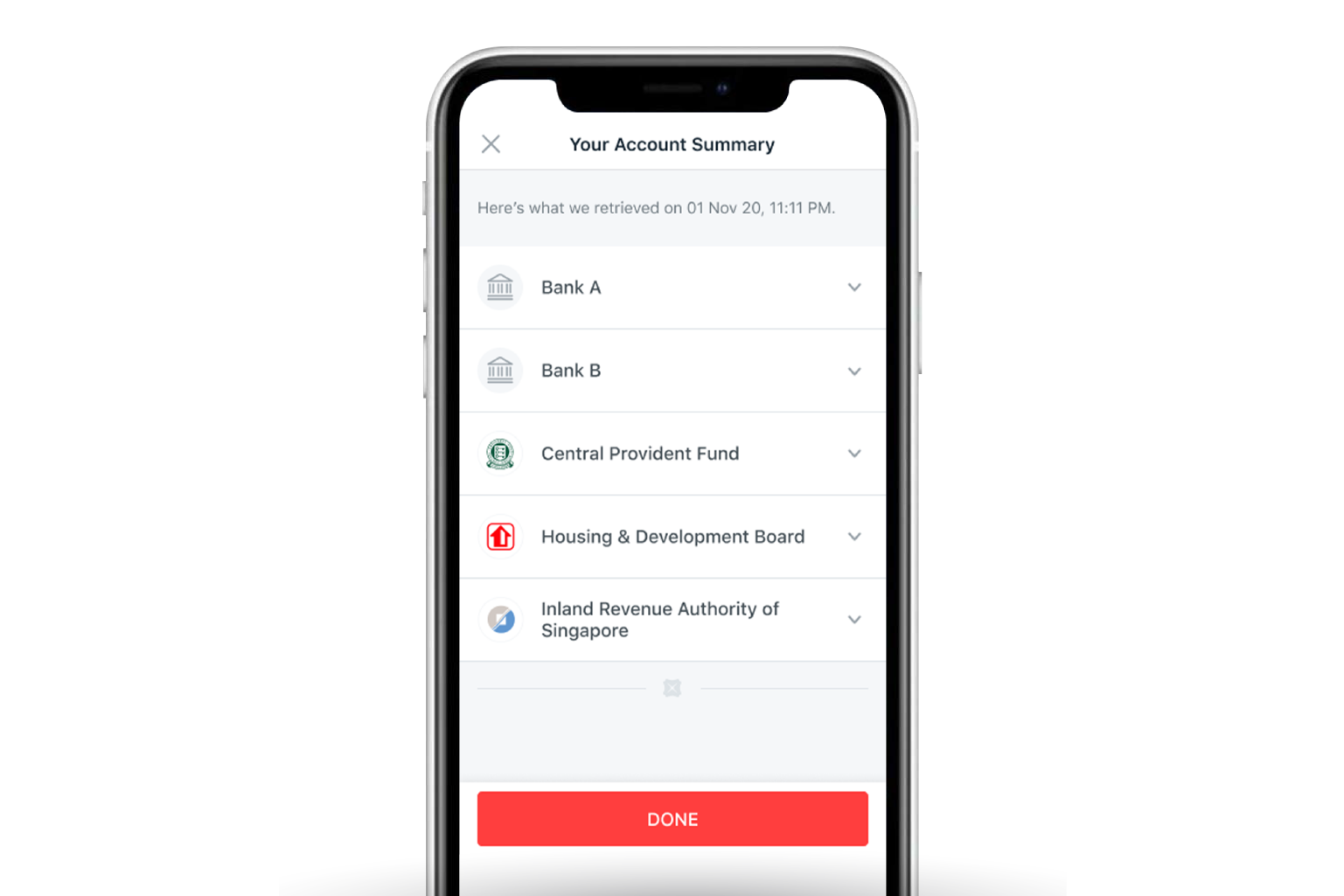 Simply log in to your DBS digibank app and click on the "Plan" tab. Next, connect to SGFinDex via SingPass and give your consent for the retrieval of your financial information. From there, it's just a matter of selecting the bank accounts you wish to consolidate.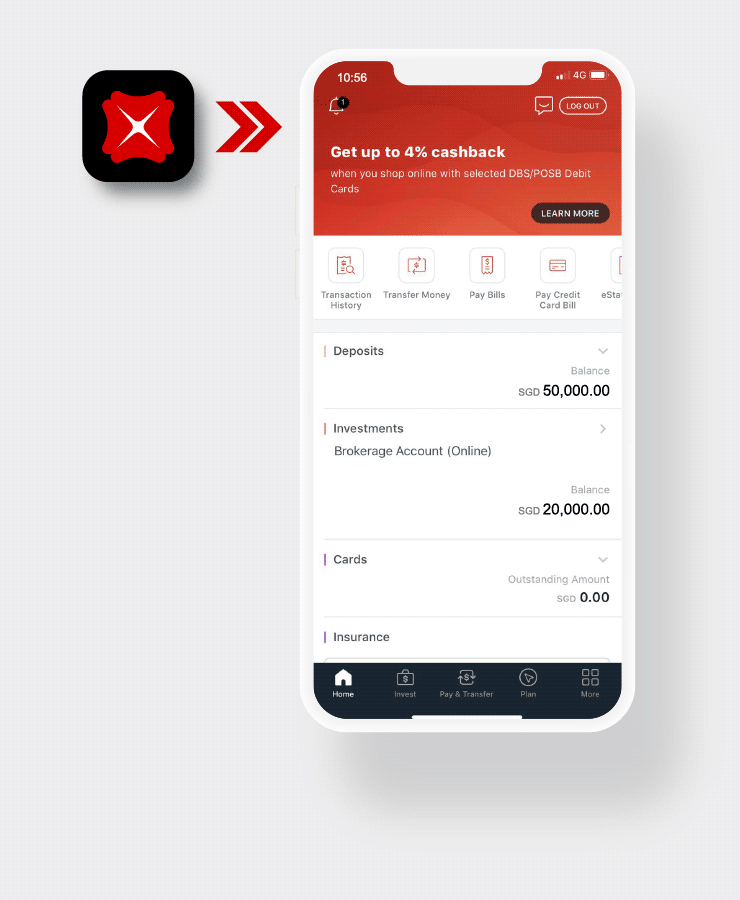 You won't have to worry about the security of your data because SGFinDex is secured with SingPass, and you will have complete control over your personal financial information at all times.
Forget the spreadsheets
With digibank, you can pool all your financial information automatically and track all your finances (even those from other banks) with just a touch of a button.
There's no need for manual inputs, financial statements and remembering of numerous passwords. Planning for your financial future becomes truly effortless.
More data, better insights
Any bank can collect your financial information and connect your accounts together, however, it is what digibank does with the data you've provided that makes it one of the smartest financial planners today.
Since its debut in April 2020, it has been using its money smarts to help over 2.2 million customers – and counting – with their financial planning and retirement goals.
With your consolidated financial information, the "Plan" tab on digibank can analyse your financial data and offer you a clearer cashflow projection of your income, CPF monies, expenses, as well as your assets and liabilities to help you spot any potential money gaps you may face many years down the road.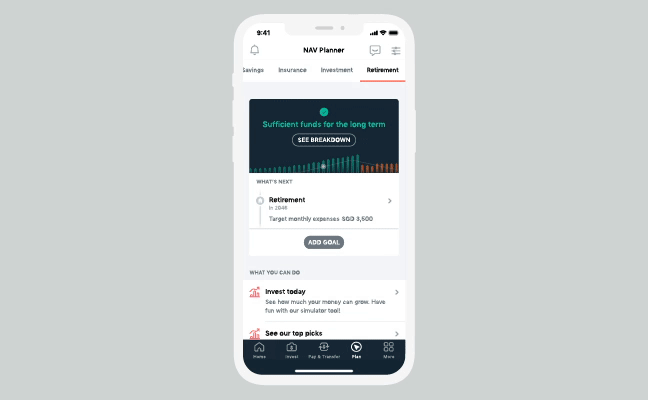 It'll also suggest smart ways for you to close those gaps so you won't have to worry about money and focus on your goals. Whether you're buying your first home, planning to start a family, or just dreaming of a sweet getaway – you can use the goal-setting feature to add any financial milestones in life.
Smarter financial solutions
Having a better understanding of your overall financial health allows you to protect your hard-earned money. Here's how:
1. Save more than you spend
For starters, you can start saving more by cutting back on your expenses. The easiest way to do that is to track your spending.
The app gives you insights on your expenses and calculates your expenditure based on different categories such as dining, transport and shopping, to name a few. You can also add various categories to better cater to your spending patterns.
Having reduced your expenditure, you can start building your emergency cash to at least 3 to 6 months of your monthly expenses. From there, the next step is to make your savings work harder for you.
One of the easiest ways to do that is to set up a high-yield savings account – like the DBS Multiplier. It offers significantly higher interest rates compared to most ordinary savings accounts.
2. Beef up your protection plans
Life can take unexpected turns, so you should always be prepared for a rainy day.
Your health is of utmost importance so you'd want to ensure that you're well protected should a medical crisis hit.
Within the "Plan" tab, you can consolidate all your existing insurance plans from other providers to understand your protection coverage, and when your payouts (if any) will occur from your various policies. It takes into consideration what you currently have and provides unbiased insights and suggestions based on your income, dependants and cashflow needs, making sure all your bases are covered.
3. Get investment picks, customised to you
Digibank can also find you the right investments to grow your money. Backed by DBS investment experts, simply answer a few questions and let the app do the rest by finding the right investments suited to your risk profile.
For example, with a Regular Savings Plan like DBS Invest-Saver, you can start investing with a fixed sum every month. The fixed sum doesn't have to be a large amount and can start from as little as $100. Over time, and with the power of compounding, you can expect to see financial gains like never before.
This is DBS digibanking
Securing your financial future is not just about working hard, it's also about planning smart. With SGFinDex on digibank, you can now plan better. Mapping your finances can be as effortless as it gets.
Supercharge your finances and connect with digibank today.
Ready to start?
Speak to a Wealth Planning Manager today for a financial health check, and how you can better plan your finances.
Alternatively, check out NAV Planner to analyse your real-time financial health. The best part is, it's fuss-free – we automatically work out your money flows and provide money tips.
Disclaimers and Important Notice
This article is meant for information only and should not be relied upon as financial advice. Before making any decision to buy, sell or hold any investment or insurance product, you should seek advice from a financial adviser regarding its suitability

All investments come with risks and you can lose money on your investment. Invest only if you understand and can monitor your investment. Diversify your investments and avoid investing a large portion of your money in a single product issuer.
Disclaimer for Investment and Life Insurance Products
You might be interested in