Track your savings and spending with digibank

If you've only got a minute:
The "Plan and Invest" tab on DBS digibank can help you track your saving and spending patterns so you can gain better control over your finances.
It conveniently monitors your income, expenses, and savings all in one place.
It also offers personalised recommendations and insights based on your financial data and provides actionable steps and suggestions to help you achieve your financial goals.

Take the guesswork out of understanding your spend habits by tracking it all digitally via the "Plan and Invest" tab on digibank.

Having a better grasp of your spending habits is important to help you assess what you're adding to your spend "cart" and hence, aid you in saving more for a rainy day.
Track your spending on digibank
Are you spending within your means, or more than what you get? Here's how you can skip the manual calculations and paperwork, and get a neat summary of your spending habits: from how much you're spending, to what you're spending on.
STEP 1: Open digibank
Log in to digibank and look for the Plan and Invest tab.

STEP 2: Select "Money In/Out"
Toggle between Money In/Money Out (MIMO) to find out your latest transactions. You will find that some transactions have already been categorised for you for easier tracking.


Know your spending habits in 3 easy steps
1. Review your expenses for the month

The bar chart gives you an overview of your MIMO - money in (green) and money out (red).
You're on the right track if you have a positive net cashflow month on month (taller green bars than red), which also means you're spending within your means.
Tapping into either will then show you the breakdown of transactions within each category.
2. Compare your 6-month spending patterns
For example, by selecting the "dining" tab, you will see a detailed breakdown of your dining expenses for the month selected. You will also be able to compare how much you spent on food over a 6-month average.

Check on month(s) with unusual spikes and look for categories where you spent more than usual to keep yourself in check.
3. Set a budget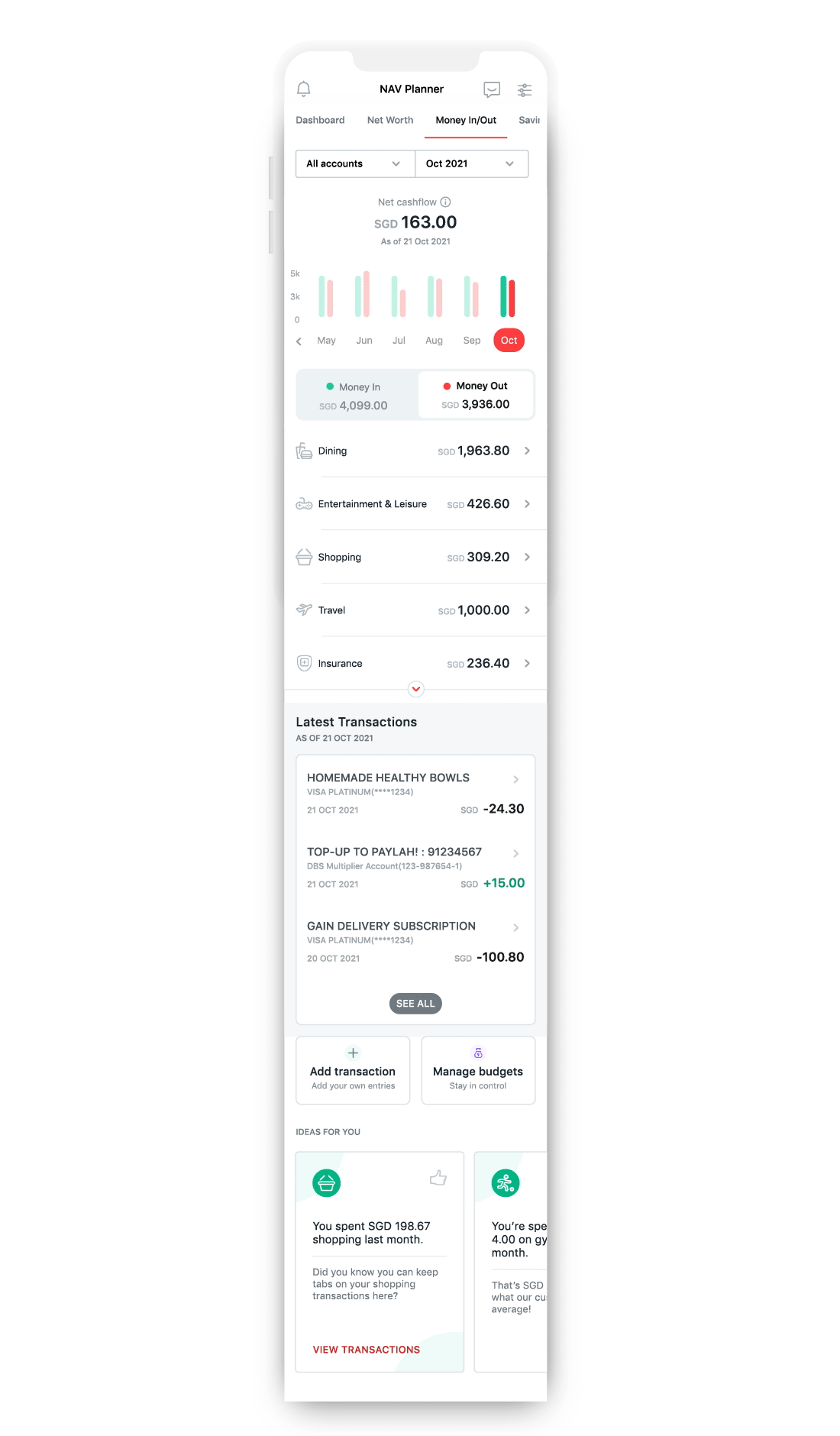 Now that you've learnt more about your spending habits, the next step is to set a budget on how much you can spend.
Scroll to the bottom and click on "Manage Budgets" to have better control over your expenses. Add your own transactions under specific categories that may not have been captured for more effective tracking. This way, you'd be able to monitor your progress and celebrate if you're on track or have kept within your budget (small wins!).
You can also choose to add your own entries by manually adding transactions to have a more accurate consolidation of your expenditure.
Check how it compares to your "Money in"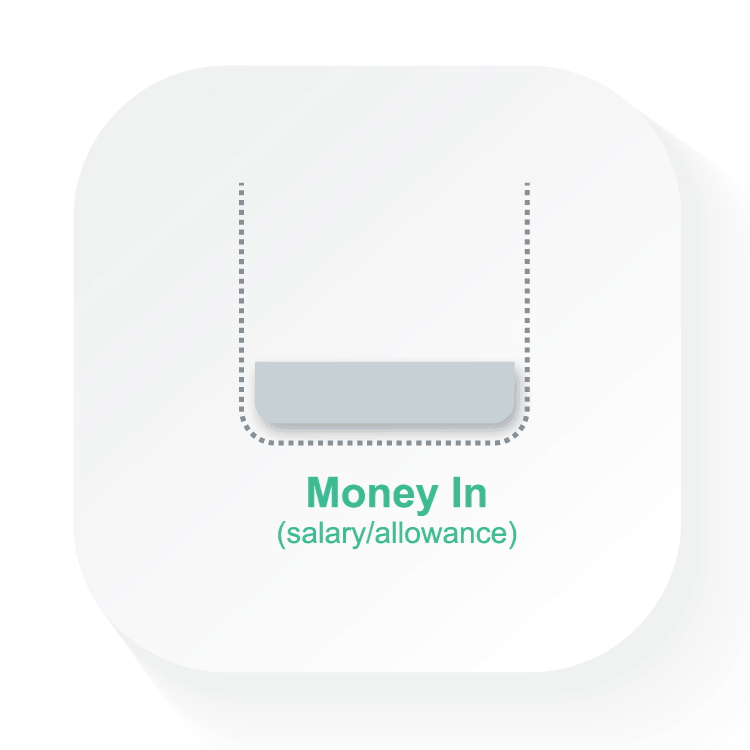 Next step: Understand your money better with this equation

Ideally, you should aim for a positive net position every month. However, savings can be tough especially if you have larger financial commitments or expenses. So, when you can save, do it as every little bit goes a long way.
Track your net position with digibank
Using the "Plan and Invest" tab in digibank gives you a bird's eye view of your Money In (coloured green) and Money Out (coloured red). Your green bars should be taller than the red bars to achieve positive net position otherwise, you'll need to find ways to adjust, save more and spend less. Watch out for more tips ahead!
Here's how to get better at money:
1. Pay yourself first
Whether it's your allowance or salary, pay yourself first by setting aside some money for emergencies, no matter the amount.

You can automatically transfer your money to a separate account weekly or monthly, so you never forget to save. It'll take just 5 minutes to set up a standing instruction (recurring fund transfer) in digibank and you'll only have to do it once!
2. Manage your spending habit
After you've set some money aside for savings, you're free to spend the rest (don't go wild though!).

Review your expenses in the past months, focusing on how much was on necessities, then set your budgets accordingly.
Ready to start?
Speak to the Wealth Planning Manager today for a financial health check and how you can better plan your finances.
Alternatively, check out Plan & Invest tab in digibank to analyse your real-time financial health. The best part is, it's fuss-free – we automatically work out your money flows and provide money tips.
Disclaimers and Important Notice
This article is meant for information only and should not be relied upon as financial advice. Before making any decision to buy, sell or hold any investment or insurance product, you should seek advice from a financial adviser regarding its suitability.
You might be interested in