Beginner's guide to stock investing for Singaporeans
Stocks are a necessary part of any retirement plan. That's because globally, equities/stocks vastly outperform bonds for investment returns over the long-term. Cash has been the standout loser, usually failing to keep up with inflation.

So, if you want to build up a significant retirement nest egg, get on with the task of investing in shares now. It's really not as overwhelming as it seems.
Step 1: Open a brokerage account
Start by opening an account with an investment platform.
This platform executes your investment decisions for you – whether you want to buy or sell a specific stock. They would typically also offer you a range of related services, including:
Trading platform to help you execute your trades;
Research to help you with your investment decisions;
"Margin finance" facilities to boost your investment power;
Custody of your shares if you are not using the Central Depository (CDP); and
Trade settlement
Here's how you can test the quality of your investment platform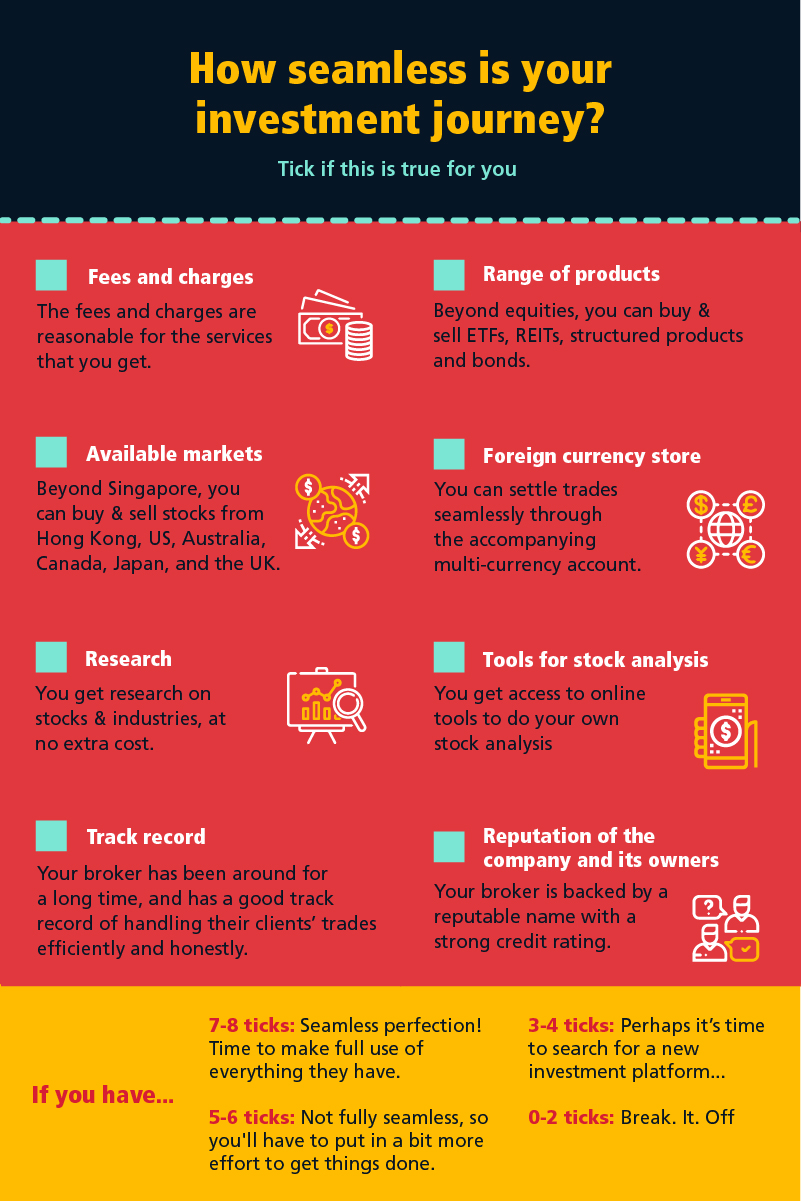 Whatever your choice, you'll need to understand the system, the trade terminology and processes. That will allow you to make full use of the platform's features. (If you're trying to figure your way around a DBS Vickers Online Account, watch this video or download this user guide).
Step 2: Ensure you have a "safe" to store your equities
You'll need somewhere to store your purchased stocks, ETFs, REITs, and bonds. When you buy Singapore stocks, your holdings are safe-kept in this storehouse. Similarly, when you sell your stocks, the shares are transferred from it to the buyer's account. Easy peasy.

Some brokers provide this facility through their 'custody service'. This means that your investments are stored in their storeroom for you.

Others offer pure brokerage services, which means you'll need a CDP account to store the Singapore stocks that you've bought. And if your broker aims for a seamless experience like Vickers Online does, they'll help you with all the paperwork. One less step for you.
Step 3: Get the right mindset. Understand yourself
Most investors will say that their end goal is "to make money". But what's also important is 'how fast': are you investing to make money gradually, or quickly?

If you're in for quick winnings, you could be setting yourself up for disappointment. However, if you're about building patient wealth over the course of your life with long-term goals—your children's education, a comfortable retirement—let's start.

In general, there are three kinds of players in the market: the long-term investor, the trader, and the victim.
The long-term investor
They understand that stocks—and markets in general—go through cycles. There are ups and downs. They buy good stocks, at reasonable prices, and ride through the cycles.

Important: "Good" is the keyword here.

Understand the company you're buying into because a share is just that—a share in a company. A "good" company has good earnings, a sound balance sheet, competent and honest management, and a business that will likely still be around and thriving in 10, 20, 30 years.

Pricing is a lot trickier. Prices fluctuate through cycles. But good companies' prices tend to go up… down… up… down… but over time, reach higher highs and higher lows. This is what the experts refer to when they say 'mean reverting around a rising trend'. And that's how patient money is made.
The trader
The trader has to understand his skills, his resources and his limitations. If you have the time, the skill/experience, and the stomach for risk, by all means, take your fortunes in your own hands and trade. That is, buy and sell frequently, in the hope you profit overall.

But it's not easy. If it was, every trader would be a Paul Tudor Jones, a chart-driven trader who made a fortune by short-selling ahead of the Black Monday Crash of 1987. He was estimated by Forbes Magazine as being worth US$4.7 billion in February 2017. (Good luck, as there aren't that many Paul Tudor Joneses around!)
The victim
Then there are investors who enter thinking they're long-term investors but take fright at market declines and sell. They are also tempted to buy into rapidly rising stocks, without understanding the fundamentals (or the lack of fundamentals) of those stocks. These are the victims of the trade. That's a recipe for "buy high, sell low" disasters.
Step 4: Build your watchlist
A watchlist is a useful starting point to research the stocks you are considering. That's because it provides a summary of a company's balance sheet, and allows you to analyse it easily. This type of analysis is known as "fundamental research".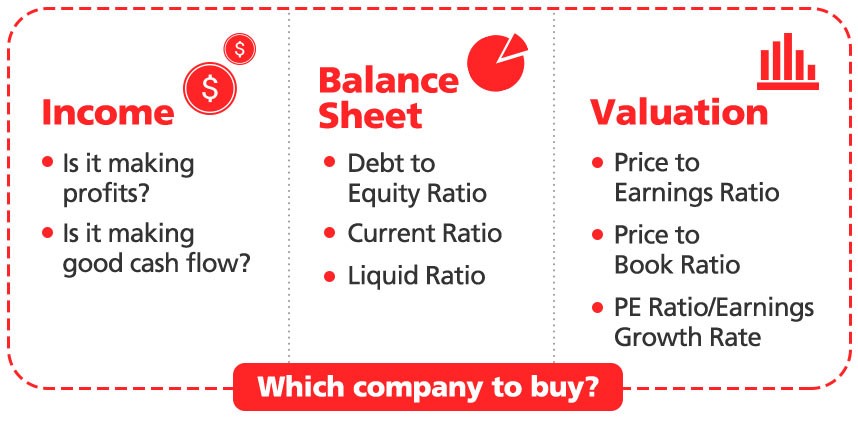 Here's how you can build it using the Vickers Online trading platform:
Search for the name of the stock you are considering. The system will give you a stock code
Click on that code and the stock will appear on your watchlist.
Customise the fields on your watchlist to include information you want (or don't want). Investors typically use dividend yield, EPS (earnings per share) and P/E (price to earnings) ratio.
You can also check the bid and ask prices, and high and low prices for the day.
You can even set price alerts on the Vickers app. This means you'll get a ping on your mobile phone when certain pre-set prices are hit.
Step 5: Time to go, go, go!
If you've survived till the end of this article and feel excited about learning more, congratulations! Here are more good reads to help you become a more confident investor.
But if it's too much to do, these ready-to-go combinations can simplify things for you:
Ready to start?
Speak to the Wealth Planning Manager today for a financial health check and how you can better plan your finances.
Need help selecting an investment? Try 'Make Your Money Work Harder' on DBS NAV Planner to receive specific investment picks based on your objectives, risk profile and preferences.
Disclaimers and Important Notice
This article is meant for information only and should not be relied upon as financial advice. Before making any decision to buy, sell or hold any investment or insurance product, you should seek advice from a financial adviser regarding its suitability.

All investments come with risks and you can lose money on your investment. Invest only if you understand and can monitor your investment. Diversify your investments and avoid investing a large portion of your money in a single product issuer.
You might be interested in