Latest Security Alerts
Stay updated on the latest security news that might affect the way you bank online.
DBS Phishing Email Alert
Date: 12 Dec 2017
Threat Type: Phishing
Alert Level: Amber
Criticality: Low
Description: We have detected phishing emails targeting DBS cardholder customers and containing links to phishing websites. Such phishing sites are designed to steal the customer's credit card information in order to conduct fraudulent transactions.

If a customer falls victim to this phishing email and clicks on the malicious link, they will be redirected to a non-DBS website requesting for credit card details and an OTP. A sample website is seen below:

hxxps://dal-shared-22.hostwindsdns.com/~oxfotwtl/DBS
Sample of the phishing email pretending to be sent from DBS.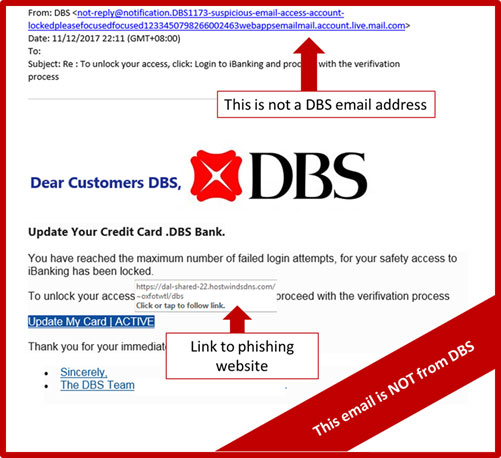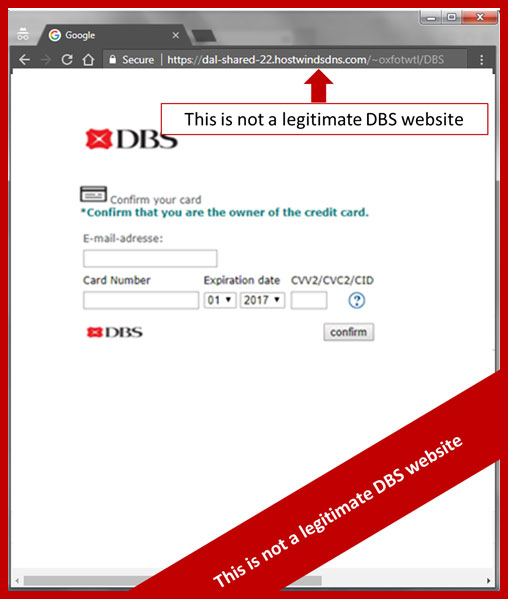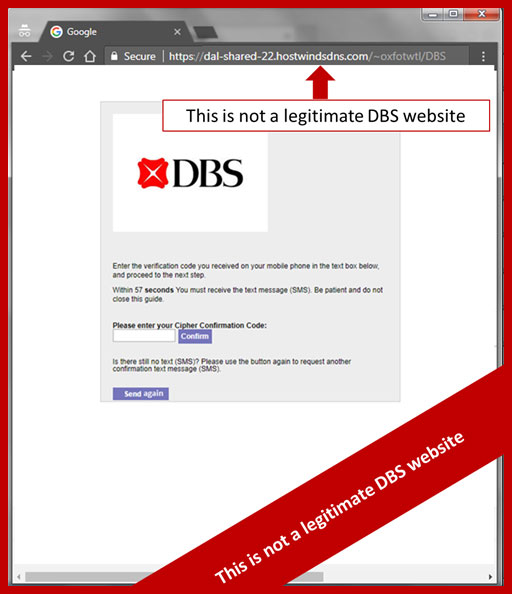 Who might be at risk?
Customers
How can you protect yourself from this?
Always type the DBS website URL

directly into the address bar of your browser.

Check that you are using the official DBS iBanking site.

To do this, go to the address bar of your web browser and look for the "padlock" icon. When you click on the icon, a window should appear confirming that VeriSign has identified that the certificate is issued to DBS.

Never reply to unsolicited emails.

Call us immediately at 1800 111 1111 (Personal Banking) or 1800 222 2200 (Business Banking), if you notice unknown transactions appearing on your account. Customers are also encouraged to use the latest versions of internet browsers available, which may provide advanced security features such as anti-phishing and forged website identification. If such features are available, customers are advised to turn them on.
 
Security Tips
Be proactive in safeguarding your information as you bank online. Check out these security tips to protect yourself from being a victim of online threaths.
Adapt these security practices
Beware of these online threats