Latest Security Alerts
Stay updated on the latest security news that might affect the way you bank online.
DBS Malicious Email Alert
Date: 07 Nov 2017
Threat Type: Malware/Phishing
Alert Level: Amber
Criticality: Low
Description: There are emails with malicious attachments and links being circulated to banking customers. These emails claim to represent DBS and are disguised as "Transaction Advice" emails. These emails contain a malicious zip file with a .jar, .exe or .ace file within. Opening the attachments trigger malware designed to steal passwords, personal information, or financial information.
Sample of the phishing email pretending to be sent from DBS.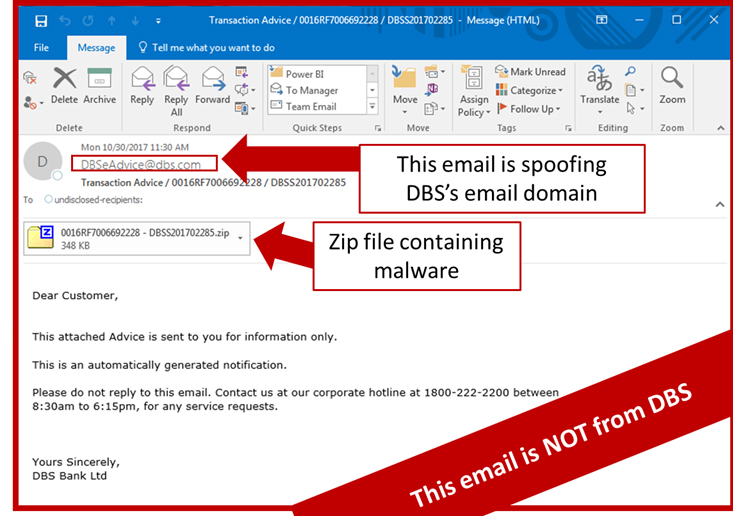 Who might be at risk?
Customers
How can you protect yourself from this?
You are reminded to remain cautious when banking online:
Be careful when opening attachments (especially files with extension name 'zip', 'jar', 'exe' and 'ace') if you have not verified its source or sender.

Remember that DBS will never send executable or ace compressed archive files to its customers.

Protect your computer

by using anti-virus and anti-spyware software and update them daily.

Never reply to unsolicited emails.

Call us immediately at 1800 111 1111 (Personal Banking) or 1800 222 2200 (Business Banking), if you notice unknown transactions appearing on your account. Customers are also encouraged to use the latest versions of internet browsers available, which may provide advanced security features such as anti-phishing and forged website identification. If such features are available, customers are advised to turn them on.
 
Security Tips
Be proactive in safeguarding your information as you bank online. Check out these security tips to protect yourself from being a victim of online threaths.
Adapt these security practices
Beware of these online threats