Latest Security Alerts
Stay updated on the latest security news that might affect the way you bank online.
DBS Phishing Email Alert
Date: 12 Dec 2017
Threat Type: Phishing
Alert Level: Amber
Criticality: Low
Description: We have detected phishing emails targeting DBS cardholder customers and containing links to phishing websites. Such phishing sites are designed to steal the customer's credit card information in order to conduct fraudulent transactions.

If a customer falls victim to this phishing email and clicks on the malicious link, they will be redirected to a non-DBS website requesting for credit card details and an OTP. A sample website is seen below:

hxxps://dal-shared-22.hostwindsdns.com/~oxfotwtl/DBS
Sample of the phishing email pretending to be sent from DBS.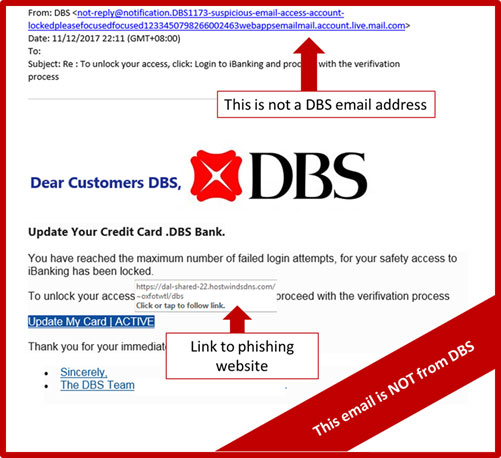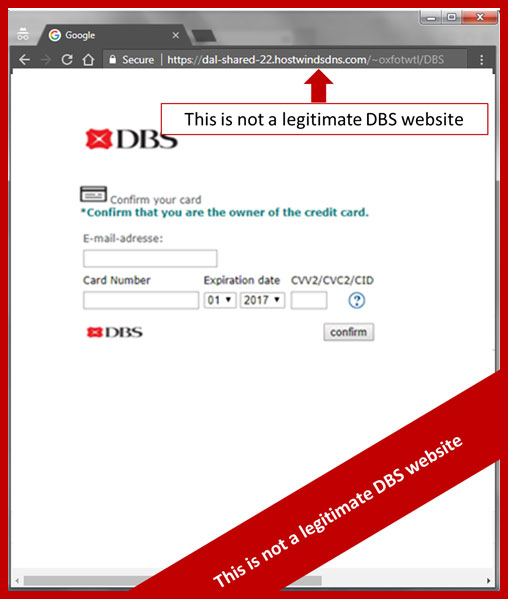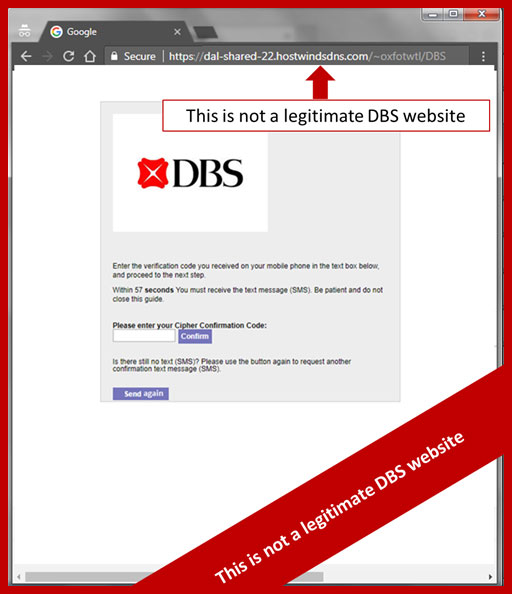 Who might be at risk?
Customers
How can you protect yourself from this?
Always type the DBS website URL

directly into the address bar of your browser.

Check that you are using the official DBS iBanking site.

To do this, go to the address bar of your web browser and look for the "padlock" icon. When you click on the icon, a window should appear confirming that VeriSign has identified that the certificate is issued to DBS.

Never reply to unsolicited emails.

Call us immediately at 1800 111 1111 (Personal Banking) or 1800 222 2200 (Business Banking), if you notice unknown transactions appearing on your account. Customers are also encouraged to use the latest versions of internet browsers available, which may provide advanced security features such as anti-phishing and forged website identification. If such features are available, customers are advised to turn them on.
---
Mobile Malware Alert
Date: 21 Dec 2017
Threat Type: Android malware - Catelites
Alert Level: Amber
Criticality: Low
Description: We've discovered a new variant of Catelites malware that may affect users of DBS and POSB mobile applications such as:
DBS digibank
POSB digibank
DBS IDEAL
DBS digibank India
DBS PayLah!
DBS mBanking Hong Kong
DBS mBanking
POBS mBanking
DBS Quick Credit
DBS Marketwatch HK
DBS Loans HK
DBS Compass Rewards


This malware targets users using Android mobile devices and first installs an app called System Application before masquerading as a fraudulent Gmail, Google Play, and Chrome application. This malware could be spread through other malicious apps, third party mobile websites, and malicious advertising on sites or in games.

Once the application is installed, System Application repeatedly requests for administrator permissions and for System Application as the default messaging app until granted. After permissions are given, the application downloads fraudulent Gmail, Google Play, and Chrome applications while displaying a permanent notification in Android's notification screen to log into the user's banking account.
Signs of an infected mobile device may include (but are not limited to) the following:
Unusual disruptions to a mobile device's performance;
Permanent notifications requesting for a specific action;
Application asking for special permissions that the application should not need, such as screen capture permissions or assigning the application as the default SMS app;
Sudden device shutdown;
Inability to remove the Trojan from the administrator list or from the device without being in safe boot.
Victims might see the following after being prompted to download and install the malware:
Pop-up screens appear prompting the victim to install an application. The application requests for administrator permissions and prevents the user from using the device until the appropriate permissions are granted.

Once the application has control of the device, legitimate applications may have a fake overlay placed on top to steal the victim's bank login requests and credit card details. This page may appear to be legitimate.

Missing OTPs after an appropriate wait for a bank OTP - OTPs sent to the infected device are hijacked, sent to the malicious attacker before being deleted, compromising the user's bank details.
Who might be at risk?
Customers using DBS and POSB's mobile applications
How can you protect yourself from this?
Victims of Catelites are advised to perform a factory reset of their device.
However, if you are unable to perform the reset, you may wish to perform the following actions:
Boot your Android device into safe mode
Go to the list of administrators and remove administrative permissions from the Trojan.
Restart the device and conduct an anti-virus scan using a reputable, official anti-virus provider.
Check to ensure that the malware has been removed from your device.
DBS and POSB digibank applications remain secure and are not the source of this malware. You are reminded to remain cautious when banking online:
Be alert. Do not provide your user ID or pin and other sensitive information if you did not initiate any activity.

Be cautious especially if a screen on your mobile device suddenly pops up and asks for your information, even if you did not open your applications or initiate any activity.

Install the latest software updates on your mobile devices.

When installing applications, be mindful of the permissions granted (i.e. think if the permissions are really necessary).

Do not download or install any applications on your mobile device unless they are from authentic sources (Apple App Store or Google Play Store).

If you are prompted to install any applications or plugins outside of the authentic stores, it is strongly recommended that to search within the authentic stores for that application.

Do not enter any challenge code into your security device if you did not perform any financial transaction(s) in your account.

Please note that during the login process, DBS will never ask for "Sign 1" of your iBSecure Device nor ask you to input a Challenge/Response.

Call us immediately

at 1800 111 1111 (Personal Banking) or 1800 222 2200 (Business Banking), if you notice unknown transactions appearing on your account.
 
Security Tips
Be proactive in safeguarding your information as you bank online. Check out these security tips to protect yourself from being a victim of online threaths.
Adapt these security practices
Beware of these online threats