Lost and Founded Series - Moonshi Mohsenruddin
Dropping out of school at 14, find out how Moonshi Mohsenruddin, Founder of CommGate has defied the odds and emerged stronger.
Boundless oceans, vast skies
Holding steadfast to one's ideals despite the inevitable headwinds and storms in life. Moonshi Mohsenruddin, Founder of CommGate, knows this all too well, which explains why the song he feels best describes him, is "Hoi Fut Tin Hong" (海阔天空) by Hong Kong's Beyond. From dropping out of school at the age of 14 to support his family, doing odd jobs such as a cleaner and car washer, and subsequently chalking up S$500K of financial losses and debts in 2004 in his first business venture, Moonshi has weathered the storms and emerged stronger.
The winner of the Midas Touch Enterprise Asia Awards, SME1 Asia Awards and Spirit of Enterprise Awards envisions a S$300 million IPO for CommGate by 2020, with him helping ten other companies towards a successful IPO in that similar timeframe. And that's a dream we're sure Moonshi will chase and make into reality.
People say you are "Moonshi Mohsenruddin, Founder of CommGate, previously young Vice-President of Failsafe Corporation Pte Ltd, (a SingTel invested company) and entrepreneur celebrity".  Who do you say you are?
I describe myself as a Student of Life who is always learning and growing; a serial entrepreneur who regularly test new ideas; a servant leader; a husband; a brother; a son and an instrument of the Universe to inspire others to their own greatness. I see myself as a catalyst to create prosperity for humanity and contribute to the solution to make global abject poverty a history. I am constantly developing myself to be one of the respected master thinkers, a philosopher, a man of abundance whom is able to:
share my being-ness, knowledge, consciousness and wealth on sustainable projects that uplifts mankind
create opportunities for new entrepreneurs
help businesses to succeed and thrive;
and mentor young business start-ups
I am in a journey to inspire entrepreneurs to think big, start small, scale fast, live life to the fullest and to motivate them to take actions to create the life that they deserve for their family, society, country and spaceship earth. 
Please share with us the best moment in your startup life. 
It was when I discovered I could manifest my vision to help businesses see bottlenecks in their business and inspire one of my Clients to believe in the CommGate vision, my team and me, hence awarding us with a contract worth over S$400K and winning them over from fierce competition (that are many times bigger than us with over 30,000 employees). 
How about the lowest moment? Have you ever cried?  
Yes! The first time I broke down in front of 120+ people in a seminar room, was when I attended a self-development programme (Money & YOU®) and the facilitator engaged me emotionally and got me to see a past event in my life from a new perspective. I had a paradigm shift, which transformed my life, relationships with people and my business. The other time I broke down was at the earlier stage of my start-up life in 2004. I went through a legal litigation with an ex-partner with over S$500K of financial losses and debts and was suicidal and was on the verge of giving up. I cried emotionally for hours and I felt better after releasing the stress. 
In your startup career, were there any secrets that you hid from your co-founder, partners or parents?
There are no secrets between me and my partner and co-founders as we did a Values Alignment with a set of 10 VAQ questionnaire that I designed over the years. It helped us to get to know ourselves and at the same time, uncover our deepest secrets. After the session, everyone got to know each other's secrets, fantasies, old baggage, limiting beliefs and self-sabotaging behaviours. We then supported each other to release those baggage and limiting beliefs that do not drive us towards our common Vision. I have since used this 100 Questions for hiring and when I mentor start-ups.
What's the most eccentric thing about you? 
I think differently, out of the box as I don't see any box. I have an eye for detail when I read documents, proposals, contracts and I make corrections to the font size, font type, lines, alignment, etc. There was once I was having a meeting with my business partner at home and saw a speck of dust on my hall mirror. I immediately stood up, went to the kitchen, took a glass cleaner and cloth and started cleaning the mirror. My partner was shocked at my action. I think I have OCD (Obsessive Compulsive Disorder), haha! This OCD has led me to become meticulous and obsessive with wanting to do things proper and doing them well. Sometimes, when I get into meetings, I will arrange my laptop, mobile phone, writing pad, pens and namecard holder in a grid-like manner before starting the meeting. Heheheh.I also ask "101" questions when I don't understand anything I read or information that is shared to me. I set the intention and context for business communications and insist on following processes when executing tasks so that there is little or no upset. I always ask "WHY" questions and " from a scale of 1 - 10 (with 10 being the highest), how would the person rate the meeting or conversations they had with me before we part" after meetings. I am always looking for opportunities to learn and grow. 
What are you up to today? What gets you up in the morning?
I am extremely busy at the moment as the entire company is entering into an explosive growth phase and I am meeting many angel investors and strategic partners who believe in our vision and want to help us on this journey.  We are currently raising funds to hire more great, driven, talented people, launch our new SaaS and Mobile Applications, and enhance our sales and marketing efforts. Already, we have hired a full-time CFO and a new CEO, both of whom have come onboard in the past three months. We are also moving to new offices as a result of our planned rapid growth. What gets me out of bed every morning is the belief that I have a grrrreeeaattt product and a learning team and the opportunity to meet and inspire over one million Small-Medium Enterprises in Asia to help them Grow, Profit & Succeed in their business. It is extremely fulfilling to see them grow their business after they accept our consulting advice, implement our solutions and diligently use our systems to achieve productivity and profitability.  
How do you keep yourself physically and mentally fit for start-up life?
Every morning, when I wake up, I stare out of my home bedroom window to enjoy the view and visualize possibilities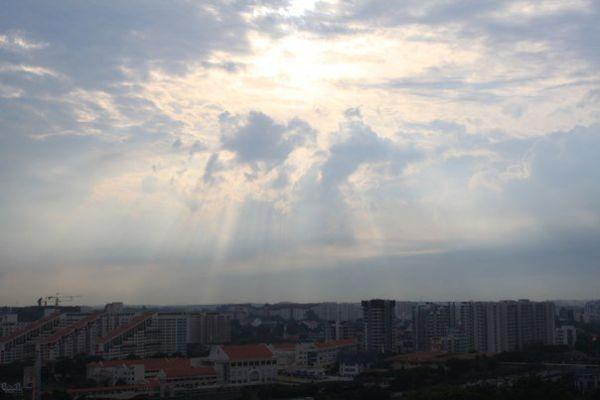 I then thank the Universe for granting me another day of life to work towards my vision and purpose. I thank the Universe for the gift of sight so I can see, the gift of hearing so I can listen, the gift of voice so I can speak and the gift of knowledge and a healthy body so I can carry on my life's purpose. I also do yoga every Wednesday evening with my wife, colleagues and friends and meditate daily to rest my mind and get clarity on what I must focus on for the day. 
Offer a life hack (or two) to a young founder
Go attend Money & YOU® and Science of Sales™ as you need to get to know yourself and learn the 9-Steps of corporate sales, how to sell with integrity without being pushy. You must be willing to make mistakes without invalidating yourself; have the courage to make mistakes, own up, say sorry, take course corrections, learn from the experience and move on. Be humble. Be willing to be vulnerable and ask for support and build connections and relationships with people. Give value without expecting anything in return. Life is not a transaction.  
Movie or song that best describes you
"The Pursuit of Happyness" by Will Smith.
The song that best describes me is "Hoi Fut Tin Hong". It's a Cantonese song sang by a Hong Kong rock band Beyond. I sang it at the Meet The Entrepreneurs Charity Concert 2012 event. You can hear my singing here.
Favourite quote(s)
Vision Without Action is Hallucination. 
Doing the same thing over and over again and expecting different results is insanity!
First they ignore you, then they laugh at you, then they fight you, then you win. -Gandhi
Who and what inspires you?
The two most inspirational individuals that shaped my beliefs and values are Mr. Mahatma Gandhi and our Singapore's Mr. Lee Kuan Yew.
What inspires me about Mahatma Gandhi is how he lived a live of no attachment and yet inspired millions of people in India towards democracy without violence. He walks his talk and before giving advice to a child to not take sugar, he stopped taking sugar himself before imparting that advice.
As for Mr. Lee Kuan Yew, he inspires me with his courage, tenacity, vision and drive to do whatever it takes to build this fishing village into a first world country in just 50 years. Mr. Lee has build Singapore into a powerful nation that is respected around the world. The government is efficient and the meritocracy and systems have benefited a school dropout like me to succeed in life, as long as we are willing to work hard and smart. 
Tell us about Moonshi Mohsenruddin in 2030.
Moonshi is a well-known and respected entrepreneur who has led his team to a S$300 million IPO and created wealth for his employees to continue serving the vision of CommGate globally. He has also helped ten other companies towards a successful IPO, invested in ten successful start-ups and is a mentor to 20 over companies. He has created several Transformational Entrepreneur Training Programs to inspire, empower, guide, mentor and support them towards success. He continues to invest through value investing, into promising start-ups with crazy ideas that can changed the world and mentor start-ups to create value for the planet, solving society challenges and growing their net worth along the way. He is an inspirational speaker, has written three books, and you will find him always smiling, joking and laughing. He is always surrounded by colleagues, friends and family members as he inspires them with ideas and shares the generalised principles of the Universe and life. He is always found in the circles of young entrepreneurs and still dates his Angel (wife) every Friday, and takes two-three week-long holidays traveling the world every three months for new ideas and inspiration, while seeking opportunities to speak and inspire youths to be an entrepreneur and solve world problems. You can find him meditating at Lower Peirce Reservoir on weekends and practicing yoga with friends three times a week. When he's not working, he watches superhero and metahuman movies and TV serials, plays an electric guitar and belts out Hoi Fut Ting Hong once a while at a family karaoke. 
Name 1-3 startup founders in Singapore you'll like to hear answer these questions.
Rishi, Zimplistic 
Lin Oo KYAW, EventNook 
Joe Lee, Echelon Minds 
Was this information useful?
---
Subscribe to DBS BusinessClass
Stay updated with the latest market trends and industry insights, connect with a network of entrepreneurs, and gain access to exclusive event invitations. Join Asia's fastest growing business community – get your complimentary membership here.