DBS BusinessClass launches in Hong Kong
Entrepreneurship has become a global trend and is frequently seen as the solution to drive and transform economies, and create new technologies and job opportunities around the world.
Launch of DBS BusinessClass program in Hong Kong with Sebastian Paredes, David Chung, and Ernestine Fu (L to R). Photo Credit: Don Ong.
Entrepreneurship has become a global trend and is frequently seen as the solution to drive and transform economies, and create new technologies and job opportunities around the world. Asia, the largest and most densely populated continent in the world, naturally represents a large  market opportunity.
DBS recently launched it startup program, the DBS BusinessClass program, in Hong Kong last week, on July 13. The launch was held at "The Annex" in central Hong Kong Island. The event was jam-packed with about 250 entrepreneurs, local small business owners, and senior executives from large companies such as TSL Jewellery, Uber, and Next Digital.
The program was launched by Under Secretary of Innovation and Technology David Chung, CEO of DBS Bank Hong Kong Sebastian Paredes, and Silicon Valley venture capitalist Ernestine Fu. So, what did they share at the launch event?
DBS Bank Hong Kong CEO Sebastian Paredes was excited to launch the DBS BusinessClass program in Hong Kong. He believes that the program will serve as a platform to create a community for entrepreneurs, local business owners, and startup mentors in Hong Kong. This will help to drive and accelerate the growth of entrepreneurship in Hong Kong and the rest of Asia.
Under Secretary of Innovation and Technology David Chung acknowledged that the Hong Kong government will help support the growth of startups and entrepreneurship in the region. He also shared and highlighted that there is a lack of funding available locally, which has slowed the growth of entrepreneurship in Hong Kong. At the event, he announced that the government has recently approved a fund of HK$2 billion for the startups in Hong Kong.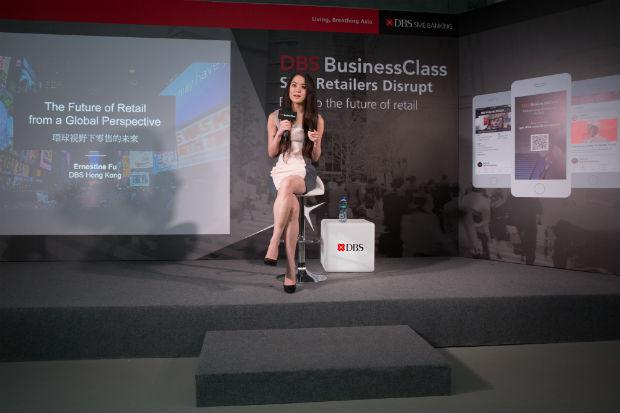 Venture capitalist Ernestine Fu keynotes the launch event in Hong Kong. Photo Credit: Don Ong.
Ernestine Fu, an angel investor and venture capitalist in Silicon Valley, and lecturer at Stanford University, was the keynote speaker at the launch event for DBS Hong Kong. She shared her views on the future of retail from a global perspective.
Fu predicted that:
Indoor location tracking will provide far superior in-store analytics and allow for store layout, product, and service optimization, along with customized experiences for consumers.
Computer vision and recognition will continue to blur the lines between fashion, social media, and e-commerce.
Fraud detection and prevention will be augmented by biometrics in an implicit manner, ultimately decreasing costs and improving customer experiences.
Mobile payment usage will supplant alternatives faster than any previous paradigm shift in payments.
The only certainty will be hyper change: dynamic pricing, dynamic presentation, and dynamics interactions in all customer experiences.
She also recommended the local business owners:
Start collecting and storing consumer data. Don't wait, collect consumer data now.
Embrace mobile payments as soon as possible. And focus on experience over margins for now; get those early adopters to buy into mobile payments 100%.
Create or join a digital loyalty program. Allow rewards and account management from a mobile device, and integrate non-monetary rewards, custom experiences, and unique prizes. Consider joining larger partnerships and existing loyalty programs to encourage customer acquisition and not just retention.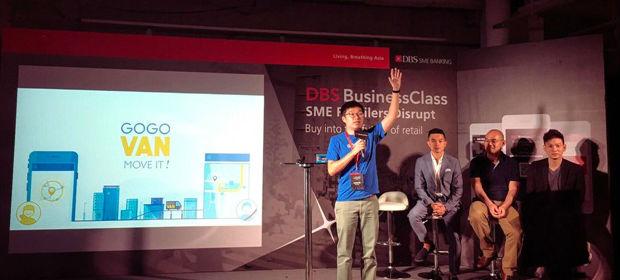 Startup founders pitch at the DBS event in Hong Kong. Photo Credit: Don Ong.
The launch event was followed by a showcase of local entrepreneurs and businesses disrupting retail in Hong Kong. The goal was to connect promising technologies and startups with local  business owners. Seven companies were invited to pitch at the event.
GoGo Van: A delivery startup which integrates the traditional van delivery business with mobile technology. Their motto is "we deliver happiness.
Floship: A startup which aims to revamp the way logistics and shipping are perceived and managed around the world. Floship is based in Hong Kong, but ship globally.
Amazon Web Service (AWS): Amazon is a retail giant in the consumer market. However, they have branched into the cloud IT infrastructure business, and consider themselves a startup in this area.
Shopline: An ecommerce startup focused on providing business owners with a professional and integrated "online presence" so you can focus on your core business.
TnGAn: An "e-payment" startup that serves as an "e-wallet in Hong Kong" and has attracted over 300,000 active users in Hong Kong.
Double: A hardware robotics startup that creates, develop and manufacture customer service robots using currently available hardware such as iPads.
actiMirror: A startup that produces smart and interactive mirrors to monitor, study, and provide purchasing suggestions to consumers.  
The startup pitches brought many cheers and excitement on what the future holds. All the  startups joined the DBS BusinessClass platform.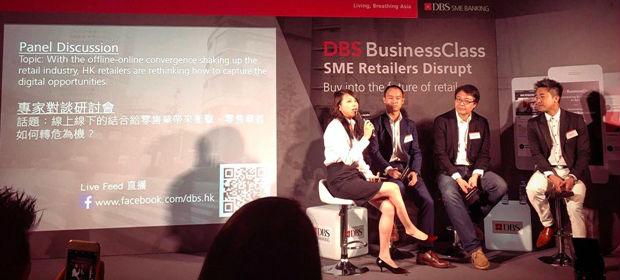 Panel discussion at the DBS BusinessClass event in Hong Kong. Photo Credit: Don Ong.
The event concluded with a panel discussion on how retailers in Hong Kong could capture digital opportunities for their businesses. The discussion was moderated by Ping Wong, Director and Startup Working Group Convener of Internet Society Hong Kong. Panelists included Deputy Chairman of TSL Erwin Huang, Head of Uber Hong Kong Kenneth She, and Chief Marketing Officer of Next Digital Vincent Tsui.
The panelists advised the audience on how to navigate and leverage digital opportunities and challenges facing the retailers in Hong Kong. Business owners were encouraged to leverage the latest technologies to create an online presence while keeping their costs down to gain access to a wider audience and market.
DBS is making strides to connect and accelerate the growth of entrepreneurship in Asia. This is good news for the ecosystem and startup community in Asia. For aspiring entrepreneurs, startups and small business owners, there's an app to join the growing family:
Was this information useful?
---
Subscribe to DBS BusinessClass
Stay updated with the latest market trends and industry insights, connect with a network of entrepreneurs, and gain access to exclusive event invitations. Join Asia's fastest growing business community – get your complimentary membership here.