Keeping It Simple
Find out how entrepreneur Fong Chee Chong, owner of Char-Grill Bar, took his chain to the next level through a radical solution.
Author: DBS BusinessClass, Administrator of DBS
Char-Grill Bar owner Fong Chee Cheong set up a central kitchen not only to solve his quality and manpower woes, but as a platform for expansion.
When customers of Char-Grill Bar started to comment that the same dish from the chain's different outlets didn't quite match up on their palates, owner Mr Fong Chee Cheong knew he had a problem.
Faced with a business that was growing at breakneck speed as franchisees rushed to capitalise on F&B operator's brand of high quality, low cost western cuisine, the entrepreneur and his partners took a gamble on a radical solution.
They set up a centralised kitchen that would not only ensure the consistency of the food across all its outlets, but also boost efficiency and cut down on the group's manpower requirements.
"The idea was forced out of us. When we had 15 stalls, all our stalls had a different taste. It was a big headache. Customers would complain that this stall's food tasted better than another one," said Mr Fong, 34, who owns several coffee shop related businesses, including "economy rice" and roast duck stalls.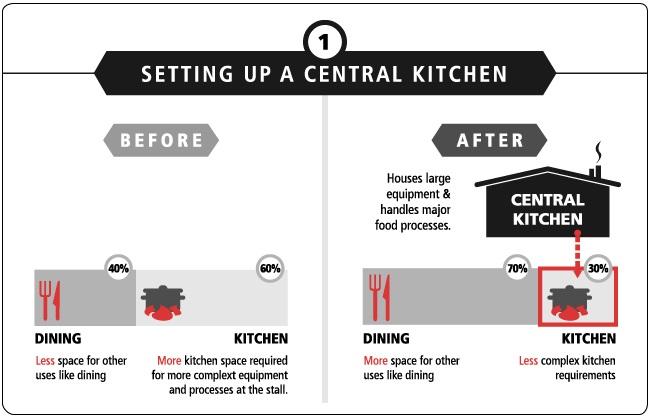 He invested a few hundred thousand dollars to install machinery and refrigerators in four 2,000 square feet units in Bedok. The central kitchen would automate many of the processes involved in preparing food for all Char-Grill Bar outlets.
A new set of operating procedures also had to be drawn up from scratch to accommodate the automation. Once it started running, the kitchen could handle up to three tonnes of goods everyday, sending out semi-prepared dishes to the chain's 23 stalls.
While Mr Fong has not calculated the actual cost savings reaped from this arrangement, there have already been clear improvements in productivity.
"We have reduced our processes to the simplest steps. So in the past we had to employ very experienced staff, but these days we need only to match the tasks to the experience of the employees we find. There isn't much training involved," he said.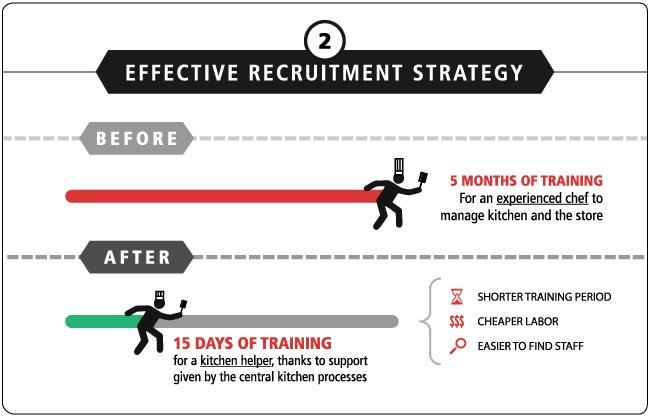 He noted that it used to take four to five months to train someone to roast meat, but take only 15 days today. But these benefits didn't come easily.
The biggest challenge involved overhauling the way the company did things; especially its transition from manual to automated processes. Cost was another consideration, as each machine came with a $500,000 price tag.
A Platform for Growth
The central kitchen was also a platform to grow Char-Grill Bar's franchise, as the brand's now streamlined modus operandi allowed for an easier transfer of knowledge to its franchisees. The end goal, Mr Fong revealed, was to replicate the Char-Grill Bar model in his other businesses.
"We have to simplify all the businesses we have in the group, so that we can teach others who want to be our franchisees how to do it. If I have to keep opening stalls to expand the business, it can be very tiring" he said.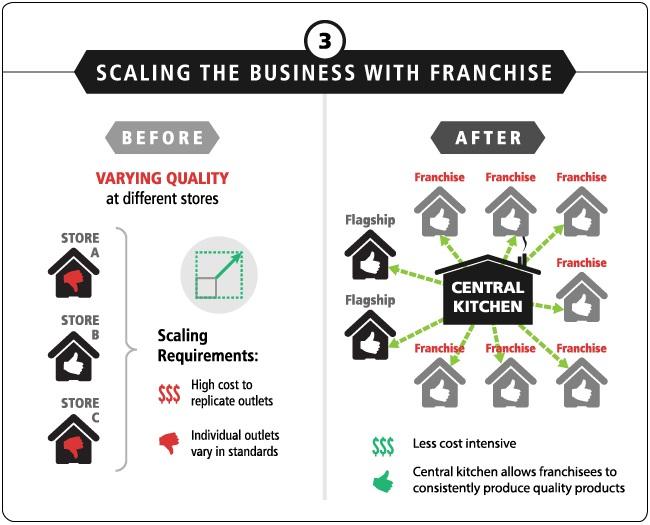 Char-Grill Bar started in 2008 with a single outlet at Hougang, and has since grown to 23 outlets serving signature dishes such as Chicken Chop and Fish and Chips at coffee shops across Singapore. Nine of them are owned directly by Mr Fong's company, while the rest is run by franchisees.
His motivation to grow the franchise, however, goes beyond just the bottom line. For Mr Fong, who started working in coffee shops in Malaysia at age 12 and opened his own in Singapore at just 21, it is also about giving others a shot at running their own business regardless of their background.
"I want the F&B trade to be available to those who really want to do it, and not only to those who know how to do it."
With one bold move, Mr Fong has not only helped ensure the sustainability of his business, but also opened up more opportunities for other aspiring F&B entrepreneurs to realise their dreams.
For a summary of Char-Grill business tips, download the full infographics below.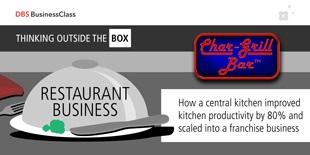 Was this information useful?
---
Subscribe to DBS BusinessClass
Stay updated with the latest market trends and industry insights, connect with a network of entrepreneurs, and gain access to exclusive event invitations. Join Asia's fastest growing business community – get your complimentary membership here.