DBS TechMatch
Where SMEs find technologies
A programme set out to encourage and support innovation amongst SMEs in Singapore. From understanding your business challenges, to designing solution concepts and matching them with the right solution providers. Allowing you to improve and build capabilities in your business.
How does it work?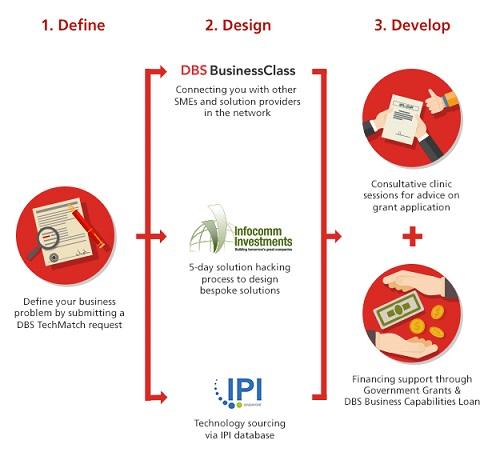 Implementation support
SMEs can seek consultative advice from government bodies like SPRING Singapore on grant options and project applicability. DBS customers can also get help from our relationship managers for more assistance on Capability Development Grant (CDG). 

SMEs who have successfully applied for government grants will be able to leverage the Working Capital Loan as a bridge financing solution for their projects. Enabling SMEs to finance their project expenses prior to grant reimbursement.
Was this information useful?