Get back to Facebook basics
Discover how small businesses are rapidly reaping the benefits of advertising globally on Facebook.
The numbers are staggering.
Right now, there are about 1.6 billion active users on Facebook. These users check Facebook about 14 times a day on average. And about 8 million of them watch videos there every day.
People are simply spending more and more time online, and more of that time is spent on Facebook.
In fact, many people hear about a product or brand for the first time on the social network. And increasingly, most of them check Facebook on their smartphones.
Do the math, and you'll realise there are a myriad opportunities for small business owners to engage with their customers on social media.
What should these trends mean to you? If you're savvy, your marketing budget needs to shift from traditional channels like print and television to mobile platforms instead.
That's according to Ashwin Seshadri, Small Business Account Manager, Southeast Asia at Facebook, who was giving these insights at the first Facebook for Business workshop.
Organised jointly by DBS BusinessClass and Facebook, the event was held on June 22 at the spanking new Facebook headquarters on Beach Road.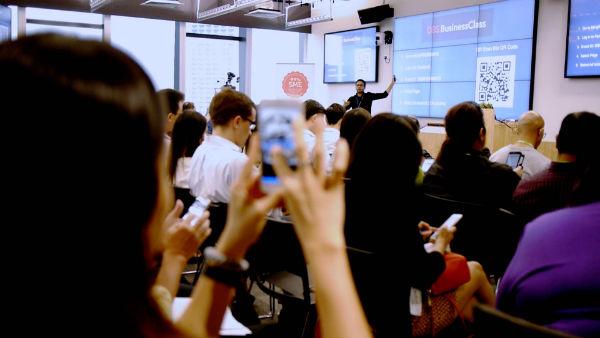 Attendees actively engaged at Facebook for Business – Part 1
Speaking to an attentive audience of about 200 DBS BusinessClass members, Seshadri shared useful tips and best practices on how to best engage with customers on Facebook.
His five best tips for posting "thumb-stopping content" are using eye-catching visuals, writing captivating messages, posting content with specific objectives, telling a story with your posts and knowing your audience.
For instance, posting relevant content includes objectives such as asking people to visit your store or introducing a new line of goods.
Yet, the message doesn't always have to be about the product. He added: "It also includes building your brand – people miss this."
Take a leaf from the top brands, he said. "A lot of big-brand advertisers spend almost their entire budget on driving top-of-mind recall."
As for telling a story with your posts, Seshadri recommended a variety of different angles. These include humanising your brand by featuring your customers and employees, and highlighting areas you're proud of, like the atmosphere of your restaurant or store.
A word of advice: engaging with your customers on Facebook goes beyond easy likes and comments.
Explained Seshadri: "Engagement is a means to an end. If you're focusing on likes, you're focusing on key performance indicators that are not linked to business results. You have to think beyond that."
One DBS BusinessClass member who attended the event said the tips were practical and would help his business.
Said entrepreneur Lu Jia Quan: "It was useful in terms of social media marketing and getting tips from Facebook experts themselves. Facebook is a social media giant – you couldn't get best advice from anywhere else. After this workshop, I will spend more time and effort on social media marketing."
Look out for the second Facebook for Business workshop with DBS BusinessClass in August, and get more helpful tips on creating your Facebook ads.
Was this information useful?
---
Subscribe to DBS BusinessClass
Stay updated with the latest market trends and industry insights, connect with a network of entrepreneurs, and gain access to exclusive event invitations. Join Asia's fastest growing business community – get your complimentary membership here.