Knowing the different types of payment cards

If you've only got a minute:
ATM cards and debit cards are linked to your bank account and payments are deducted directly from your account balances.
Debit cards and credit cards are affiliated with payment networks such as Master, VISA or Amex which help facilitate ease of payments globally.
Unlike a debit card, a credit card's source of funds is essentially a loan from the card issuing company, which has to be repaid in full in the next billing cycle to avoid interest charges.

ATM cards, debit cards and credit cards are a ubiquitous part of our lives.
These payment cards offer a range of conveniences, including cash withdrawals, funds transfers and online payments. You can also make contactless payments through NETS FlashPay or Visa payWave, which is now a "must-have" feature.
Visually, payment cards are nearly identical: They have your name, a card number, an expiry date, a logo of the issuing bank or organisation and a magnetic stripe, a smart chip or both.
That said, there are distinct differences between each type of payment card.
Read more: 10 tips to avoid the credit trap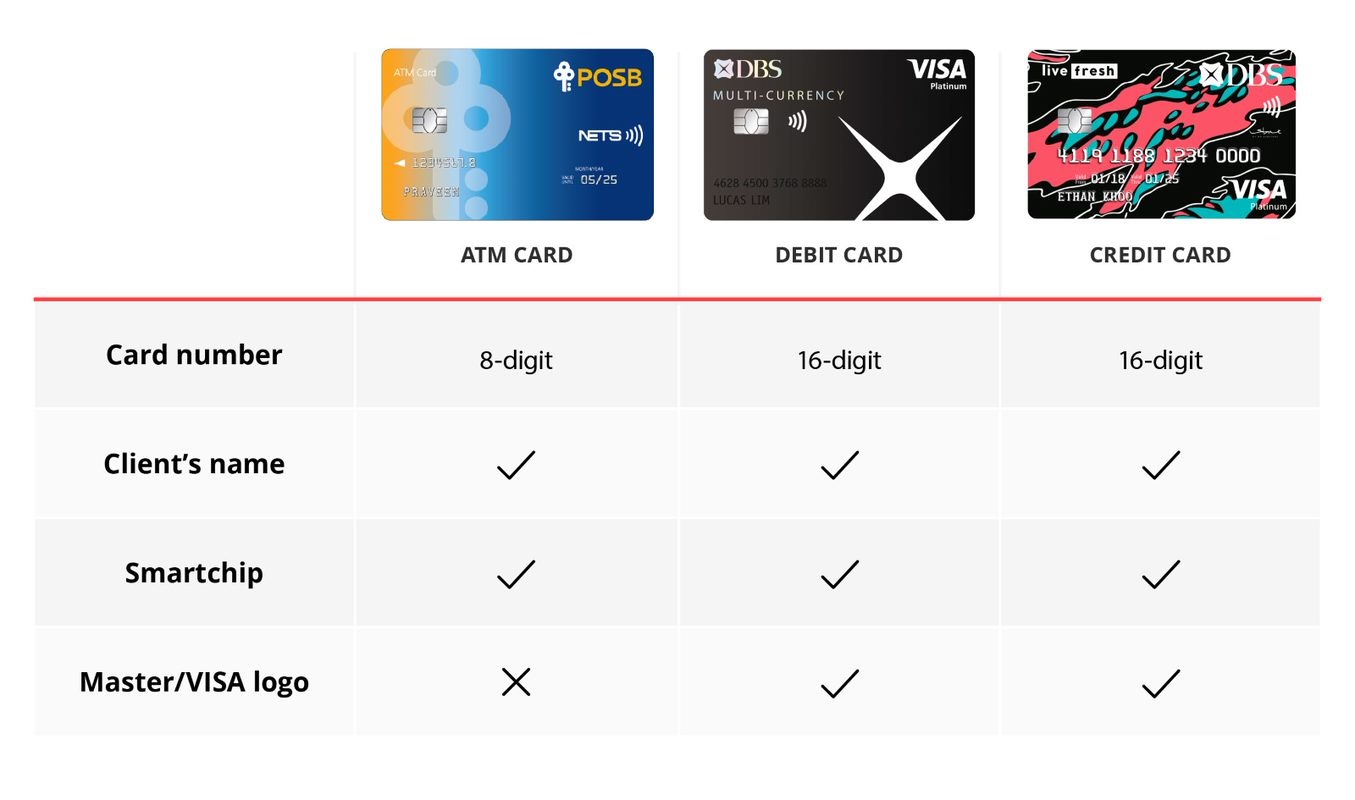 ATM card
In 1979, the first ATM was introduced in Singapore with the sole purpose of providing clients with easy cash withdrawals. With an ATM card and a Personal Identification Number (PIN), you could withdraw cash from your linked current or savings account using the ATM kiosk.
The primary function of an ATM hasn't changed but today you can make cash deposits, bill payments, fund transfers, card services and investment services with them. While your ATM card gives access to most ATMs in Singapore – irrespective of bank and even certain partner banks overseas – you might incur extra processing fees if you are not an account holder of the same bank.
In 1985 when the Network for Electronic Transfers (NETS) was set up by leading banks in Singapore including DBS Bank and POSB Bank, it allowed ATM cards a wider range of functions.
With NETS, Point-Of-Sale (POS) transactions using ATM cards can easily be made at merchants who have NETS terminals. This means having to carry less physical cash around. NETS also provides other services like stored value cash cards for motoring (e.g. ERP and parking), self-service payment kiosks and online credit card payment systems. However, NETS is limited to local payment functions.
When cash withdrawals and/or NETS payments are made using your ATM card, funds are deducted from your linked bank account in real time.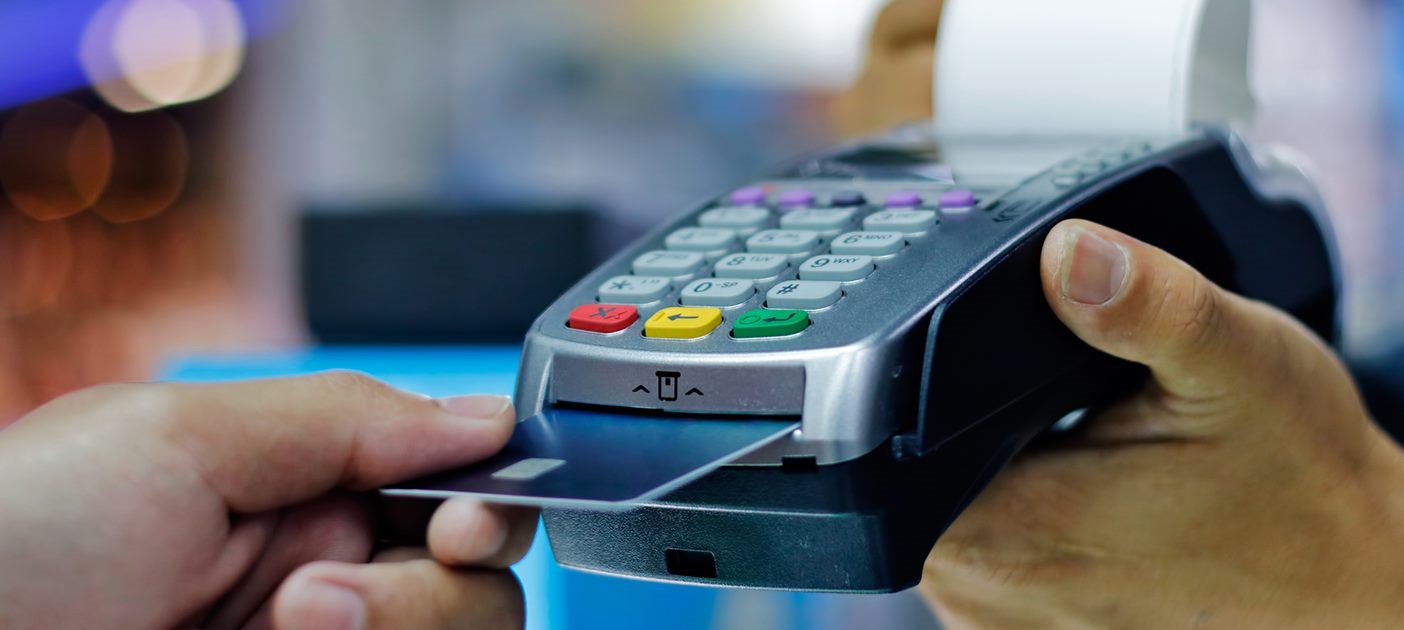 Debit card
Like an ATM card, a debit card is often offered as a complimentary facility by the bank.
To be eligible for a debit card, you must first have a current or savings account and be at least 16 years old.
When you set up a current or savings account, the bank is likely to offer you a debit card linked to your account. With this card, you are able to access ATM services, authorise NETS payments using your ATM PIN, all while being able to make payments through Visa and/or Mastercard.
Like ATM cards, you can use debit cards for overseas cash withdrawals and payments. To perform such transactions, you will need to authorise your card for overseas use prior to travelling.
Similar to credit cards, there are usually foreign exchange fees incurred for charges made overseas. This is where a DBS multi-currency account (MCA) like DBS Multiplier comes in handy.
All DBS MCAs offer 12 currency pockets within a single account, allowing you to conveniently perform a currency exchange whenever the exchange rates are favourable.
All you have to do is:
Link your DBS Visa Debit Card to your MCA as your primary debiting account.
Ensure that you have the foreign currency you want to spend.
With these 2 simple steps, when you use your card overseas, the relevant foreign currency will be deducted directly from the respective currency pocket without incurring additional foreign exchange conversion fees.
Tip: It is commonplace to perform a currency exchange ahead of a holiday, especially when rates are favourable. Moreover, if there are no immediate short-term needs for these monies (i.e. Your holiday will take place in >6 months time), you can consider placing them in a fixed deposit to earn some interest on the idle funds.
While debit and credit cards share similar functionalities in POS transactions and contactless payment options, most promotions, cashback, or rebate schemes are available only to credit card holders. Do remember that any charged amounts to debit cards are deducted directly from your bank account balances.
Though not always the case, there are sometimes fees charged for use and maintenance of debit cards like annual fees, overseas ATM withdrawal fees and replacement fees for lost cards.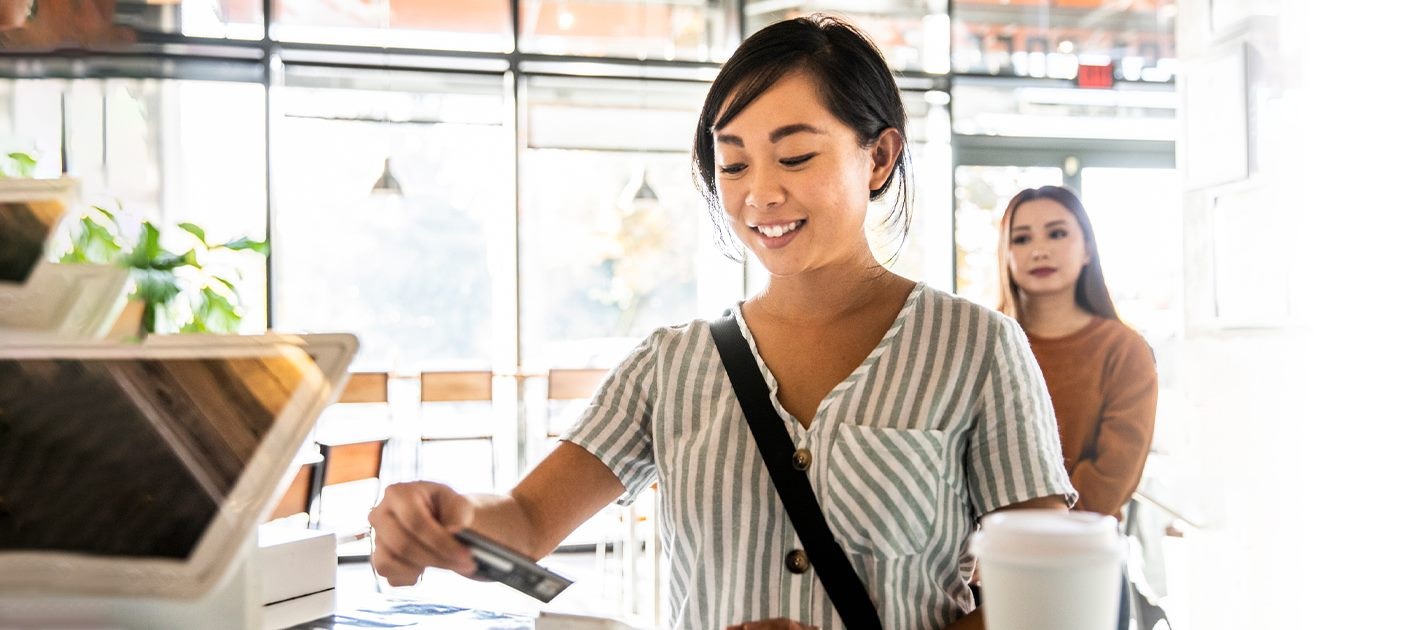 Credit card
You might be surprised to find that credit cards predate ATM and debit cards, originating close to a century ago when companies in the US began issuing them to customers for purchases made at their outlets.
The key difference between a credit card and a debit card is the source of funds being utilised.
Transactions charged to your debit card are directly deducted from your available balance in the corresponding account it is linked to - meaning your spending is limited to your available balance.
On the other hand, credit cards are not linked to any bank account. When you use a credit card, you are borrowing money from the card issuing organisation or bank. These funds are available to you up to a predetermined limit decided by the card issuer.
At the end of each monthly billing period, a credit card bill is issued with a total payable amount. You can choose to pay the minimum sum stated or the full amount of the bill.
Given that interest charges can be hefty, it is possible to overspend and rack up credit card debts. To avoid this, ensure to monitor your card spending and pay your bill in full before each due date. As credit cards are a form of debt, they come with higher barriers to entry than debit cards.
Read more: Why is my credit score important?
There are broadly 2 types of credit cards – secured and unsecured credit cards.
Secured cards are backed by collateral. To apply for one, you must pledge a fixed deposit of S$10,000 or more with the card issuing bank. The credit limit for this card will be capped at the amount of your pledged deposit. This is a viable option for those who are currently not working (e.g. unemployed or retired).
Most of us are likely to have unsecured credit cards. To apply for this, you must be at least 21 years old, and be able to provide proof of income, net worth or financial holdings – these determine your approved credit limit.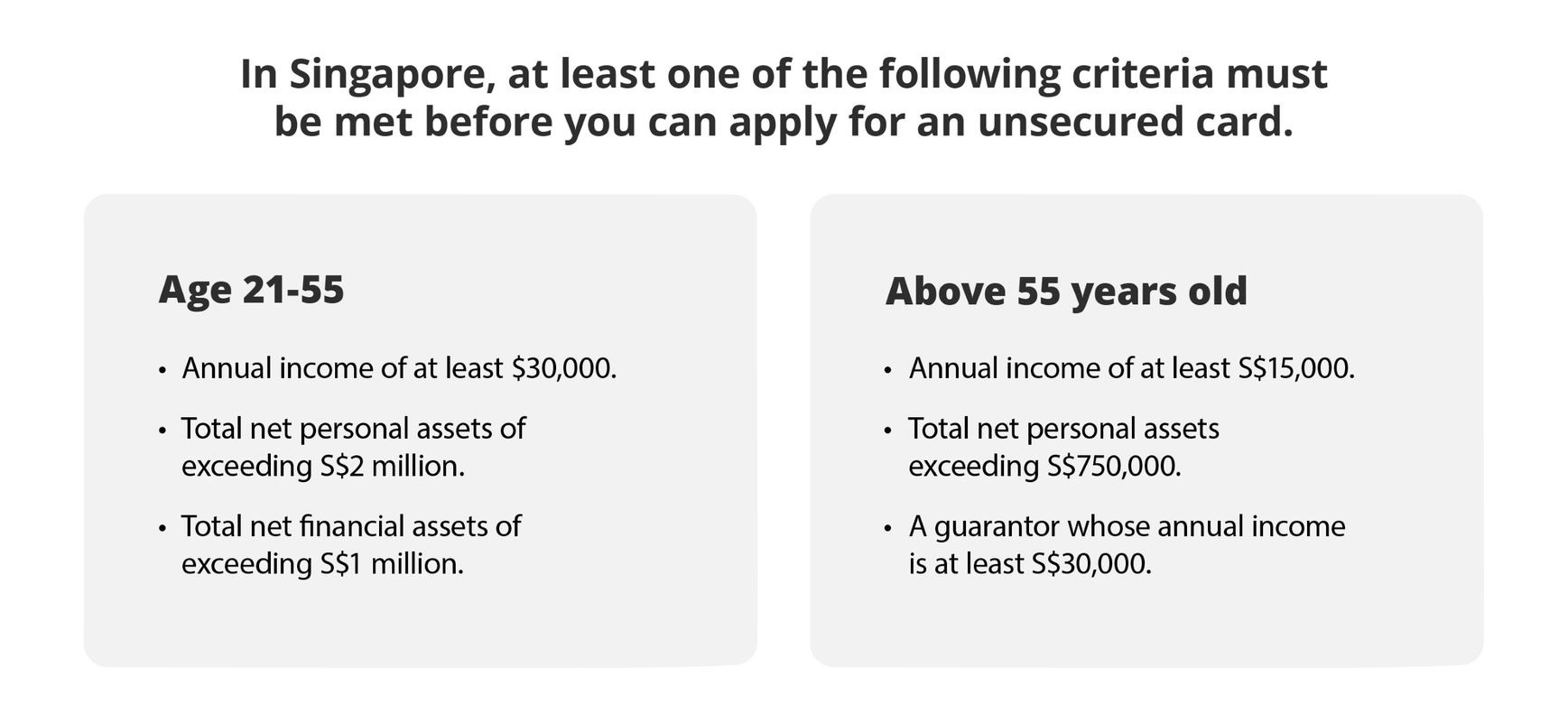 That said, financial institutions are given discretion to impose higher income requirements for different credit cards. The card issuing organisation will take other factors like your personal credit rating into consideration, before making a final decision on whether to approve your application.
The credit limit granted is usually a function of your annual income. While MAS provides a regulatory credit limit guidance, the card issuer is may adjust the approved limit within these guidelines.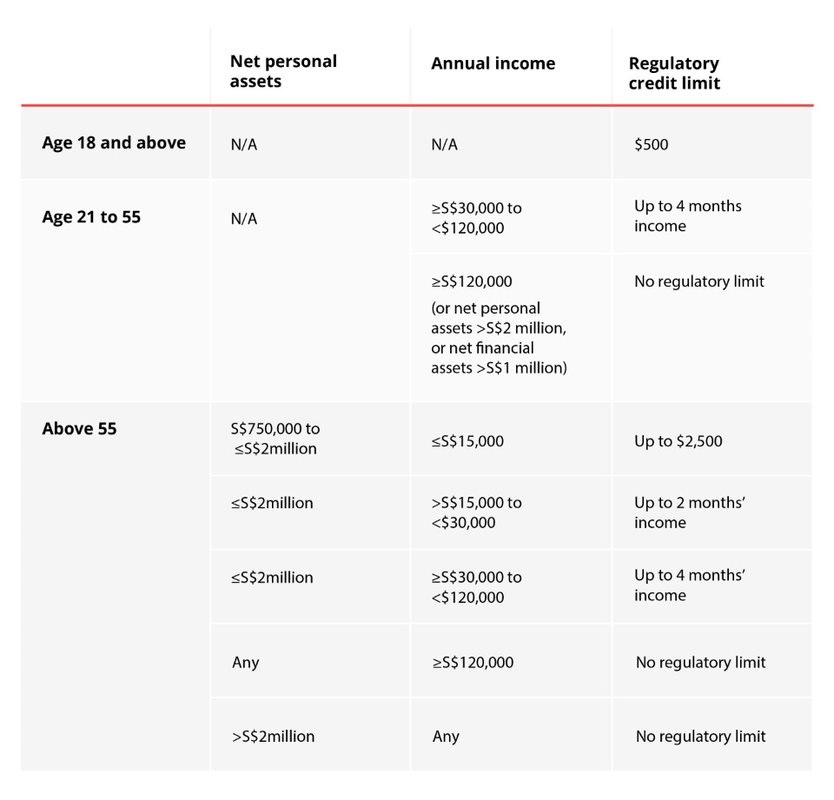 Most credit cards are subject to yearly fees which can be waived, depending on the bank.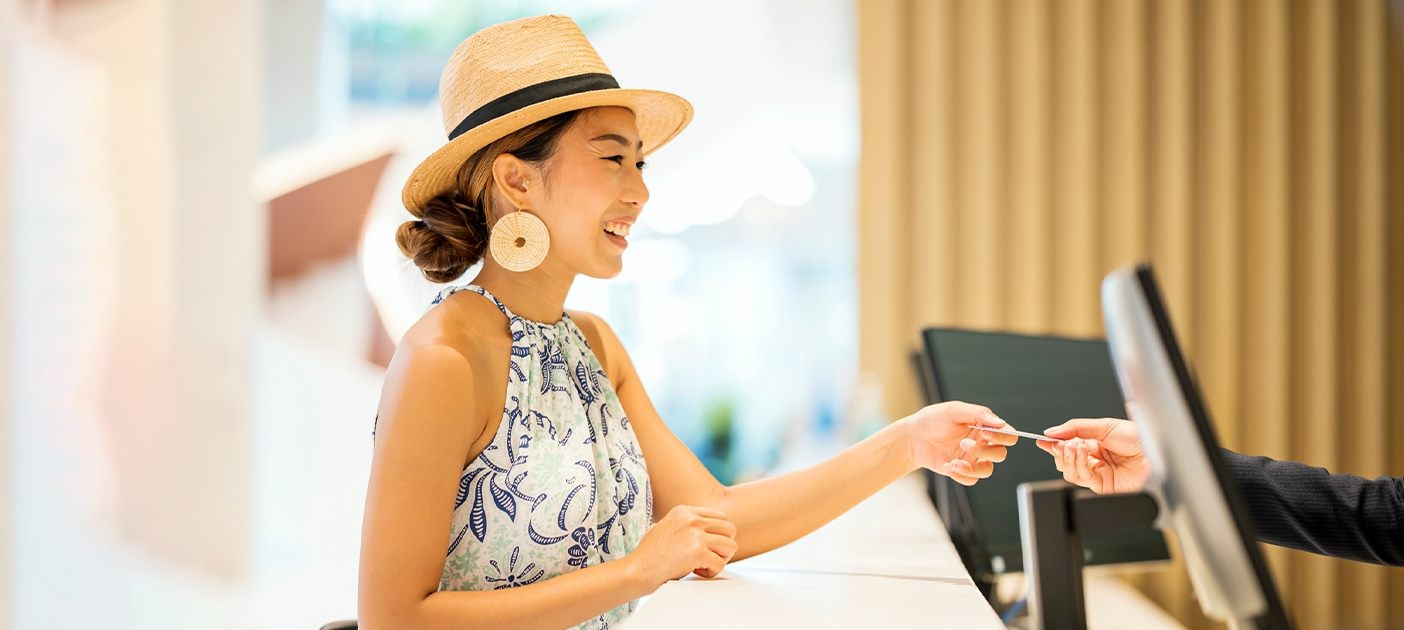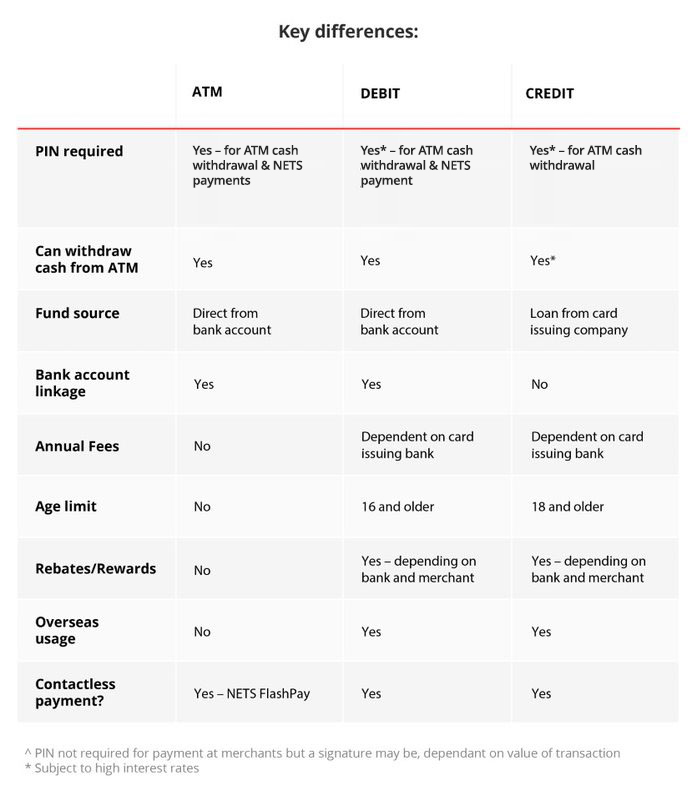 Read more: Applying for your first credit card?
Find out more about: DBS credit cards
Credit cards are useful but they come with caveats
With all these requirements and the risk of landing in debt due to irresponsible spending, why do people still decide to have credit cards?
Credit cards are tied to worldwide payment networks, like Mastercard, VISA or American Express (Amex). They are payment networks that ensure card transactions are processed smoothly for their respective networks.
This provides ease of spending while you are overseas without needing to carry too much cash around, or even online shopping with an overseas merchant from the comfort of your home. It is important to note that foreign currency transactions would usually incur additional foreign exchange and administrative fees.
Credit card holders are often eligible for promotions with partner merchants, rebates and/or rewards schemes. For example, the recently launched DBS yuu Card allows you to earn yuu points at over 1,000 partner outlets island-wide, which opens you to a wide range of rewards on the yuu App.
In the same vein, making payments for big-tickets item using credit cards is especially useful for chalking up rebates or rewards points. In fact, this is of the strategies used by people to.
This provides ease of spending while you are overseas without needing to carry too much cash around, or even online shopping with an overseas merchant from the comfort of your home. It is important to note that foreign currency transactions would usually incur additional foreign exchange and administrative fees.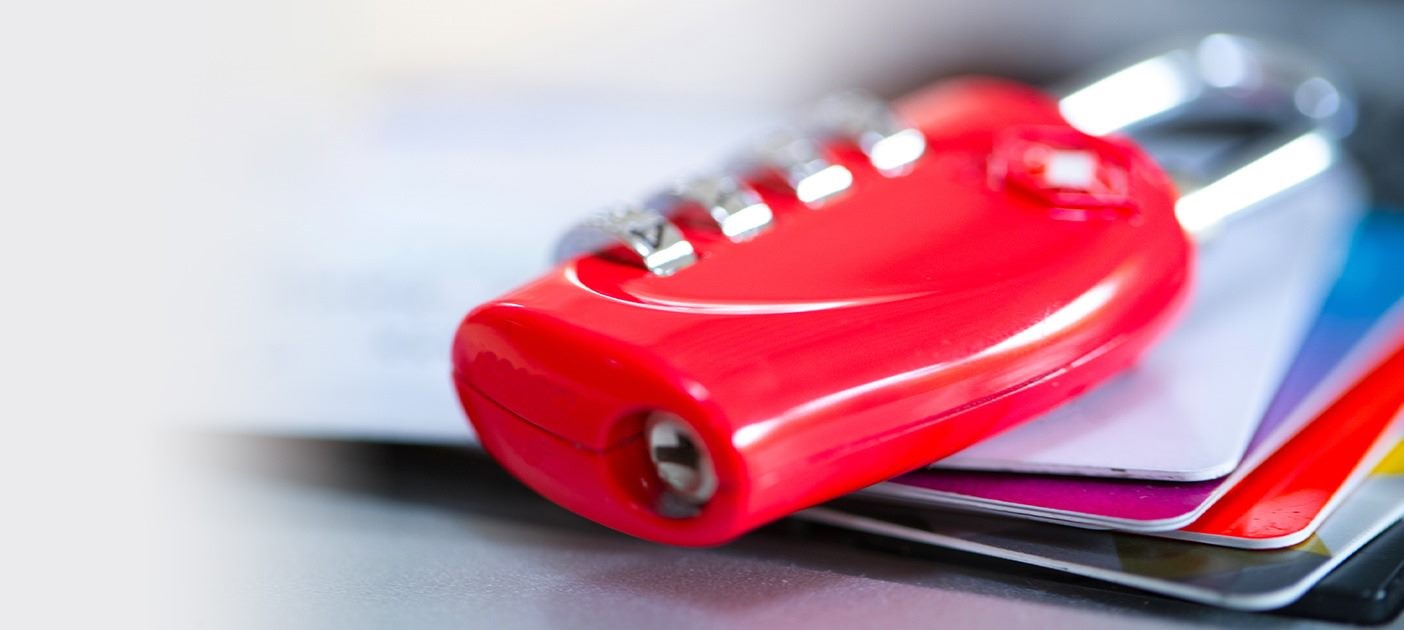 Good practices
With conveniences, there are always accompanying risks. In the case of payment cards, there is a danger of others using your cards to withdraw cash from your account or make fraudulent purchases.
Here are some good practices to keep in mind.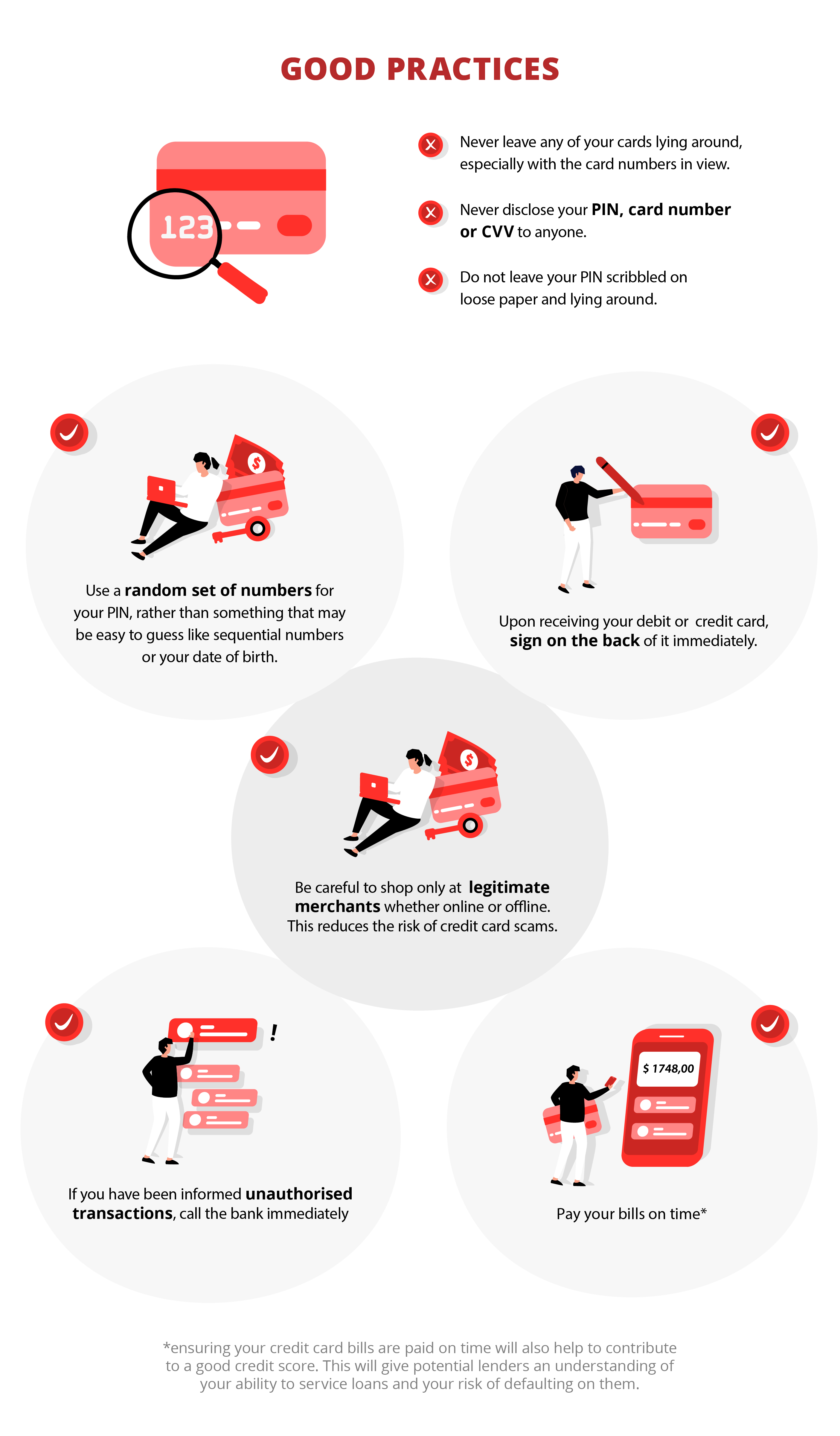 In Summary
At the end of the day, what cards you choose to own and utilise differs in accordance with your spending habits and preferences. Given that online shopping and travel are now commonplace, most people would opt to have at least one debit or credit card on hand for ease of transacting in foreign currencies.
Now that we've shared some basics about the common types of plastics found in your wallet, let us leave you with a parting fun-fact.
While our payment cards are (still) a necessary plastic to most of us, the DBS Live Fresh card is made of 85.5% recycled plastic, making it Singapore's first eco-friendly credit card. It offers up to 10% cashback, to encourage your Earth-friendly lifestyle when you spend at our eco-friendly partner merchants. This way, you can use your plastic payment card while really making it count.
Ready to start?
Speak to the Wealth Planning Manager today for a financial health check and how you can better plan your finances.
Alternatively, check out Plan & Invest tab in digibank to analyse your real-time financial health. The best part is, it's fuss-free – we automatically work out your money flows and provide money tips.
Disclaimers and Important Notice
This article is meant for information only and should not be relied upon as financial advice. Before making any decision to buy, sell or hold any investment or insurance product, you should seek advice from a financial adviser regarding its suitability.