3 Things to Look Out For when Buying REITs
Property is an investment asset class that financial advisors often recommend as part of a diversified portfolio.
The most cost-effective way to do so is through real estate investment trusts (REITs).
(Pro-tip: If you intend to buy a second/investment property, be careful of "single asset concentration risk". This happens when any single investment becomes an extremely large percentage of your total portfolio of investments.)
So, if you are looking to diversify your portfolio with REITs, consider these top three things: portfolio, income, economy. Or P.I.E.
But first, a quick definition
REITs are investment trusts that own or operate real estate properties on behalf of its shareholders. They are traded on the stock exchange.
In Singapore, REITs typically invest in shopping malls, residential properties, offices, industrial facilities, hospitality and healthcare properties.
These are how you can get returns by investing in REITs (vs. being a landlord):
Dividend income: rental income and any earnings from sales of real estate assets
Professional landlord expertise: the day-to-day management is left to professional property managers
Capital gains: when the REIT is sold at a higher price than the purchase price.
The P.I.E. of REITs
Investors typically buy REITs for the dividend income it pays. The sustainability of that income depends largely on the quality of the REIT's property portfolio, and the economy also plays a part.
Some factors of quality are already taken care of by SGX listing regulations.
This leaves us with the P.I.E. of the quality of the REITs' property portfolios, income characteristics, and economic conditions.
Portfolio: quality of the properties in the REIT
Some questions that will help you:
To establish how secure the current income stream is, ask "What is the average term of the leases?"
To discover the demand for a REIT's properties, ask "What is the quality of the properties?", and "Are the properties in a high growing sector and location, or vice versa?"
To check out the competition, ask "What is the supply outlook for competing properties?"
Income: compared to dividend-paying stocks and bonds
REITs are a significant component of "income investing" – along with high dividend paying stocks and bonds.
This is because dividend yields from REITs are usually significantly higher than the general stock market average, and term deposit rates. At the time of writing, S-REIT yields were around 6%. This compares to 3.8% for the Straits Times Index (STI)1, 2.1% for 10-year bonds, and 1% for term deposits (non-promotional rates).
Economy: the underlying "invisible" hand
The state of the economy has an impact on REITs. Stronger economic growth is generally a good thing. But because REITs are typically focused on a particular sector, the growth outlook for that sector also matters.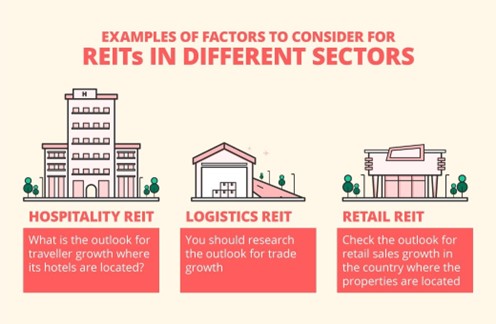 As for interest rates, the general rule of thumb is that rising interest rates makes bonds, income stocks and REITs less attractive. Similarly, falling interest rates typically supports the prices of these instruments. But there is a caveat: if interest rates are falling because of a coming recession, they won't help the prices of dividend-paying stock or REITs.
Footnote:
1 From DBS Group Research report dated 11 Feb 2019. Singapore REITs: Riding on macro tailwinds.
Get started with