What's a birthday without presents?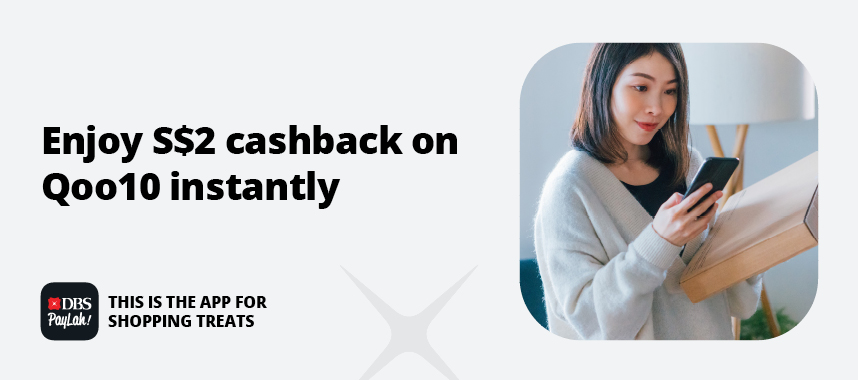 It's your birthday, so have a treat on us.
Simply pick out your perfect gift from top online shopping destination Qoo10.sg, check out with DBS PayLah!, and you'll get an instant S$2 cashback* on a minimum spend of S$5.
Cash in on your birthday love on the Qoo10 Singapore website or app anytime between 10 March and 31 March 2020. The S$2* will be credited to your PayLah! right away.
Happy Birthday from PayLah!
Just PayLah! for more seamless payments

Make payments
Send or request payments from anyone.

No Top ups
Never run out of money by enabling Auto Debit on your PayLah! wallet.

Scan and PayLah!
Shop, dine or ride by scanning the QR Codes at over 80,000 acceptance points – 7-Eleven, Comfort, CityCab, Golden Village, Gong Cha, Koufu and many more!

Send money to friends with PayNow
Simply send money to your friends with PayNow.
Terms and Conditions
*Each unique user is awarded the S$2.00 cashback on their first successful PayLah! transaction at Qoo10 with a minimum spend of S$5.00
To be eligible for the promotion, use DBS PayLah! to check out your purchases on the Qoo10 Singapore website and/or Qoo10 Singapore App
Offer is valid from 10 March to 31 March 2020 for selected PayLah! users who successfully check out with PayLah! on Qoo10
The cashback will be credited instantly into the user's PayLah! wallet
Offer is limited to the first 300 PayLah! redemptions with Qoo10
Offer can be used in conjunction with the other promotions listed here.