DBS Cards - Application Checklist
 
Credit Cards
You need to be at least 21 years old to apply for a credit card. Unless otherwise stated for the respective type of card, you will also need to earn a minimum gross annual income of S$30,000 (Singapore Citizen or Permanent Resident) or S$45,000 (Foreigner).
Customers who do not have any accounts with DBS/POSB currently, please attach full copies of your telecommunications or utility bills, as well as the following mandatory documents. (This will allow us to confirm your residential address).
For Principal Applicant
Singapore Citizens and Permanent Residents
Required Documents
Salaried Employees
Variable/ Commission-based Employees
Self Employeed
NRIC (Front and Back)
✔
✔
✔
Latest 12 months CPF contribution History Statement1
✔
✔
OR
Latest Income Tax Notice of Assessment2
✔
1 Year
✔
2 Years
✔
2 Years
OR
Latest 3 months computerised Payslip
✔
OR
Salary Crediting Personal POSB/DBS Account No.3
✔
Foreigners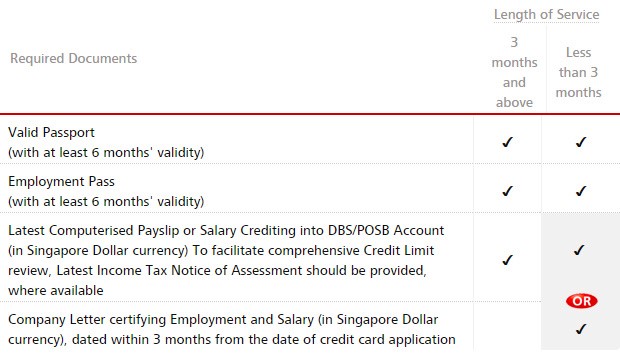 For Supplementary Applicant
You must be at least 18 years old. You will also need to provide a copy of your NRIC (Front and Back) (Singapore Citizen or Permanent Resident) or Passport and proof of residential address (Foreigner).
1 Please note that your CPF documents submitted online are only available for up to 7 days from the date of your submission.
2 You can now print your Income Tax Notice of Assessment at myTax Portal with your SingPass or IRAS PIN. The service is free. Log on to https://mytax.iras.gov.sg for more details.
3 Income documents are not required on the condition that your salary is credited via GIRO, to your own Personal DBS/ POSB Account and for at least 3 consecutive months.
Apply Online: Credit Card / Debit Card
 
Student Credit Card
If you are applying for a Student Credit Card, you must:
Be between 18 and 27 years of age (both inclusive). Parental/legal guardian's consent to the application is required if you are below 21 years old.
Not have an existing DBS/POSB Credit Card and/or other unsecured facilities with DBS/POSB Bank.
Be a Singapore Citizen/Permanent Resident.
Be an existing student from NUS, NTU, SMU, SUTD, SIM, SIT, Nanyang Polytechnic, Ngee Ann Polytechnic, Temasek Polytechnic, Singapore Polytechnic or Republic Polytechnic.
Submit a photocopy of your NRIC (front and back), student matriculation Card (front and back).
Submit your parent's/legal guardian's NRIC (front and back)/Passport and your birth certificate (if the consent is provided by your parent); or proof of legal guardianship (if the consent is provided by your legal guardian) if you are below 21 years old.
Applications not accompanied with the required documents will cause a delay in processing.
 
Debit Cards
To apply, you must be at least 16 years old and have a POSB Savings Account, DBS Savings Plus Account, DBS Autosave Account or DBS Current Account.