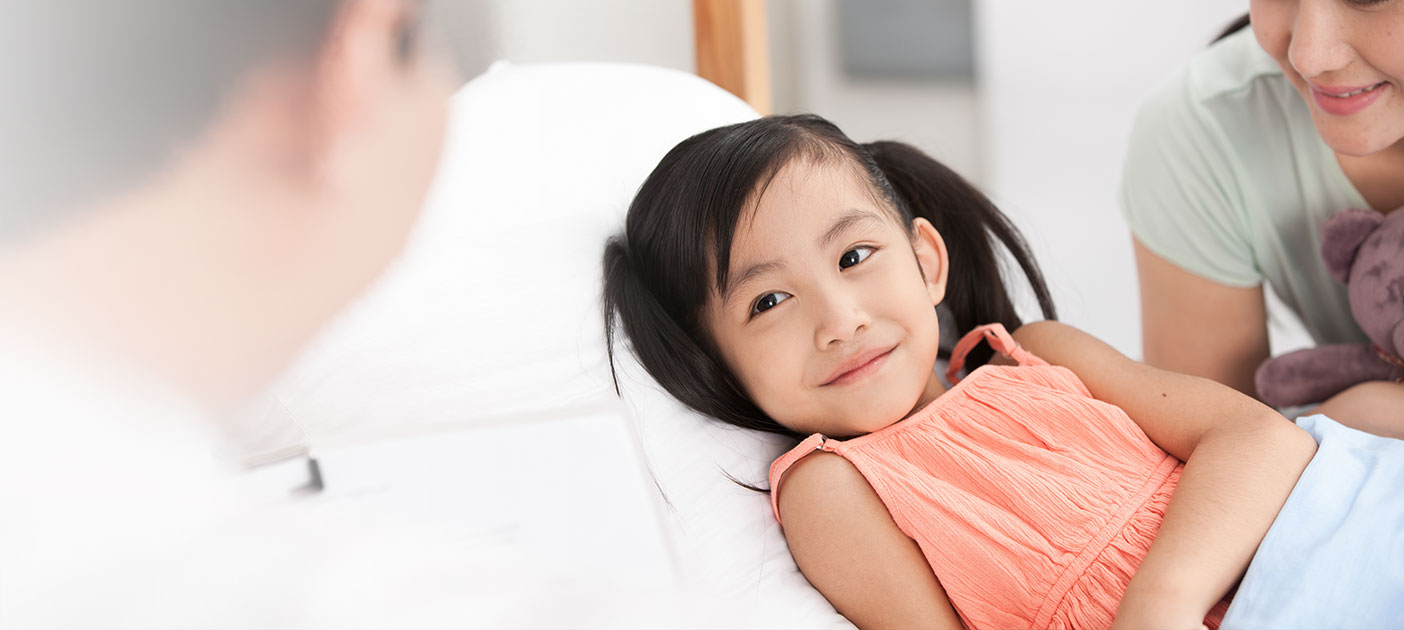 COVID-19
Get your questions about claims answered here.
 
At a Glance

Coverage for hospitalisation due to sicknesses and accidental injury
Receive S$100 per day if you are hospitalised, plus S$200 per day for ICU stay.
Ease the strain on finances when you're at a day surgery, or recovering from one
Get S$100 cash benefit for day surgery, and S$60 per day for each day of medical leave following day surgery or hospitalisation.

Protection beyond Singapore
Whether you're at home or abroad*, we've got you covered.

No Claim Bonus
Receive 20% refund of premiums paid (excluding GST) at the end of every 12 consecutive months if you remain claim-free.

Accidents and sicknesses typically strike at the most unexpected times. Besides taking a toll on your physical well-being, they can also be financially challenging. Recovery Hospital Cash provides cash benefits in the event of hospitalisation or day surgery worldwide*. This way, you can focus on getting your health back on track.
Protect at least 2 adults, or 1 adult and 1 child under your policy to enjoy a 10% discount.
*Excludes countries that the Ministry of Health or the Ministry of Foreign Affairs has issued travel advisories and US-sanctioned countries
By clicking the "Quote now" button, you will be leaving our website to access Chubb's website. Please ensure that you understand Chubb's product features and terms before purchasing.
 
Features & Benefits
Sum Insured

1.

Daily Hospital Cash Benefit

S$100 per day
(Up to 365 days)

2.

ICU Hospital Cash Benefit

S$200 per day
(Up to 30 days)

3.

Day Surgery Benefit

S$100 per occurrence
(Up to 10 occurrences for any one sickness or accidental injury)

4.
Get Well Cash Benefit

S$60 per day
(Up to 5 days of medical leave issued by the doctor after hospitalisation or day surgery in a hospital)

5.

Worldwide Terrorism Cover

Excluding biological, chemical agents or nuclear devices

Covered

6.
No Claim Bonus

20% refund of the preceding 12 months' premium paid (excluding GST) if there is no claim
 
Frequently Asked Questions
---
---
---
---
---
---
---
---
---
---
---
---
---
 
How to Claim
To avoid delay and to ensure your claim is handled promptly and efficiently, please submit your claims within one month from the date of occurrence.
You may submit your claims online at www.chubbclaims-dbs.com.sg. Alternatively, you may contact Chubb's Customer Service Hotline at +65 6398 8797 (Mondays to Fridays, 9.00am - 5.00pm, excluding Public Holidays) or email to dbscs.sg@chubb.com.
 
Contact Us
Call Chubb's Customer Service Hotline at 6398 8797 (Mondays to Fridays, 9.00am to 5.00pm, excluding Public Holidays)
Please refer to the Policy Wording for the full details of the terms, conditions and exclusions of this insurance.
Terms and Conditions Governing Purchase of Insurance Products from Chubb Insurance via the DBS website.
Disclaimers
Recovery Hospital Cash is underwritten by Chubb Insurance Singapore Limited ("Chubb") and distributed by DBS Bank Ltd ("DBS"). They are not an obligation of, deposit in or guaranteed by DBS. This is not a contract of insurance. Full details of the terms, conditions and exclusions of the insurance are provided in the Policy Wordings and will be sent to you upon acceptance of your application by Chubb. You should consider carefully if you are intending to switch health policies, as this might be detrimental to your current and/or future needs. You may wish to seek advice from a financial adviser before making a commitment to purchase this policy. In the event that you choose not to seek advice, you should carefully consider whether the policy is suitable for you.

You have a free look period of 30 days from the date you receive the Policy. If you decide to cancel the Policy within these 30 days, please inform Chubb in writing and they will cancel the Policy from its start date and refund the full premium paid, provided no claim has arisen.
This policy is protected under the Policy Owners' Protection Scheme which is administered by the Singapore Deposit Insurance Corporation ("SDIC"). Coverage for your policy is automatic and no further action is required from you. For more information on the types of benefits that are covered under the scheme as well as the limits of coverage, where applicable, please contact Chubb or visit the General Insurance Association or SDIC websites.
Thank you. Your feedback will help us serve you better.
Was this information useful?
That's great to hear. Anything you'd like to add?
We're sorry to hear that. How can we do better?
Enter only letters, numbers or @!$-(),.