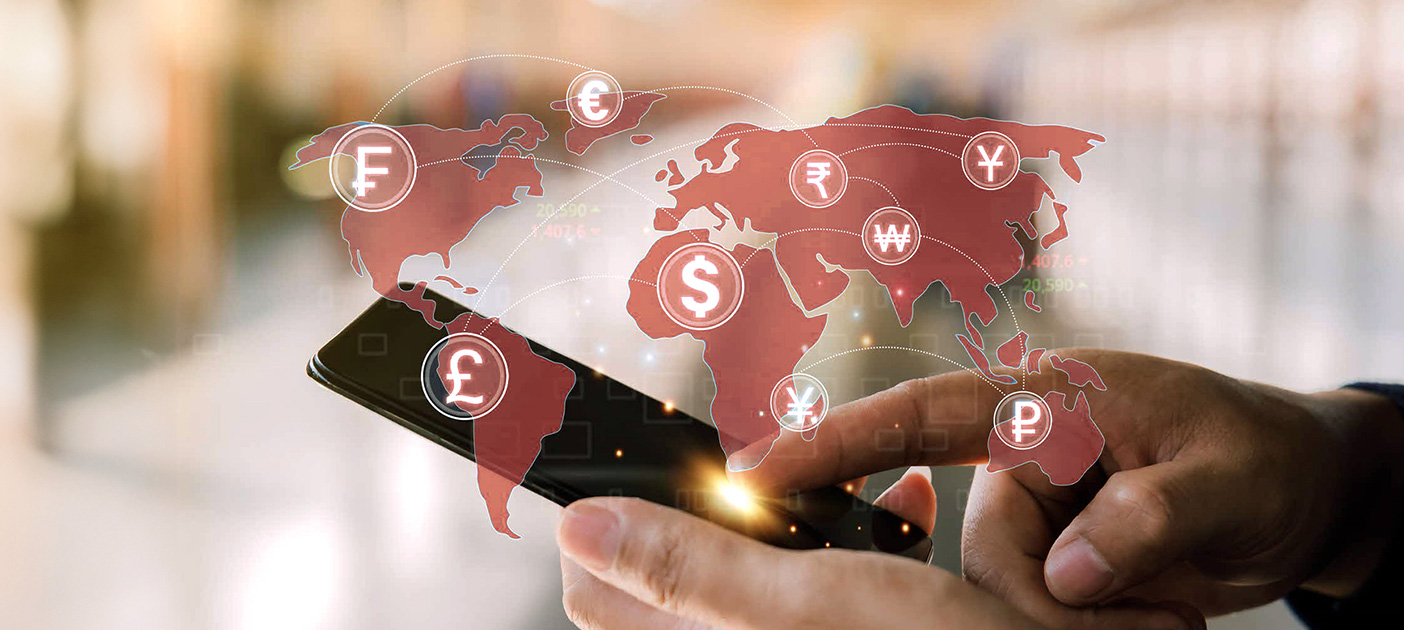 Unlock the world with DBS FX Services
 
At a Glance
Whether you're looking to exchange currencies for your travels, save more on your online sprees, send funds to loved ones or seize global investment opportunities, you've come to the right place.
Our FX solutions are designed to simplify your transactions, provide you with the best value for your international adventures, all while prioritising the security of your currencies and payments.
Explore the possibilities using DBS FX and experience savings, convenience and flexibility for your global pursuits today.

Adventurous Globetrotters
Access 11 currencies instantly via digibank at attractive exchange rates with no overseas transaction fees when you spend from your foreign currency wallet.

International Shoppers
Earn 2% cashback and save big on all your foreign currency spend including online purchases on Amazon, Macy's, ASOS and more.

Cross-border Providers
Fund your child's education, make regular overseas payments and support loved ones from afar with same-day transfers at S$0 fees to 50+ destinations.

Astute Investors
Gain access to foreign exchange markets and take advantage of currency fluctuations to maximise your returns.
 
For your next trip
Enjoy worry-free adventures

Never run out of foreign currency overseas. Exchange and store up to 11 foreign currencies at competitive rates anytime, anywhere on digibank.
Shop, dine and live like a local overseas without worrying about overseas transaction fees with your linked DBS Visa Debit Card. Plus, you can easily convert your excess foreign currency back after your trip.
Apply now
DBS Visa Debit Card

To apply through your digibank mobile app:
Launch digibank app, login, select More > Apply > Cards.
 
For your next online purchase
Save big on your retail therapy worldwide
Get 2% cashback when you shop online or overseas with your DBS Visa Debit Card.
Simply ensure you have enough money in the respective foreign currency wallet in your My Account and we'll automatically debit the funds in the currency of your transaction.
And the best part, no pesky overseas transaction fees! So you get to save big on what you want, every time.
For example, if you are making a purchase worth AUD $50, with other payment methods you'll pay S$45.22. However, with DBS Visa Debit Card, you'll only pay S$43.80, saving S$1.42 on card transaction fees. (Assuming an exchange rate of 0.876 AUD/SGD.)
 
For your next overseas transfer
Send your love to those who matter, with ease
Regularly sending money to support your child studying overseas or loved ones in another country ? We understand the importance of swift and secure money transfers overseas.
With DBS Remit, you can enjoy zero fees and same-day transfers to 50+ destinations in 19 currencies. Just 3 taps on digibank and you're done.
You can also now schedule recurring transfers. It's easy. Its timely. Its ready to go. And with our tracking feature, you know when your hard-earned money reaches its destination.
 
For growing your wealth
Seize global opportunities to grow your wealth
Equities: Access 7 key global equity markets including US and Hong Kong with a DBS Vickers Account paired with your DBS My Account or Multiplier Account. Easily convert currencies when FX rates are in your favour and buy your stocks when the time is right.
Unit Trusts: Spread out your risk by diversifying your portfolio beyond our shores through USD or other foreign currency denominated unit trusts online.
Fixed Deposits: Not familiar with investing? Take advantage of higher interest rates with our Foreign Currency Fixed Deposits, which allow you to save more whilst offering you potential to gain from currency movements in future to maximise your returns.
 
Keeping your money safe
Your security, our top priority
Embark on your global adventures with confidence knowing your money is safe with us with these security features.
Secure your card anytime: With DBS Payment Controls, you can lock/unlock your card and selectively enable card transaction functions in just a few quick taps.
Customise your limits: Set spending and transfer limits based on your needs to prevent overspending or unauthorised large transactions.
Transaction alerts: Know exactly where your money is going at all times with digibank push notifications.
 
DBS Currency Converter
As a DBS customer, you will have access to foreign exchange services online via our internet and mobile banking platforms. This currency converter displays the Bank's latest Retail Board Rates.
Preferential rates may be applicable to your transaction. Log in to find out more.
Rates here are indicative and may change without prior notice.
Deposit Insurance Scheme
Singapore dollar deposits of non-bank depositors and monies and deposits denominated in Singapore dollars under the Supplementary Retirement Scheme are insured by the Singapore Deposit Insurance Corporation, for up to S$75,000 in aggregate per depositor per Scheme member by law. Monies and deposits denominated in Singapore dollars under the CPF Investment Scheme and CPF Retirement Sum Scheme are aggregated and separately insured up to S$75,000 for each depositor per Scheme member. Foreign currency deposits, dual currency investments, structured deposits and other investment products are not insured.

Conversions between currencies involve fluctuations and are subject to exchange controls. If you are converting from another currency to place the deposit and intend to convert it to the original currency, exchange rate fluctuations could cause the converted amount to be less than your original amount.
Thank you. Your feedback will help us serve you better.
Was this information useful?
That's great to hear. Anything you'd like to add?
We're sorry to hear that. How can we do better?
Enter only letters, numbers or @!$-(),.