Premium Content
Financial planning when raising children – what new parents should know
Starting a family is an exciting chapter for most parents-to-be. With a clear idea of what it involves, parenting can be a joy rather than a bag full of stress.
You might have heard that raising a child in Singapore is "expensive". While you'll need to set aside extra cash for the new family member, it'd all be manageable with some planning and discipline to make sound financial decisions.
Before the little one comes along, here are some tips to prepare financially for the arrival:
Before the little one arrives - Assess your financial plan and prioritise
With the new addition to the family, you can expect family expenses to increase. It is a good time to review your current financial situation and financial plan. Set up a new household budget that includes essential expenses for your baby — doctor's visits for mummy and baby, baby's daily necessities as well as the initial cost of setting up the room for your little one.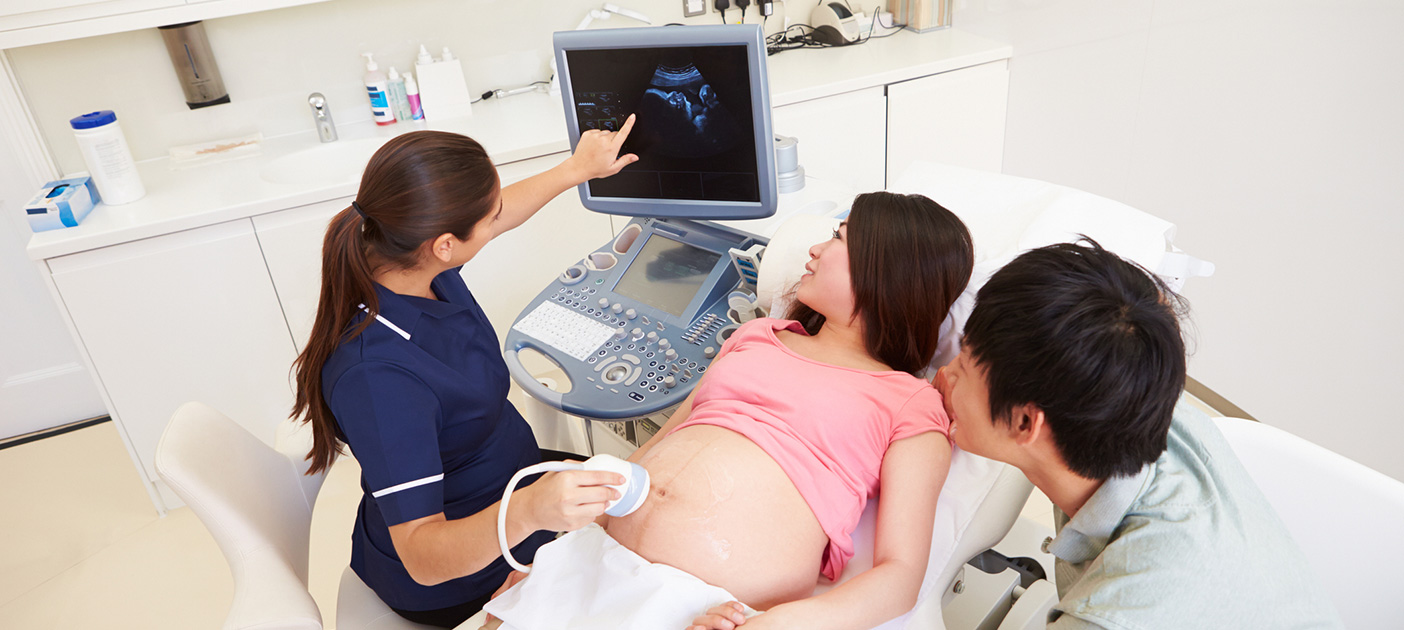 Antenatal and delivery expenses
Much of the expenses during pregnancy will be spent on doctor's visits and foetal scans. To save on these costs, you can opt for the subsidised route via a public hospital. Simply get a referral from a polyclinic to enjoy antenatal care subsidies if you are a Singapore Citizen or Permanent Resident (PR).
Parents can also make claims for prenatal and delivery charges using the Medisave Maternity Package. It covers delivery expenses, as well as prenatal medical expenses such as consultations and ultrasound scans in public and private hospitals. You may withdraw:
up to $900 for pre-delivery medical expenses,
an additional surgical withdrawal limit ranging from $750 to $2,600 depending on the type of delivery procedure, and
up to $550 per day for the first two days of admission and $400 per day from the third day onwards for the hospital stay.

To claim pre-delivery charges from Medisave, simply present the bills incurred for pre-delivery consultations to the hospital where your baby was delivered. The hospital will submit these bills to the CPF Board for you, together with the delivery expenses.
New parents could also be interested in seeking early insurance coverage for their unborn child. Generally, maternity insurance provides coverage for the following, although it differs across insurers:
Pregnancy complications
Congenital disorders
Death coverage for mother and child
Hospital cash benefits
Guaranteed insurability of the child

Note that maternity insurance does not usually cover the medical cost related to consultations or delivery of the baby as they are designed to tackle complexities arising from pregnancy and childbirth. It complements regular health insurance and makes up for any limits in its coverage.
There are two main types of maternity insurance plans – 1) a standalone plan and 2) bundled plan that can be converted to a life insurance plan later.
The first type is quite straight-forward – the policy usually lapses after 30 days after the child is born. However, most maternity insurance plans in Singapore belong to the second type.
A bundled maternity insurance comes with 2 parts. The first part of the coverage provides protection for both mother and baby until the baby is born. Beyond that, the plan can be converted to a life plan that comes with either a savings or investment component for the child.
MediShield Life does provide coverage for a list of 24 common pregnancy-related complications, although these are subjected to claim limits.
Before taking up a maternity insurance, consider your real needs and whether there are more cost-effective ways before jumping in.
Saving tips for child's essential items
It can be tempting to get everything brand-new for your little one, but we all know how fast they grow! There are endless number of items to buy for your child and you'll be surprised how little items like baby bottles and swaddles can add up to a few hundred or thousands of dollars easily. Here are some tips to help you save some money when getting ready for your baby's arrival:
Consider getting second-hand items that are in good working conditions for large furniture items that baby outgrows easily. Some examples are stroller, rocker, baby cot, baby bathtub
Little ones outgrow their clothes fast! You can ask for good-condition hand-me-downs from family and friends
Check out baby fairs for discounts
Consider bulk-buying certain items if you are sure the baby will use them for a long time. These include diapers and milk formula.
Request for samples before you buy – many brands offer free samples for baby items. These include baby shower foam, stage 2 and 3 milk powder, diapers, baby food and snacks. It's a good idea to get the samples to test out the suitability before you buy them.
If you decide to buy brand new items, you might consider re-selling them later if they are in good condition as well to "recoup" some of the expenses.
0-2 years old: Safeguarding you child's future
We can't always wrap our babies in a protective cocoon, so you can consider buying healthcare insurance plans to help with expenses if the little ones fall ill. Otherwise, all Singaporean citizens are automatically covered under MediSave – those born on or after 1 January 2015 have S$ 4,000 in their MediSave accounts where the MediSave grant will be credited.
The grant helps parents defray their child's healthcare expenses, including childhood vaccinations, hospitalisation, and approved outpatient treatments. For additional coverage, there are Medisave-approved plans from private insurance companies that cover hospitalisation and surgical expenses at private hospitals, as well as follow-up visits to the clinic. Some insurers offer policies that cover personal accidents and infectious diseases, such as the hand, foot, and mouth disease. Parents can also consider picking up plans to cover critical illnesses. There are options for lifetime coverage or term plans, but with a limited payment period.
The Baby Bonus Scheme is designed to help families defray the costs of raising a child. It comprises a cash gift and a Child Development Account (CDA), a special co-savings scheme for children. The Baby Bonus Cash Gift is given out in 5 instalments over 18 months following the child's birth as illustrated in the table below: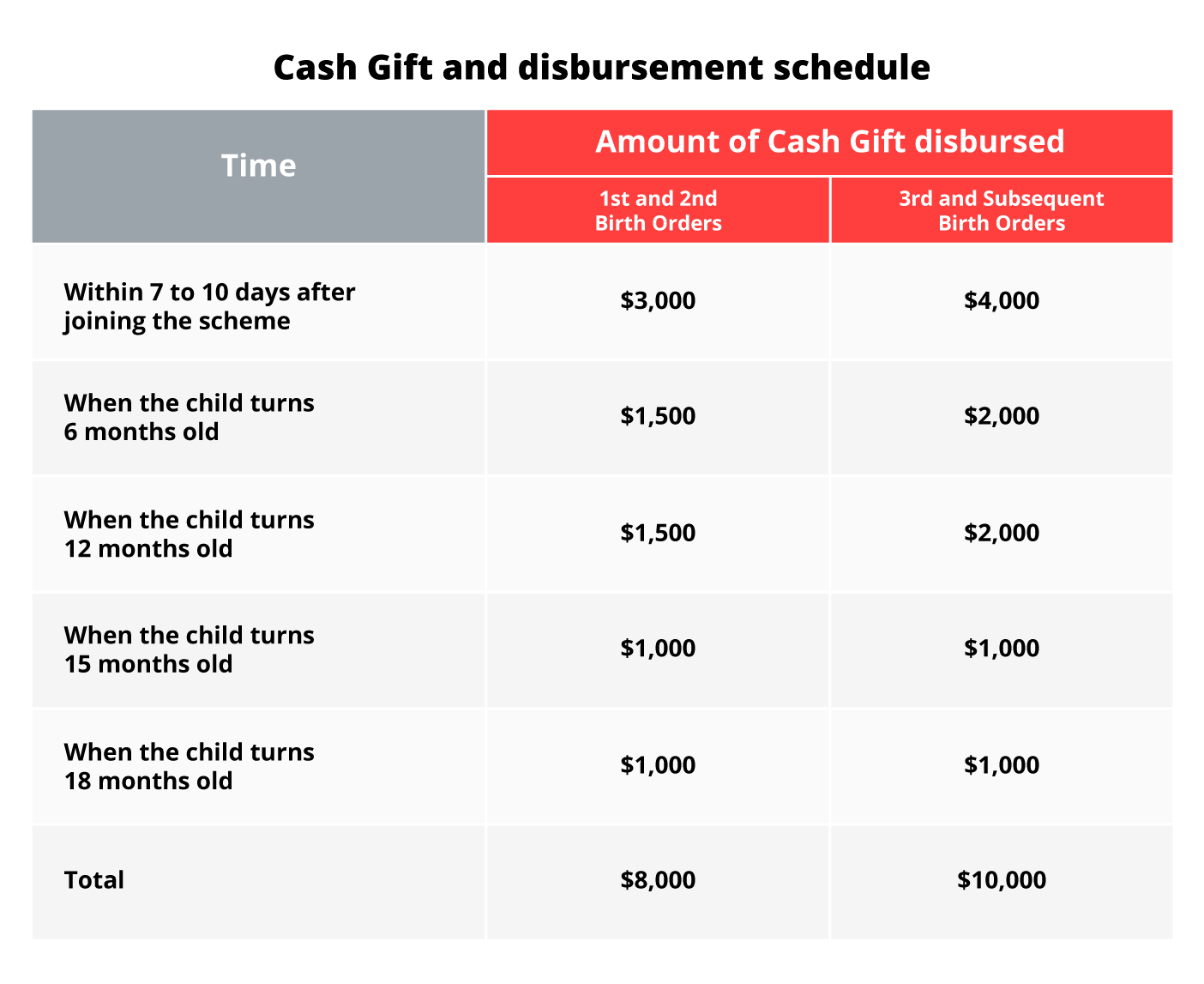 Source: https://www.madeforfamilies.gov.sg/raising-families/baby-bonus


The Baby Bonus Child Development Account (CDA) is a special savings account for every Singaporean child. They will receive an initial deposit of $3,000 from the Government. The Government will then match every subsequent dollar saved into the CDA by parents, up to a maximum amount that increases with the child's birth order.
To maximise the co-matching top up amount by the government, parents can top up the maximum amount into the CDA account. For instance, for the first child, parents can save $3,000 in the CDA account to earn the maximum co-matching top up by the government of $3,000. For the second child, this amount increases to $6,000.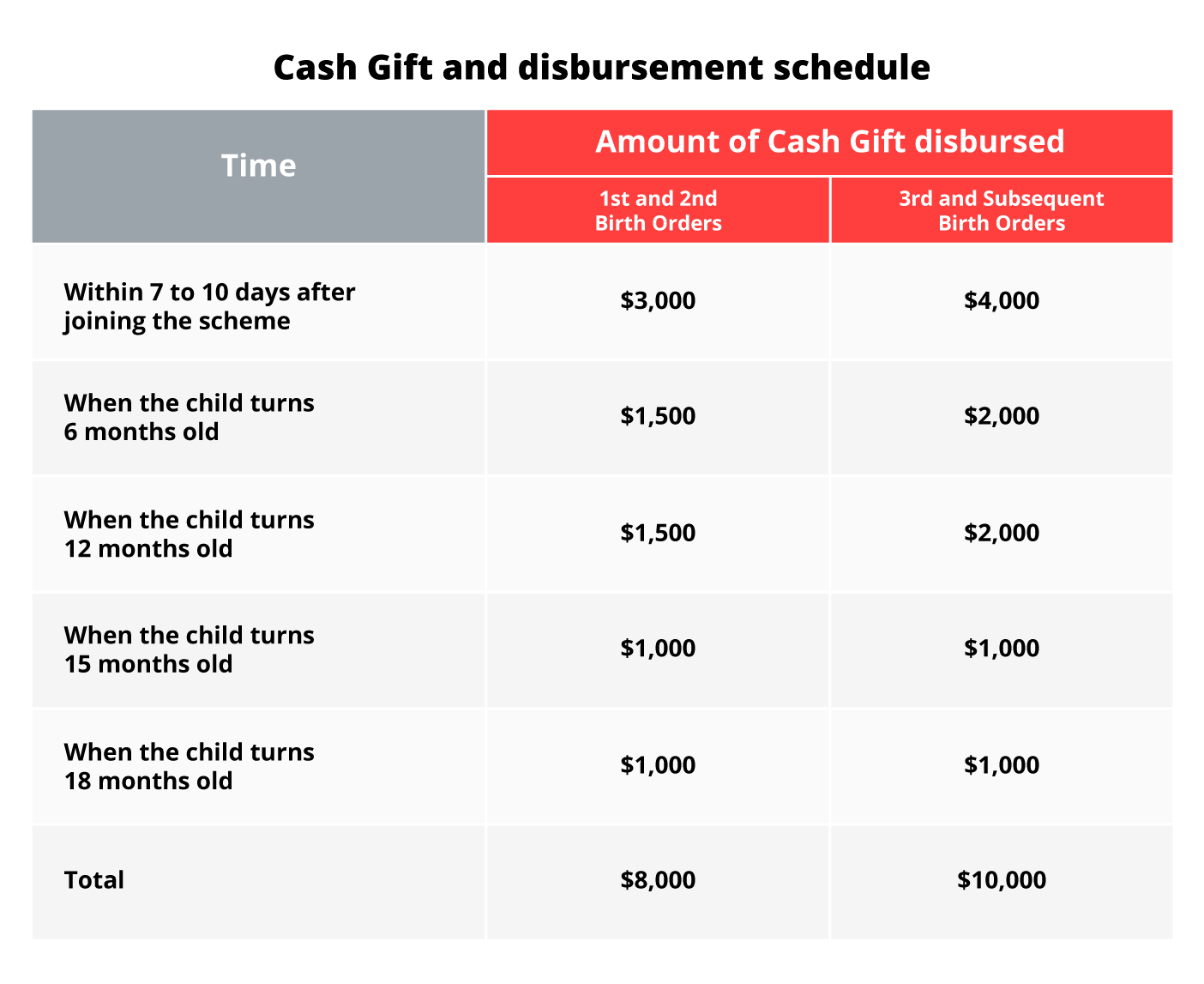 CDA savings can be used for specific child-related expenses, such as fees for childcare centres, medical expenses at hospitals and GP clinics, as well as eye-related products and services at optical shops.
The CDA earns an annual interest of 2%, which is higher than most ordinary savings account. Any unused money from the CDA account will be transferred to their Post-Secondary School Account (PSEA). The money in the PSEA will earn an interest of 2.5% p.a. Any leftover money will be transferred to your child's CPF Ordinary account when he or she turns 30 years old.
Help them fulfil their dreams
Consider an endowment plan
We want the best for our children, and the rising cost of tertiary education should not stand in the way of them fulfilling their potential. Given that the cost of tertiary education tend to rise above the average rate of inflation, you may consider starting an education fund via insurance for your children when they are young.
An endowment insurance plan geared towards education pays a guaranteed sum upon the plan's maturity, usually when the child turns 21 years old. Some insurers offer limited payment policies, where you pay premiums for a fixed period before the plan matures.
Make your money work harder
Parents can plan for their kids' education with the "Map Your Money" feature in NAV Planner. They can create a long-term money goal specific to their children's education, and the tool then simulates it against their long-term cashflow and assets. They will be able to see how long it takes to achieve this specific money goal through the simulation, e.g. it will be shorter if they start saving earlier. To help meet this goal, they can browse a relevant range of product solutions to help them make their money work harder, such as through investments.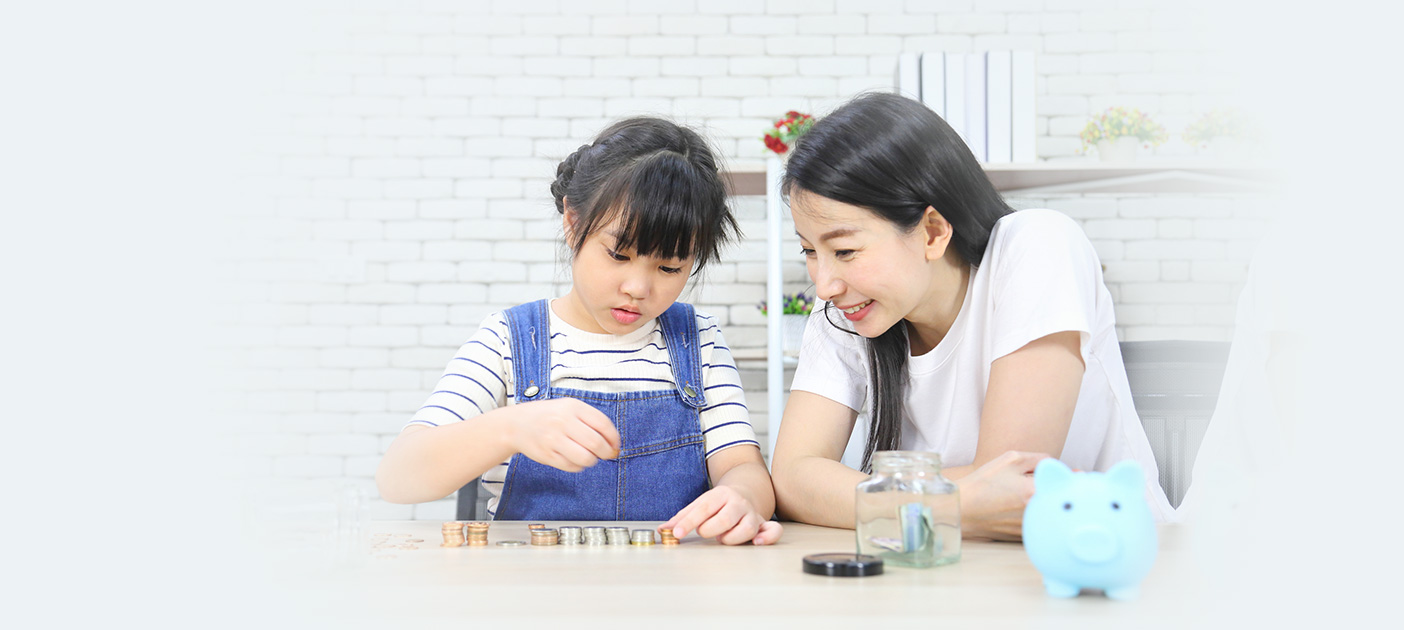 Instil the good habit of saving money

It's always a good idea to start inculcating the good habit of saving money into your child. For a start, you can deposit the cash gifts they receive from family and friends into their account to earn some interest. When your child is older, you can consider matching their savings dollar-for-dollar to encourage them to save.
Starting a family may take time to adjust for new parents, but it will no doubt be a rewarding journey!
Check out DBS NAV Planner to analyse your real-time financial health. The best part is, it's fuss-free – we automatically work out your money flows and provide money tips.



Disclaimers and Important Notice
This article is meant for information only and should not be relied upon as financial advice. Before making any decision to buy, sell or hold any investment or insurance product, you should seek advice from a financial adviser regarding its suitability
Purchase our content package to unlock this article and more premium resources: