How to invest your SRS savings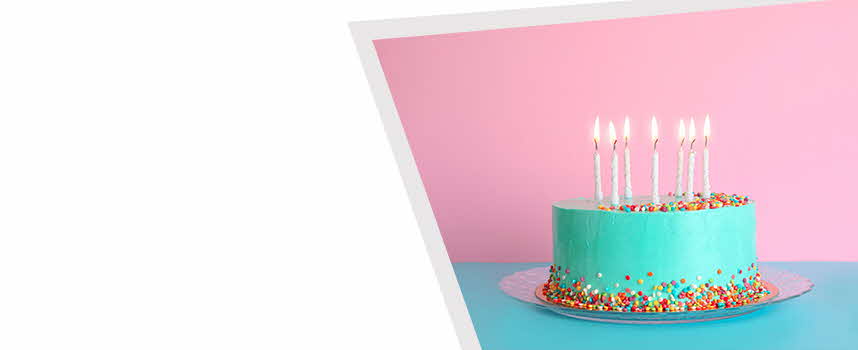 NAV TL;DR

If you don't have time to read through the whole article, you can check out our short version below.
The monies in your Supplementary Retirement Scheme (SRS) account only earn you 0.05% interest p.a., so here's how you can further boost these savings:

Use your SRS on investments such as stocks, exchange traded funds (ETFs), unit trusts, Singapore Savings Bonds (SSBs), insurance and fixed deposits.

You can also purchase SavvyEndowment via DBS digibank (online).

Manage your investments (stocks, ETFs, SSBs, unit trusts) through your SRS account, and your insurance via DBS digibank or the insurer's e-portal.

Get an overview of your SRS funds and investment assets on digibank.

Are your Supplementary Retirement Scheme (SRS) savings working as hard as you? Every dollar of your SRS contribution enjoys dollar-to-dollar tax relief. However, monies that are left idle in your SRS account earn you a minimal interest rate of 0.05% per annum (p.a).
There are several products available at DBS that you can invest in using your SRS funds, such as bonds, fixed deposits, stocks, ETFs, insurance, and unit trusts.
Here's a quick guide on how you can invest your SRS funds with DBS digibank (online) seamlessly: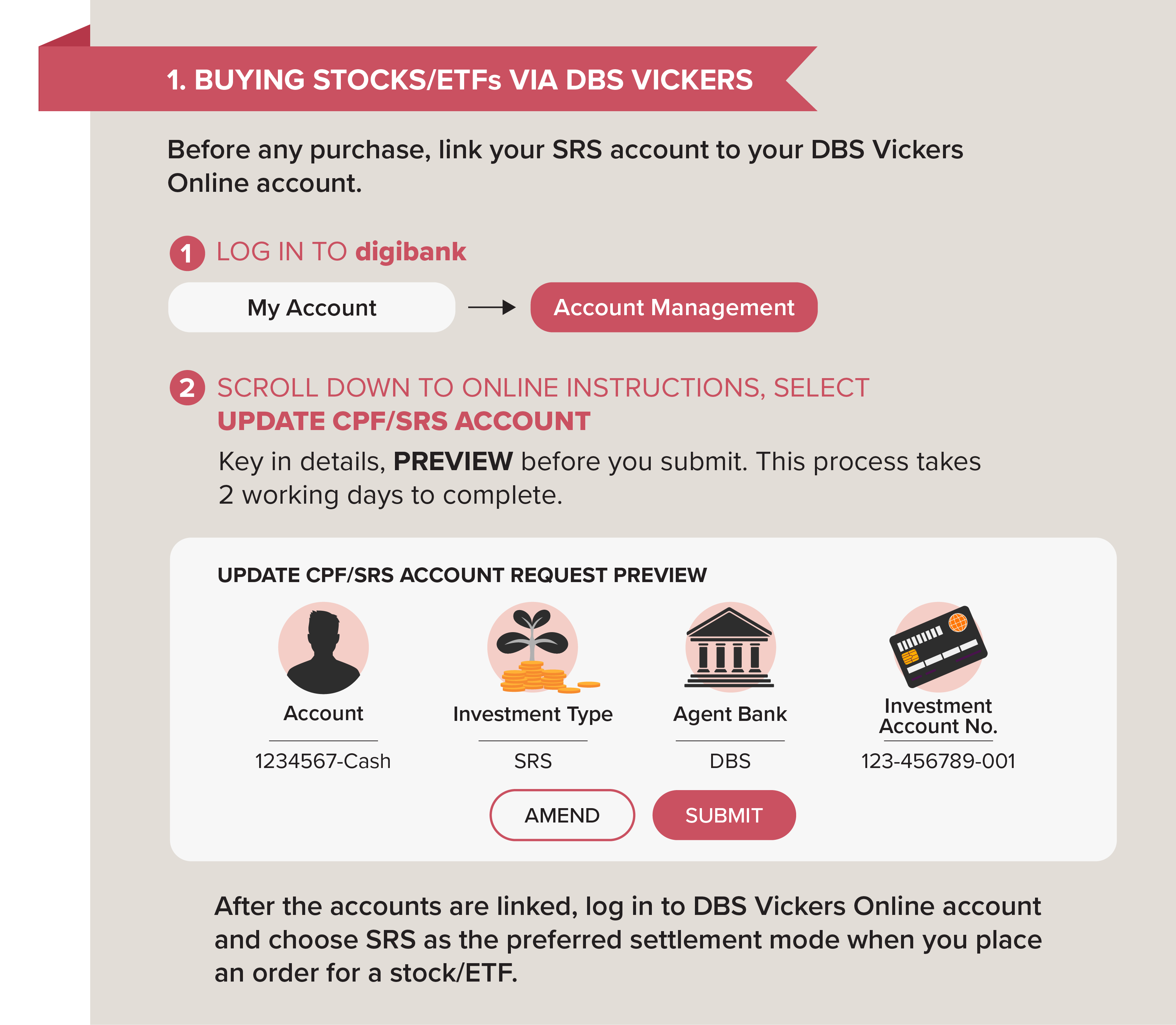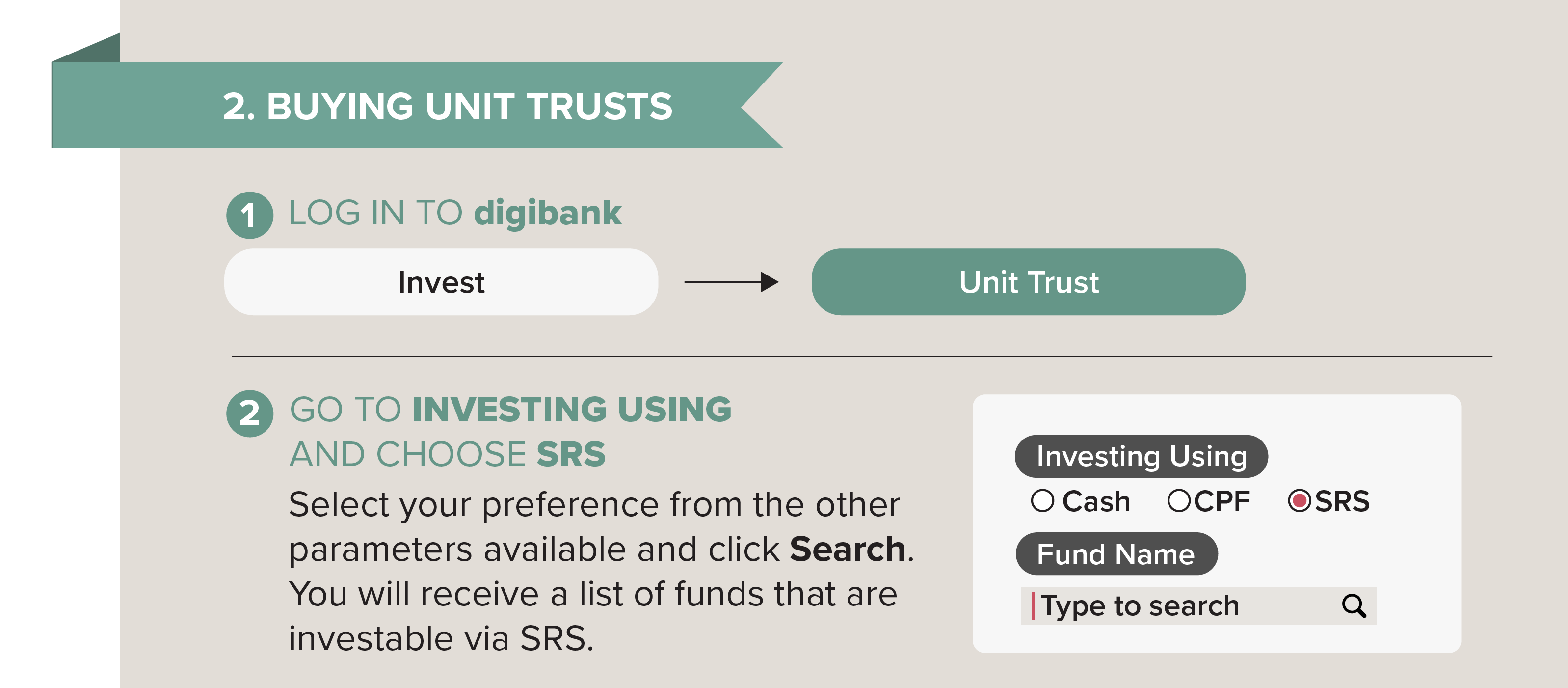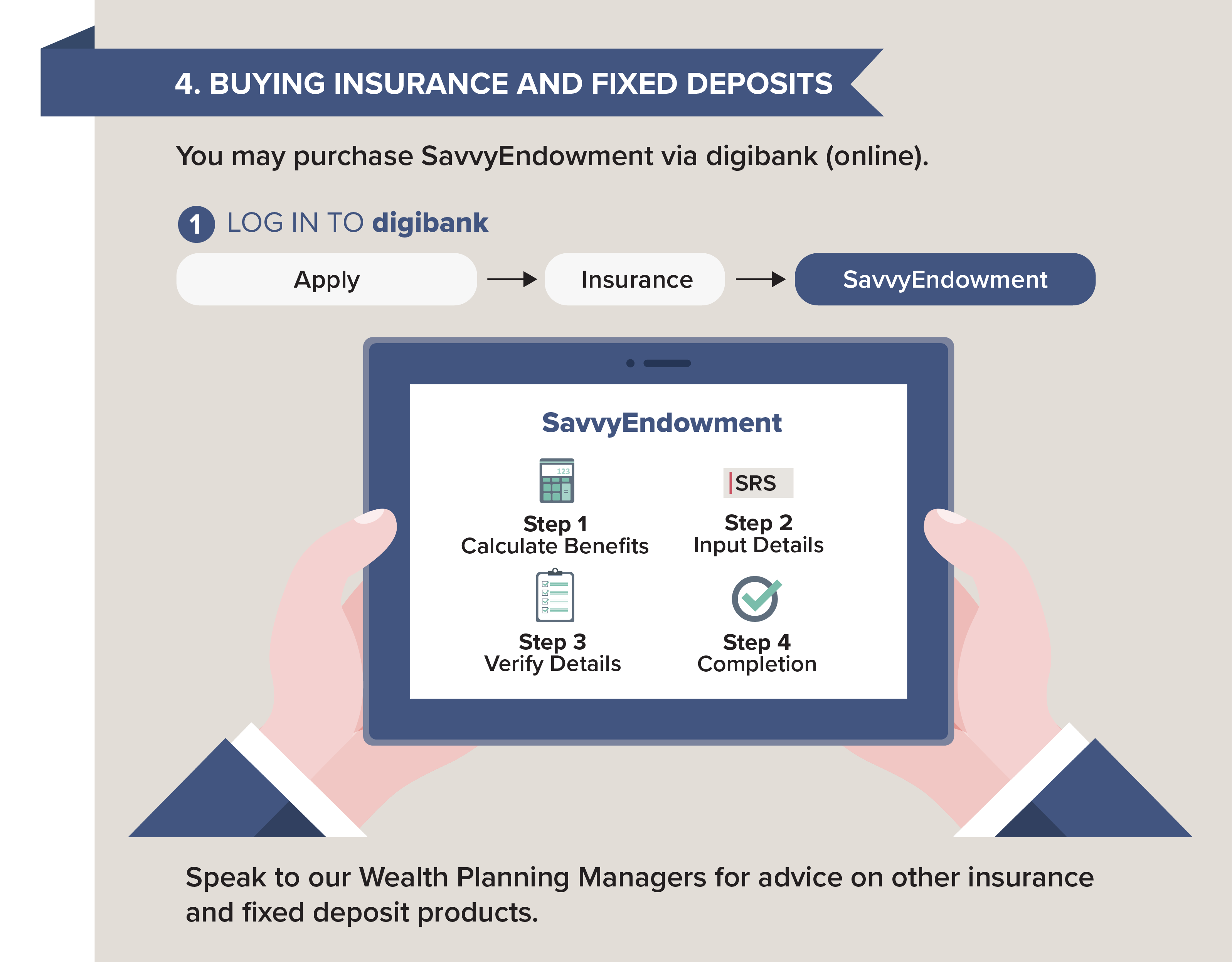 Fees and charges

There is a transaction fee of S$2 for each SSB application and redemption request. Otherwise, all other fees and charges* incurred for investing your SRS funds are waived by the bank until further notice.
Safekeeping and managing your investments

The stocks, ETFs, SSBs, and unit trusts you purchase will be deposited into and managed using your SRS account. This includes the crediting of all coupon and dividend payouts from your investments. On the other hand, your insurance policies can be viewed on digibank or the insurer's e-portal.

You can log in to DBS digibank to get an overview of your SRS funds and investments.
Did you know?

Your SRS account is transferable, with zero bank charges*. Simply visit any DBS branch from 2 January 2020 to complete and sign these forms:
SRS Account transfer form
SRS Account application form
SRS Annual declaration form (applicable to foreigners only)
The process will take 14 business days to complete, and you will be able to manage your SRS funds holistically via DBS digibank.
**Other third-party related charges, such as Central Depository (CDP) administrative fees, will apply.

Hello, we're NAV.
Inspired by the word "navigate", NAV is an initiative by DBS & POSB created to help you navigate your finances, your way. Whatever your financial goals are in life, no matter what situation you are in, we're here to help you on your financial journey.


Ready to start?
Speak to the Wealth Planning Manager today for a financial health check and how you can better plan your finances.
Alternatively, check out NAV Planner to analyse your real-time financial health. The best part is, it's fuss-free – we automatically work out your money flows and provide money tips.