Two Promising Social Enterprises In Asia
Siam Organic from Thailand and OurCityLove from Taiwan took the top two Prizes at the DBS-NUS Social Venture Challenge Asia 2016. Read on to find out about the innovative social enterprises who are changing Asia for the better.
Siam Organic: Coming Home to Rice

If first you don't succeed, take note of all the advice and criticism and put it to good use.
That's exactly what Pornthida (Palmmy) Wongphatharakul, co-founder of Siam Organic did with her experience participating in SVC Asia 2015. It paid off. Siam Organic is this year's Grand Prize winner.
Thailand is the land of smiles. Thai rice farmers though, have little to smile about. Farming is seen as the worst occupation in the country. "But we are a country of rice and that to me is so wrong," said Palmmy.
The former financial consultant saw that the key to helping them was to use rice as a tool. "You don't want them to be somewhere else, you don't want them to grow something else. They have been growing rice for generations and they don't know what else to do," she said.
That's where JasberryTM rice - the superfood that lifts Thai farmers out of poverty - comes in. It was developed through natural cross-breeding and is three times higher in anti-oxidants than blueberries.
In the beginning, it was really difficult to gain the trust of the farmers – they were treated poorly by many organizations including the government. It took Siam Organic almost three years to gain their trust. But they did.
Palmmy's passion and purpose is clear when she talks about her farmers. "When you see how you can change a life for the better – that's all the inspiration you'll need. I never thought I would be able to change a life – sometimes they (farmers) call you 'daughter' and ask you not to go away, to stay."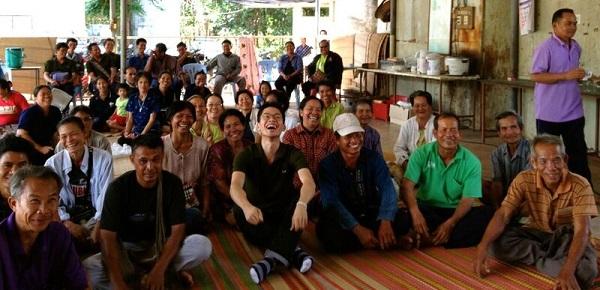 In the five year's since Siam Organic was established, it's more than just income (from $0.40 to $6 a day) that's been improved. It's common for farmers to get into debt in order to send their children to school so that they can work in Bangkok. In Bangkok, life is expensive. So the kids end up not earning much and having very little savings.
Growing Jasberry rice, the farmers now earn much more. When their children see that they don't have to send money home and that their parents and the farms are prosperous, they've started to come home and become farmers. Young people are returning to the home. It's an unexpected gift.
Right now, Palmmy's biggest challenge is hiring the right people to grow the business so that they can handle increasing demand from overseas. "We're looking for the people with the right attitude in growing a small business. We need someone who has the heart to help our farmers, but at the same time be profit-minded in order to make the business sustainable. It's quite hard to find people who can balance this," said Palmmy.
Siam Organic plans to use the $75,000 prize money to scale the business from its current 1,000 Thai farmers growing Jasberry rice to 20,000 farmers in the next three years.
They're also launching an innovative gluten-free superfood pasta, which contains acai berries, chia seeds and spirulina in the United States in 2017.
OurCityLove: How a Grandmother Inspired a Winner Business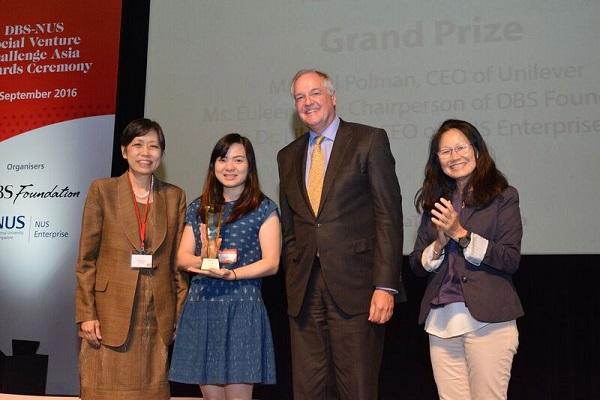 A grandmother is the mojo behind the success of this year's Jury Prize winner, OurCityLove Social Enterprise (众社會企業熱血總部). Specifically, its founder and president's grandmother.
Dr. Lin Chong-Wey is telling me about how his 97-year old granny refused to go out because she didn't want to be a burden to him, especially if they were out in a place that was senior-unfriendly. "She was embarrassed that I'd have to take her to the toilet!", said Dr. Lin.
Right around the same time, Dr. Lin and his colleague Momo Huang were approached by an association for the disabled, for help to find accessible and friendly restaurants. Lightning struck when it occurred to them that this information could also be used by their grandmothers and OurCityLove was born. OurCityLove puts people with disabilities to work by sending them out to do surveys and collect information on how accessible and friendly a service is. Surveys have been done on restaurants, public transport, doctors, baby rooms and even drivers! All this information, which includes photos, maps and real-time access information is shared with the public for free through an app.
OurCityLove is currently the only app in the world that provides food, service and accessibility information on a single platform – allowing users with mobility-impairment to locate accessible services in quickly and conveniently.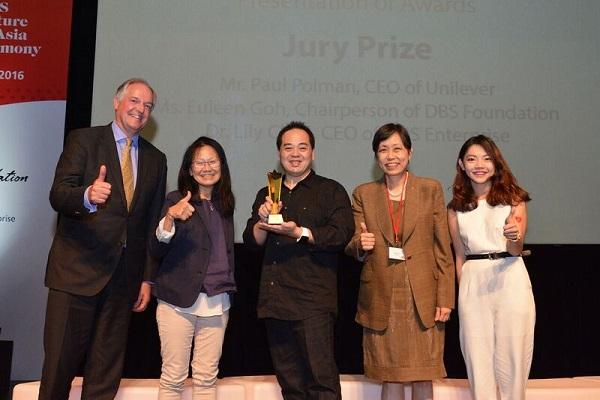 But do seniors actually use the app? My own mother managed to melt her iPhone yesterday and she swears she doesn't know how it happened. Dr. Lin whips out his smartphone in response to my question and opens up the app. "Look! It's the Autumn Festival back in Taipei. See all the pictures our seniors are posting of the friendly places they're visiting? Of course they use it!", he beams.
Educating the public on what it means to be disabled, helping the disabled gain some measure of independence, providing employment for those who couldn't work before … OurCityLove is hitting all the right notes. There are a lot of proud grandmothers back in Taiwan.
OurCityLove plans to use $30,000 prize money to expand its services from restaurants to include hotels and eventually tourism, starting in Southeast Asia and expanding to Europe and the US.
This article was first published in Asia for Good.
Was this information useful?
---
Subscribe to DBS BusinessClass
Stay updated with the latest market trends and industry insights, connect with a network of entrepreneurs, and gain access to exclusive event invitations. Join Asia's fastest growing business community – get your complimentary membership here.