Two Socially Innovative Ideas To Watch For In Asia (2017)
EvowareWorld aims to address the problem of plastic waste through developing edible, biodegradable and eco-friendly bioplastics, made from sustainably-produced seaweed.
Evoware: Reducing plastic waste with sustainable seaweed packaging
Plastic cups and food packaging designed to dissolve without a trace - and "clean" enough to be eaten, no less?
EvowareWorld was co-founded by David Christian, who was greeted by Jakarta's smog after returning to Indonesia after studying for four years in Canada.
"It hit me that I couldn't breathe properly," said David. "You don't notice it when you live there, but after living in Vancouver, where the air is so clean, Jakarta is very different, with garbage and trash everywhere."
The business graduate had no background in materials engineering or science, but after a deep dive into the causes of air pollution, he became convinced that reducing the plastic waste plague was key to reducing smog over time.
David found that the manufacturing of conventional plastics is carbon-intensive and contributes heavily to air pollution. Moreover, plastic waste is notoriously hard to dispose of, filling up landfills and polluting the seas, where they contaminate - and often kill - marine life. Indonesia is the world's second-largest contributor to ocean plastic waste.
His solution involves developing biodegradable plastics made of sustainably-harvested seaweed, which is cheap and abundant in Indonesia's seas.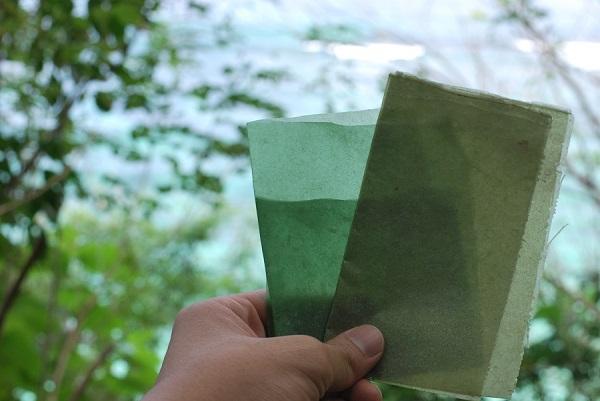 This idea earned Evoware an award at this year's DBS-NUS Social Venture Challenge (SVC) Asia in the Idea Category. In its fourth year, SCV Asia is a regional competition for socially innovative ideas and existing social ventures that have the potential to generate scalable and sustainable social impact.
This year saw 1,080 entries from 31 countries, from which 16 finalists were selected. The two winners in the Idea Category earn SGD5,000 cash prize each, plus mentorship or incubation support.
The material developed by Evoware allows a person to simply drop a sachet of instant noodles seasoning into boiling water where it dissolves together with the seasoning - and even adds a dash of nutrients naturally found in seaweed. This concept can be replicated for instant coffee sachets, sandwich wrappers, and even non-edibles like detergent packaging where the packaging will dissolve safely.
While plant-based biodegradable plastics, including those made of cassava, have been developed in the past, growing crops on land to make plastic also competes for land used to grow food.
"This would become unsustainable in the long term. Alternatively, finding a new high-value use for seaweed would also improve the livelihoods of Indonesia's seaweed farmers, many of whom who live in poverty.
Evoware's first product was a disposable plastic cup, and David hopes to develop a DIY kit aimed at letting children make their own cups at home, as a way to educate children on plastic waste and sustainability. The social enterprise produces a range of edible cups under its Ello Jello range that come in flavours like lychee and peppermint.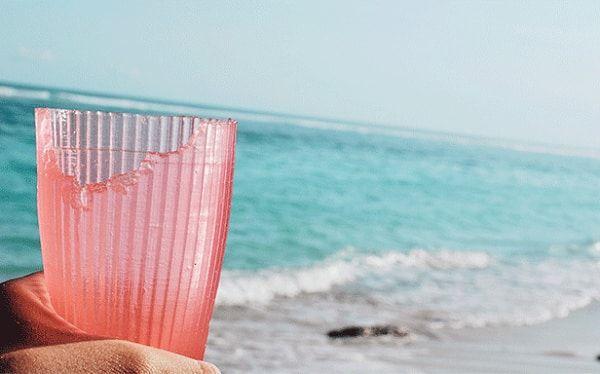 "Some people, especially older people, are sceptical, so we want to start with kids, when they're young, to get them to understand the importance of their actions and the need for good air," he said.
The firm is now ready to manufacture on a larger scale, and is in talks with companies such as food manufacturers to use its products.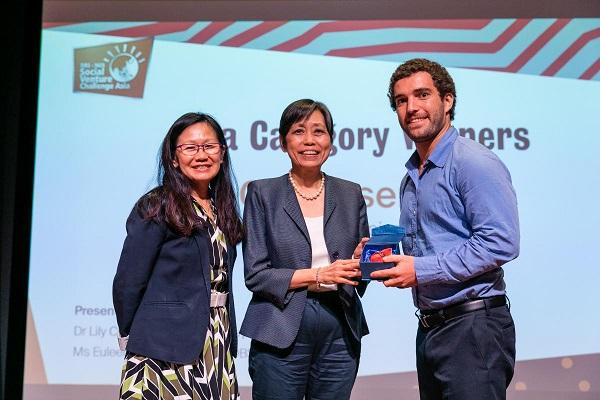 CocoAsenso: Giving coconut farmers in the Philippines a shot at higher incomes,
The other winner in the Ideas Category is CocoAsenso, which seeks to empower coconut farmers in the Philippines by riding the growing popularity of virgin coconut oil, and finding a more valuable use for their produce.
CocoAsenso is establishing a network of efficient, small-scale coconut processing facilities in remote regions in the Philippines. CocoAsenso products include virgin coconut oil, coconut jerky and desiccated coconut.
The company was founded by Asa Feinstein, who moved to the Philippines in 2014 when he joined a non-profit organisation. He had been struck by the fact that despite the growing global demand for coconut oil, many farmers living in remote regions, were unable to tap this opportunity to grow their incomes.
This is because the value of their produce comes from processing the fruit to produce high-quality coconut flakes - called desiccated coconut - and virgin coconut oil, which require facilities not accessible to farmers in remote regions.
Instead, these farmers produce copra, which is dried coconut that can only be used to make low-quality coconut oil. "The average income of a coconut farmer is about SGD800 a year and copra-dependent communities are among the poorest in the Philippines," said Asa.
CocoAsenso aims to set up a network of small-scale coconut processing facilities in remote regions. Farmers will be offered fair prices for their produce, which will be used to make high-quality desiccated coconut and virgin coconut oil. They will also be offered employment opportunities in the factories as well as training and financing to improve crop production.
CocoAsenso's first manufacturing facility in Samar, Philippines can process 10,000 coconuts a day. Getting the capital needed to build the factory was not easy, given the idea was not tried-and-tested, but eventually Asa and his team were able to secure funds from investors, as well as government support.
There was also the need to convince potential customers that CocoAsenso's products were of the same - if not better - quality than those of large-scale manufacturers.
"We have been in the construction phase for eight months because we have to make the facility of the same standards as the big manufacturers," he said.
Asa is grateful for the local partners who supported the idea and helped CocoAsenso better understand the communities' needs.
"[One of them] is a coconut farmer and the leader of one of the more successful agricultural associations in the area, and he is our operations manager and I'm really fortunate to have him," said Asa.
"They live in these communities their whole lives, but they have the knowledge of what's happening on the ground. You can go out and do surveys for days, but then you'll miss something that they know just off their top of their heads, because you didn't even know to ask that question."
Going forward, CocoAsenso hopes to build more processing facilities, while improving farmers' productivity by offering them higher-quality seedlings which can yield better harvests, and improving the productivity of their land such as by getting them to plant other crops between the coconut trees.
"The farmers themselves, they want a better life for their families and their children, and there is just so much latent potential there, like both in the farmers and in the crops in themselves, and i just think there's just a lot more potential to bring that value, let farmers contribute more value to what they produce."
This article was first published in Asia for Good.
Was this information useful?
---
Subscribe to DBS BusinessClass
Stay updated with the latest market trends and industry insights, connect with a network of entrepreneurs, and gain access to exclusive event invitations. Join Asia's fastest growing business community – get your complimentary membership here.