Second Servings
A few highlights from the discussion at F&B Disrupt @ The Bay as food tech leaders gather to innovate their way around old obstacles.
The afternoon session at DBS BusinessClass's inaugural F&B Disrupt @ The Bay was a power-packed line-up of panel discussions with hot button topics ranging from replacing traditional manpower with robots to slashing rental costs by cutting out the middleman.
While the standard consensus about rising costs in rental, a shortage of manpower, stiff competition and finding new sources of food supply continued to weigh heavily on everyone's minds, leaders and pioneers from the fields of robotics, digital POS platforms and F&B providers gathered for one afternoon to create conversation and find solutions around traditional obstacles.
"Drones can be a bit intimidating to those unfamiliar," admitted Mark Yong, CEO, Garuda Robotics at the panel session Turn recruiting into robotics – a unique way to combat the manpower crunch, adding that, "like it or not, robots are going to be a lot more ubiquitous in the future –and this future might arrive a lot sooner than we expect."
Dr James Xia, Director of Unitech Mechatronics – which makes autonomous service robots – thinks the challenge lies in the improvement of artificial intelligence – how do you make robots smarter? He also says that it hasn't been easy to encourage adoption of robots as a lot of people on the ground are suspicious – they think that robots will replace them.
"Cost is also a huge consideration," according to Bentink Yong, Regional Sales Director of Techmetics – makers of F&B and Hotel service robot Techi. "How much manpower can you really save by using robots?"
Robert Taramelli, CEO of RoboFusion - which makes, among many other things, a fully automated ice-cream machine – begs to differ, from the viewpoint of a F&B operator. He argues that it costs over S$200,000 to start a F&B business, once you count rental, utilities and insurance. Robot vendors provide a more sanitary solution, especially in food preperation (customer confidence) and a much smaller footprint within a retail mall (lower costs). He also adds that lot of companies may not see the value in robots assisting existing staff – it's either one or the other.
"What most people don't realise is that robots are already heavily in use in the back-end in many industries, such as manufacturing and healthcare," said Bentink Yong. "But it's going to be a huge leap to bring robots from back end to front end because of a fear of something new."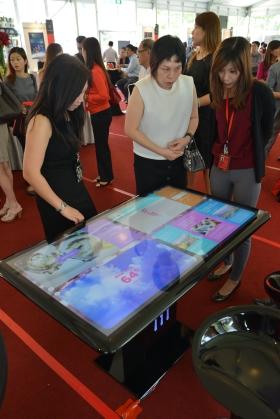 "There's a lot of education involved," said Chirag Tejuja, Co-founder of TabSquare at the panel discussion The Pay-offs of POS – how digital platforms can reduce waiting time. "It's important to stay focused because customers just want that one thing," continued Tejuja, asserting that "at the end of the day it's about what the customer needs to win."
Ken Chen, Founder of Taiwan's iChef, was inclined to agree."You can't sell changes to people who don't want to change," he said, adding that "it's hard enough to do point-of-sales and the customer engagement right. Just getting one thing right is tough enough."
"If you can think it, you can make it," insisted Anuj Jain, VP of Mobikon, India. "What's needed is simplicity, backed by solid technology." Jain continued by saying, "There is a lot of confusion with regards to platforms and customer relationship management. To help the restaurants get more efficient we need to think more about the customers and not the product. We need to create an ecosystem of collaboration."
No one has cracked the code of POS yet, only time will tell who can accomplish that feat" mused Jonathan Lim, Founder, Oddle. "There's a lot of ways to collaborate – but how many restaurants are willing to change the way they're doing things?"
---
Subscribe to DBS BusinessClass
Stay updated with the latest market trends and industry insights, connect with a network of entrepreneurs, and gain access to exclusive event invitations. Join Asia's fastest growing business community – get your complimentary membership here.