We have downgraded 2022 GDP forecast from 1.7% to 1.0%.
Contraction of real GDP narrowed from 3.9% YoY in 1Q to 1.4% in 2Q.

Effectiveness of cash vouchers was less apparent compared to last year.

Market expects gradual reopening of international border in 4Q.

Inflation will remain modest compared to Western economies.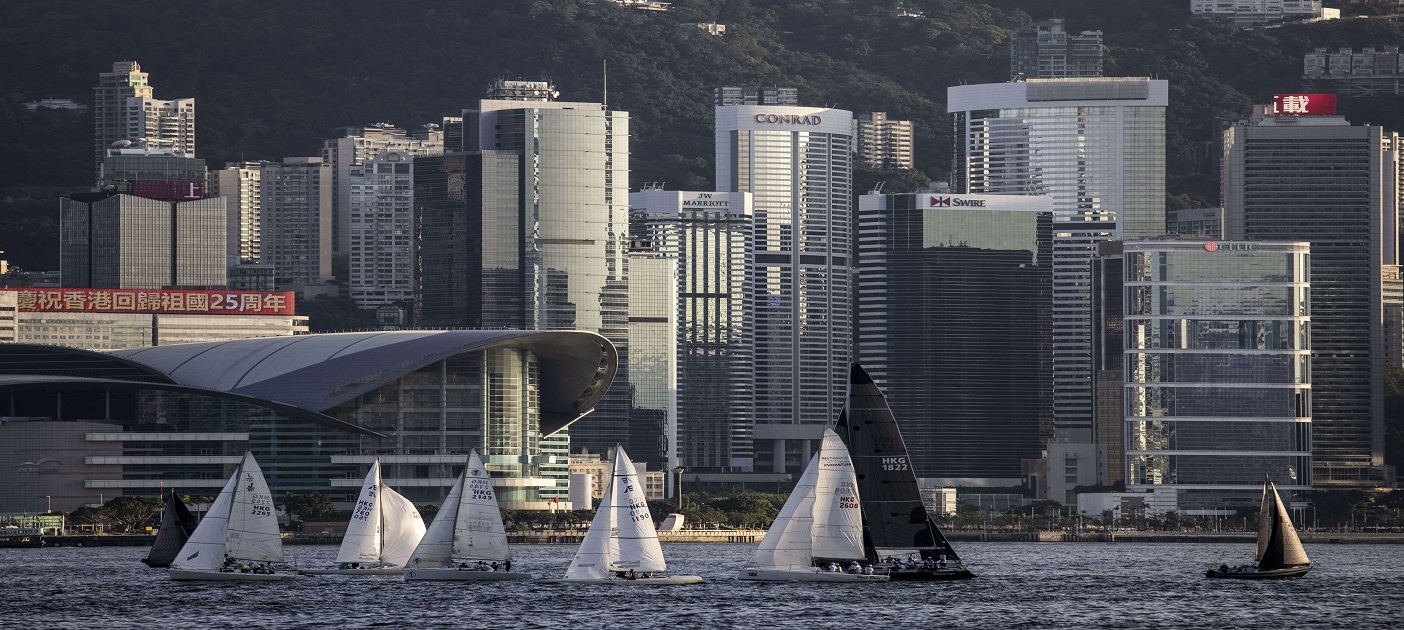 Photo credit: AFP Photo
Modest recovery ahead

Contraction of real GDP narrowed from 3.9% YoY in Q1 to 1.4% in Q2. This was mainly attributable to the ease of social distancing measures and issuance of cash voucher. In sequential terms, it increased mildly by 0.9%.

Private consumption, which accounts for around 60% of the GDP, stayed flat comparing to a year earlier in 2Q. This compares to the plunge of 5.8%YoY in 1Q. Effectiveness of cash vouchers was less apparent comparing to last year. Retail sales dropped by 1.7% YoY in May, compared to advancement of 11.7% YoY in April. Consumers front-loaded cash vouchers on big-ticket items such as mobile phones and jewelleries. On a brighter note, there is no signs of resuming social distancing restrictions despite rising new COVID cases of almost 5000 per day in July. Reportedly, quarantine period for international travellers may relax soon and border (excluding Mainland China) will likely be re-opened in 4Q22. Large scale international events such as Rugby 7 and financial conferences are set to resume in November. Gradual normalization of international business activities and tourism industry will drive the recovery of consumption sooner.

Goods exports contracted by 8.6% YoY in 2Q, from 4.5% in 1Q due to severe lockdown of Shanghai and other ports. Shipment to Mainland dropped by 10.0%. Although the Chinese economy is expected to improve in 2H, strength of external demand will weaken. Exports to US and EU saw signs of easing in June. Global economic activities were hindered by severe inflation and ongoing rate hikes. US's GDP recorded the second QoQ contraction in 2Q. Meanwhile, it takes time for logistic costs to normalize. Spread between trade in value and volume terms keeps widening. That said, profits of shipping companies will stay elevated while margins of import/export trading companies will compress. Meanwhile, imports fell further from contraction of 5.9% YoY in 1Q to 6.2% in 2Q.

Against the backdrop of a modest recovery, jobless rate fell from the peak of 5.4% in Feb-Apr to 4.7% in 2Q22. Amongst all, retail, accommodation and food services industry fell notably from 8.8% to 7.4%. Jobless rate of construction sector also improved. The overall unemployment rate is projected to fall to 3.7% by the end of the year.

Inflation to rise moderately

CPI grew by 1.8% YoY in June. Housing, which accounts for 40.3% of the CPI, dropped by 0.5% YoY. It is expected to improve in 2H22 amid recovering labour market condition. Meanwhile, food prices advanced by 4.0% YoY. Russo-Ukrainian war, as well as exports bans from various Asian food exporters, will fuel food inflation. Prices of discretionary items such as durable goods and clothing will be boosted by cash vouchers issuance. Inflation for the year should grow by 2.2% on average and 2.9% in 2H.

Investment and capital outflow

Contraction of Gross Domestic Fixed Capital Formation (investment) narrowed to 3.0% YoY in 2Q22 from dip of 7.8% in 1Q22. Machinery investment was weak. Likewise, real estate investment is shaky due to rising rates.

In our view, the Fed Fund Target rate will rise further from 2.50% to 3.50% by the end of 2022. 1M HIBOR-LIBOR spreads rocketed from below 10bps in 1Q22 to around 100bps of late. Capital outflow will sustain until the spread is neutralized. HKMA will continue to defend the peg as HKD is under pressure. Aggregate balance narrowed from HKD458bn last year to HKD165bn in July. It once dropped to around HKD50bn when the Fed Fund Target Rate attained 2.50% in 2019. Accordingly, we expect 1M-HIBOR will reach 2.0% and 2.28% by the end of Q3 and 4Q respectively.

Property prices

Headline price on the secondary market fell by 2.7% YTD and is projected to drop by 5% in 2022. No. of top 10 mass estates transactions dropped by 15% MoM in July. Weekend flat-hunting activities sagged by 10.1% over the past week and reached 19 weeks low of 418. Valuation Index from major banks stayed below 30 in recent weeks, the lowest level last seen since the 5th wave of COVID outbreak in 1Q22. Prime rate will likely rise by 25bps in the next 4 months. We expect another 50bps Prime Rate hike in 1H23, bringing it to 5.75% from 5.25% as of today. By Jun23, the effective mortgage rate will rose from 2.5% to 3.25%. This is much higher than the rental yield of 2.0-2.4% across all residential property classes and hence suppressing investment demand.

Yet, severe consolidation is not likely. Primary market remains red-hot. Novo Land, the latest large-scale development in Tuen Mun, recorded over-subscription of 55 times last week. All 336 apartments listed in the first round of sales were sold at around 15% discount against the secondary market counterparts. This reflects demand from potential homeowners is strong. Also, default risk remains low. Negative equity stayed below 0.05% of total outstanding mortgage in June. Risky mortgage borrowings, i.e. loans associated with private co-financing schemes stayed low at 1.4%. Loan-to-value ratio for new loans fell from 60.7 in May to 57.1 amid tight stress-testing requirement. This is also far below the peak of 68.9 in 2002.

Retail shop rental is expected to out-perform other types of premises in 2H. The expectation of reopening international border in 4Q22 will fuel the optimism. Meanwhile, rental yield of offices will remain sluggish. As supply in several business districts is increasing supply, vacancy rates have hovered above 9% since 2021. This compared to the pre-COVID level of 6.1%. Across the 5 main business districts, the office vacancy rate of Kowloon East remained the highest at 12.8%. That of Hong Kong East have soared to the peak level at 8.9%. The accelerating trend could linger as more offices are scheduled to be completed in 2022. These include Two Taikoo Place located in Quarry Bay. Meanwhile, the rising trend of remote working also contributed to the downward pressure on office rentals.

To read the full report, click here to Download the PDF.


Subscribe
here
to receive our economics & macro strategy materials.
Disclaimers and Important Notices
GENERAL DISCLOSURE/ DISCLAIMER (For Macroeconomics, Currencies, Interest Rates)

The information herein is published by DBS Bank Ltd and/or DBS Bank (Hong Kong) Limited (each and/or collectively, the "Company"). This report is intended for "Accredited Investors" and "Institutional Investors" (defined under the Financial Advisers Act and Securities and Futures Act of Singapore, and their subsidiary legislation), as well as "Professional Investors" (defined under the Securities and Futures Ordinance of Hong Kong) only. It is based on information obtained from sources believed to be reliable, but the Company does not make any representation or warranty, express or implied, as to its accuracy, completeness, timeliness or correctness for any particular purpose. Opinions expressed are subject to change without notice. This research is prepared for general circulation. Any recommendation contained herein does not have regard to the specific investment objectives, financial situation and the particular needs of any specific addressee. The information herein is published for the information of addressees only and is not to be taken in substitution for the exercise of judgement by addressees, who should obtain separate legal or financial advice. The Company, or any of its related companies or any individuals connected with the group accepts no liability for any direct, special, indirect, consequential, incidental damages or any other loss or damages of any kind arising from any use of the information herein (including any error, omission or misstatement herein, negligent or otherwise) or further communication thereof, even if the Company or any other person has been advised of the possibility thereof. The information herein is not to be construed as an offer or a solicitation of an offer to buy or sell any securities, futures, options or other financial instruments or to provide any investment advice or services. The Company and its associates, their directors, officers and/or employees may have positions or other interests in, and may effect transactions in securities mentioned herein and may also perform or seek to perform broking, investment banking and other banking or financial services for these companies. The information herein is not directed to, or intended for distribution to or use by, any person or entity that is a citizen or resident of or located in any locality, state, country, or other jurisdiction (including but not limited to citizens or residents of the United States of America) where such distribution, publication, availability or use would be contrary to law or regulation. The information is not an offer to sell or the solicitation of an offer to buy any security in any jurisdiction (including but not limited to the United States of America) where such an offer or solicitation would be contrary to law or regulation.

This report is distributed in Singapore by DBS Bank Ltd (Company Regn. No. 196800306E) which is Exempt Financial Advisers as defined in the Financial Advisers Act and regulated by the Monetary Authority of Singapore. DBS Bank Ltd may distribute reports produced by its respective foreign entities, affiliates or other foreign research houses pursuant to an arrangement under Regulation 32C of the Financial Advisers Regulations. Singapore recipients should contact DBS Bank Ltd at 65-6878-8888 for matters arising from, or in connection with the report.

This report has been prepared by a personnel of DBS Bank Ltd who is not licensed by the Hong Kong Securities and Futures Commission to carry on the regulated activity of advising on securities in Hong Kong pursuant to the Securities and Futures Ordinance (Chapter 571 of the Laws of Hong Kong). This report is being distributed in Hong Kong by DBS Bank Ltd, DBS Bank (Hong Kong) Limited and DBS Vickers (Hong Kong) Limited.

DBS Bank Ltd., 12 Marina Boulevard, Marina Bay Financial Centre Tower 3, Singapore 018982. Tel: 65-6878-8888. Company Registration No. 196800306E.

DBS Bank Ltd., Hong Kong Branch, a company incorporated in Singapore with limited liability. 18th Floor, The Center, 99 Queen's Road Central, Central, Hong Kong SAR.

DBS Bank (Hong Kong) Limited, a company incorporated in Hong Kong with limited liability. 11th Floor, The Center, 99 Queen's Road Central, Central, Hong Kong SAR.

Virtual currencies are highly speculative digital "virtual commodities", and are not currencies. It is not a financial product approved by the Taiwan Financial Supervisory Commission, and the safeguards of the existing investor protection regime does not apply. The prices of virtual currencies may fluctuate greatly, and the investment risk is high. Before engaging in such transactions, the investor should carefully assess the risks, and seek its own independent advice.