Thailand's external accounts have worsened, and the THB is the region's underperformer. We explore Thailand's external dynamics and implications of the baht's overvaluation.
Thailand's current account has flipped into a deficit, largely driven by tourism disruptions

The worsening current account is however coming at a time when financial flows are not forthcoming

The BOT has intervened in FX markets, with reserve adequacy metrics still looking healthy

THB is the region's underperformer, but is trading above our DEER fair value

Implication for investors: We favour regional peers such as IDR and MYR against THB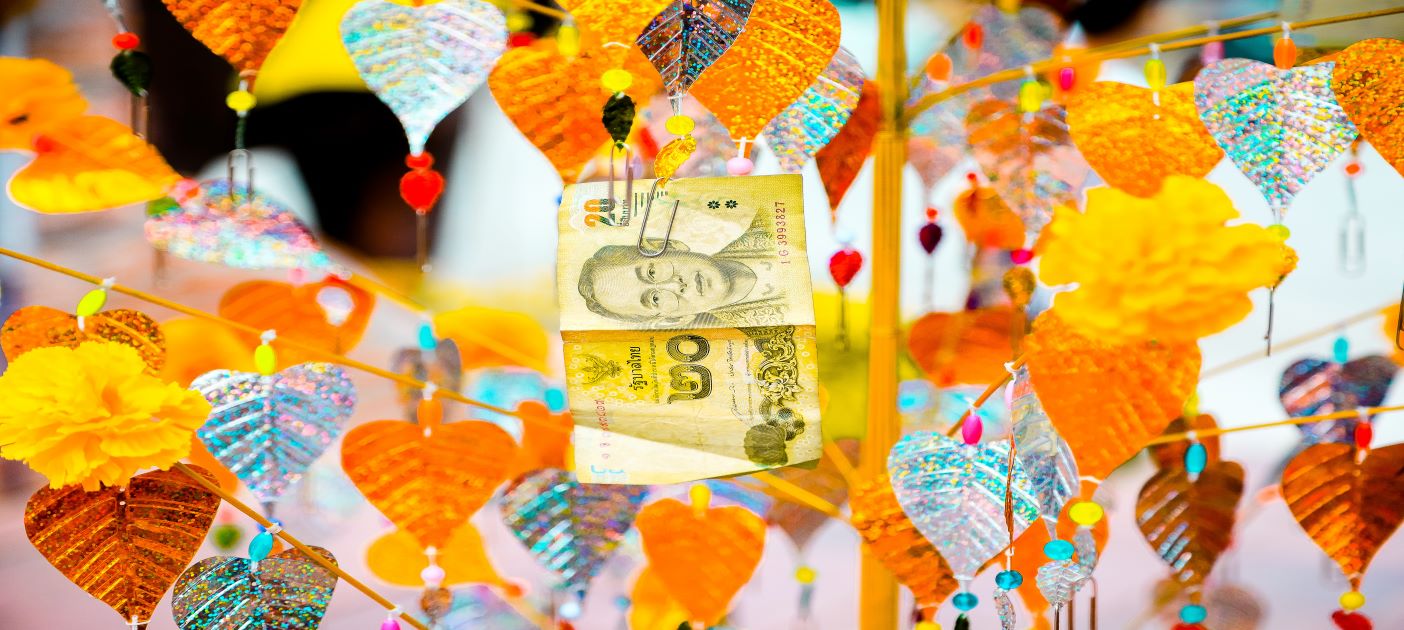 Photo credit: Unsplash
Thailand is undergoing a shift in its external accounts.
Following years of consistent current account surpluses, Thailand's surplus has flipped into a deficit starting from late-2020. This marks the first string of current account deficits since the middle of 2013 during the taper tantrum when currencies with fragile fundamentals saw significant depreciation. The worsening external dynamics are already being reflected in a weaker Thai baht – the weakest currency in Asia this year.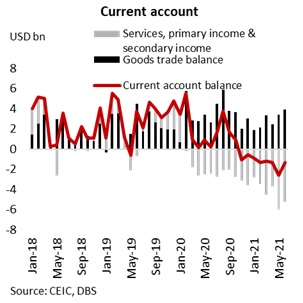 With the Fed beginning to discuss asset purchase tapering and eventually policy normalisation, Thailand's need for external financing is coming at a potentially challenging period.
The Thai baht is therefore vulnerable to any surprise in the Fed's hawkish tilt, in our view.
We are expecting more THB depreciation to 35-36 per USD by 1Q22 (see '
Thailand: Sluggish growth, lower rates, weaker THB
for detailed forecasts).
Services driving current account deterioration
Digging into the quarterly breakdown of Thailand's current account,
we find that its worsening current account balance has been largely driven by the services balance - notably travel and transport.
International travel restrictions placed to curb the transmission of COVID-19 since last year have manifested in travel and transport deficits, starting from June 2020. Prior to the pandemic outbreak, Thailand recorded consistent surpluses in travel and transport of ~6.5% of GDP from 2015 to 2019.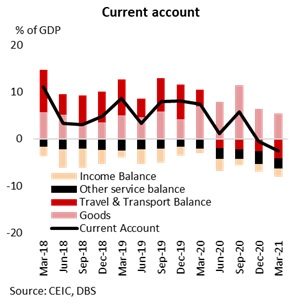 The Thai authorities are making efforts to restart foreign tourism, but progress has been muted as the pandemic offers surprises from virus mutations, particularly from the more contagious Delta variant. Since the launch of the 'Phuket sandbox' in July, visitor arrivals into Thailand have ticked higher. However, monthly visitor arrivals of just 18k in July were still a far cry from ~4mn pre-pandemic.
The Bank of Thailand (BOT) is forecasting 0.15mn foreign tourists for 2021 and 6mn in 2022, which has been dialled lower several times over the course of 2021. The International Air Transport Association (IATA) is expecting global air travel to recover to 88% of pre-pandemic levels in 2022 and to return to above pre-virus numbers by end-2023. There is a path to tourism recovery from reopening plans as vaccinations are rolled out, but only if the virus does not spring new surprises again.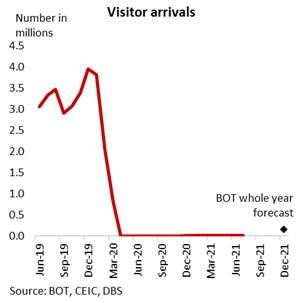 Is the financial account holding up?
Thailand's worsening current account dynamics is however coming at a time when financial flows are not forthcoming. This has therefore driven the overall balance of payments (BOP) into negative territory.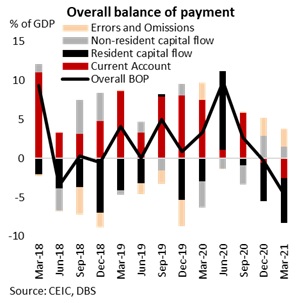 Resident capital outflows have driven Thailand's weakening financial account over the past couple of quarters, except in 2Q20. Net outflows were mainly portfolio-related. Indeed, residents made record amounts of outward portfolio investment, particularly in equities, running at around 8% of GDP in 1Q21. High frequency flow indicators from foreign investment funds offered by Thai financial institutions also showed that equity outflows have persisted going into 3Q21. Thailand also saw resident equity outflows in 2013, but nothing to the scale seen in 1Q21.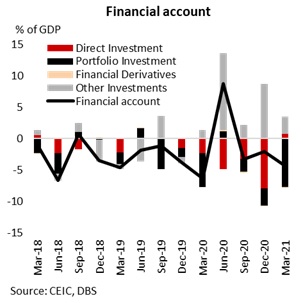 The BOT is monitoring equity outflows, but is not worried. The central bank instead highlighted the success of measures introduced in late-2020 to encourage capital outflows in foreign securities investment (
Reuters
;
BOT release
). Better performance in global equities vis a vis local stocks could have also induced outward equity investments due to the fear of missing out. Thailand meanwhile has attracted foreign debt portfolio inflows, which were also noted by the BOT, but so far insufficient to offset the large resident equity outflows.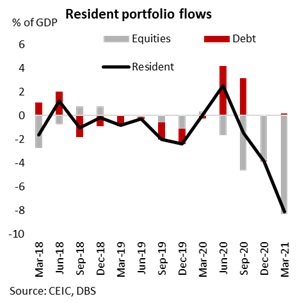 A key support of Thailand's financial account has been 'Other Investments'. There appeared to have been a repatriation of offshore currency and deposits over the course of the pandemic, possibly to supplement domestic income losses. Direct investments based on BOP data were positive in 1Q21, following a period of net outflows. The positive numbers might have continued in 2Q, given robust investment application growth of 158% YoY for 1H21, based on Board of Investment figures.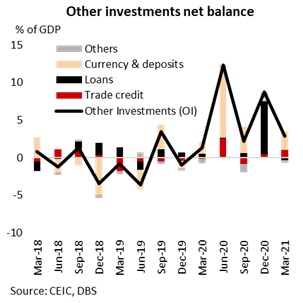 BOT has intervened in FX markets
The Thai baht has weakened by approximately -8% year-to-date (ytd), and the BOT has intervened in the currency markets this year. The central bank's reserves (based on BOP data) have dropped by around USD8.8bn so far in 2021 as of July, according to our estimates. In contrast, during the taper tantrum year of 2013, BOT's reserves declined by approximately USD5bn for the entire year, when the THB depreciated by -5.4%.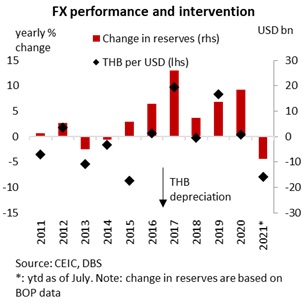 The THB's depreciation this year however does not appear to be alarming for the authorities. The BOT said in its minutes of its August monetary policy meeting that the baht has depreciated against the USD more than regional currencies due to domestic factors - intensified COVID-19 outbreak situation and the outlook of slow Thailand economic recovery. The central bank also added that the currency depreciation did not hinder the economic recovery. Moreover, the BOT was previously concerned about baht strength, for example in 2019 and in late-2020.
More than adequate reserve buffers
We believe that the Thai baht should be buffered by the BOT's high reserve adequacy.
The BOT has accumulated net reserves close to the highs seen in mid-2011. They stood at ~USD280bn (54% of GDP) as of mid-June. Our estimates show that Thailand fares well on traditional reserve adequacy metrics and the IMF's ARA framework. Thailand's import cover has improved over the years, standing at 14x, compared with around 8.4x in 2013. Net reserves-to-short-term external debt came in at around 386% versus around 331% in 2013. The IMF ARA metric is well above the recommended 100 to 150% at around 280%, improving from approximately 250% in 2013.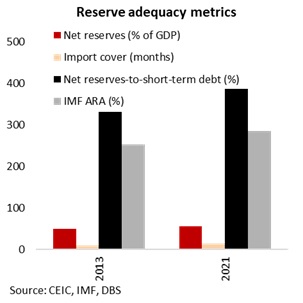 THB long-term valuation is unattractive
We have previously estimated a model of long-term currency fair values, or DEER fair values, based on the economic fundamentals of Purchasing Power Parity, Balassa-Samuelson, and Terms of Trade (see
DBS Focus: Currency fair values: What's cheap and what's DEER?
, 8 Jan 2020). Our DEER model shows that the THB is trading around 6.3% higher than its fair value, which typically implies depreciation pressures over the long term. Moreover, an over-valued THB also implies that the currency now poses a drag on Thailand's current account. This is far from ideal given Thailand's current economic situation, as previous services contributions from tourism have already contracted severely due to the pandemic.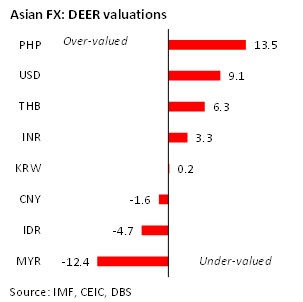 We believe the BoT could refrain from leaning against further depreciation, as a softer THB helps to support Thailand's trade balance, cushioning the impact from disruptions to the tourism and hospitality industries. In line with this, our forecast now expects further THB depreciation to 35-36 per USD by 1Q22. Asian real money investors can consider positioning based on our relative Asian DEER valuations, which favours MYR and IDR against the THB.
To read the full report, click here to
Download the PDF
.
Subscribe
here
to receive our economics & macro strategy materials.
To unsubscribe, please click
here
.
GENERAL DISCLOSURE/ DISCLAIMER (For Macroeconomics, Currencies, Interest Rates)
The information herein is published by DBS Bank Ltd and/or DBS Bank (Hong Kong) Limited (each and/or collectively, the "Company"). This report is intended for "Accredited Investors" and "Institutional Investors" (defined under the Financial Advisers Act and Securities and Futures Act of Singapore, and their subsidiary legislation), as well as "Professional Investors" (defined under the Securities and Futures Ordinance of Hong Kong) only. It is based on information obtained from sources believed to be reliable, but the Company does not make any representation or warranty, express or implied, as to its accuracy, completeness, timeliness or correctness for any particular purpose. Opinions expressed are subject to change without notice. This research is prepared for general circulation. Any recommendation contained herein does not have regard to the specific investment objectives, financial situation and the particular needs of any specific addressee. The information herein is published for the information of addressees only and is not to be taken in substitution for the exercise of judgement by addressees, who should obtain separate legal or financial advice. The Company, or any of its related companies or any individuals connected with the group accepts no liability for any direct, special, indirect, consequential, incidental damages or any other loss or damages of any kind arising from any use of the information herein (including any error, omission or misstatement herein, negligent or otherwise) or further communication thereof, even if the Company or any other person has been advised of the possibility thereof. The information herein is not to be construed as an offer or a solicitation of an offer to buy or sell any securities, futures, options or other financial instruments or to provide any investment advice or services. The Company and its associates, their directors, officers and/or employees may have positions or other interests in, and may effect transactions in securities mentioned herein and may also perform or seek to perform broking, investment banking and other banking or financial services for these companies. The information herein is not directed to, or intended for distribution to or use by, any person or entity that is a citizen or resident of or located in any locality, state, country, or other jurisdiction (including but not limited to citizens or residents of the United States of America) where such distribution, publication, availability or use would be contrary to law or regulation. The information is not an offer to sell or the solicitation of an offer to buy any security in any jurisdiction (including but not limited to the United States of America) where such an offer or solicitation would be contrary to law or regulation.

This report is distributed in Singapore by DBS Bank Ltd (Company Regn. No. 196800306E) which is Exempt Financial Advisers as defined in the Financial Advisers Act and regulated by the Monetary Authority of Singapore. DBS Bank Ltd may distribute reports produced by its respective foreign entities, affiliates or other foreign research houses pursuant to an arrangement under Regulation 32C of the Financial Advisers Regulations. Singapore recipients should contact DBS Bank Ltd at 65-6878-8888 for matters arising from, or in connection with the report.

DBS Bank Ltd., 12 Marina Boulevard, Marina Bay Financial Centre Tower 3, Singapore 018982. Tel: 65-6878-8888. Company Registration No. 196800306E.

DBS Bank Ltd., Hong Kong Branch, a company incorporated in Singapore with limited liability. 18th Floor, The Center, 99 Queen's Road Central, Central, Hong Kong SAR.

DBS Bank (Hong Kong) Limited, a company incorporated in Hong Kong with limited liability. 13th Floor One Island East, 18 Westlands Road, Quarry Bay, Hong Kong SAR

Virtual currencies are highly speculative digital "virtual commodities", and are not currencies. It is not a financial product approved by the Taiwan Financial Supervisory Commission, and the safeguards of the existing investor protection regime does not apply. The prices of virtual currencies may fluctuate greatly, and the investment risk is high. Before engaging in such transactions, the investor should carefully assess the risks, and seek its own independent advice.