Yet another resurgence of the pandemic across large parts of the US over the summer has put a dampener on the exuberance that accompanied the vaccine rollout phase during the first half of the year.
Waning consumer confidence, softening retail sales and PMI, and parts shortages are headwinds

Still, economic expansion continues, and price pressures remain

Assuming a peaking of the pandemic this month and no major exacerbation in the winter…

… some of the growth upside may simply be delayed

If the planned fiscal stimulus comes through, we'd expect 3% growth next year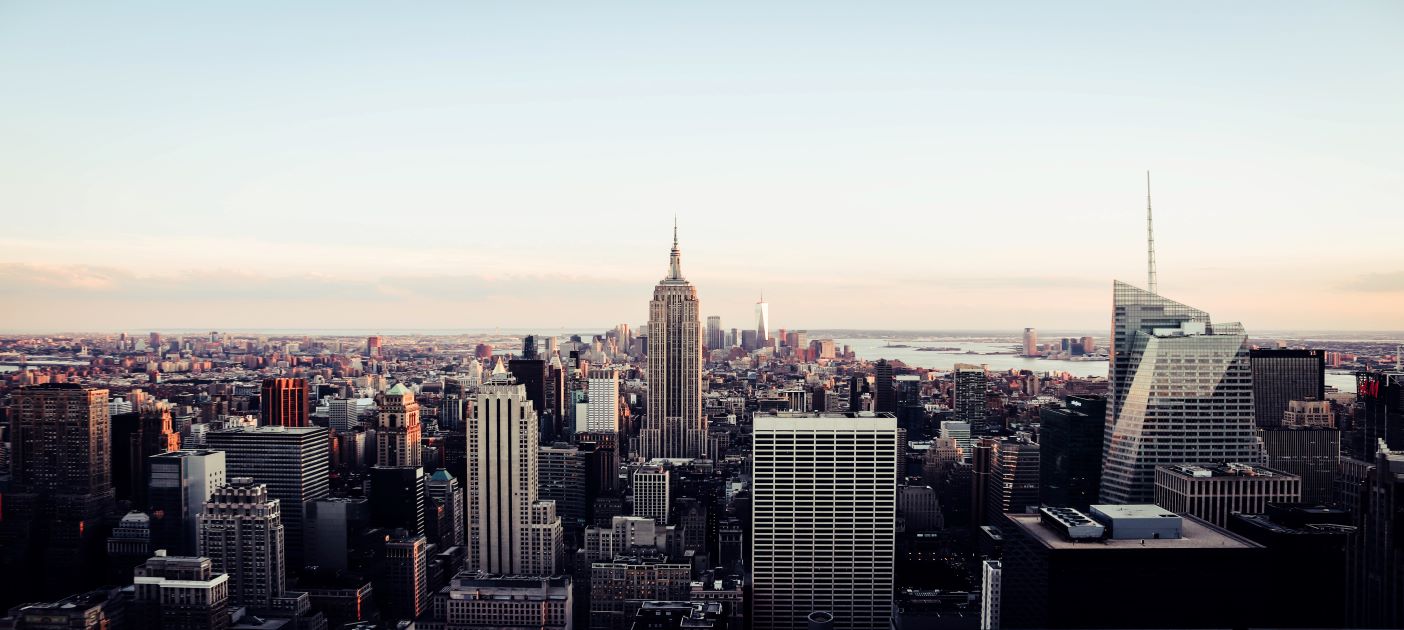 Photo credit: Unsplash
Commentary: Downgrading US GDP growth forecast for 2021
Yet another resurgence of the pandemic across large parts of the US over the course of summer has put a dampener on the widespread exuberance that accompanied the vaccine rollout phase during the first half of the year. Instances of breakthrough infections among the vaccinated, risk of serious illness and death among the un-vaccinated (still a sizeable 36% of the population), numerous tussles over mask and vaccine mandates, and outbreak among children (about a third of recent cases) are causing a dissipation of confidence to take part in public events, engage in tourism, or return to office. Unsurprisingly, services have taken a hit, consumer confidence has tumbled (Conference Board's survey show the lowest reading since February), mobility has regressed somewhat, and the outlook for consumption and investment for the rest of the year has waned. Incorporating these developments, the Atlanta Fed's GDPNow model estimate for real GDP growth (SAAR) in the third quarter of 2021 has drifted down to 3.7%.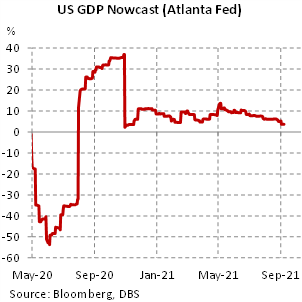 Several aspects of consumer demand are in the territory of marginal disappointment. Retail sales are growing at double-digit terms due to base effect, but the pace is waning. On a month-on-month basis, retails sales fell by 1.1% in July, reflecting shortage in automobile supply.
Housing, a major source of transactions and building activity, is also showing signs of peaking despite record low interest rates. With the Case-Shiller Nationwide Housing Price Index up 18.6%yoy through June, affordability has become an issue, constraining demand growth.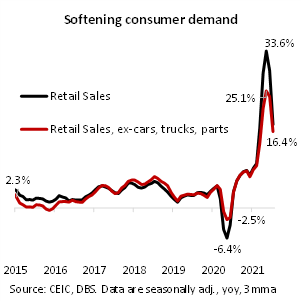 Meanwhile, global parts shortages and rising input prices have hampered US manufacturing. What began as chip shortages driven by production cutbacks during last year's plant shutdowns have now spread to a wider array of electronics inputs, reflecting ports and plants closures in China, Malaysia, and Vietnam in recent months.
More affected are services, with travel, tourism, dining out, mass gatherings (concerts, theatres, sporting evenings) expanding at a slower pace than expected earlier this year. Google mobility data show that the pace of going back to work has slowed, restaurant visits have softened, and use of public transportations remains well below pre-pandemic trend.
To be sure, activities remain in firmly expansionary territory, with the momentum of growth likely to turnaround as and when the pandemic peaks. The issue however is that 2H'21 growth is likely to be lower than expected, and the uncertainty around the outlook has increased, with cold winter months looming, when outbreaks tend to spread.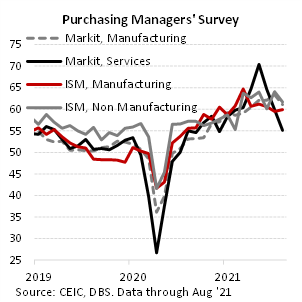 Just like high housing prices have begun to weigh down the real estate market, prevailing high rate of consumer price inflation is a non-trivial risk for demand. As per our forecasts, 5%+ headline and 3%+ core personal consumption expenditure inflation rates are likely to persist through the first quarter of 2022. Given that much of the inflation is supply side driven, a marginal decline in growth momentum will not change the price outlook, but months of high rate of inflation could begin to hurt market sentiment as taper and rate hike timing are deliberated.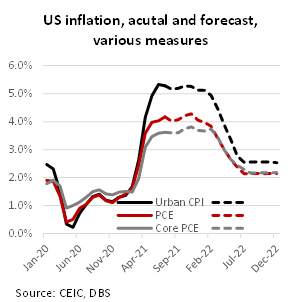 Incorporating the recent developments in our forecasting framework, we are revising down our 2021 US real GDP forecast to 6%. This is not a wholesale downward revision of the outlook. Instead, we think some postponed demand and activity will spill over into 2022, hence we are revising up next year's forecast to 3%.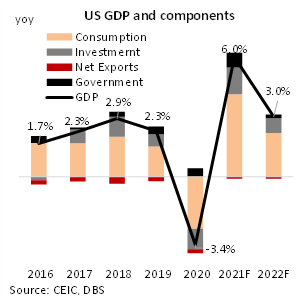 We are doubtful that the Federal Reserve's policy outlook will change materially by the marginal softening of growth. Taper will still be on the cards for a 4Q start, in our view.
To read the full report, click here to
Download the PDF
.
Subscribe
here
to receive our economics & macro strategy materials.
To unsubscribe, please click
here
.
GENERAL DISCLOSURE/ DISCLAIMER (For Macroeconomics, Currencies, Interest Rates)
The information herein is published by DBS Bank Ltd and/or DBS Bank (Hong Kong) Limited (each and/or collectively, the "Company"). This report is intended for "Accredited Investors" and "Institutional Investors" (defined under the Financial Advisers Act and Securities and Futures Act of Singapore, and their subsidiary legislation), as well as "Professional Investors" (defined under the Securities and Futures Ordinance of Hong Kong) only. It is based on information obtained from sources believed to be reliable, but the Company does not make any representation or warranty, express or implied, as to its accuracy, completeness, timeliness or correctness for any particular purpose. Opinions expressed are subject to change without notice. This research is prepared for general circulation. Any recommendation contained herein does not have regard to the specific investment objectives, financial situation and the particular needs of any specific addressee. The information herein is published for the information of addressees only and is not to be taken in substitution for the exercise of judgement by addressees, who should obtain separate legal or financial advice. The Company, or any of its related companies or any individuals connected with the group accepts no liability for any direct, special, indirect, consequential, incidental damages or any other loss or damages of any kind arising from any use of the information herein (including any error, omission or misstatement herein, negligent or otherwise) or further communication thereof, even if the Company or any other person has been advised of the possibility thereof. The information herein is not to be construed as an offer or a solicitation of an offer to buy or sell any securities, futures, options or other financial instruments or to provide any investment advice or services. The Company and its associates, their directors, officers and/or employees may have positions or other interests in, and may effect transactions in securities mentioned herein and may also perform or seek to perform broking, investment banking and other banking or financial services for these companies. The information herein is not directed to, or intended for distribution to or use by, any person or entity that is a citizen or resident of or located in any locality, state, country, or other jurisdiction (including but not limited to citizens or residents of the United States of America) where such distribution, publication, availability or use would be contrary to law or regulation. The information is not an offer to sell or the solicitation of an offer to buy any security in any jurisdiction (including but not limited to the United States of America) where such an offer or solicitation would be contrary to law or regulation.

This report is distributed in Singapore by DBS Bank Ltd (Company Regn. No. 196800306E) which is Exempt Financial Advisers as defined in the Financial Advisers Act and regulated by the Monetary Authority of Singapore. DBS Bank Ltd may distribute reports produced by its respective foreign entities, affiliates or other foreign research houses pursuant to an arrangement under Regulation 32C of the Financial Advisers Regulations. Singapore recipients should contact DBS Bank Ltd at 65-6878-8888 for matters arising from, or in connection with the report.

DBS Bank Ltd., 12 Marina Boulevard, Marina Bay Financial Centre Tower 3, Singapore 018982. Tel: 65-6878-8888. Company Registration No. 196800306E.

DBS Bank Ltd., Hong Kong Branch, a company incorporated in Singapore with limited liability. 18th Floor, The Center, 99 Queen's Road Central, Central, Hong Kong SAR.

DBS Bank (Hong Kong) Limited, a company incorporated in Hong Kong with limited liability. 13th Floor One Island East, 18 Westlands Road, Quarry Bay, Hong Kong SAR

Virtual currencies are highly speculative digital "virtual commodities", and are not currencies. It is not a financial product approved by the Taiwan Financial Supervisory Commission, and the safeguards of the existing investor protection regime does not apply. The prices of virtual currencies may fluctuate greatly, and the investment risk is high. Before engaging in such transactions, the investor should carefully assess the risks, and seek its own independent advice.