Global electronics supply chains are suffering from ASEAN's COVID-related factory disruptions. We map the exposures and discuss initiatives to restart activities.
Global electronics supply chains are suffering from ASEAN's COVID-driven factory disruptions

The stoppages are acute in Malaysia and Vietnam

Exports are slowing, and dependencies on niche products are sustaining global disruptions

China appears to be stepping in to fill some of ASEAN's electronics supply gap

Policymakers have initiated plans to restart manufacturing activities, focusing on vaccinations
Photo credit:Unsplash
This is a summary of the report, please download the PDF for the full report


Global supply chains are facing significant headwinds. News stories on supply chain disruptions have reached close to the highs since the turmoil caused by virus lockdowns in March – April 2020. The difficulties faced by global electronics supply chains are partly driven by ASEAN's pandemic-related factory disruptions. Manufacturing stoppages have notably been seen in Malaysia and Vietnam in recent months. We look at the extent of the ongoing downturn, map the exposures, and discuss actions by policymakers to restart manufacturing activities.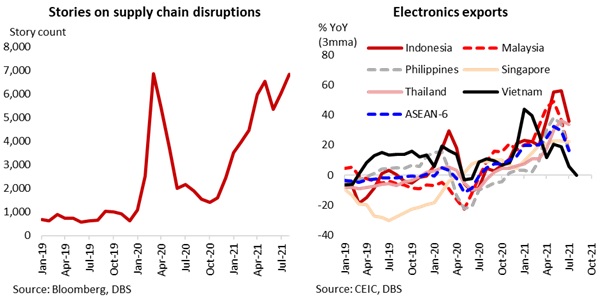 Malaysia's and Vietnam's slowing manufacturing activities from the negative supply shocks are reflected in their rapid deceleration in electronics export growth. Vietnam's electronics shipments have slipped into contraction (on a three-month moving average basis) - the slowest pace since the pandemic disruption last year. Malaysia is also experiencing a sharp pullback. Indonesia and Philippines have slowed, but the overall economic impact is likely to be more muted. Lastly, Thailand and Singapore have been relatively resilient, compared to the region.
Mapping electronics export strength
Malaysia has long promoted an export-driven model, with dominance in electronics. Malaysia houses leading multi-national companies and growing domestic firms. The country plays an important role in micro-electronics assembly, packaging, and testing. Our analysis using UNCTAD data breakdown of electronics by SITC shows that Malaysia dominates in two key products: (1) 'automatic data processing machines' that are exported to the US, China, and Europe; (2) 'cathode valves & tubes' that are also shipped to similar places, but with a significant share to China of 17.6% relative to overall 'parts and components for electrical and electronics goods'. Malaysia largely exports intermediate electronics goods to its main trading partners, according to World Bank data. The lion shares of intermediate electronics goods head to China, at around 14% of exports.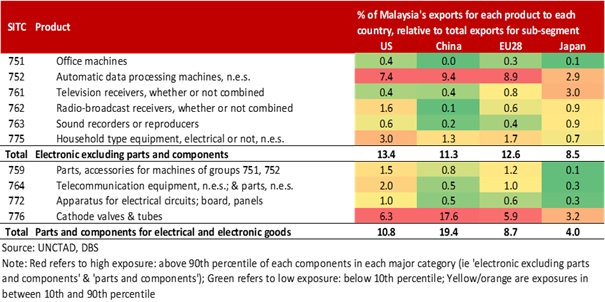 Vietnam has commanding shares in two key products: (1) 'telecommunication equipment and parts', which is a reflection of the country's important role in Samsung smartphones production; (2) 'automatic data processing machines'. These two key products are mainly exported to the US, Vietnam's largest export destination, and Europe, where the EU-Vietnam FTA has been effective since August 2020. Individual product exposure to China is relatively small, but in aggregate is comparable to the US and Europe. Vietnam mainly exports final electronics goods to North America and Europe & Central Asia regions, but instead ships intermediate products to China.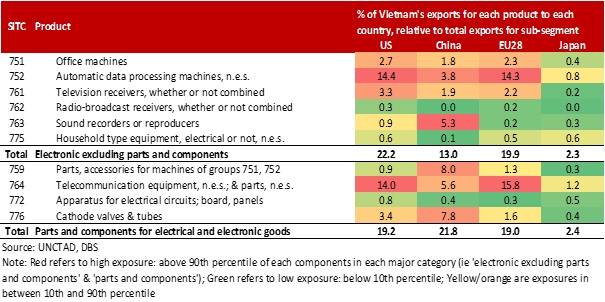 Ongoing global chip shortages
The global chip shortages are causing manufacturing production disruptions worldwide, ranging from autos to computers.
For instance, auto manufacturers in the US (e.g. Ford, GM) and Europe (e.g. Volkswagen, Daimler) continue to struggle to deal with the shortages, and these are reflected in the weakening data. A high percentage of European businesses across various industries have also reported production limitations due to shortages of material and equipment.
Where are the import dependencies?
COVID-related factory disruptions in Malaysia and Vietnam have made the situation worse. While the US, Europe, and Japan are highly dependent on China's electronics imports, there are potential direct supply chain risks caused by ASEAN. China's supply chain is highly connected with ASEAN, which could result in indirect spillovers for advanced economies (detailed exposures tables shown in pdf).
ASEAN's strategy
Policymakers in Malaysia and Thailand are rolling out plans to ease factory COVID-related disruptions, and restart production. Vaccination is a key part of their strategies, which would enable safe manufacturing operations. Vietnam is however lagging behind in vaccinations, and has imposed tough anti-virus policies.

To read the full report, click here to Download the PDF.
Subscribe
here
to receive our economics & macro strategy materials.
To unsubscribe, please click
here
.
GENERAL DISCLOSURE/ DISCLAIMER (For Macroeconomics, Currencies, Interest Rates)
The information herein is published by DBS Bank Ltd and/or DBS Bank (Hong Kong) Limited (each and/or collectively, the "Company"). This report is intended for "Accredited Investors" and "Institutional Investors" (defined under the Financial Advisers Act and Securities and Futures Act of Singapore, and their subsidiary legislation), as well as "Professional Investors" (defined under the Securities and Futures Ordinance of Hong Kong) only. It is based on information obtained from sources believed to be reliable, but the Company does not make any representation or warranty, express or implied, as to its accuracy, completeness, timeliness or correctness for any particular purpose. Opinions expressed are subject to change without notice. This research is prepared for general circulation. Any recommendation contained herein does not have regard to the specific investment objectives, financial situation and the particular needs of any specific addressee. The information herein is published for the information of addressees only and is not to be taken in substitution for the exercise of judgement by addressees, who should obtain separate legal or financial advice. The Company, or any of its related companies or any individuals connected with the group accepts no liability for any direct, special, indirect, consequential, incidental damages or any other loss or damages of any kind arising from any use of the information herein (including any error, omission or misstatement herein, negligent or otherwise) or further communication thereof, even if the Company or any other person has been advised of the possibility thereof. The information herein is not to be construed as an offer or a solicitation of an offer to buy or sell any securities, futures, options or other financial instruments or to provide any investment advice or services. The Company and its associates, their directors, officers and/or employees may have positions or other interests in, and may effect transactions in securities mentioned herein and may also perform or seek to perform broking, investment banking and other banking or financial services for these companies. The information herein is not directed to, or intended for distribution to or use by, any person or entity that is a citizen or resident of or located in any locality, state, country, or other jurisdiction (including but not limited to citizens or residents of the United States of America) where such distribution, publication, availability or use would be contrary to law or regulation. The information is not an offer to sell or the solicitation of an offer to buy any security in any jurisdiction (including but not limited to the United States of America) where such an offer or solicitation would be contrary to law or regulation.

This report is distributed in Singapore by DBS Bank Ltd (Company Regn. No. 196800306E) which is Exempt Financial Advisers as defined in the Financial Advisers Act and regulated by the Monetary Authority of Singapore. DBS Bank Ltd may distribute reports produced by its respective foreign entities, affiliates or other foreign research houses pursuant to an arrangement under Regulation 32C of the Financial Advisers Regulations. Singapore recipients should contact DBS Bank Ltd at 65-6878-8888 for matters arising from, or in connection with the report.

DBS Bank Ltd., 12 Marina Boulevard, Marina Bay Financial Centre Tower 3, Singapore 018982. Tel: 65-6878-8888. Company Registration No. 196800306E.

DBS Bank Ltd., Hong Kong Branch, a company incorporated in Singapore with limited liability. 18th Floor, The Center, 99 Queen's Road Central, Central, Hong Kong SAR.

DBS Bank (Hong Kong) Limited, a company incorporated in Hong Kong with limited liability. 13th Floor One Island East, 18 Westlands Road, Quarry Bay, Hong Kong SAR

Virtual currencies are highly speculative digital "virtual commodities", and are not currencies. It is not a financial product approved by the Taiwan Financial Supervisory Commission, and the safeguards of the existing investor protection regime does not apply. The prices of virtual currencies may fluctuate greatly, and the investment risk is high. Before engaging in such transactions, the investor should carefully assess the risks, and seek its own independent advice.