Risk sentiments have been dealt a major blow by the Fed's latest policy action and guidance. The higher-rates-for-longer narrative is negative for both risk and growth
Sustained monetary policy tightening will eventually slow the US housing and labour markets

Negative wealth effect through asset price corrections is already feeding through the economy

We are therefore making substantial adjustments to our US growth outlook

We now see 2022 growth to be no more than 1.5%

We expect virtually no growth (0.3%) next year; a recession is on the cards
Photo credit: AFP Photo
Commentary: Higher rates; lower growth

Last week's meeting with the US Federal Reserve's Open Market Committee left risk sentiments subdued, to say the least. Given the Fed's communication, we now expect another 75bps rate hike in the next meeting on November 2, followed by a 50bps rise on December 14, taking the end-2022 Fed Funds rate to 4.5%. It is conceivable that both economic and financial conditions will have tightened sufficiently by then to warrant a lengthy pause thereafter, but given the Fed officials' eagerness to cool down the labour market, they may remain on the path of some additional tightening in Q1 as well. We are therefore penciling in 50bps of further rate hikes between the February and March meetings, but only with even odds.

The prospect of the Fed funds rate at 4.5-5% is unambiguously negative for the global growth outlook. Even without the Fed action, Europe is looking at a recession due to the war in Ukraine, and China is looking at a substantially weak growth dynamic given a variety of domestic factors, including the stress in the property market and regulatory pressure on the tech services sector. Add on top of that a sharp decline in USD liquidity and sharply higher US interest rates, the world economic outlook looks particularly precarious.

We will continue to adjust our global growth expectations on the back of forthcoming demand weakening in the US. Already, rising rates have pushed up US home inventories and reduced the number of real estate transactions drastically. Next would be decline in prices, although that is yet to materialise in the large US cities.

The Fed is focusing on the labour market, where the latest data still suggest no impact of higher rates so far. Vacancies and wage growth are still ample, and the unemployment rate, at 3.7%, is near historic lows. Friday's jobless claims report showed both new and continued claims are in comfortable territory. The Fed's work will continue, both on the rate hike and balance sheet normalisation fronts.

Monetary policy tightening will eventually slow the housing and labour markets; it will also dampen investments. Negative wealth effect through asset price corrections is already feeding through the economy. All this is inevitably negative for growth.

We are therefore making some substantial adjustments to our US growth outlook. We now see 2022 growth to be no more than 1.5%, compared to our earlier projection of 2%. We expect virtually no growth (0.3%) next year, as opposed to our earlier forecast of 1.3%. This means a recession is on the cards, which could well nudge the Fed into cutting rates in early 2024, if not earlier, especially if inflation fades.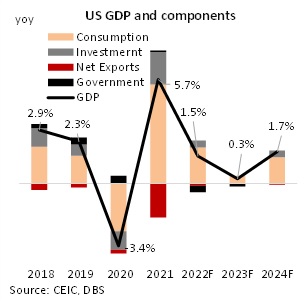 Taimur Baig

To read the full report, click here to Download the PDF.

Subscribe here to receive our economics & macro strategy materials.
To unsubscribe, please click here.
Disclaimers and Important Notices
GENERAL DISCLOSURE/ DISCLAIMER (For Macroeconomics, Currencies, Interest Rates)

The information herein is published by DBS Bank Ltd and/or DBS Bank (Hong Kong) Limited (each and/or collectively, the "Company"). This report is intended for "Accredited Investors" and "Institutional Investors" (defined under the Financial Advisers Act and Securities and Futures Act of Singapore, and their subsidiary legislation), as well as "Professional Investors" (defined under the Securities and Futures Ordinance of Hong Kong) only. It is based on information obtained from sources believed to be reliable, but the Company does not make any representation or warranty, express or implied, as to its accuracy, completeness, timeliness or correctness for any particular purpose. Opinions expressed are subject to change without notice. This research is prepared for general circulation. Any recommendation contained herein does not have regard to the specific investment objectives, financial situation and the particular needs of any specific addressee. The information herein is published for the information of addressees only and is not to be taken in substitution for the exercise of judgement by addressees, who should obtain separate legal or financial advice. The Company, or any of its related companies or any individuals connected with the group accepts no liability for any direct, special, indirect, consequential, incidental damages or any other loss or damages of any kind arising from any use of the information herein (including any error, omission or misstatement herein, negligent or otherwise) or further communication thereof, even if the Company or any other person has been advised of the possibility thereof. The information herein is not to be construed as an offer or a solicitation of an offer to buy or sell any securities, futures, options or other financial instruments or to provide any investment advice or services. The Company and its associates, their directors, officers and/or employees may have positions or other interests in, and may effect transactions in securities mentioned herein and may also perform or seek to perform broking, investment banking and other banking or financial services for these companies. The information herein is not directed to, or intended for distribution to or use by, any person or entity that is a citizen or resident of or located in any locality, state, country, or other jurisdiction (including but not limited to citizens or residents of the United States of America) where such distribution, publication, availability or use would be contrary to law or regulation. The information is not an offer to sell or the solicitation of an offer to buy any security in any jurisdiction (including but not limited to the United States of America) where such an offer or solicitation would be contrary to law or regulation.

This report is distributed in Singapore by DBS Bank Ltd (Company Regn. No. 196800306E) which is Exempt Financial Advisers as defined in the Financial Advisers Act and regulated by the Monetary Authority of Singapore. DBS Bank Ltd may distribute reports produced by its respective foreign entities, affiliates or other foreign research houses pursuant to an arrangement under Regulation 32C of the Financial Advisers Regulations. Singapore recipients should contact DBS Bank Ltd at 65-6878-8888 for matters arising from, or in connection with the report.

This report has been prepared by a personnel of DBS Bank Ltd who is not licensed by the Hong Kong Securities and Futures Commission to carry on the regulated activity of advising on securities in Hong Kong pursuant to the Securities and Futures Ordinance (Chapter 571 of the Laws of Hong Kong). This report is being distributed in Hong Kong by DBS Bank Ltd, DBS Bank (Hong Kong) Limited and DBS Vickers (Hong Kong) Limited.

DBS Bank Ltd., 12 Marina Boulevard, Marina Bay Financial Centre Tower 3, Singapore 018982. Tel: 65-6878-8888. Company Registration No. 196800306E.

DBS Bank Ltd., Hong Kong Branch, a company incorporated in Singapore with limited liability. 18th Floor, The Center, 99 Queen's Road Central, Central, Hong Kong SAR.

DBS Bank (Hong Kong) Limited, a company incorporated in Hong Kong with limited liability. 11th Floor, The Center, 99 Queen's Road Central, Central, Hong Kong SAR.

Virtual currencies are highly speculative digital "virtual commodities", and are not currencies. It is not a financial product approved by the Taiwan Financial Supervisory Commission, and the safeguards of the existing investor protection regime does not apply. The prices of virtual currencies may fluctuate greatly, and the investment risk is high. Before engaging in such transactions, the investor should carefully assess the risks, and seek its own independent advice.