How does one reconcile half a trillion dollars of net flows into China since the beginning of last year and little sign of their impact on the macroeconomy? We dig deep.
A large part of China's BOP developments resides in "errors & omission" and "other investments"

We see spikes in overseas deposits and overseas lending by Chinese firms and banks

It may also be that Chinese exporters are not converting some of their proceeds to local currency

The headache of managing such large inflows won't disappear

Some of these flows will get recirculated in the region, challenging other monetary authorities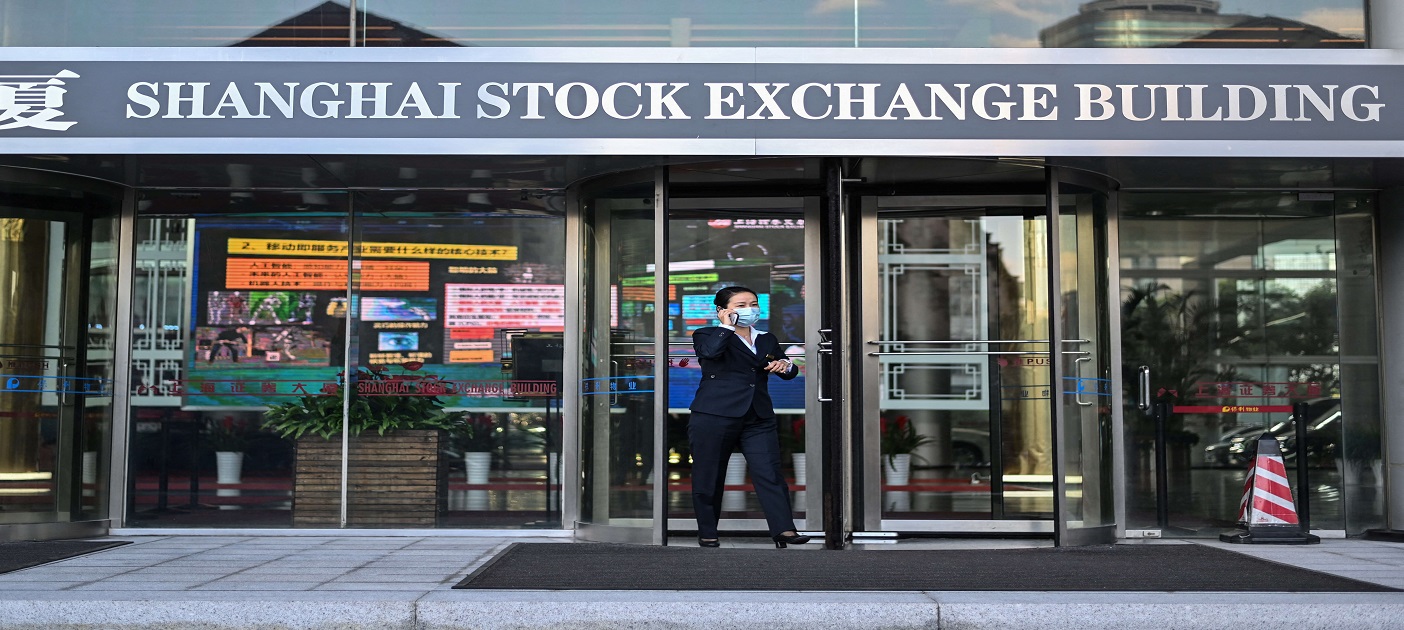 Photo credit: AFP Photo
China is undergoing an extraordinary period of dynamism in its external accounts. Long a source of sustained trade surpluses and recipient of direct investment from global multinationals and multilaterals, today China is the recipient of some of the largest portfolio inflows in the world, while at the same time a major investor in the real economy and financial markets of numerous countries.
China has been pursuing a model of reducing its reliance on investment and exports for growth, preferring more domestic consumption demand. An increasingly wealthy China ought to spend more on imports and overseas travel, as well as looking for investment opportunities overseas, resulting in an easing some of its burgeoning external surpluses. Over the past decade, starting in 2015, it appeared that as the economy became more mature, China's trade and current account surpluses began to come down, a welcome development for those seeking a more balanced flow of payments.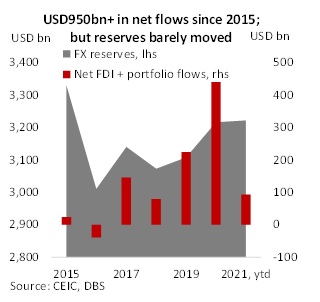 But even as China's surpluses eased, the economy kept attracting substantial flows from global MNCs and portfolio investors. Attracted by China's competitive industrial base, its consumer market, the largest in the world, plethora of investible stocks and bonds, increasingly made more attractive by capital account liberalisation, money kept flowing in. During the middle part of last decade, even when China faced some financial market stress, annual inward FDI never dipped below USD130bn. Net portfolio flows during 2015-19 were over USD400bn.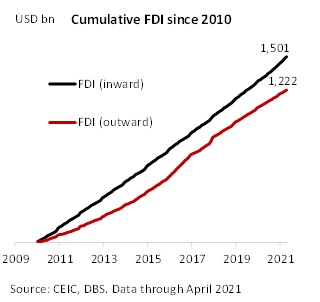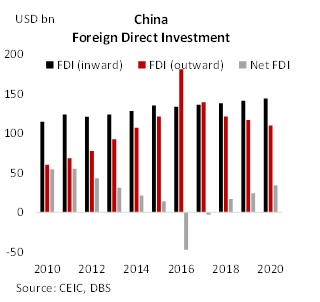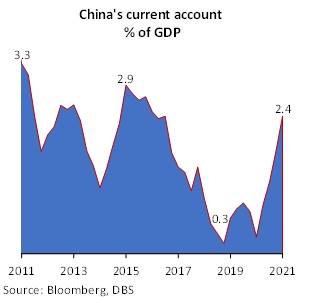 As impressive as these numbers are, developments since the beginning of last year have been considerably more striking. Faced with sharp rise in export demand even as domestic demand remained relatively subdued, China's trade and current account widened sharply. FDI continued in line with trend, while portfolio flows spiked in record amounts. As per our estimates, since 2015, China has received net investments, direct and portfolio, worth over USD950bn, 6.8% of GDP, which is impressive. But what is truly eye catching is the fact that since the beginning of last year, net flows have amounted to USD533bn. This comprised of FDI worth USD58.8bn, equity flows of USD225.8bn, and bond flows of USD248.3bn. In terms of total holdings, this translates into USD1.5trln in inward FDI since 2010 and around USD1.1trln of local stocks and bonds held by foreigners.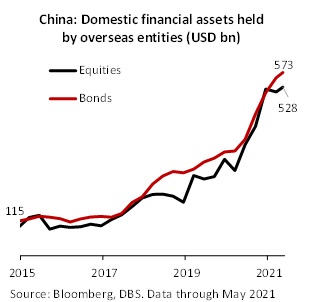 These exceptionally large figures ought to be sources of major macro management challenges, resulting in spikes in reserves or money supply or the RMB, or all of the above. We are sure that the Chinese authorities have had their share of challenges, but there is little evidence of the that on the surface of China's macroeconomic landscape.
China's FX reserves were heading toward USD4trln in 2015, but some degree of financial market turmoil in the following years led PBoC to sell substantial quantities of reserves to meet capital outflow demands. Since then, reserves have essentially flattened, rangebound within USD3-3.2trln since the beginning of 2017. PBoC has also been wary of intervening directly in the open market, as a rapid rise in reserve will likely earn a flag from the US treasury's currency manipulation watchdog.
Instead of intervening, have the Chinese authorities accommodated the inflows, absorbing them in the domestic money supply? We see little evidence of that, with M2 growth broadly in line with nominal GDP growth in recent years. Over the past year, as inflows have spiked, broad money growth has actually come down, reflecting the authorities' desire to prevent an economic overheating.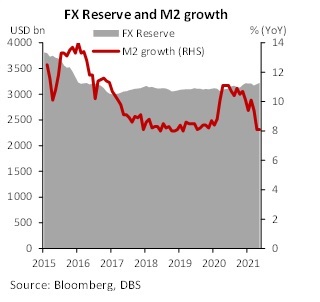 Perhaps it's all in the exchange rate? That too is not in the data. Plotting China's nominal and real effective exchange rate since 2015, one sees equal number of episodes of appreciation and depreciation, resulting in a broadly stable exchange rate over the past half a decade.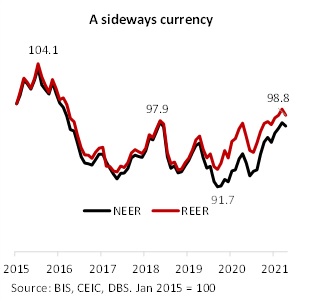 Inflows can cause lending booms and asset price bubbles, but loan growth in the second half of the past decade (low-teens) was substantially lower than the first half (high-teens), while the Chinese equity and property markets, on the whole, have not delivered returns commensurate with bubble-type behavior. Shanghai Composite has been essentially flat since 2015, while the nationwide property price index has averaged a growth rate of 8.5% per year, robust but hardly a reflection of irrational exuberance.
Tracking the inflows into outflows
On the surface, China's balance of payments statistics suggest that there is no mystery to where all these flows went—they left the country almost as soon as they arrived. To be sure, China has a robust outward FDI programme, energized in recent years by the Belt-and-Road Initiative. But that doesn't address the issue raised here, as the above analysis has been about net flows of investment, both direct and portfolio.
The first place to look for these inflows is in the foreign currency deposits held by domestic entities (mostly exporters). It turns out that an ever-increasing amount of overseas income is being left in foreign currency instead of conversion to CNY. FX deposits growth has accelerated since the COVID outbreak and reached 33.9% YoY in May, reaching a stock of USD1010bn. Meanwhile, local currency deposit growth has hovered between 8.9% and 12.2%. These deposits are neither reflected in the PBoC's FX Reserves data, nor in the CNY denominated M2.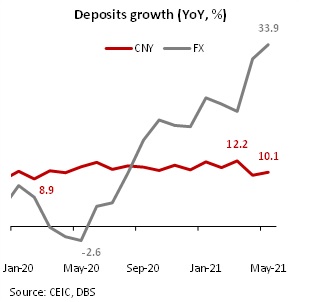 Looking at the breakdown of China's current account, it is clear that that goods surplus is offset, to some extent, by a series of outlfows. For instance, there has been strong USD demand for dividend payments (FX outflows), comprising of USD5-7bn in outflows per month. It is unsurprising that China's dividend deficit continues to widen as foreigners become larger holder of Chinese assets. It is also worth noting that despite owning a very stock of overseas assets, China's track record on those investments has been ordinary, typically less than local returns.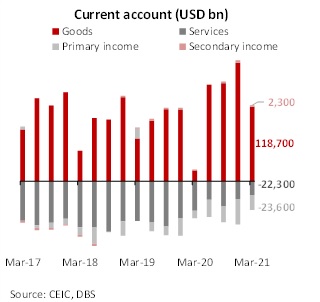 As interesting as the current account offsets are, they hardly dent the massive inflows coming through the financial account. To reconcile that, one needs to travel to the deep end of China's balance of payments.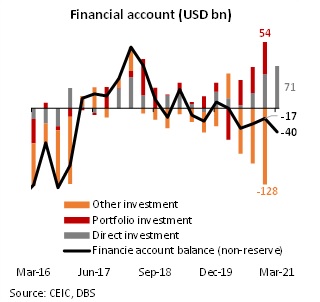 It turns out that a large part of China's balance of payments developments resides in persistently large "errors & omission" and "other investments." These items have been growing rapidly lately, adding up to USD200bn in 4Q20.
What's in "Other Investments"? They include overseas deposits by Chinese firms and banks, overseas lending by Chinese banks, and exports receivables driven by the strong exports.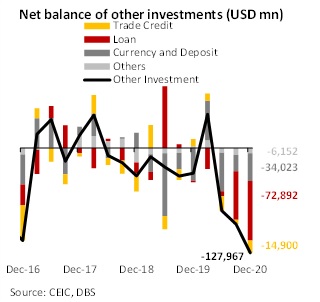 Overseas lending by Chinese banks has continued to rise amid the recovery. Using alternative data from PBoC, FX and CNY loan to overseas customers rose by RMB250bn YoY in April and is RMB419bn higher than the pre-COVID 2019 level. According to Zhongxia Jin, executive director for China at the International Monetary Fund, most Chinese overseas lending is directed at infrastructure financing or is export-related. Also, this is largely a result of relaxation in capital control amid RMB appreciation over the past 12 months. This anchored with Beijing's effort in capital account liberalization and RMB internationalization. The recalibration of Belt and Road Initiative also fostered the overseas lending growth. Likewise, enterprises / individuals hoarded for FX purchases in the past 18 months. This is reflected by the continued increase in FX deposits overseas and offset the concurring inflow of foreign deposits.
Trade credit extended on exports is also rising. Amid the imbalanced global recovery, China's trade surplus reached historical high after 2015. Yet, China also extended credit on exports given the weak economic performance of the rest of the world (net outflow of USD29bn). Therefore, actual capital inflow through trade income is in fact smaller than the headline trade surplus. This trend is expected to continue amid strong exports growth.
As the large inflows get recirculated around the region, some of them may end of creating macro management challenges elsewhere. Several economies in Asia have been dealing with their own challenges of large inflows, some of which undoubtedly coming from China.
The future of outbound flows
Looking ahead, we expect further relaxation in capital control given the upward pressure of CNY. This will foster the two-way capital flow between the second largest economy with the rest of the world. At the retail level, China is considering plans to relax investment in overseas securities and insurance within the current annual individual FX quota of USD50,000, according to SAFE. More importantly, the GBA Wealth Connect is now on set. Reportedly, the Northbound and Southbound Wealth Connect quota will be capped at RMB150bn respectively. Threshold of more than RMB1mn net of liabilities, or more than RMB2mn of outstanding gross assets, will be required for Southbound investors. Yet, with the gigantic saving of the 9 cities, which currently stands at more than 5.3 times of the quota, it is likely for wealthy population to snap the quota in no time. The disposable income of Shenzhen and Guangzhou remains 47.6% and 41.8% higher than the national average respectively. The wealthy GBA population also hoards for Hong Kong wealth management products due to the limited supply in the Mainland amid deleveraging. In fact, Hong Kong insurance sales to Mainland once reached HKD72.7bn in 2016, more than 30% of the city's headline figure before the last round of capital account tightening.
The commencement of Southbound Bond Connect is also in pipeline. The existing Northbound Bond Connect recorded an average daily turnover of nearly RMB25.7bn for the first 5 months this year, accounted for more than half of foreign investors' total turnover in the China interbank bond market. The bond inflow will grow further amid the inclusion of Chinese bonds into major global bond indices. The cut of dollar holdings from Russia's National Wellbeing Fund will also boost the bond inflow. The allocation of the USD119bn fund (USD assets accounts for 35% of the fund AUM) will be reshuffled, with 30% of the fund to be attributed to Yuan. Coupled with the favourable development on the retail sphere, the two-way capital flow is set to advance.
Positive loop for long-term RMB appreciation
Institutional factors will continue to support long-term RMB appreciation, in our view. Large inflows would allow Chinese financial institutions to increase their overseas holdings and lending, especially to the Belt and Road Initiative participating countries. Increasing deposits overseas also reflects the strengthen of Chinese economy. Upcoming GBA Wealth Connect, Southbound Bond Connect, and existing Stock Connects will facilitate the ongoing two-way capital flow between China and the rest of the world (through Hong Kong). These institutional factors will eventually translate into support to long-term RMB appreciation.
To read the full report, click here to
Download the PDF
.
Subscribe
here
to receive our economics & macro strategy materials.
To unsubscribe, please click
here
.
GENERAL DISCLOSURE/ DISCLAIMER (For Macroeconomics, Currencies, Interest Rates)
The information herein is published by DBS Bank Ltd and/or DBS Bank (Hong Kong) Limited (each and/or collectively, the "Company"). This report is intended for "Accredited Investors" and "Institutional Investors" (defined under the Financial Advisers Act and Securities and Futures Act of Singapore, and their subsidiary legislation), as well as "Professional Investors" (defined under the Securities and Futures Ordinance of Hong Kong) only. It is based on information obtained from sources believed to be reliable, but the Company does not make any representation or warranty, express or implied, as to its accuracy, completeness, timeliness or correctness for any particular purpose. Opinions expressed are subject to change without notice. This research is prepared for general circulation. Any recommendation contained herein does not have regard to the specific investment objectives, financial situation and the particular needs of any specific addressee. The information herein is published for the information of addressees only and is not to be taken in substitution for the exercise of judgement by addressees, who should obtain separate legal or financial advice. The Company, or any of its related companies or any individuals connected with the group accepts no liability for any direct, special, indirect, consequential, incidental damages or any other loss or damages of any kind arising from any use of the information herein (including any error, omission or misstatement herein, negligent or otherwise) or further communication thereof, even if the Company or any other person has been advised of the possibility thereof. The information herein is not to be construed as an offer or a solicitation of an offer to buy or sell any securities, futures, options or other financial instruments or to provide any investment advice or services. The Company and its associates, their directors, officers and/or employees may have positions or other interests in, and may effect transactions in securities mentioned herein and may also perform or seek to perform broking, investment banking and other banking or financial services for these companies. The information herein is not directed to, or intended for distribution to or use by, any person or entity that is a citizen or resident of or located in any locality, state, country, or other jurisdiction (including but not limited to citizens or residents of the United States of America) where such distribution, publication, availability or use would be contrary to law or regulation. The information is not an offer to sell or the solicitation of an offer to buy any security in any jurisdiction (including but not limited to the United States of America) where such an offer or solicitation would be contrary to law or regulation.

This report is distributed in Singapore by DBS Bank Ltd (Company Regn. No. 196800306E) which is Exempt Financial Advisers as defined in the Financial Advisers Act and regulated by the Monetary Authority of Singapore. DBS Bank Ltd may distribute reports produced by its respective foreign entities, affiliates or other foreign research houses pursuant to an arrangement under Regulation 32C of the Financial Advisers Regulations. Singapore recipients should contact DBS Bank Ltd at 65-6878-8888 for matters arising from, or in connection with the report.

DBS Bank Ltd., 12 Marina Boulevard, Marina Bay Financial Centre Tower 3, Singapore 018982. Tel: 65-6878-8888. Company Registration No. 196800306E.

DBS Bank Ltd., Hong Kong Branch, a company incorporated in Singapore with limited liability. 18th Floor, The Center, 99 Queen's Road Central, Central, Hong Kong SAR.

DBS Bank (Hong Kong) Limited, a company incorporated in Hong Kong with limited liability. 13th Floor One Island East, 18 Westlands Road, Quarry Bay, Hong Kong SAR

Virtual currencies are highly speculative digital "virtual commodities", and are not currencies. It is not a financial product approved by the Taiwan Financial Supervisory Commission, and the safeguards of the existing investor protection regime does not apply. The prices of virtual currencies may fluctuate greatly, and the investment risk is high. Before engaging in such transactions, the investor should carefully assess the risks, and seek its own independent advice.