Bank Indonesia extended its pause for the seventh consecutive month, keeping the 7-day reverse repo rate at 3.5%.
Bank Indonesia extended its accommodative pause for the seventh consecutive month

View on domestic developments was comforting, global not so

Policymakers are likely to remain mindful of market gyrations and fallout on the currency

FX view: Unlike the 2013 taper tantrum episode …

..IDR does not suffer from macroeconomic imbalances today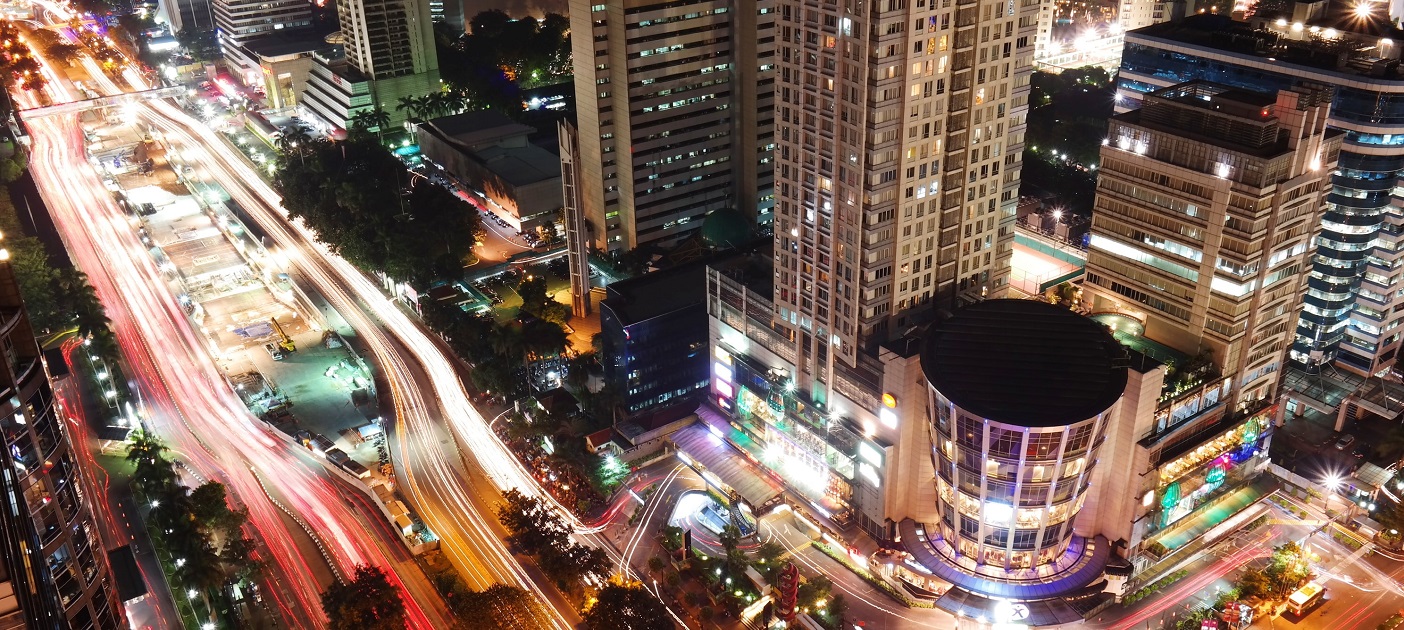 Photo credit: Unsplash
Dovish hold

Bank Indonesia extended its pause for the seventh consecutive month, keeping the 7-day reverse repo rate at 3.5%. Policymakers took comfort from the receding Covid case count, which will allow the government to gradually roll back part of the restrictions, even as public activity restrictions were extended in Java and Bali till Oct 4. Yet on balance, recovery will be viewed as tentative as vaccination rates trail Malaysia, Thailand, and Singapore in the region, with a moderate ~16% of the population having received both the doses. There are inter-provincial differences, with the more than half of the residents in economically crucial Jakarta already been fully inoculated. The view on global developments – US and China's slowing economic activity, US Fed's taper, China's credit default risks etc. – was predominantly cautious and seen as a risk to the flows outlook. The BI expects US taper to start in November and hike in 3Q22.

Economic projections:

• 2021 GDP growth forecast was maintained at 3.5%-4.3%, slightly lower than the government's 3.7%-4.5% (DBSf: 3.5%). Sees 3Q growth at 5% and 4Q at 4.5%

• Steady inflation target at 2-4%, while current inflation hovering below target. This provides the central bank with sufficient runway to keep rates at record lows

• Current account deficit projection stays at -0.6 to -1.4% of GDP (vs DBSf: -0.7%) for 2021, benefiting from the broader gains for exports from higher commodity prices especially coal and palm oil

• Called on banks to lower rates to spur credit demand. Loan growth seen at 4-6%, just as bank lending rose 1.2% y/y, rising for a third successive month in August

Outlook: The need to secure rupiah stability, added to the reasons for the central bank to keep rates on hold, ahead of the US FOMC meeting this week. A case in point was the overnight equity market sell-off and US dollar spurt as investor sentiment soured ahead of the US rate review and worries over a spillover from China's credit events. Notwithstanding the impending risk of US normalisation, we don't expect the shift in policy to be as disruptive for Indonesia as was the case in 2013, on grounds of a narrower current account deficit, comfortable real rates cushion and lower inflation. The baton to support growth has been passed to fiscal policy, whilst the BI plays its part by keeping rates at record lows and extends its support to the bond purchase program, this year and next. Benchmark rates have bottomed out in this cycle, with liquidity management likely to be the first step towards policy normalisation in 2022.

Contained fiscal slippage risks

Fiscal slippage risks are contained this year, with the Jan-Jul fiscal deficit totalling IDR 336trn i.e., ~2% of GDP, total revenues at 59% and expenditure at 50% of the full year budgeted targets respectively. Tax revenues are over the half-way mark but outpaced by non-tax receipts which is already over 80% of the full-year target, benefiting from higher resource-based earnings, including minerals, coal, palm oil etc. The run-rate of the central government expenditure is modestly faster than same time last year, up 20% yoy between Jan-Jul21. Under the key heads, spending rose towards capital needs, materials, and subsidies (fuel and utilities). Disbursements under the national recovery package (PEN) stood at 48% by end-August.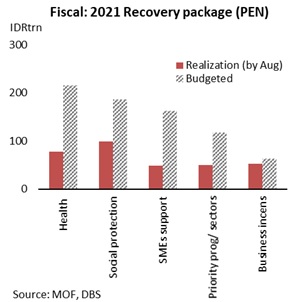 The year-to-date fiscal run-rate suggests that the government will be able to keep within the 2021 deficit target of -5.7% of GDP, with the glide path pegged to lower the deficit to -4.85% in 2022. Revenue raising measures, which were initially under consideration for next year, are likely to be delayed until vaccination reaches scale, allowing the economy to fully open up and the Covid situation remains under control. Fiscal consolidation will be in centre stage, but the slope will be more gradual than previously drawn out, implying a likely delay of a year in returning to the -3% of GDP goalpost, which was earlier scheduled for in 2023.

"Burden-sharing" extended

Bank Indonesia and the government extended the 'burden-sharing' arrangement until 2022, which was initially intended to be a one-off measure to finance the pandemic-related spending in 2020. There were likely two reasons behind this announcement: a) higher spending needs towards Covid-related support and b) to defend domestic bond markets against any increase in volatility as the US Fed (likely) sets the stage for taper later this year.

Under the current plan (SKB III), BI will purchase IDR215trn and IDR224trn of government bonds via private placement in 2021 and 2022 respectively. These will be in the form of variable rate bonds, benchmarked to the 3M reverse repo rate and will see the central bank forego part of the interest to be received this year and the next. The proceeds are meant to be channelled towards social sector spending and pandemic related expenses. For 2021, the central bank's private purchases as the buyer of last resort arrangement stood at IDR131.96trn (0.8% of GDP) by mid-August.

The SKB III is seen as a tailwind for IDR bonds this year and the next (see IDR Rates: "Burden-sharing" a positive for IndoGB), and was received positively by the market players. Nonetheless, the extension of the BI's participation for a third consecutive year is likely to raise concerns over fiscal-monetary policy linkages and cautious comments by few global rating agencies. That said, we don't expect any rating action owing to this arrangement given Indonesia's positive fiscal track record, and its deficit/ debt levels being well within the range of the peers in the same rating group.

Besides the burden sharing program, there are other positive catalysts which favour Indonesian bonds. These include (i) ebbing bond demand-supply uncertainty by a reduction in the size of the 2021 issuance, (ii) excess domestic liquidity, and (iv) favourable externals i.e., softer US rates. On the supply end, the government also raised US$ 1.23bn in 10y and maiden 40y bonds, with part of the proceeds to help repurchase existing bonds. Besides tapping current low rates, this fundraising exercise will also lengthen the maturity of outstanding debt at a favourable cost. The Finance Ministry as since repurchased four global bonds to manage external liabilities. Concurrently, the debt office also sold debut EUR 500mn of sustainable bonds maturing in 2034, with proceeds to be channelled to eligible sustainability commitments. On the demand side, the income tax on bond interest for domestic investors stands lowered to 10%, on par with rates enjoyed by foreign investors, in an effort to draw more interest to the debt space.

Cushion against taper tantrum risks

We expect the BI to lag the US Fed in policy normalisation plans. There are material reasons why we are of the view that Indonesia is well-positioned to defend against US taper tantrum risks this year vs the previous bout in 2013 –

• Current account gap is much smaller at present with this year's deficit to widen marginally to -0.7% of GDP vs -0.4% in 2020 and much narrower than -3.1% in 2013. The merchandise trade balance is likely to remain in a net surplus this year, offsetting softer tourism receipts and primary income outflows. In addition to the 70% yoy jump in the Jan-Jul21 trade surplus, Aug posted a record surplus of $4.7bn as exports benefited from the global upcycle in commodity prices, rising 64% yoy (oil & gas 78%, mining 163%), with yoy numbers also buoyed by base effects. The 2020 balance of payments turned in a surplus ($2.6bn) for a second consecutive year.

One of the regional peers, India's current account also witnessed a sharp improvement last year, registering a surplus accompanied also by a sizeable balance of payments surplus (Apr20-Mar21 US$87bn).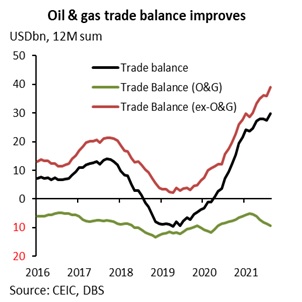 • Inflation is hovering below target this year, compared to 6-7% back in 2013, keeping real rates in positive terrain and lowering the urgency for the BI to front run and normalise policy ahead of the US Fed's tapering plans

• Foreign currency reserves stock is strong at $144bn (boosted in August by IMF SDR allocations) vs less than US$100bn by end-2013, which has improved the imports cover to ~9months vs ~7-7.5months back then. The reserves stock also falls under the adequate range when compared to the IMF ARA metrics, with further reserves accretion necessary to strengthen defences against adverse global financial conditions. India, which was the other economy impacted adversely during the 2013 sell-off, has witnessed the sharpest rise in its FX reserves stock in the region, by more than US$350bn, between Aug13 and at present.

• The share of foreign investors in outstanding bond holdings has fallen from 36-38% in 2013 to below 22% this year, lowering the vulnerability of the domestic debt markets to risks of a sharp outflow in foreign flows. At the same time, the bond ownership of domestic investors has risen to over 50%, comprising predominantly of the BI and commercial banks, lending stability to trading activity. Besides other institutional buyers, the income tax on bond interest for domestic investors has also been lowered to 10%, on par with rates enjoyed by foreign investors, in an effort to draw more interest to the debt space

Hence whilst the EM Asia space is likely to feel the heat from a firmer US$ and/ higher US rates when the US taper gets underway, the reasons above suggest Indonesia financial assets will react less adversely than eight years back.

Indonesian rupiah outlook

We expect the IDR to be stable between 14000 and 15000 per USD into 2022. Since the US-China trade war in 2018, the exchange rate has weathered several bouts of volatility, an achievement best reflected by Bank Indonesia's award as the reserve manager of the year at the Central Banking Awards 2021. BI was recognized for its success in stabilizing the IDR during the Covid outbreak under its new macro-factor strategic allocation framework.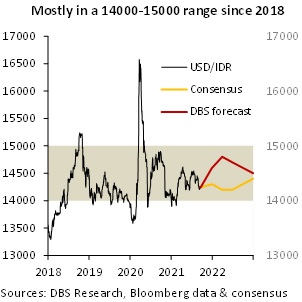 Apart from some volatility on a steeper US treasury yield curve earlier this year, the IDR proved its resilience to the second deadly Covid-19 wave in June-July and the Fed's hawkish tilt that started in June.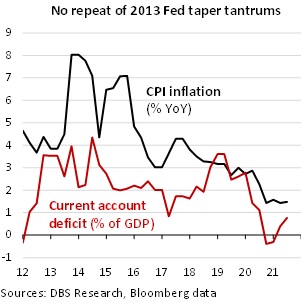 Unlike the 2013 taper tantrum episode, Indonesia is not characterised by major macroeconomic imbalances today. For example, CPI and core inflation has been below the official 2-4% target since August 2020. Although current account deficits returned in 1H21 after surpluses in 2H20, the shortfalls were not as wide as those in 2013. Nonetheless, rating agencies are paying attention to the government's commitment to fiscal consolidation after the fiscal burden-sharing scheme to fight the pandemic.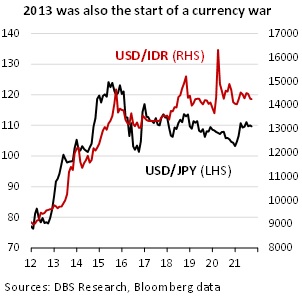 There is little room for complacency. The Fed intends to start tapering asset purchases before the end of 2021, a key factor that supported the USD this year. For now, there is no repeat of the major monetary policy divergences (e.g. Abenomics and ECB QE vs Fed taper and rate hike) that propelled the USD in 2013-2015. Financial market volatility could, however, increase as more global central banks pull back their pandemic stimulus.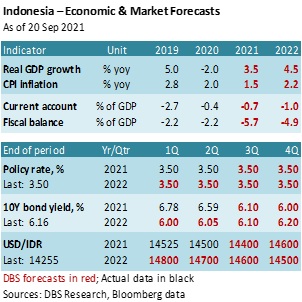 To read the full report, click here to Download the PDF.


To unsubscribe, please click
here
.
GENERAL DISCLOSURE/ DISCLAIMER (For Macroeconomics, Currencies, Interest Rates)
The information herein is published by DBS Bank Ltd and/or DBS Bank (Hong Kong) Limited (each and/or collectively, the "Company"). This report is intended for "Accredited Investors" and "Institutional Investors" (defined under the Financial Advisers Act and Securities and Futures Act of Singapore, and their subsidiary legislation), as well as "Professional Investors" (defined under the Securities and Futures Ordinance of Hong Kong) only. It is based on information obtained from sources believed to be reliable, but the Company does not make any representation or warranty, express or implied, as to its accuracy, completeness, timeliness or correctness for any particular purpose. Opinions expressed are subject to change without notice. This research is prepared for general circulation. Any recommendation contained herein does not have regard to the specific investment objectives, financial situation and the particular needs of any specific addressee. The information herein is published for the information of addressees only and is not to be taken in substitution for the exercise of judgement by addressees, who should obtain separate legal or financial advice. The Company, or any of its related companies or any individuals connected with the group accepts no liability for any direct, special, indirect, consequential, incidental damages or any other loss or damages of any kind arising from any use of the information herein (including any error, omission or misstatement herein, negligent or otherwise) or further communication thereof, even if the Company or any other person has been advised of the possibility thereof. The information herein is not to be construed as an offer or a solicitation of an offer to buy or sell any securities, futures, options or other financial instruments or to provide any investment advice or services. The Company and its associates, their directors, officers and/or employees may have positions or other interests in, and may effect transactions in securities mentioned herein and may also perform or seek to perform broking, investment banking and other banking or financial services for these companies. The information herein is not directed to, or intended for distribution to or use by, any person or entity that is a citizen or resident of or located in any locality, state, country, or other jurisdiction (including but not limited to citizens or residents of the United States of America) where such distribution, publication, availability or use would be contrary to law or regulation. The information is not an offer to sell or the solicitation of an offer to buy any security in any jurisdiction (including but not limited to the United States of America) where such an offer or solicitation would be contrary to law or regulation.

This report is distributed in Singapore by DBS Bank Ltd (Company Regn. No. 196800306E) which is Exempt Financial Advisers as defined in the Financial Advisers Act and regulated by the Monetary Authority of Singapore. DBS Bank Ltd may distribute reports produced by its respective foreign entities, affiliates or other foreign research houses pursuant to an arrangement under Regulation 32C of the Financial Advisers Regulations. Singapore recipients should contact DBS Bank Ltd at 65-6878-8888 for matters arising from, or in connection with the report.

DBS Bank Ltd., 12 Marina Boulevard, Marina Bay Financial Centre Tower 3, Singapore 018982. Tel: 65-6878-8888. Company Registration No. 196800306E.

DBS Bank Ltd., Hong Kong Branch, a company incorporated in Singapore with limited liability. 18th Floor, The Center, 99 Queen's Road Central, Central, Hong Kong SAR.

DBS Bank (Hong Kong) Limited, a company incorporated in Hong Kong with limited liability. 13th Floor One Island East, 18 Westlands Road, Quarry Bay, Hong Kong SAR

Virtual currencies are highly speculative digital "virtual commodities", and are not currencies. It is not a financial product approved by the Taiwan Financial Supervisory Commission, and the safeguards of the existing investor protection regime does not apply. The prices of virtual currencies may fluctuate greatly, and the investment risk is high. Before engaging in such transactions, the investor should carefully assess the risks, and seek its own independent advice.