Though RBI has suspended its bond purchase programme, government securities supply that needs to be absorbed by non-RBI market participants is not expected to increase materially.
Some uncertainty around banks' demand for GSec. A mitigating factor could be portfolio inflows

Compared to GSAP, ad-hoc OMOs would be a weaker anchor for GSec yields and term premium

As surplus liquidity gets absorbed, VRRR auction rates should climb and spillover onto OIS/NDOIS

Externally, higher USD rates and rising oil prices will add to upward pressures

Implications for investors: OIS/NDOIS to underperform IGB
Photo credit: AFP Photo
The Reserve Bank of India (RBI)
suspended the GSec Acquisition Programme (GSAP)
at the recent policy meeting in October. However, we note that the amount of Government of India Dated Securities (GSec) supply that needs to be absorbed by non-RBI market participants is not expected to increase materially. In 1H'FY22, gross GSec issuances amounted to INR7.0tn, and after netting for RBI's net purchases of around INR2.3tn, we estimate that non-RBI market participants had to absorb INR4.7tn of issuances in 1H. For 2H, the indicative calendar has planned for gross GSec issuances of INR5.0tn, which represents a small INR0.3tn increase in issuances that needs to be absorbed by non-RBI market participants.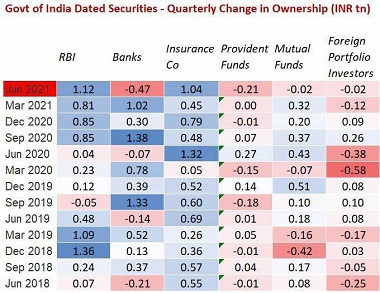 On GSec demand, the 2H'FY22 outlook appears to be mixed. Suspension of GSAP means that RBI is unlikely to add to its GSec holdings at the recent pace of INR0.8-1.2tn per quarter. We expect ad-hoc Open Market Operations (OMO) to smoothen possible episodes of excessive yield volatility that would bring net purchase quantum of INR0.2-0.3tn per quarter. On top of that, INR0.4-0.6tn in RBI twist operations to anchor term premium and long-term yields. With insurance companies, they are likely to continue to be a structural and relatively stable source of demand for GSecs. In contrast, there is more uncertainty around banks demand, which has been volatile in recent quarters. We think that higher GSec yields, surplus banking liquidity and dispensations of enhanced Held-To-Maturity limit of 22% up to March 31, 2023 should be supportive of banks' appetite.
Banks' moderately high holdings of Statutory Liquidity Ratio-eligible securities (GSecs, State Development Loans) could however be a restraining factor. At 30-31%, SLR securities as a percentage of Net Demand and Time Liabilities (NDTL) is close to historical highs. If banks maintain their current SLR/NDTL ratio and we assume a 1.5% QoQ growth in NDTL,
we estimate banks could add INR0.7-0.8tn per quarter to their GSec holdings.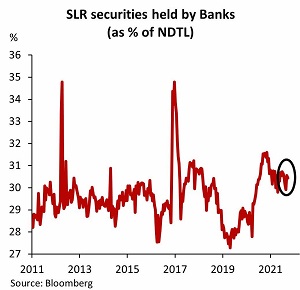 Foreign Portfolio Investors (FPI)'s GSec holdings has been on a downtrend over recent quarters. As of end-June, FPIs hold just 1.9% of outstanding. However, index inclusion prospects (into GBI-EM and BBGA indices) could bring a turnaround. In August and September, there has been a
surge in FPI purchases of GSecs classified under Fully Accessible Route (FAR)
, which likely represent flows trying to front-run a potential inclusion. Though FPI's current purchase pace of INR40-50bn per month cannot be considered material relative to the purchase pace of locals, we are optimistic that FPI purchase pace can significantly pick up if index inclusion prospects rise further. In the event of inclusion into GBI-EM, we estimate index inflows of INR150-180bn per month over the inclusion period.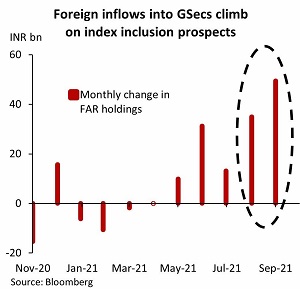 Upward pressures and higher volatility
Transitioning from GSAP to ad-hoc OMOs will create some uncertainty around the extent of RBI's support for GSecs. In the case of GSAP, the central bank provided an upfront commitment to specific purchase sizes within the quarter. On the other hand, in the case of ad-hoc OMOs, markets would have to guess the amount of net purchases and twist operations that would be conducted. Hence, ad-hoc OMOs should be seen as a weaker anchor for GSec yields and term premium. The added uncertainty should argue for larger term premium and higher GSec yield volatility ahead.
With banking system surplus liquidity very elevated at ~INR8.5tn, RBI has signalled intention to increase the size of liquidity absorption via variable rate reverse repo (VRRR) auctions. 14D auctions will be the main absorption tool and RBI will be raising the size from the current INR4.0tn to INR6.0tn in early-December. To complement, RBI could also use 28D auctions and the shorter 7D "fine tuning operations", to calibrate their liquidity management. As more surplus liquidity gets absorbed, VRRR auction weighted-average and cut-off rates should be expected to climb, and spillover onto upward pressures on money market rates and front-end INR OIS/NDOIS.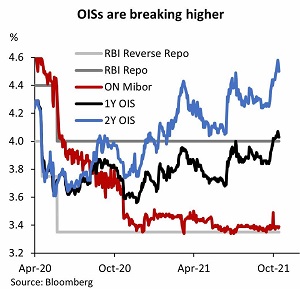 Rate hike pricing close to full
Markets' expectations around liquidity absorption and policy rate normalization have surged in recent days, no doubt underpinned by the suspension of GSAP and announcement of larger VRRR auctions. INR OIS/NDOIS markets are now pricing for 10-20bps of rate hikes (reverse repo, repo) per meeting over the following 24 months, which we feel is overly aggressive compared to our projections. Our forecast is for RBI to raise the reverse repo rate to normalize the width of the rate corridor by 1Q'CY22, before hiking the repo rate 25bps each in 3Q and 4Q'CY22. For a point comparison, we see the repo rate at 4.50% at end of CY22, vs market pricing for 5.00%.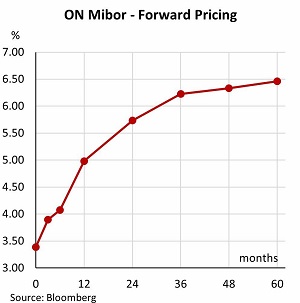 Though rate hike pricing appears to be full and likely overly aggressive, we do not initiate outright receive INR OIS/NDOIS ideas. Upward momentum in INR OIS/NDOIS rates is strong and considering that we are still in the early stages of policy tightening, rates could overshoot.
Externally, higher USD rates and rising oil prices (via passthrough to inflation) could continue to support the uptrend.
Within the region, we find that INR swap rates exhibit the greatest sensitivity to global oil prices with a beta of 0.87. I.e. Controlling for US rates, 5Y OIS/NDOIS rates tend to rise 8.7bps for every $10 increase in Brent. Therefore, it may be premature to position for OIS/NDOIS rates to peak soon.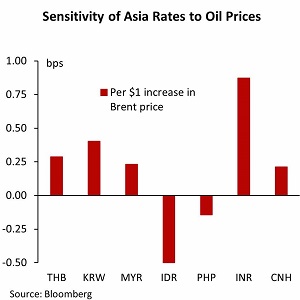 Bond-Swap tighteners
In the immediate 1-2 months, we favor bond-swap spread tighteners, specifically a long 10Y IGB vs pay 5Y INR NDOIS.
Due to swaps' greater beta sensitivity to rising oil prices and rate cycle expectations, we think swaps are likely to underperform bonds.
There is also a duration mismatch between the bond and swap legs, as we see scope for 5 to 10Y curve segment to flatten. While we have some conviction around a bond-swap tightener idea, the current spread level of 85bps looks rather low, and therefore, we await better entry levels in the 100-120bps range to initiate.
To read the full report, click here to
Download the PDF
.
Subscribe
here
to receive our economics & macro strategy materials.
To unsubscribe, please click
here
.
GENERAL DISCLOSURE/ DISCLAIMER (For Macroeconomics, Currencies, Interest Rates)
The information herein is published by DBS Bank Ltd and/or DBS Bank (Hong Kong) Limited (each and/or collectively, the "Company"). This report is intended for "Accredited Investors" and "Institutional Investors" (defined under the Financial Advisers Act and Securities and Futures Act of Singapore, and their subsidiary legislation), as well as "Professional Investors" (defined under the Securities and Futures Ordinance of Hong Kong) only. It is based on information obtained from sources believed to be reliable, but the Company does not make any representation or warranty, express or implied, as to its accuracy, completeness, timeliness or correctness for any particular purpose. Opinions expressed are subject to change without notice. This research is prepared for general circulation. Any recommendation contained herein does not have regard to the specific investment objectives, financial situation and the particular needs of any specific addressee. The information herein is published for the information of addressees only and is not to be taken in substitution for the exercise of judgement by addressees, who should obtain separate legal or financial advice. The Company, or any of its related companies or any individuals connected with the group accepts no liability for any direct, special, indirect, consequential, incidental damages or any other loss or damages of any kind arising from any use of the information herein (including any error, omission or misstatement herein, negligent or otherwise) or further communication thereof, even if the Company or any other person has been advised of the possibility thereof. The information herein is not to be construed as an offer or a solicitation of an offer to buy or sell any securities, futures, options or other financial instruments or to provide any investment advice or services. The Company and its associates, their directors, officers and/or employees may have positions or other interests in, and may effect transactions in securities mentioned herein and may also perform or seek to perform broking, investment banking and other banking or financial services for these companies. The information herein is not directed to, or intended for distribution to or use by, any person or entity that is a citizen or resident of or located in any locality, state, country, or other jurisdiction (including but not limited to citizens or residents of the United States of America) where such distribution, publication, availability or use would be contrary to law or regulation. The information is not an offer to sell or the solicitation of an offer to buy any security in any jurisdiction (including but not limited to the United States of America) where such an offer or solicitation would be contrary to law or regulation.

This report is distributed in Singapore by DBS Bank Ltd (Company Regn. No. 196800306E) which is Exempt Financial Advisers as defined in the Financial Advisers Act and regulated by the Monetary Authority of Singapore. DBS Bank Ltd may distribute reports produced by its respective foreign entities, affiliates or other foreign research houses pursuant to an arrangement under Regulation 32C of the Financial Advisers Regulations. Singapore recipients should contact DBS Bank Ltd at 65-6878-8888 for matters arising from, or in connection with the report.

DBS Bank Ltd., 12 Marina Boulevard, Marina Bay Financial Centre Tower 3, Singapore 018982. Tel: 65-6878-8888. Company Registration No. 196800306E.

DBS Bank Ltd., Hong Kong Branch, a company incorporated in Singapore with limited liability. 18th Floor, The Center, 99 Queen's Road Central, Central, Hong Kong SAR.

DBS Bank (Hong Kong) Limited, a company incorporated in Hong Kong with limited liability. 13th Floor One Island East, 18 Westlands Road, Quarry Bay, Hong Kong SAR

Virtual currencies are highly speculative digital "virtual commodities", and are not currencies. It is not a financial product approved by the Taiwan Financial Supervisory Commission, and the safeguards of the existing investor protection regime does not apply. The prices of virtual currencies may fluctuate greatly, and the investment risk is high. Before engaging in such transactions, the investor should carefully assess the risks, and seek its own independent advice.