P2P Funding In Singapore
A Look At How It Stacks Up Against Bank Loans
Credits: Chen Yiji, Vulcan Post © Reproduced with permission.
A common challenge any business will run into is funding, and there are many loan products out there to address this issue for most SMEs. Between banks and the relatively new option of peer-to-peer (p2p) lending, we did the research on these various options.
How do business loans get approved? After the application process, the loan provider (the bank or the p2p loan website you are applying to) will study your business model, credit status and other financial metrics to decide if they can fund your business, and approve your loan (for banks) or put your loan up to be crowdfunded (for p2p lending).
DBS SME Banking

Image credit: Chen Yiji
Recently, DBS has inked a deal with two p2p platforms to boost funding options for SMEs, assuring that SMEs have alternatives at whatever stage of their growth.
In a statement, DBS said they will "refer […] smaller businesses that the bank is unable to lend to, to Funding Societies and MoolahSense. In return, the p2p lending platforms will refer borrowers who have completed two successful rounds of fund raising to DBS for larger commercial loans and other financial solutions such as cash management. To safeguard borrowers' privacy, the bank and p2p lenders will only share information when they have obtained borrowers' consent in advance"
Image Credit: DBS SME Banking
This collaboration is good news for SMEs as utilising p2p platforms for funding. They can expect to benefit from the wider amount of financial products that banks offer sooner than later, which will involve an opt-in exchange of information between the two entities aimed to facilitate the growth of SMEs beyond the startup stage.
A Background Of p2p Websites Funding Societies and Moolahsense

Image Credit: FundingSocieties.com
To date, p2p funding websites Funding Societies and Moolahsense have financed S$ 6.1 million and S$ 10 million worth of loans respectively, with the majority of interest rates landing in the 11 ~ 15% region (76%) and having a <6 – 12 month term (82%). Interestingly, out of the S$6.1 million for Funding Societies, 51% of loans disbursed were under S$99k, with 24% under S$50k.
What this means is that a majority of the companies approaching p2p funding websites are smaller companies (and thus smaller loan quantums), which might not have the collateral or credit standing necessary to be eligible for a bank loan.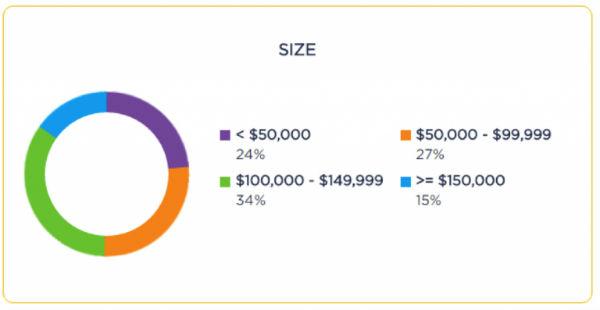 Image Credit: FundingSocieties.com
In comparison, SPRING Singapore's Micro Loan Programme (MLP), offered by the local banks, allows up to S$100k on loans and has a repayment term of up to 4 years, as well as competitive interest rates ranging from 7% p.a. to 9% p.a.
With a substantially longer repayment term and lower interest rate overall, MLP's offering is highly competitive and is available even to young companies which are less than 3 years old and have under 10 employees. MLP is thus aimed to enable the growth of small businesses by providing an accessible loan.
Presumably, the upcoming SME Working Capital Loan Scheme introduced in Budget 2016 will also enjoy the features, except now with an allowance of S$300k on loans per company. This new loan scheme, slated to run for only three years from 2016 is exclusive to the local banks, which is why collaboration between banks and p2p funding is good news to SMEs as it eases the transition from p2p funding to bank loans.
Bank Loans vs. p2p Funding
Glancing at the numbers above, bank loans do seem more competitive than p2p funding. Beyond the loan itself, the assessment process which makes bank loans more stringent also makes them more coveted because it is an indication of your company's credit worthiness.
Take DBS for example, which currently services over 100,000 SMEs in Singapore, handling an average of 1,800 micro loan applications a year, which is over 50% of all micro loan applications supported by SPRING. The sheer number of clients which DBS handles should give you an idea of how sought-after a financial relationship with a bank is. Banks are better placed to also link you to agencies such as SPRING Singapore as the government have been reaching out to financial institutions to close the information gap between the many grants and incentives that the government have been implementing and entrepreneurs.

Image Credit: FundingSocieties.com
P2p lenders MoohlahSense and Funding Societies focus on businesses viability as a result of their crowdfunding model, meaning that if your business proposal is neither convincing nor does it looks profitable, it will likely not pass the application stage. While viability is a conventional maxim, it also stifles innovation which is highly needed to drive the next phase of growth in the Singapore economy. Through SPRING's loan programmes, governmental risk-sharing is catalysing more bank lending to expanding businesses over the investor-focused p2p funding. More often than not, private funding is used at the seed stage of innovative start-ups, with additional funding financed by loans after the business has already proven its own viability by sustaining itself.
Think of p2p funding and bank loans as complementary financial products as they each serve different needs. p2p funding emphasises a faster loan approval and funding process as part of their business model and with loans being disbursed in days, businesses can utilise p2p loans to capitalise on short-term business opportunities, albeit at the mercy of investors pricing their loans at higher interest rates.
Banks, being highly regulated institutions, have stricter credit policies to ensure they use depositors' funds responsibly. Businesses can also benefit from the other services that the bank provides such as advisory services, cash management and trade finance solutions.
Was this information useful?
---
Subscribe to DBS BusinessClass
Stay updated with the latest market trends and industry insights, connect with a network of entrepreneurs, and gain access to exclusive event invitations. Join Asia's fastest growing business community – get your complimentary membership here.