Buying Commercial Property
Attractive buying opportunities in the commercial property sector
Credits: CommercialGuru © Reproduced with permission.
According to a recent Colliers International report, overall average prices of prime freehold strata-titled units continued to slip in Q4 2016. The number of caveats lodged for strata-titled industrial units was also lower in 2016. Only 849 caveats were lodged for the year, 21.7 percent lower than the 1,071 registered caveats in the preceding year.
"Prime factory units recorded quarterly price declines of 1.2 percent to 2.0 percent for ground and upper-level units, respectively. Meanwhile, prime freehold warehouse units slipped 0.8 percent quarter-on-quarter (qoq) to 1.7 percent qoq in the same quarter," Colliers said.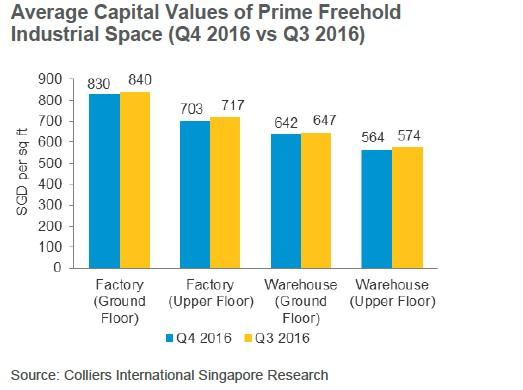 Analysts expect the downward price trend to continue in the first half of 2017, which could be good news for investors and business owners who have been eyeing a commercial property, especially for those who have plans to expand their ventures.
"Capital values of prime industrial space declined 2.4 percent to 5.3 percent in 2016, and looking forward, in an economic environment where conditions remain uncertain with signs of improvement, we expect the capital value of prime industrial space to decline at a slower rate by up to 1.5 percent over 2017," Colliers said.
Why invest in commercial properties?
In addition to lower prices, experts noted that commercial properties offer several advantages over residential properties, such as fewer stamp duties. According to the Inland Revenue Authority of Singapore, the Additional Buyer's Stamp Duty is not applicable to commercial properties, while the Seller's Stamp Duty is not payable for non-industrial commercial properties, such as retail units.
Commercial property – A great investment option in 2017
Whether you are a business owner, a landlord, or simply in the market for a sound investment, purchasing a commercial property such as a strata-titled unit can be a savvy business investment, especially in Singapore, where rent is one of the highest overhead costs in the F&B and retail sectors.
So instead of being at the mercy of landlords and struggling to cover rental costs, which tenants often do not have much control over, business owners can consider investing in their own unit as a wise commercial investment often pays off.
Furthermore, analysts expect rents for industrial units to pick up in H2 2017, so investors who manage to find a good unit can expect to earn good rental yields*.
"On the rental front, we expect overall industrial rents to remain flat for H1 2017 before recovering marginally towards the end of 2017. In particular, we think independent hi-specification industrial buildings outside science parks and business parks, especially those located near the MRT Downtown Line 3, may see rental growth of up to 5.0 percent in H2 2017, as the MRT Downtown Line 3 is completed in H2 2017 and accessibility improves," Colliers said.
*The above should not be construed as financial advice. Clients should make exercise their own judgment or consult their own financial advisors.
Refinance with DBS for better interest rates
As the interest rate environment is currently still low, businesses may want to take this opportunity to reassess their current business loan interest rate charges, and see if they can take advantage of better mortgage packages out there while they can. The US Fed has just announced interest rate hikes, so it is important for businesses to act fast lest they lose the opportunity to make some savings.
By refinancing with DBS, businesses can look forward to lower monthly repayments due to a more competitive package and better commercial property loan interest rates.
Leverage on commercial property to take your business up a notch
Tip 1: You can leverage on your commercial property to get extra cash and fund your business expansion. With DBS Business Property Loan solutions, you can get total loans of up to 120 percent of your property value.
Tip 2: With the rate hikes just announced by the US Fed, now is a good time to go for fixed rate loans. DBS has one of the most attractive fixed rate packages with a short lock-in period, which gives you the flexibility to refinance when the interest rate market turns.
Tip 3: You can gear up your existing property loan and get surplus cash. If your property is worth $1 million and your property loan outstanding is $100,000, i.e. you have paid off $700,000, you can 'gear up' with DBS and quickly obtain up to $1.1 million of new funds and use the $1.1 million surplus cash for working capital, fulfil the new contract, build up your business capabilities, upgrade your premises, expand overseas, etc., anything to help your business prosper.
Tip 4: Apply online and get the best interest rates. Savings are passed back to you in the form of the most competitive interest rates and fee waivers. Apply business loan online in five minutes, no branch visits nor signature required.
Alternatively, call 9028 7587 to contact the DBS SME Banking Business Development Team for a free consultation.
All Singapore-registered businesses are eligible to apply. Terms and conditions apply, for details please click here.           
Was this information useful?
---
Subscribe to DBS BusinessClass
Stay updated with the latest market trends and industry insights, connect with a network of entrepreneurs, and gain access to exclusive event invitations. Join Asia's fastest growing business community – get your complimentary membership here.