A high-tech culinary revolution
Robotic servers, drone waiters, smart cookers and food scanners? The future of food is tech, and it could well be already here.
Author: DBS BusinessClass, Administrator of DBS
Your piping hot bowl of laksa arrives at the table, and your robot server is whirring, seemingly content with its safe delivery.
The noodles themselves had been prepared by machine, precisely sliced, before being cooked by another form of artificial intelligence, this time an automated wok that had been programmed to recall recipes and cook in measured steps like a chef.
The dining experience of the future could very well be fully mechanised. In fact, a University of Oxford study predicted a 92 per cent chance that fast-food preparation and service would be automated and will completely change the F&B industry within the next 20 years.
But if you look around, the future – it seems – is already here.
Food and beverage businesses in Singapore have already tapped into the latest technology to save on manpower and raise productivity, as well as improve the customer experience.
'In-Flight' Service
Amazon chief Jeff Bezos proclaimed two years ago that machines would become the delivery men of the not-too-distant future.
And deliver they have. Last Christmas, flying drones brought mistletoe around patrons at a TGIFriday's in the United Kingdom. Before that, a London-based sushi chain and a pizza joint in Mumbai had started using similar drones to deliver food.
In Singapore, the Timbre restaurant-bar chain has plans for drones to deliver food and drink to its patrons by the year-end. Edward Chia, managing director of Timbre Group, said the drones, created by Singapore start-up Infinium Robotics, would allow waiters to concentrate on more important frontline tasks than repeatedly shuttling from kitchen to table.
"With the drones, we can make multiple trips... we can get the food out – fresher and faster," he added.
Infinium Robotics' chief executive officer Woon Junyang, who expects his firm to supply 1,000 drones to as many as 200 F&B outlets in Singapore in the coming year, and more to overseas markets such as China, said drones enhance the dining experience and would lead to increased sales revenue.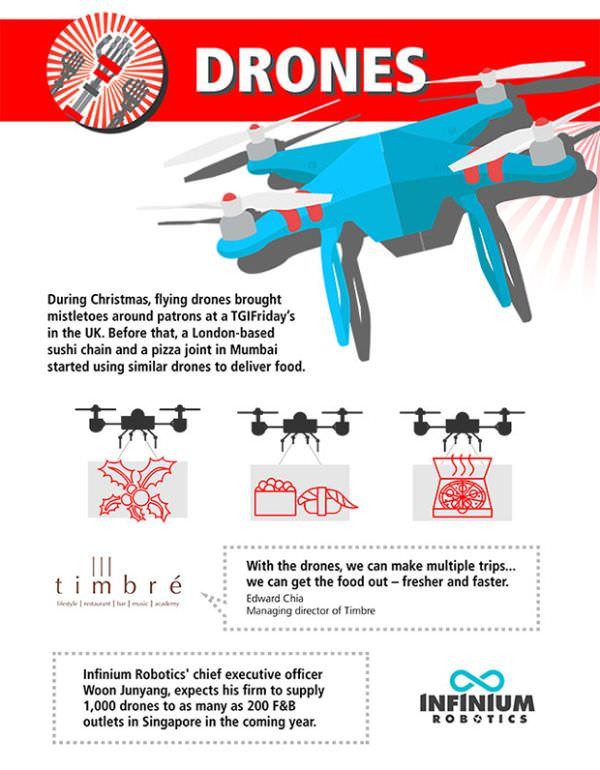 Smart Cookers
Investing in automation that can cook food makes sense for larger F&B companies in Singapore, such as Select Group, TungLok or BreadTalk. It's not uncommon for them to invest in a central kitchen that is armed with cooking robots and machines that can stir-fry noodles or create desserts.
For smaller SMEs, the investment may not be worth the expense. However, with the Internet of Things slowly heating up in the home kitchen, a number of connected, smart devices may inspire your business.
LG has a smart oven that lets you cook from your smartphone. Just tap the LG Smart Access Range app and presto! Your rack of lamb is roasted on command.
To be released in 2016, the Cinder Sensing Cooker can cook food remotely via your smartphone or tablet. Just tap on the app, pick your food and how you'd like it done, and Cinder's smart, cast-iron cooking plates will start searing the food evenly.
Then there's the Meld Knob + Clip, which combines a Bluetooth thermometer that you clip on to your pot, along with an automated knob that replaces one of your existing gas cooker dials. Together with a mobile app, the system automatically and accurately adjusts the cooker's temperature, resulting in perfectly cooked meals.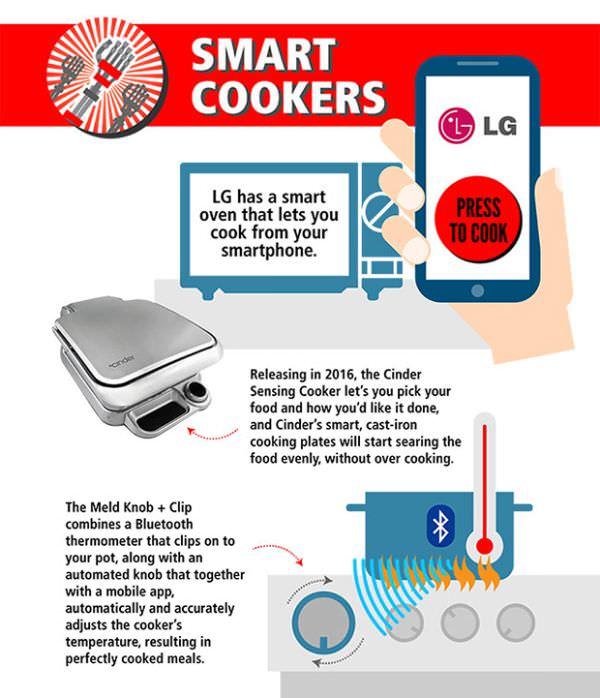 What's Inside and Out
Whether instant or not, we often wonder: what's really in a bite or a gulp? Food scanning technology that's starting to become available today could be the answer to such a question.
Last year, General Electric announced technology to measure calories in food, which could be incorporated into future food appliances such as microwave ovens.
Handheld devices that purport to scan food and detail allergens, chemicals, nutrients, calories and ingredients, as well as a drinking vessel that claims it knows what you're drinking and can list out nutritional information, are currently being developed and, in some cases, sold.
Much of these in-development products' claims have been met with scepticism, but it is thought that such technology could very well become commonplace before long.
Other technologies gaining ground that may have soon have a very real impact on our eating habits is intelligent packaging.
For instance, food and drink cartons and bottles that are enabled with radio-frequency identification technology. This allows businesses to monitor product safety, temperature and spillage, as well as track the product.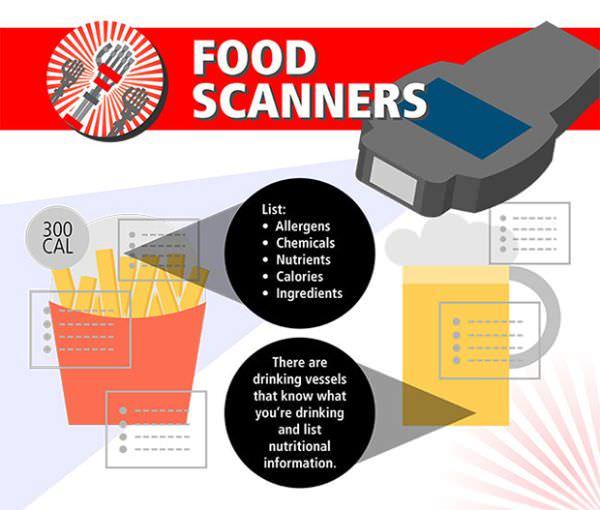 Human Touch
While it seems that technology may revolutionise the F&B landscape and your kitchen at the expense of the human touch, the people behind the machines aim to bridge the gap.
Infinium's chief executive officer Woon said that his company's drones need not be boring automatons. They can be programmed with certain flight routines to entertain in between tasks.
Like human servers, they could even do well enough to earn some tips along the way.
For a summary of High-tech Culinary Revolution business tips, download the full infographics below.
Click here to enlarge

Was this information useful?
---
Subscribe to DBS BusinessClass
Stay updated with the latest market trends and industry insights, connect with a network of entrepreneurs, and gain access to exclusive event invitations. Join Asia's fastest growing business community – get your complimentary membership here.