Disrupt Guide to Doing Good Business
Exclusive segment for next generation leaders
Disrupt Guide to Doing Good Business
Exclusive segment for next generation leaders
For all the mayhem Covid-19 has wrecked, it has also stirred up an awareness that people and in turn, businesses are interlinked in so many ways. Together, our online digital business community is now greater than the sum of all parts and it's time to make a difference. No effort is too small – make it your business to be the change and effect change. Your attendance at the breakout session – will be the first step towards making a difference. 
Come ready to share your ideas, seek advice and chat with fellow attendees to help one another to make a difference.
Programme
Exclusive Segment: Does it really matter… How I live or how I do business? 
Date: 24 July 2020, Friday
Time: 5pm - 7pm 
Welcome Address
Joseph Poon, Group Head Private Bank, DBS Bank
Be Inspired by Stories of Impact
Hear from three purpose-driven speakers on what inspired them to start their businesses for good.
Ask Questions, Share Ideas and Create Change
Come together to create change by sharing your ideas and seeking solutions. Pose questions to our speakers to hear their perspectives to overcome any challenge in your journey.  
Closing Address 
Joyce Tee, Group Head of SME Banking, DBS Bank
Networking Session
Speakers

Joseph Poon
Group Head, Private Banking, DBS Bank 
Joseph Poon is Managing Director and Group Head of DBS Private Bank. He is also Head of Treasures Private Clients for Singapore and Hong Kong locations. In addition, he is also the Head of the Singapore Investment Centre and serves on the Business Control Committee. Prior to that, he was the Region Head of Southeast Asia.
Joseph has over 20 years of banking experience and joined DBS from UBS where he was Southeast Asia Head of the Ultra High Net Worth segment. He was also the Head of Global Family Office, Southeast Asia. Joseph was leading the businesses that drove the strategic growth for UBS' highest valued clients by delivering bespoke solutions across the bank's Investment Banking, Asset Management and Wealth Management segments.
Joseph was the Head of Co-Investments & Private Equity, and a Member of Julius Baer's Asia Management Committee. Prior to Julius Baer, he was the Asia Head of Macquarie's Private Wealth business, which he had established. Before establishing Macquarie Private Wealth Asia, he was the Head of JPMorgan Private Bank, Southeast Asia.
Joseph graduated with a Bachelor of Commerce and Administration, and a Bachelor of Arts, from Victoria University of Wellington, New Zealand. He is a CFA charter holder and had served as a board member of the Chartered Financial Analyst Association Singapore for 16 years.

Joyce Tee
Managing Director & Group Head, SME Banking
Joyce Tee is Group Head of SME Banking at DBS Bank, a leading financial services group in Asia recognised in 2018 by Euromoney as the "World's Best SME Bank" and by Global SME Finance as the "SME Bank of the Year" for both Global and Asia. In the same year, Joyce was awarded "SME Banker of the Year (Regional)" by The Asset, a tremendous recognition of her passion and dedication towards SMEs.  
As Group Head of SME Banking at DBS, Joyce oversees the SME banking business across DBS' core markets and is focused on how the bank can better support the growth of SMEs. She is a strong advocate of building a sustainable franchise by building deep and impactful relationships with SMEs across the region, changing the lives of business owners. In particular, through the use of digital technology to improve not only the SME customer experience but also to support their own digitalisation journey.  
Under Joyce's leadership, DBS' SME Banking franchise has delivered not only industryfirst initiatives for customers such as straight-through online account opening and online loans, but also numerous sector-specific digital solutions and packages designed to transform the largely cash- and paper-based B2B payments and collections landscape. She had also spearheaded the analytics-based lending in India to grow the book size and have since led multiple pilots across the region, partnering platforms and even industry players to leverage on alternative data to enhance lending capabilities. 
This in turn supported DBS' win as "World's Best Digital Bank" by EuroMoney for the second time in 2018, and more recently, put the franchise in good stead to provide critical working capital support and digital-first solutions to help SMEs across the region keep the lights on during the Covid-19 pandemic. She has also led the franchise's strategic focus on adapting and availing to SMEs solutions typically reserved for large corporates, such as support on tapping capital markets.

Denica Riadini-Flesch
Founder, SukkhaCitta
Denica Riadini-Flesch is transforming the lives of women working in the informal economy by pioneering transparency and education in Indonesia's craft industry.
Trained as an economist, she believes that development without inclusivity is not progress. Having worked in the development sector, she leverages the potential of the handworker economy to bring millions of women in rural Indonesia out of poverty. Given their invisible status and systematic skills gap, they are among the most vulnerable to exploitation in complex global supply chains.
Through her social enterprise SukkhaCitta, she is pioneering change by cleaning up dirty practices in the fashion industry while ensuring the indigenous communities who make our clothes can participate and prosper from the formal global market. Her work has been recognised by among others Forbes, Fast Company, and DBS Foundation.

Prasoon Kumar
Co-Founder and CEO, BillionBricks 
Prasoon is a President's Design Awardee, TEDx speaker and social justice campaigner working towards solving the global housing crisis. Prasoon began his career as an architect working in design firms across India, USA, Hong Kong and Singapore. In 2013, he left his corporate job and co-founded BillionBricks.
BillionBricks is developing powerHYDE -- the world's first self-financing, carbon-negative solar home solution that empowers everyone to be a homeowner. BillionBricks originally began as a non-profit and has provided shelters, schools and homes to 5,365 people across 9 countries; rendered relief support to another 10,000. Its first innovation called weatherHYDE, is an award-winning, emergency shelter designed to save the lives of the homeless in extreme weather conditions.
Winner of Singularity University's Global Grand Challenge and named Urban Land Institute's 40 under 40, Prasoon graduated summa cum laude from Arizona State University with a Master of Urban and Environmental Planning and an Outstanding Graduate Award in 2005.     

Yvonne Lim
Partner, Kind Collective Pte. Ltd.
Kind Collective is a boutique producer and distributor of lab-grown diamonds and gemstones. It was founded with the purpose of providing an eco-friendlier alternative to mined diamonds and gemstones, and restore forests, land and communities that have been harmed by the effects of mining. 
Yvonne, one of its founding partners, has over a decade of experience accelerating digital business growth for retail and consumer good brands. She started her eCommerce career helping Asian startups and SMEs expand their brand and product distribution into the US and Europe, is currently leading the global eCommerce business operations for a popular international consumer electronics brand. 
Disrupt Guide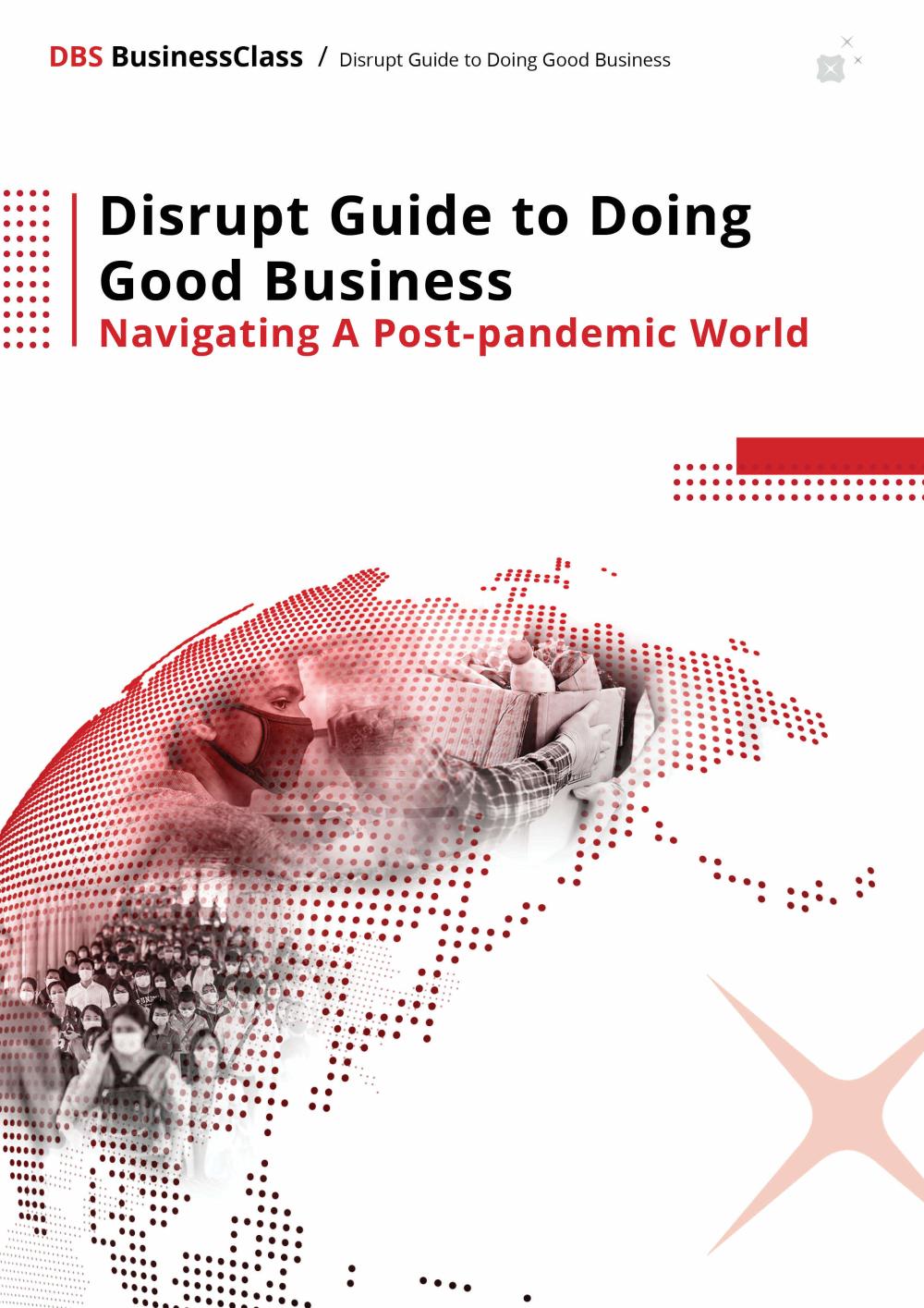 Disrupt Guide to Doing Good Business 
A handy guide on the industry and market trends on purpose-driven companies, insights for business owners on balancing social impact and profit, as well as resources on how you can invest for good, or start and grow your business for good. Download the guide now.
Was this information useful?